Finding the right perfume for you can sometimes turn into such a mess and waste of money that you end up with something you know smells good regardless of the fact that you simply don't resonate with the scent.
Truth be told, it's no wonder that so many people experience this issue because there are so many different types of fragrances, advertising and marketing campaigns fragrance houses are pushing can cause even more confusion, and the performance of the fragrance can be the issue just when you think you've found the composition you like.
It's also important to emphasize that you can't find the right perfume for you just by exploring different scents — if you really want to find the right signature scent, there are a couple of things you should know (and figure out) in order to do so.
In this post, we'll do our best to help you and make sure you learn all things you should know in order to choose the right perfume for you.
Learn Olfactory Families
First and foremost, you have to understand that there are several types of olfactive families – scent categories and groups that are easily recognizable once you learn them.
Once you learn this choosing the right fragrances for you will be much easier as just by looking at the description of the fragrances and seeing in which olfactive family they belong, you will know is it for you or not.
These are the most common olfactive families:
Citrus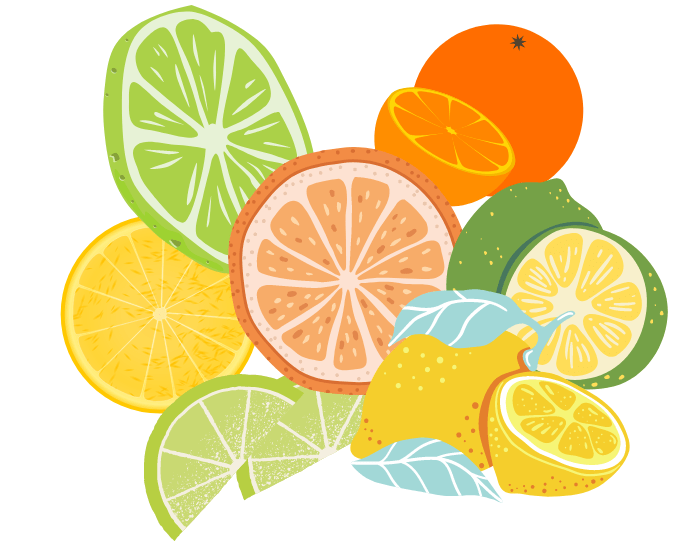 Citrus is actually one of the oldest olfactive families and it dates back to the beginning of the 18th century.
The scent of the citrus family is… well, citrusy.
It has that zesty, invigorating, and energizing scent and it's perfect for summer days (or to be even more precise, when the temperature is above 68 °F).
Fougere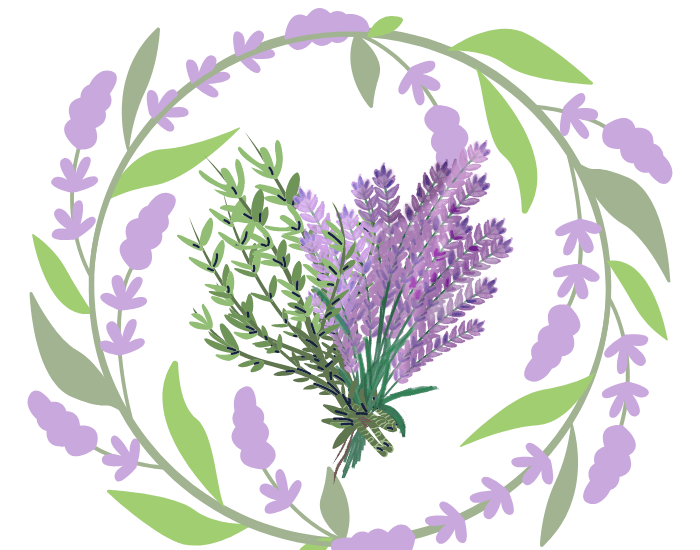 When translated directly from French, fougere means fern, and even though that makes some sense, fougere means much more than that.
In general, fougere is supposed to represent the scent of nature – freshly mowed grass, humidity in the air, soil, leaves on the ground, etc.
Usually, the main accords of fougere are lavender, coumarin, and some herbs.
The scent itself is fresh, light, and usually safe, or as Roja Dove would describe it, "happy go lucky".
One of the most popular fougere fragrances today are Roja Dove Elysium, Dior Sauvage, Yves Saint Laurent Y Le Parfum, Creed Viking, and Tom Ford Beau de Jour.
Chypre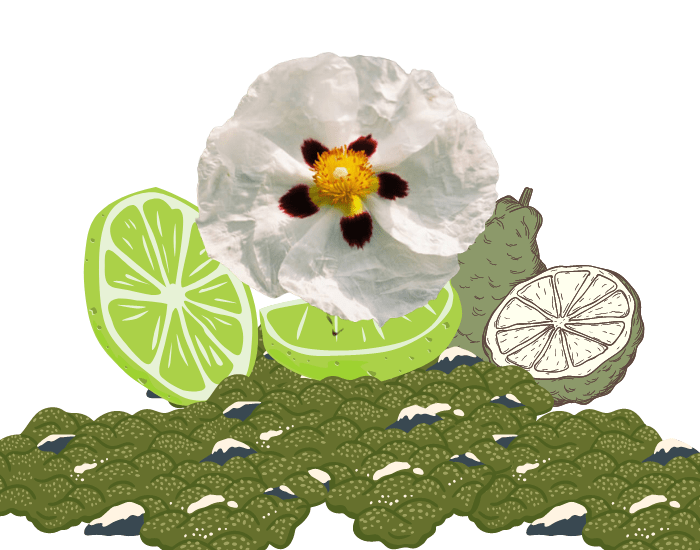 Inspired by the island of Cypres (at a time Greek island), the father of modern perfumery, Francois Coty, came to the idea to create a masterpiece that eventually evolved into an entire olfactive family – chypre.
What inspired Coty to go in such a direction was actually a story about Aphrodite's birth.
According to Greek mythology, after Cronus severed Uranus's genitals and threw them into the sea, Aphrodite was born out of sea foam that has risen after the impact. Goddess of love, beauty, and procreation, but also lust, used to sleep on the bed of mosses, and that's exactly the first main accord of the chypre olfactive family.
Coty's Chypre was his biggest success but he couldn't even guess that he will give the world a whole new direction in perfumery.
Usually, the main notes of the chypre olfactive family are citruses (usually bergamot), mosses (as a most important accord), and labdanum.
The scent of chypre is incredibly mysterious and sensual (as you probably guessed so far), it's definitely the dryest of all families, and it has that retro feel. Sophisticated, classy, and dominant.
One could safely say that it's also the sexiest family out of all.
Famous chypre fragrances are Frederic Malle Musc Ravageur, Creed Aventus, Nishane Hacivat, Tom Ford Noir de Noir, Yves Saint Laurent Tuxedo, Roja Dove Oligarch and Diaghilev.
Floral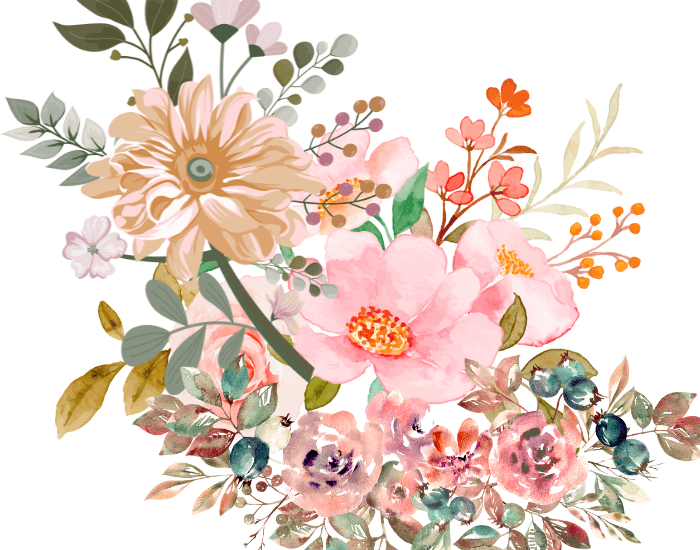 The first floral composition that got out to market is considered to be Chanel No5.
Even though there were other fragrances before No5 that had flower notes, No5 was the first to have multiple flower notes in the composition.
Just like Coty, Chanel and their at-the-time in-house master perfumer Ernest Beaux had no idea that they will create a whole new direction in the world of perfumery.
Floral olfactive family leans more to feminine fragrances and it usually smells like a bouquet of flowers.
There aren't accords that dominate this family as there are dozens of various flowers that can be mixed but there are categories such as white floral, fruity floral, citrus floral, etc.
The notes that are most famous and probably most used by the family are jasmine, rose, and lily of the valley.
Some popular floral fragrances today are Parfums de Marly Delina, Giorgio Armani My Way, Dior Miss Dior Blooming Bouquet, Gucci Bloom, Frederic Malle Carnal Flower, and Versace Crystal Noir EDT.
Other Olfactory Families
Citrus, Fougere, Chypre, and Floral are the most popular olfactory families in fragrances, but there are others that are pretty self-explanatory, so we excluded them in order to keep the focus on finding the right perfume for you.
Some others that you might want to know about:
Oriental – Usual main accords are vanilla, benzoin, cinnamon, myrrh, and ambergris. The scent is sensual, warm, rich, and voluptuous.
Leather – Pretty self-explanatory, but besides the leather as the main accord, the usual accords are castoreum, ink, and birch. Very bold, aggressive, and intense.
Woody – Woods can dominate entire compositions and the most common accords are cedar, patchouli, and vetiver. As the name implies, the scent is woody, masculine, and saw-dusty.
Bear in mind that there are fragrances that can belong to a combination of olfactory families, so you can find the fragrances that are Chypre Woody, Floral Fougere, or Citrus Woody.
Now that you know the olfactory families you probably narrowed down the choice at least to the point that you exactly know what you don't want.
If there are one or more olfactory families that you find suiting, then you can proceed to the next steps to narrow down your choice even more.
Discover The Notes You Like
Perfumes and fragrances are compositions of various olfactive notes, where in the majority of cases a single note dominates the entire composition. For example, Creed Aventus is known for its grapefruit note, Tom Ford Soleil Blanc is known for its coconut note, Terre d'Hermes is known for its super dry vetiver note, etc.
Sure, those fragrances don't have only that single note but various notes altering the actual scent of the main note, but if you don't like coconut, regardless of what's around it, there's a good chance that you won't be able to stand Tom Ford's, Soleil Blanc.
So the solution is to figure out which notes you like.
The best way to do that is to find a retailer where you can buy essential oils and spend a few days testing that particular oil in order to remember that single note.
For example, you could spend up to $200 on buying 100% raw and natural essential oils of lemon (or neroli), orange, peppermint, lavender, jasmine, sandalwood, rose, tuberose, and iris. In the majority of cases, those notes would be the main notes that lead the entire composition.
Once you test some of those you will know which ones suit you and which ones you don't like at all.
In case you like jasmine, then fragrances with the main note of jasmine will probably work for you better, or if you don't like tuberose then you will know which ones to avoid.
Bear in mind that avoiding testing of obvious notes such as grapefruit isn't the best idea as even though you probably know what grapefruit smells like if your nose isn't used to identifying scents then grapefruit may smell like lemon or bergamot or neroli, etc.
The proper learning of scents is to smell them and try to identify the scent when you don't know previously what you're smelling.
Once you find a couple of different notes you like and around which ones you want your fragrance to be based, then you can proceed to the next step.
Know The Difference Between All-Season and Season-Specific Fragrances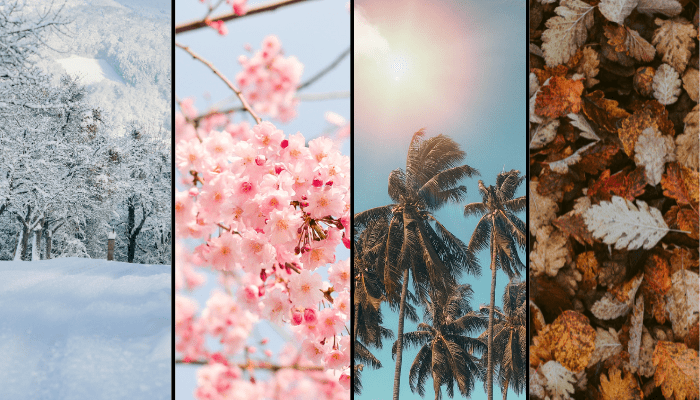 Not all perfumes are made to be worn the entire year.
Actually, the majority of them are season-specific where they work perfectly during cold winter days, but they are awful during hot temperatures, and the other way around.
Saying that you should figure out if you are looking for something that you can wear for an entire year, or if you're looking for a spring-summer fragrance or fall-winter fragrance.
The reason for this is that some notes work as they should only in certain temperatures, and once that temperature changes they change the scent.
For example, vanilla smells gorgeous during cold winter days, but if worn during hot summer days it's nothing but a super sweet suffocating scent that no one around you nor you, the wearer, can bear.
On the other hand, light salty notes work perfectly during hot temperatures, but cold temperatures simply don't allow it to open and evolve properly.
When choosing your fragrance make sure to find reviews that talk more about a particular fragrance and there you will find information about which time of the year that fragrance works best, or if it's an all-season fragrance.
Learn To Distinguish Perfumes Based On Events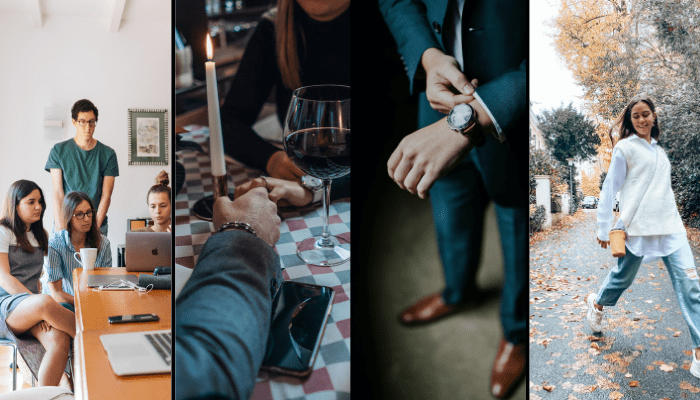 Just like not all fragrances are not for all seasons of the year, not all fragrances are for all types of events.
This may be a bit tricky to figure out, but in general, a rule is simple — if you want a fragrance that can fit all types of events, you want something that's non-offensive and mass-appealing.
The downside of this is that this type of fragrance simply just "smells good". It has no other purpose but to carry a nice scent around you.
If you however have a specific event and you want to fit the fragrance that works best for that occasion then the job of finding the right fragrance or perfume may be a bit more complicated.
Here are some occasion types and what would work best for them.
Work
When getting a fragrance for a work environment where you're around your colleagues, you want something that's not too offensive and something that won't bother others around you.
You're at work, and your productivity and the productivity of others is a priority, and you definitely don't need something in the air that's offputting.
Work perfume should be light, close to the skin, and mass-appealing. Some of those would be Dior Sauvage (EDT), Salvatore Ferragamo F Black, Acqua Di Gio Profondo, Creed Silver Mountain Water, and similar.
However, if you're in some higher position where you're spending the time with sharks and folks from the big league negotiating something, you definitely want something more aggressive and something that will present you as the one in charge — something that will leave an impression.
Some of the perfumes for that particular scenario would be Maison Francis Kurkdjian Baccarat Rouge 540 Extrait De Parfum, Creed Aventus, Serge Lutens Muscs Koublai Khan, and such.
Date Night
By date night we're assuming that you want your significant other to notice something irresistible on your skin.
In those types of events, you should look for fragrances and perfumes that have warm spices, that are seductive, with earthy/woody tones in the base — fragrances that are designed to work together with your pheromones.
The goal here would be that your significant other can't wait for the next wave of your perfume in the air and that being close to you becomes a must.
Therefore, you should look for chypre fragrances that are made to impress others around you and highlight your appeal in the best possible way.
Some of those fragrances could be, Dior Sauvage Parfum, Frederic Malle Musc Ravageur, Dolce&Gabanna The One, Byredo Mojave Ghost, and similar.
Formal Dinner
Regardless of whether dinner is with business partners, friends, or your significant other, a formal event requires formal fragrance.
In this scenario, you should aim for fragrances that are not too aggressive (as you don't want anyone including you to mix the scent of food with your fragrance), a fragrance that sits close to the skin, but still leaves a very good impression for those very close to you.
I would recommend gourmandy or fougere fragrances for this type of event as you either want to smell like you are at a formal dinner, or you want to have something light and non-offensive. Considering that this is a formal event, the scent should be a bit luxurious too.
For formal dinner occasion fragrances that would be a good fit could be Xerjoff Casamorati Lira, Tom Ford Lost Cherry, Roja Elysium, Amouage Guidance, Maison Francis Kurkdjian Grand Soir, and similar.
Club / Crowded Event
Clubs and crowded places are tricky for all perfumes because they require the perfume to be extremely solid and dominant.
That's exactly what you want in the club, right? You want people around you who wear different fragrances to be able to sense your perfume. You need your fragrance not to shy away and to dominate the area around you.
For this particular type of event, I would suggest getting fragrances that have extremely good performance, fragrances that are animalistic and robust… Fragrances where the sharpness of the scent is razor-like.
Some of the fragrances that would be a good pick for the club are Tiziana Terenzi Kirke, Maison Francis Kurkdjian Baccarat Rouge 540 Extrait de Parfum, Dior Sauvage Elixir, Gucci Oud Intense, Amouage Interlude Black Iris, Parfums De Marley Layton, etc.
Casual Daytime
Casual daytime is simply the time when you want to smell good in general, regardless of what you're doing. You may be home watching your favorite show, doing something in the garage, or going for groceries.
Casual daytime fragrance should be something light, something "happy-go-lucky", something inoffensive and easy to wear. You definitely don't want a heavy fragrance to follow you all day long and cause headaches.
Fragrances such as this can be Giorgio Armani Acqua Di Gio (or Acqua di Gio Profondo), Dior Sauvage, Jean Paul Gaultier Le Male EDT, Bleu de Chanel, etc.
Set Up The Filters, Search & Read Reviews
So let's say that you have all the data you need that this post helped you figure out.
For example – you want Chypre Floral fragrance with potential notes of rose or jasmine, and since you know that Chypre family is sensual, mysterious and sexy, you are looking for it because you need it for a date night.
The next step is to go to Fragrantica perfume search and set up those filters.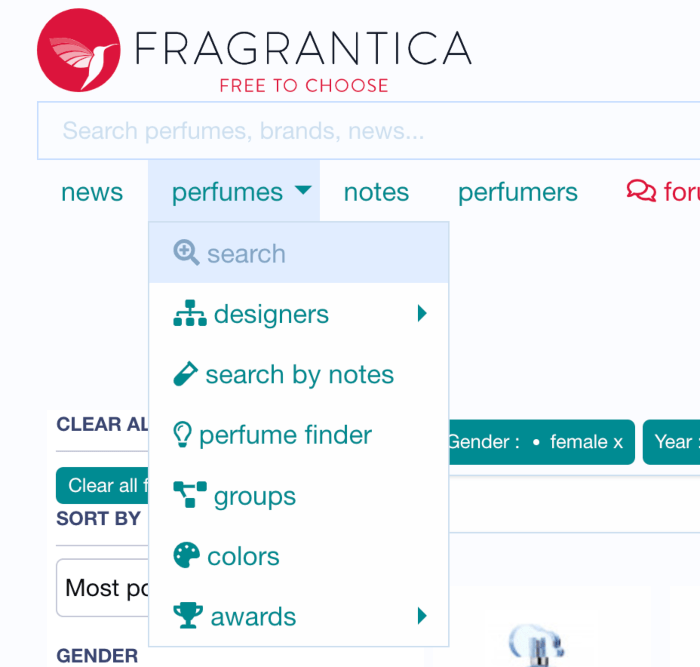 Under "Groups" set Chypre Floral
Under "Notes" set rose and jasmine
You have several other filters but in general, these two will give you exactly fragrances that belong to the Chypre Floral family and have notes of rose and/or jasmine.
But how to know which one to choose?
Well, the only thing you have left is to research more about those fragrances.
Filter "Sort by Most Popular" will give you the trending fragrances, and once you click on some fragrance your eye catches the results, and you will get more details about particular fragrances and comments (short reviews) of people who tried them.
Look for what the majority of people think and see if you like what they are saying.
The downside is that you can never find the actual review of what something smells like, but if the majority of people are saying that the fragrance smells like bathroom cleaner then you probably have the hint of what is it about.
The additional research method is definitely YouTube where some fragrance enthusiasts such as me can tell you more about the fragrance.
And finally – feel free to use Fourth Sense. I and my team test dozens of fragrances and invest so much time to provide you with accurate information about absolutely every aspect of a single perfume. If you are looking for a review of a particular fragrance but can't seem to find one, feel free to reach out and I'll do my best to make the review.
If you came to the point where you're pretty sure that you found the one, then all that is left is buying it.
Buying The Fragrance You Like
If you followed this guide step by step and you know which one to get, then all that is left is to actually buy it.
I always advise that you go to a physical store and seek that particular fragrance.
The reason for this is that it gives you the ability to actually try the fragrance before you buy it which is very important.
You read the reviews, you saw what people are saying, you watched YouTube, and got my opinion. Yet it all may differ from what you experience with that scent.
So if you have the opportunity to visit the physical store or perfumery, definitely do so.
On the other hand, if you are like me and you like blind buys or you simply prefer ordering online, it's crucial that you're familiar with trustworthy sources where you can rest assured that you are getting the original bottle for the normal price.
Definitely make sure to check out our post on the best and worst places to buy fragrances online.
Conclusion — Formula For Choosing The Right Perfume
Well, there isn't really a formula, but if you are looking to find the right perfume or fragrance for you, these steps should definitely help.
Just like with any other thing, if you're looking for a proper fit, you have to dig a bit deeper and educate yourself in order to make your choice as good as possible.
Familiarize yourself with olfactory families, identify the notes you like and prefer, figure out what you actually need the fragrance for, and figure out whether you're looking for season-specific or year-round fragrance and that should do the trick.
Either way, I hope you are at least a step closer to choosing the right perfume for you than you were when you opened this post!
Cheers!
We are sorry that this post was not useful for you!
Let us improve this post!
Tell us how we can improve this post?