When I first smelled Terre d'Hermes (eau de toilette version) my first reaction was "Gees, this smells like old people!". But just like with any other fragrance, I didn't judge the scent by the first sniff, so I gave it time.
After a few wearings, it definitely became one of my favorite fragrances and in this review, I'm going to explain that fully, hoping that you will give it a shot, just like I did.
Terre d'Hermes was made by the fragrance house Hermes and their at-the-time master perfumer Jean-Claude Ellena. It was released in 2006 and it immediately got the attention of people – many liked it, many made it their signature fragrance and it even won the FiFi Award Fragrance Of The Year Men's Luxe in 2007.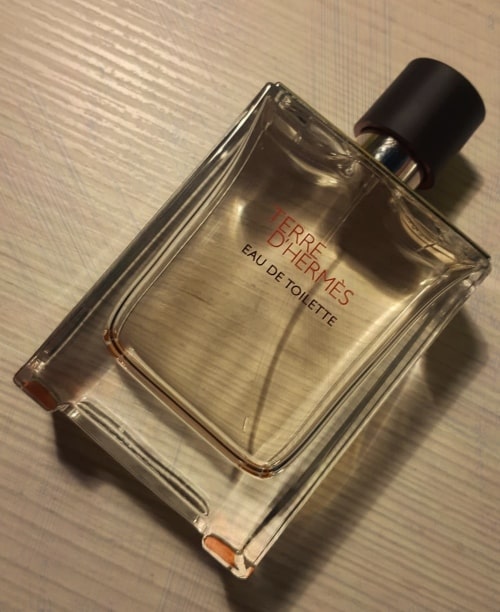 Even though it was released 15 years ago, Terre d'Hermes found its way to the top on our best spring fragrances for men in the 2022 list!
In this post, we're going to fully review Terre d'Hermes eau de toilette (EDT) version. Starting with:
What Does Terre d'Hermes Smell Like?
Terre d'Hermes EDT smells like a very masculine, classy, and dry type of scent. By nature, it belongs to the chypre family of fragrances which means the scent is very potent and strong.
When describing the scent, I usually tend to say that it's earthy, woody, dry, and citrusy at the same time.
Notes pyramid is very simple and beautifully blended as the opening, heart, and base are equally beautiful making the scent very stable.
Top notes are (1):
Heart notes are:
Base notes are:
Vetiver
Pathouli
Cedarwood
Benzoin
Orange and grapefruit are clearly there in the opening but the vetiver is screaming from the base which makes it pretty recognizable in the opening too.
As it dries down you can still get a hint of orange but pepper, vetiver, and cedarwood play the biggest role, and that's the combination of notes you'll smell all the way to the end until it's gone from your skin. As I've said – a very dry, earthy, woody, and citrusy scent.
The smell of Terre d'Hermes is definitely not for everyone because it smells extremely masculine, adult, and dominant. It's definitely not for boys, teens, young adults, and not even for some adults as the scent of classy and stable gentlemen simply doesn't go with that age nor that "street" style.
But we'll talk more about that later.
To wrap up what does Terre d'Hermes smells like – I know for a fact that vetiver as a note is not for everyone and it's not easy to wear it, but if you think you can handle beast like Terre d'Hermes try it out!
How Long Does Terre d'Hermes Last?
On average, Terre d'Hermes lasts for 8 hours on your skin, while projection lasts for 2-3 hours. Some people said they got 6 hours of longevity, while others said they got 12+ hours. For me personally, Terre d'Hermes lasts for 8-9 hours without any problems.
Bear in mind that this fragrance was released 15 years ago and probably doesn't perform like it used to due to reformulations. I personally don't know that Terre d'Hermes went through reformulation, but even if it didn't, it's expected to go through one within the next few years.
This doesn't necessarily mean that it will lose its performance, but from what I've seen with others like Fahrenheit by Dior or Acqua Di Gio, fragrance houses usually drop the performance down (including longevity) for some reason.
Anyways, Terre d'Hermes still got it – it will last an average of 8 hours on your skin without any problems and you will be able to smell it all the way.
When it comes to performance overall, you will get a projection for about 2-3 hours which is good, but I think it could be better. However, vetiver is not the scent you want to project for 5-6 hours as it's very dry and it can cause a headache, so 2-3 hours works out just fine. It projects for 3-4 feet around you.
Sillage is also moderate, leaving a trail behind your for 3-4 feet.
Overall, performance is awesome with this, and whoever gets near you will be able to smell this beautiful masculine scent.
When to Wear Terre d'Hermes?
The best time to wear Terre d'Hermes is during the daytime on warm spring or fall days.
Vetiver works perfectly with colder days but the citrus from the opening wouldn't work that well. Therefore, this mix fits perfectly on warmer days during spring or fall.
You can also wear it during summertime but avoid putting it on when the temperature is very high. During high-temperature fragrances tend to become sweet, and that definitely won't work best with Terre d'Hermes because it's meant to be dry.
When it comes to occasion, this is ultimately the best office fragrance – if you want to smell like the boss, like the leader, then Terre d'Hermes is the fragrance for you!
This masculine scent is just perfect for this springtime and it proudly holds the top at our best spring fragrances for men in the 2021 list!
Can I Wear Terre d'Hermes EDT? Who is it For?
As I've said previously Terre d'Hermes is definitely not for everyone. Strong vetiver scent with woody masculinity simply doesn't match with personalities that are anything but strong.
Terre d'Hermes is for you if:
You are above 30 years old
You have no problem with what other people think of you
You have high self-esteem
You are naturally dominant persona
You love dry and masculine scents
Of course, this isn't the strict rule and variations may apply but one thing is sure – if you don't have a strong masculine personality, this fragrance simply won't match your output.
Also, bear in mind that Terre d'Hermes is not a huge compliment getter. Yes, girls love it, but you won't get that OMG moment girls usually get when smelling Sauvage.
But in the end, if you are a personality that can wear Terre d'Hermes, then you're wearing it for yourself, not for others.
How Many Sprays of Terre d'Hermes is Enough?
3-5 sprays of Terre d'Hermes are enough for optimal performance and 8-hours longevity – 2 under the ears, 1 behind the head and if you want to give it a slight boost then spray it 2 times in the dip od collarbone. That way, whenever you turn your head, you will be able to smell it as a little bit of air mixed with fragrance will come out!
Since this fragrance is pretty potent I wouldn't recommend over 7 sprays and that's the max. The reason for this is that you're simply wasting perfume. You won't get any better performance with 10 sprays over 5 sprays.
I also wouldn't recommend getting it under 3 sprays – in the end, you do want to smell good, right?
Make sure to check out our full guide on how to apply perfume for the best performance!
Where to Buy Terre d'Hermes EDT?
You can buy Terre d'Hermes in physical stores or perfumeries who are authorized resellers of Hermès brand or you can buy it online on their website, Amazon or Sephora.
The best option is to buy it at a physical store because you get to test it first and see do you like it. Of course, don't judge it on the first sniff – let the alcohol evaporate and let it dry down. If you like it after 30 or 40 minutes, then that's it, go and get it. If not, then some other spring fragrance from our list definitely will!
If you are however buying it online make sure to use a trusted source like Amazon, Sephora, or Hermès website. Sephora is an authorized reseller and you will most certainly get the original, and Hermès brand sell also on Amazon.
Just make sure you don't buy from sketchy websites that have no reviews because they are probably selling fakes.
Packaging
Terre d'Hermes comes in a beautiful minimalistic transparent bottle with a silver sprayer and black neck.
It comes in 3 different sizes:
50 ml / 1.6 oz
100 ml / 3.3 oz
200 ml / 6.7 oz
I always recommend getting 100 ml if you're buying it for the first time because you get double of perfume liquid for a bit more money.
And of course, if you find it as something you would often wear during spring or fall, then a 200 ml bottle is the best solution. I have a couple of 200 ml bottles, including Terre d'Hermes because I often use those fragrances, and it comes down as the cheapest solution!
How To Spot a Fake Terre d' Hermes?
It's common that best-sellers like Terre d'Hermes, Sauvage, Acqua Di Gio, Creed Aventus, and many others are a target of scammers, and therefore you have to be super careful when buying these fragrances, especially online.
In order to spot a fake Terre d'Hermes, you have to familiarize yourself with how original looks. Differences you will find between original and fake Terre d'Hermes are:
Cellophane on the original is neat and well glued – fake is messy on top and bottom
Fake box has a slightly brighter color
Print on the box on the original is grey, fakes often have white print
On top of the box of the fake Hermès logo is blurry, while on the original it's clear and imprinted into the box
The mechanism on the sprayer cap is different and with a fake one, it's usually a lot harder to screw it down to get to the sprayer
The original bottle has a flat inner bottom, while fakes usually have a curvy inner bottom
The original liquid is bright orange color, while fakes usually have light yellow or transparent liquid.
Those would be the obvious differences you may spot between original and fake in order to spot a fake Terre d'Hermes. However, sometimes things are not that clear and the difference is very hard to notice.
If you are doubting that you got a fake Terre d'Hermes and if these instructions are not enough for you to figure that out, I recommend watching this video. I hope it helps!
Summary – Is Terre d'Hermes good?
All together, Terre d'Hermes is not just good – it's an amazing fragrance that will definitely serve the one who chooses it during warm days in spring or fall.
High-quality ingredients, beautifully dry and masculine scent, good longevity, and decent performance – it will most certainly be a good companion who will bring up your masculinity and alpha attitude.
It definitely not for immature boys, it's not for teens, and most certainly not for school days – it's made for a grown man who knows what he wants.
Jean-Claude Ellena described the scent he made with very simple words "Feeling the earth, lying on the ground, gazing at the sky".
Hermès house also described it as "an eau between earth and sky" and "a journey imbued with strength and poetry".
For me personally, it's one of the best creations fragrance worlds ever had.
What do you think about Terre d'Hermes?
Let me know in comments!
Cheers!
We are sorry that this post was not useful for you!
Let us improve this post!
Tell us how we can improve this post?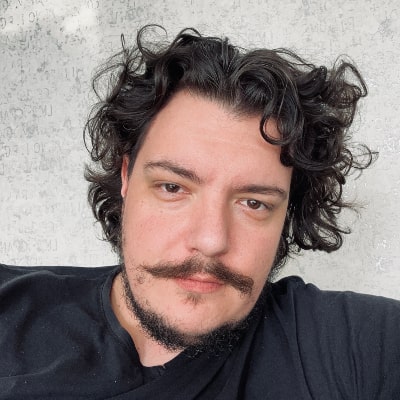 Vladan X is a founder of Fourth Sense and fragrance expert. He reviews only fragrances he owns personally, and his collection currently counts between 100 and 150 fragrances. Even though Vladan reviewed hundreds of perfumes he still didn't find the one he would call "signature" fragrance. He's still searching for that one, and in the meantime, he writes the best in-depth fragrance reviews internet has ever seen! You can read more about Vladan X here!