Back in the day, buying fragrances and perfumes was a unique experience because as soon as you go into the perfumery, you're lost in the world of hundred different scents. Even if you got there with the intention to buy a specific fragrance, your nose at least once screamed "oh what's that?!". It was a ritual, and shopping you'd remember for quite some time.
Today, times and ways of life changed this process, and the majority of people are buying perfumes online.
On one hand, that leaves them limited to discovering something new they didn't even know exists, but on the other hand, it's faster, and it often costs less.
The biggest downside of buying fragrances online is accepting the risk of getting a fake. This is ultimately dangerous especially if one decides to use that fake, as they are not tested on human skin, and can cause severe skin conditions.
That being said, in this post, we're going to cover where to buy perfumes and fragrances online, which are the most trustworthy places, and which websites to avoid when buying fragrance, perfume, or cologne.
Before we dig into it, I would personally recommend that you always get your fragrance from a trustworthy local perfumery. The reason for this is that you have the unique opportunity to try the fragrance first, test it on your skin, see how it performs on you, and after figuring out do you actually like it, decide if should you make the purchase.
Where To Buy Perfumes Online?
These are the most trustworthy places where you can buy perfumes and fragrances online — I tested all of them personally on multiple occasions and I can verify that you will always get an original bottle, and if you get lucky, you can often find a pretty good discount.
FourthSense.Shop
Promotion on our own: In July 2023, we opened our own online shop for designer fragrances and niche fragrances to offer our readers a more affordable entry into the world of fragrances.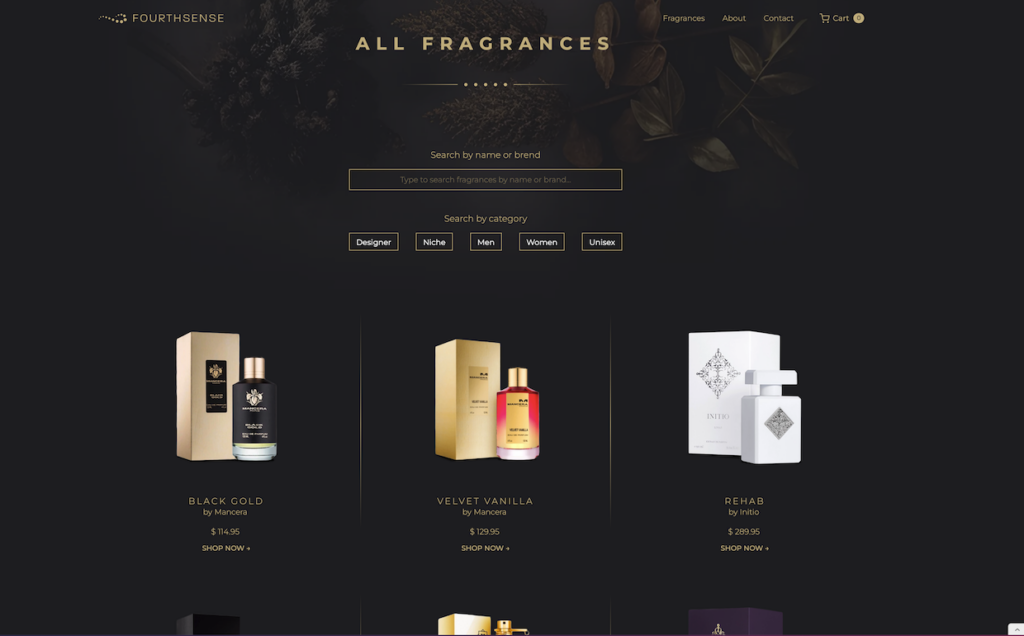 We have the same suppliers as some of the online stores listed below. So compare prices every time you shop, as often the fragrances in the FourthSense.Shop are significantly cheaper than on Amazon or FragranceNet.
Furthermore, with every purchase you support the operation of FourthSense.co and do something good for the world of fragrances.
We currently have over 150 designer fragrances and niche fragrances in our range.
We currently ship only to the US and UK. The usual delivery time in the US is between 2 and 4 days. Delivery to the UK takes a little longer.
FragranceNet
Before we started FourthSense.Shop, my personal choice for buying all fragrances online was FragranceNet.
FragranceNet offers what we all love – good deals and notably discounted prices. There are also many coupons always available and you get free shipping on every order above $100.
They are in the game since 1997 and along with fragrance brands, they work with 40,000 other beauty, makeup, haircare, skincare, and aromatherapy brands.
Orders typically take 4 – 15 business days and the tracking order is also available.
FragranceNet has been a trustworthy source for many happy customers over the years and it is one of the largest, legit online shops for the fragrance community.
With them, you can rest assured that you will get an original bottle of the perfume you're after.
Fragrance USA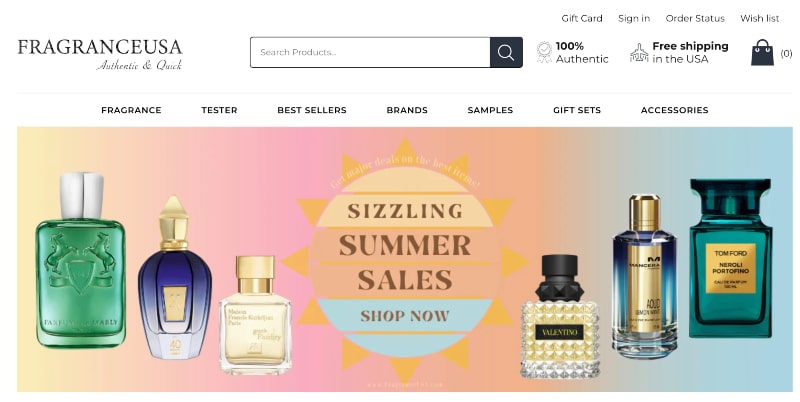 Besides FragranceNet, Fragrance USA is also a great option if you want your fragrance legit and on time.
What makes Fragrance USA special is that you also have the chance of finding discontinued fragrances there, so if your favorite fragrance is no longer in production, Fragrance USA just might have it.
Another cool thing about them, is that they actually never delete the comments on product pages – if someone doesn't like the fragrance or is suspicious about changes in formulation and they write it as a comment, Fragrance USA won't delete it. All they care about is that you get an original bottle and that your purchase goes without any problems.
Fragrance USA has been in the business for quite some time now, and you can rest assured that they are true professionals in the fragrance industry.
Oh, and did I mention you might find discounts often?
Notino
Notino is one of the largest resellers of fragrances and cosmetics in Europe and they are more than worthy of your trust.
Besides offering a variety of perfumes and other beauty products as well, Notino is a great choice because of its fund policy – you have 90 days to refund your product if something is wrong with it.
They also have 24/7 great customer support and if you are based in Europe then you will be more than satisfied with its shipping time.
I have never had an issue with Notino's products and their customer experience is always on point.
Sephora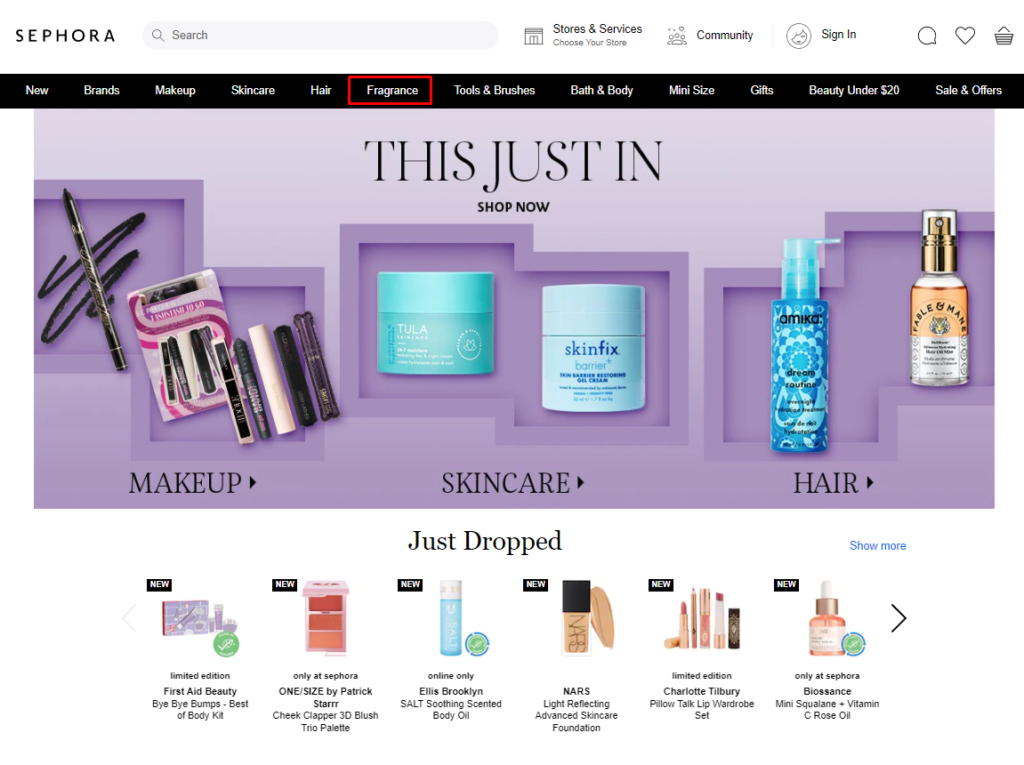 You are probably familiar with Sephora's in-store encounter and their extravagant shops that bring customer experience to another level. However, they also offer amazing online opportunities when it comes to buying fragrances online.
What I like the most about Sephora is how they managed the user account which is highly personalized.
You can set up your beauty traits and get beauty advisor recommendations that turned out to be pretty helpful. They also offer a refund if the product was only "gently used".
FragranceX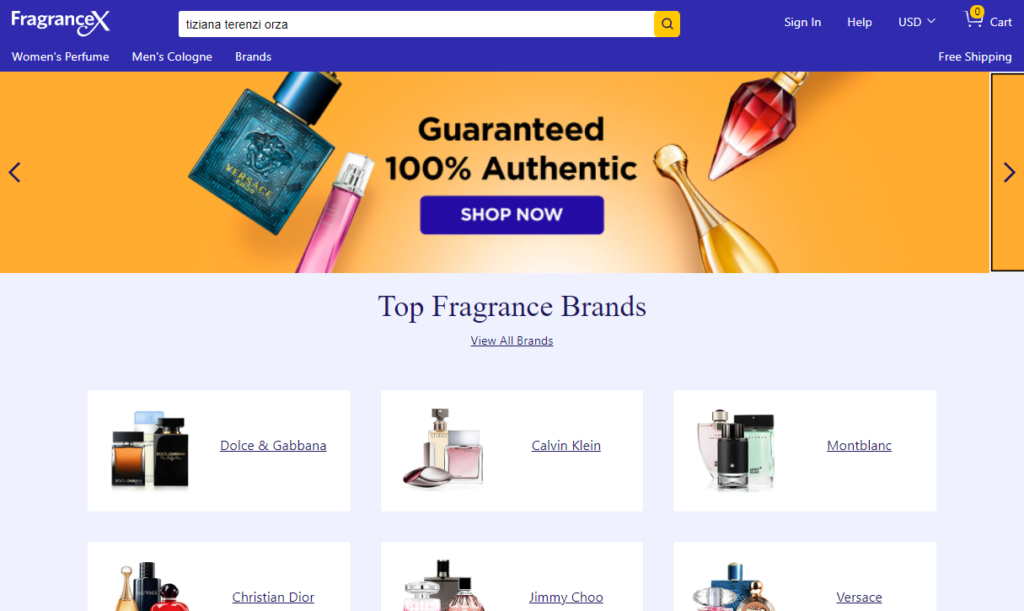 FragranceX is what I would call a lifesaver when it comes to fragrances. Whenever a brand discounts a specific scent, you are most likely going to find it on FragranceX.
FragranceX proved to be a trustworthy source over the years which can also be seen in their customer reviews. Personally, I've never experienced any issue with their fragrances and they always came in perfect condition.
Besides that, FragranceX also offers a loyalty program so if you stick with them, lots of great benefits are coming your way.
Shipping is also great and for every order above only $35 will be free for you and it will arrive in 2 – 5 business days.
Scentbird
Besides having great reviews and customer support, Scentbird also offers a mini preference quiz.
The quiz will only take you a minute and once you answer the questions about your fragrance preferences, you will get Scentbird recommendations on what you could potentially like!
The subscription package lets you choose from over 500 designer and niche fragrances; for 15 dollars a month you get one, 8ml spray (about a month's worth of daily spritzing). You can change the frequency of your subscription if monthly is too often for you.
Also, for the first-month subscribers, you also get a free fragrance sample as well, which is quite cool.
They are a trustworthy online shop that you can't go wrong with.
Ulta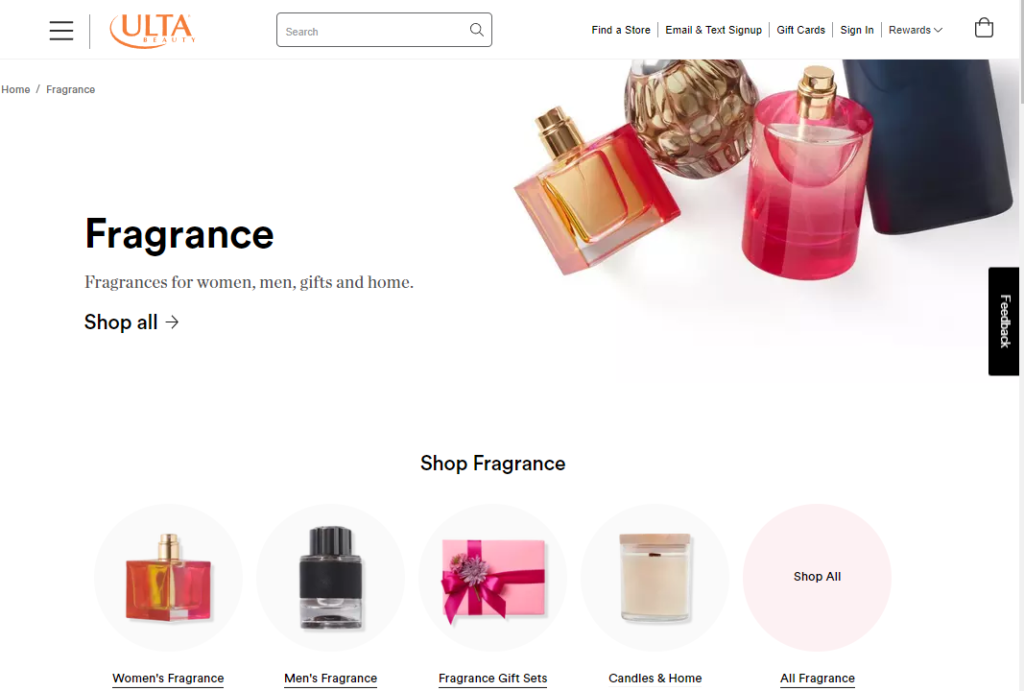 Ulta is a known legit reseller that has great customer reviews and offers an amazing loyalty program.
They will reward you with many little gifts if you are part of the Ulta community and as long as you pay with your credit card, you can return any product you don't like even without a receipt.
Besides that, Ulta filters its fragrance offerings by scent types: spicy, floral, sweet, etc. I find it pretty useful for anyone who already knows their fragrance orientation.
Scent Beauty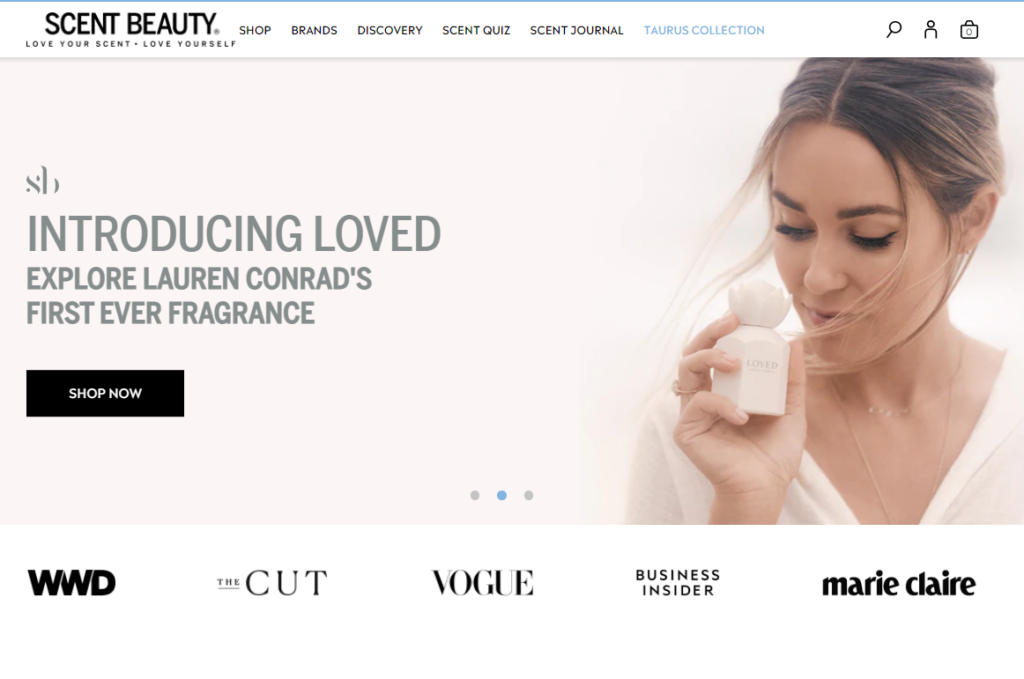 Scent Beauty is one of the newest online shops but it proved to be extremely trustworthy so far.
Besides offering regular fragrances and celebrities' or influencers' perfumes, they also created their own Scent Beauty scents as well. Make sure to check them out!
One more benefit from Scent Beauty is that they sell natural brand essentials, so basically what you find in their catalog, you won't find anywhere else.
Their product pages are nicely and precisely organized with helpful fragrance descriptions and attention to detail. Definitely worth your time.
Target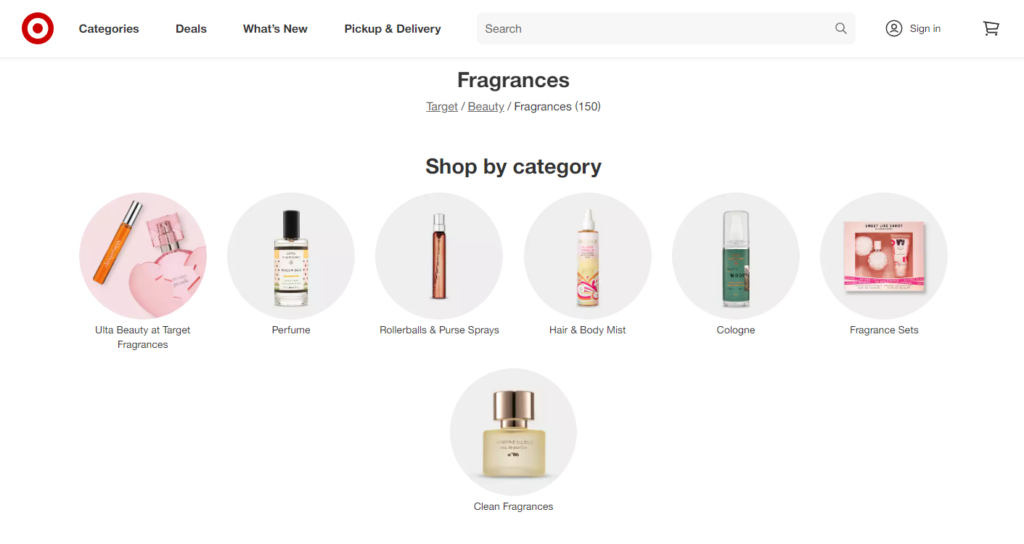 Target is a shop with years of experience in selling all different kinds of products including fragrances as well. On their website, you can also find great deals and coupons.
In 2018 they opened their first store so if you live in Fort Smith or Texarkana you have probably purchased a bottle or two from them.
Luckyscent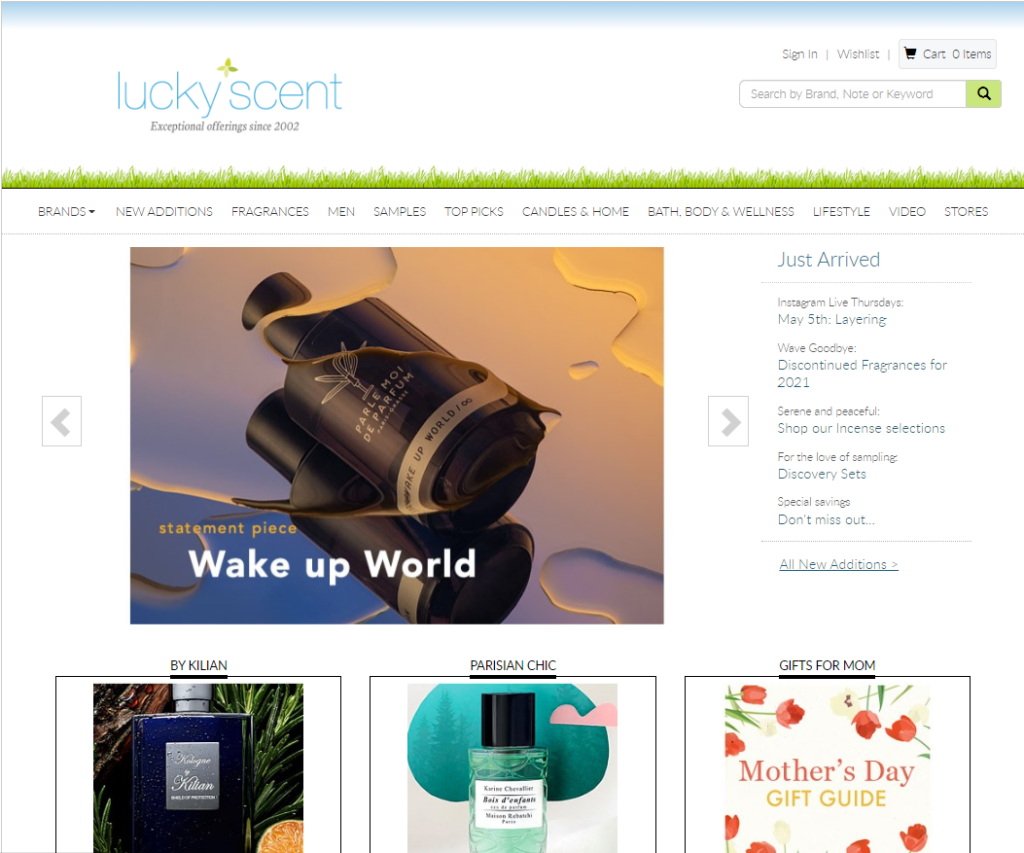 Luckyscent proved to be a trustworthy source that offers some great, extra benefits for their customers.
Their offering covers a wide range from the big-name mainstream options to smaller, niche companies including the home scents. And if samples are your thing, then you will be more than satisfied with Luckyscent's extensive array.
Besides that, if you spend more than 150$ they will gift you some free samples as well. Helpful fact — they prepared a glossary that breaks down the most commonly used fragrance terms.
Depending on where you live and which shipping method you choose, the order will come in 1-12 business days. If you are in a hurry, there is a Next Day Air*.
Where NOT To Buy Fragrances Online
Even though there are many great and trustworthy sites, I, just like everybody else, had some bad experiences with certain stores. To stop you from setting your money on fire, here are the websites I do not recommend getting the fragrances from.
Disclaimer: I'm not advising you not to make the purchase with these websites — I'm sharing my personal experience and the results of my research.
Wish, eBay, Amazon & Etsy
Wish, eBay, Amazon, and Etsy aren't necessarily convicted of selling fake fragrances, but as we all know, everyone can post anything on each of these platforms.
Even though Wish, eBay, Amazon, and Etsy have strict policies and their vendors have to pass several procedures before publishing products, there are always people that manage to fly under the radar.
In addition to that, I seriously doubt any of those three actually have any specific procedures to prevent fake fragrances from being sold.
Because of that, I wouldn't recommend purchasing fragrances from any of these websites, and if you decide to do so, do deep research on the vendor's past feedback and customer reviews.
You will see in some cases that on some of our posts we provide links to Amazon claiming that you can get that particular fragrance from there as well. The only time we actually do it is when we do the research ourselves, and when I'm personally sure that you are getting the original bottle from authorized resellers.
Amazon is actually a middle-ground as they have more strict policies on selling fragrances, and in case of any problem, they will take care of it. However, if you're not experienced with research and don't know what you're doing, it's best to stay away as there are many resources where you can get an original fragrance from.
Net-a-Porter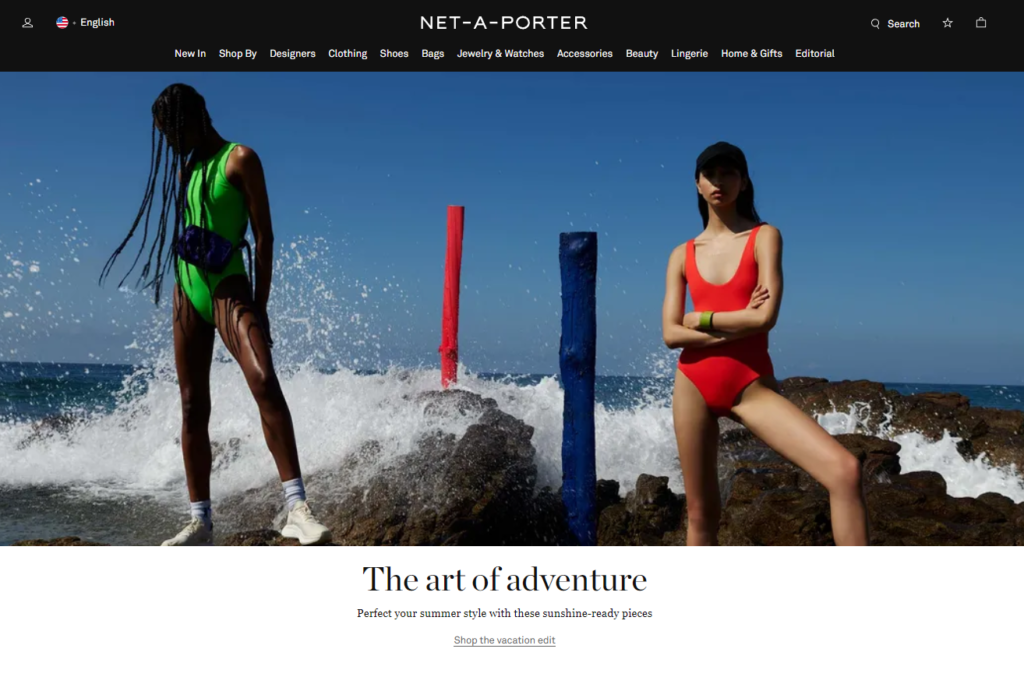 If you take a look at Net-a-Porter reviews, you will notice that the majority of their customers had some issues with this company. The problems aren't only related to the authenticity of their products but to other business aspects as well.
Many customers are complaining about not getting their refund, receiving their products in a bad state, getting goods in plastic bags and their customer support is poor.
I haven't purchased any item from them but according to their customers, many of them suspected that the products they ordered weren't legit.
Because of that, I wouldn't recommend Net-a-Porter as a trustworthy source since there are many other online stores that do their job better, treat their customers with respect, and sell 100% genuine fragrances.
Macy's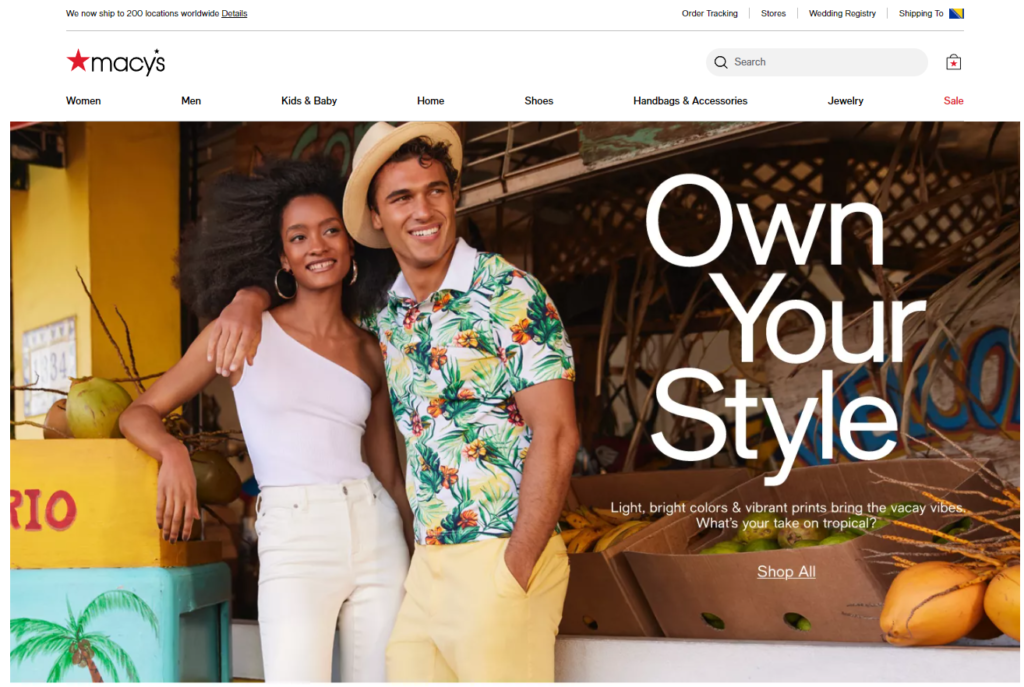 Just like Net-a-Porter, Macy's stores have pretty poor customers feedbacks, especially related to in-store customer experience.
Besides that, many people have had bad experiences when they bought a bottle of their chosen fragrance because they got fake, weaker versions of the original perfumes.
If Macy's is your go-to store, I would recommend at least you stay away from the fragrances they are selling, as poor customer support, and not paying attention to shipping may result in bottles being broken in the transport, which again is the issue, as the refund and overall experience with them may not be something to brag about.
Conclusion — Should You Buy Perfumes Online & Why It Matters?
Besides the fact that paying for a fake fragrance is a complete waste of money, there are also medical reasons why you should think twice before you order your bottle from an unrecognized store.
Fake fragrances aren't FDA approved and they are not tested on human skin so they can cause serious skin reactions and conditions.
I've personally been a loyal customer of FragranceNet and Sephora and I haven't had any bad experience with the products or with their customer support. They deliver on time and have an excellent refund policy.
Besides them, FragranceX, Sephora, and other stores I mentioned above are safe options if you want to be sure that you are getting 100% legit bottles.
Do you have any bad or good experiences to share?
If so, please share in the comments section — I will include it in the post, and you will help many!
We are sorry that this post was not useful for you!
Let us improve this post!
Tell us how we can improve this post?