Winter is the time when heavy, sweet, and sexy fragrances come to life as notes like vanilla, tobacco, rose and many others get a completely new scent.
2022 was definitely a year where a lot of things happened in the fragrance industry, lots of new perfumes, creations, and new stories came out, but some old beasts kept their spots as well. So in this post, we're going to cover the best winter fragrances for men in 2022.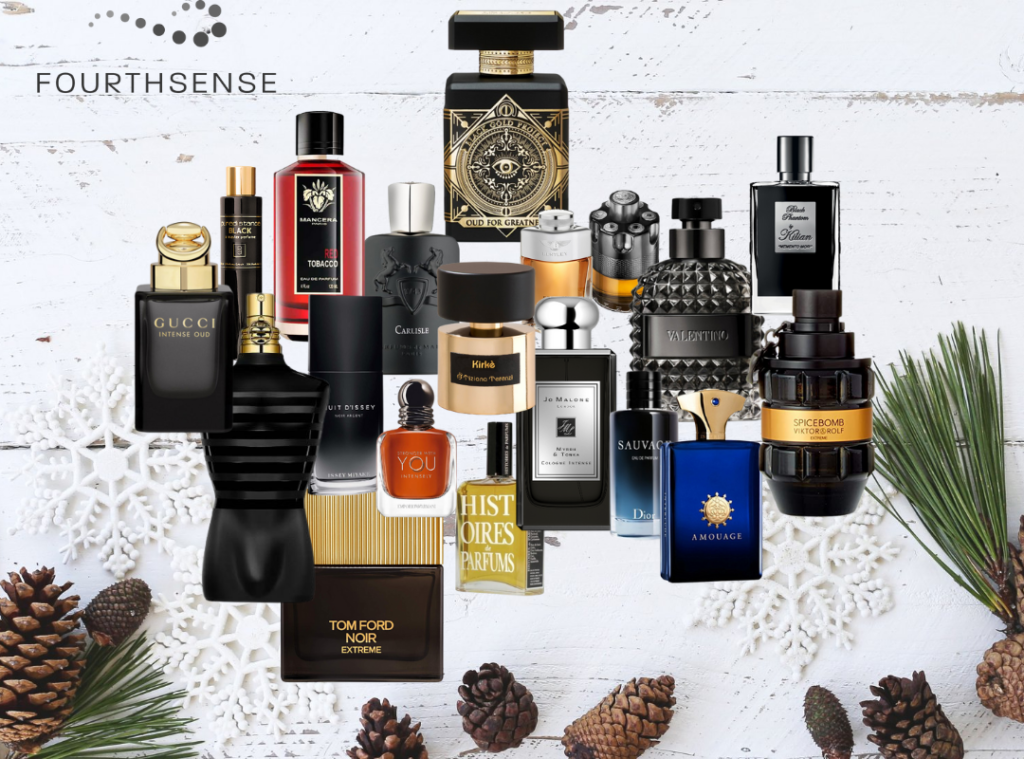 This year me and my team decided to change things up a bit, because we're getting messages and comments where there's always a fragrance missing.
After few sessions of brainstorming on how to make the ultimate list of best winter fragrances for men, we decided to break them down in 4 categories:
Best new releases in 2022 — as the name itself says it, this category has the best winter fragrances for men that came out this year
Men's best niche fragrances for winter — in this section you will find the best of the best in niche perfumery for winter that came out in the previous 3 years
Men's best designer fragrances for winter — some people don't want/like niche perfumery! Therefore, this section contains the best designers for winter that came out in the last 3 years
All-time men's classics for winter — there are some fragrances that are and always will be the best choice for winter, regardless of their age! Hence, this category!
Bear in mind that these fragrances are not in a particular order as it would be unfair to judge them on subjective feeling.
Me and my team tested all of them, so all information provided below comes from our personal experience. If you don't agree with it, let's discuss it in the comments section!
Without further ado, let's jump straight to it!
Best New Releases in 2022 For Winter
1. Tom Ford Noir Extreme Parfum — Editor's Choice
If you went through this website even for a single bit, you already know how big of a fan we all here at Fourth Sense are of Tom Ford.
And truth to be told, when we saw a new Noir Extreme Parfum coming out expectations weren't that big. Noir was ok but had weak performance, Noir Extreme was great (could be said classic Tom Ford perfumery), but Noir Extreme Parfum blew. Me. Away!
Just like with almost any other Tom Ford fragrance, it's almost impossible to identify notes based on smell, as they are so very well blended!
Soft, a bit spicy, drier and smokier than the original, middle eastern vibe. Literally art!
Amber and vanilla play here the biggest role, colored with other notes. Vanilla gives it slight sweetness while amber gives it that masculine sexy scent many of us find irresistible.
For this 2022, we're declaring Tom Ford Noir Extreme Parfum as our (editor's) choice for this winter. Reason is simple — it performs just enough to get you compliments, it's an incredible piece of perfumery, it's affordable, and it's Tom Ford!
1. Azzaro Wanted By Night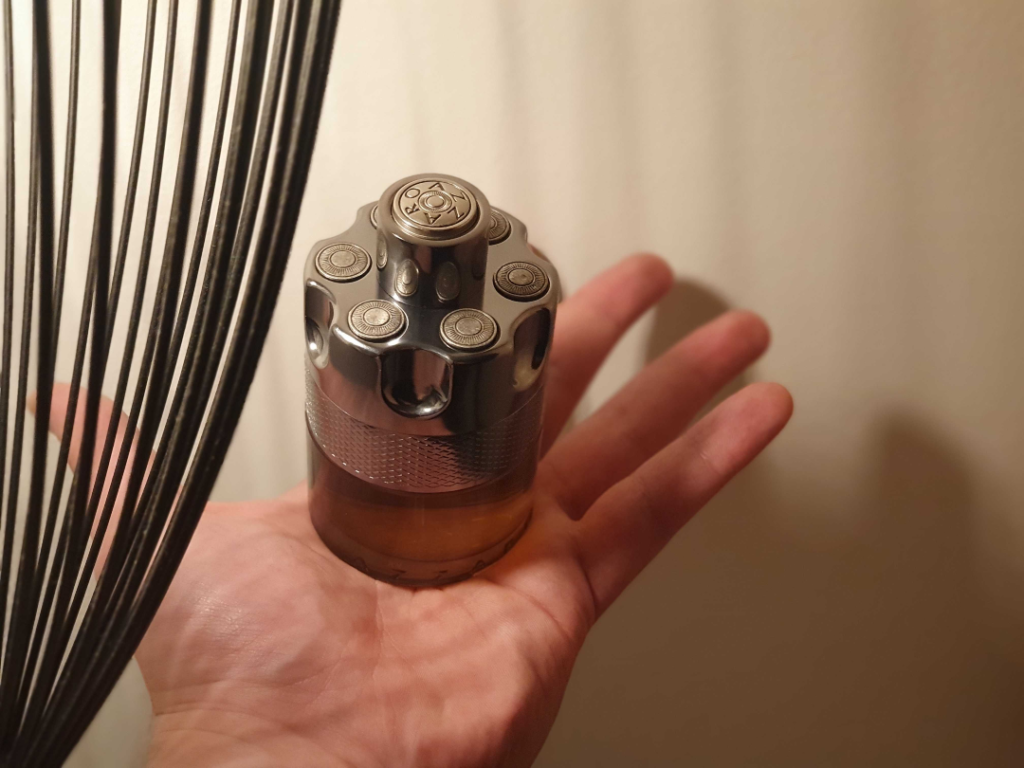 Almost impossible to ignore, Azzaro Wanted By Night is definitely one of the best winter fragrances for men.
Yes, it doesn't have the longevity, projection, sillage nor any other performance on a beast-mode, but the scent is so beautiful that it just can't go unnoticed.
Cinnamon and mandarin in the opening are just what a cold nose wants to experience, and late dry-down leads to incense, tobacco, and smokiness — the scent that is absolutely perfect for any occasion during winter.
Price also plays a huge factor here, as Azzaro Wanted by Night is extremely affordable, and I'd say the best bang for the buck definitely.
Azzaro Wanted By Night short summary:
Check out our full review of Azzaro Wanted By Night here!
2. Bentley For Men Intense
The masculine, unique and dominant scent that is absolutely adored by both men and women can be a perfect choice for your winter, evening black tie occasion.
Bentley For Men Intense has one of those classy, mature, and rich compositions that are based on a beautiful mixture of woody but sweet notes perfectly crafted for cold winter nights when you want to stand out from the crowd.
This alluring scent opens with booze, cinnamon, and geranium but as it dries down, the fragrance becomes more aromatic, leathery, and smoky while patchouli and cedarwood become more prominent. It has a pretty mature scent so I wouldn't recommend this fragrance for a younger population.
I would also like to mention that Bentley Fore Men Intense has a fantastic value proposition and can be listed as one of the high-quality fragrances that have extra long longevity and great performance in the first 3 hours or so.
In general, definitely deserved a spot as one of the best winter fragrances for men!
Bentley For Men Intense short summary:
3. Gucci Intense Oud
Gucci Intense Oud is probably the best oud scents from designers' fragrances right now and it represents a real comeback of Gucci house that we have been waiting for a long time. Looking for a compliment monster, dark and sexy type of scent? You have just found it.
This mysterious scent has a sophisticated and classy tone engraved in it but it's surprisingly very easy to pull off and convenient for various of different occasions. From jeans and a white t-shirt to a black tuxedo for an evening date, you just can't go wrong with it.
Gucci Intense Oud greets you with the burst of oud and amber notes, a very linear, very controlling scent with a slight touch of warm spiciness. As it sets close to the skin, the fragrance becomes more leathery and masculine, it smooths down to a heavenly pleasing but sexy aroma that works dangerously good for cold, winter days.
In the terms of quality, Gucci definitely delivered incredible oud fragrance, and oud as a perfume note is just amazing for winter as it gives that cozy, sexy, warm scent very few can resist.
Gucci Intense Oud short summary:
4. Killian Dark Lord
When I first heard about this one my first thought was "What does Lord Voldemort smell like?". I swear.
Just as described, "gentleman of the night" is a scent specifically crafted for strong, mature, and brave men that can pull of the dark leather and dryness that this fragrance carries on. Because of its aggressiveness and harshness, this scent is not for everybody and definitely not mass-appealing but if you fell in love with it, there is no going back from there.
Dark Lord by Killian is a mysterious, leathery, and woody scent that slathers the dryness of the leathery notes with only one spray. It is an extremely dry and leathery fragrance with a small touch of spiciness and sweetness as it sits close to the skin.
Keep in mind that this fragrance just doesn't cooperate with paper, so if you want to test it, make sure to spray it directly on your skin.
This dark scent has a beastly performance, which also applies to its longevity and silage – the quality of this fragrance will not disappoint. Because of its mature taste, the Dark Lord is more suitable for guys over 30 years of age and when it comes to the occasion — biker bar or dinner date, you will leave an impression.
The ultimate reason why Dark Lord by Killian made it on this list of best winter fragrances for men is that in my honest opinion, extremely low temperatures can't affect its performance, and this aggressive leather perfectly blends with cold.
Killian Dark Lord short summary:
5. Viktor & Rolf Spicebomb Extreme
Spicebomb Extreme is a warming, inviting, and sweet scent that just screams winter — it's a scent I would wear after skiing, sitting next to the fireplace with my girl, and drinking a glass of cognac. So sexy and spicy that this list of best winter fragrances for men couldn't go without it.
Spicebomb Extreme is a long-lasting scent with strong projection and great silage, and even though it's not the first composition of spices, tobacco, and vanilla it's still very unique.
First sprays of this winter scent give away a strong existence of tobacco and fresh spiciness which makes the opening masculine and seductive in a way that makes this fragrance a real compliment getter. The dry down of Spicebomb Extreme is smooth and sweet, and I can picture this fragrance being a signature scent.
In the terms of versatility, this fragrance will work great for any winter weather occasion and event. For the work environment? Absolutely. For daytime lunch with friends? Of course. For a night-time date at a luxurious restaurant? Don't hesitate.
Viktor & Rolf Spicebomn Extreme short summary:
6. Amouage Interlude Man
Even though this may be one of the fragrances that not many people have heard about but Interlude Man needs much better attention than it gets which is exactly why I decided to include it in the best winter fragrances for men list.
One of the reasons why Interlude Man found its way up on this list is because of the great mixture of aroma chemicals and natural ingredients with unrealistically good longevity and enormous silage – it just cannot go unnoticed.
Interlude Men is an amber-oriented scent with a strong expression of woodiness and smokiness that separates this fragrance from any other season but winter. In the opening, you can also smell a good amount of bergamot while patchouli is lovely integrated into the base and adds on sweetness and woodiness that become more prominent as the fragrance dries down.
This fragrance is also known as a very powerful and strong etiquette and will surely earn you many compliments from both genders – plus, you get enteral longevity.
Amouage Interlude Men short summary:
7. Tom Ford Noir Extreme
For many fragrance-lovers, Tom Ford Noir Extreme will be the best winter fragrance choice of all the time and I cannot say that it has that title for no reason.
Like many other scents from this house, Noir Extreme has a beautiful uniqueness that evolves around many different flowers notes that this amber fragrance contains – saffron, neroli, rose, jasmine, and orange blossom; a real flower bomb.
Tom Ford Noir Extreme is a sweet, warm spicy, vanilla-based fragrance for men. The substance of kulfi also adds on that rose sweetness while woody notes, like sandalwood, works beautifully well in the background and give a woody feeling to this whole, sweet-spicy composition.
I would recommend this fragrance for every man that loves unique and inviting scents, it is not mass-appealing but if you know how to pull it off then you will most certainly steal the show. Best suiting for any night occasion but you will not go wrong if you wear it during the day as well.
Tom Ford Noir Extreme short summary:
8. Puredistance Black
One more excellent and luxurious smell that probably deserves way more attention than it originally gets is Black Puredistance.
One interesting fact about this fragrance is that house of Puredistance hasn't disclosed any of the accords used in crafting Black to keep it mysterious and inexplicable to the public.
To my nose, Black Puredistance is a smoky, musky, and leathery scent that has a slight touch of spiciness which could potentially come from cumin or some other, similar ingredient. I also believe that the composition of this fragrance contains many natural accords and a complex mixture that made this fragrance unique and luxurious.
In the terms of quality, you will get a solid 6 to 8 hours of longevity while silage and projection would be a weaker side of this perfume. It's a great choice for nighttime events but because of its rich and classy note, it is more suitable for formal events and leans on the mature side of the fragrances.
Black Puredistance short summary:
9. Black Phantom by Killian
One more fragrance from the house of Killian that stole my nose is Black Phantom which has a totally different aura from the Dark Lord I mentioned earlier – but still, an amazing fragrance that belongs easily in the list of best winter fragrances for men.
This creamy coffee-prominent scent is a musk-heavy fragrance with engraved sandalwood in its backbone that gives a woody and ambery finish to this sweet and warm composition. Vanilla is also very prominent, especially when the fragrance starts to dry down and as it happens, you can also detect caramel and rum notes as well – all ingredients are crafted beautifully with each other.
It is more of a private scent and it is definitely going to set close to the skin after 2 hours or so, but that is fine as well, especially if you like your fragrances to leave a pleasing and inviting smell and not to punch them in faces.
I would wear Black Phantom for an intimate, night date or on a casual evening drink with my girlfriend; this fragrance is not made for clubbing or for some formal events if you want to leave a strong impression.
Black Phantom by Killian short summary:
10. 1740 Marquis de Sade Histoires de Parfums
Because of its leathery, incensing, and woody resonance, 1740 Marquis de Sade earned a spot between all these beautiful winter fragrances.
The opening greets you with a boozy and woody scent but as it sets to the skin, patchouli becomes more prominent and it blends very well with the top notes – the scent is kind of sexy and extremely spicy in the mid-time. In the final dry-down, scent leans more on a leathery, herbal, and vanilla type of scent which actually smells delightful.
I find 1740 Marquis de Sade as an intoxicating, seductive and beautiful scent, because of the prominent leather and patchouli note, this fragrance works great for colder, winter nights.
I wouldn't say that this fragrance has any age limitations, you simply have to like a spicy and leathery type of mixture to fall in love with 1740 Marquis de Sade. On top of that, this fragrance has eternal longevity and in combination with strong silage, it will collect compliments wherever you step your foot in.
1740 Marquis de Sade Histories de Parfums short summary:
11. Dior Sauvage Eau de Parfum
You may be wondering why Dior Sauvage is on the list of best winter fragrances for men, but the reason behind it is the fact that this fragrance has an ultimate, versatile scent that cannot be left out for any season at all, especially winter.
This popular Dior fragrance has won many hearts and surely, it won our hearts as well. A long-lasting fragrance with strong silage and a unique signature bought a universal type of aroma that women simply adore. No age limitations, just a magnificent scent.
Dior Sauvage EDP opens up with already familiar Dior's ambroxan scent but it's not metallic or aggressive — instead, it is very well smoothed with a nice fresh, spicy peppery kick along with a touch of the bergamot which adds on citrusy and freshness. It has a super appealing amber-woody backbone that works nicely with vanilla from the base of the fragrance.
If you decide to go with this ultimate, fresh, spicy, and citrusy scent I want to warn you about many scams and fake bottles of Dior Sauvage (both EDT and EDP), so make sure you are buying it from a safe source.
Dior Sauvage Eau de Parfum short short summary:
12. Le Male Le Parfum by Jean Paul Gaultier
Le Male Le Parfum – a cracking fragrance that screams freshness and cleanness; a classic French perfume that has a friendly, lovely, and gentle aura around itself.
It can be worn during the winter or fall, colder days are definitely a better option for this sweet scent, and it is pretty much versatile. I would wear it casually or maybe even clubbing as well. Definitely not an office or business perfume, and honestly I wouldn't really wear it on a date night — considering I'd want to leave the best impression I can, there are other fragrances from this list that would maybe do a better job at that.
In the first spray, you can very easily detect the sweet, rich, and powdery effect, vanilla and lavender combination fits perfectly together and adds onto that initial sweetness in the opening. It has some very nice warmth and spiciness that makes this scent very enticing. It drowns down to very stable and enjoyable woody and ambery notes while vanilla still stays present throughout the whole perfume lifecycle.
In the terms of longevity, you can expect Le Male Le Parfum to last at least 7 hours or more, while it will perform great in the first couple of hours.
For me, it is not one of those scents I have to go overboard just to be picked up, only a few sprays on the right places will be more than enough.
We already covered how to properly apply fragrance for maximum performance, and the same rules apply to Le Male Le Parfum!
Le Male Le Parfum by Jean Paul Gaultrier short summary:
13. Emporio Armani Stronger With You Intensely
This anticipated flanker came out in 2019 and found its way on today's list because of the caramel-sweet, dense scent that evolves into a delightful structure perfectly crafted for winter nighttime.
Unlike the original Stronger With You fragrance, this one comes out as more smoothing, rounded, and less punchy scent which is why I decided to choose Stronger With You Intensely flanker over the original edition.
Stronger With You Intensely opens a little bit powdery but surely caramel-sweet scent in the composition of warm and spicy cinnamon note. After approximately 15 minutes it becomes even sweeter — caramel toffee is really projecting at that point and turns the scent into a warm, rich dense kind of sweetness that works great for cold weather.
Even though there are lots of sweet notes, it is more like a warm and spicy variety of sweet than candied sugary sweet.
If you are not into sweet fragrances and you love more masculine, woody, and leathery scents then you might want to skip this one.
Stronger With You Intensely Emporio Armani short summary:
14. Nuit d'Issey Noir Argent by Issey Miyake
Don't skip this one because you can't pronounce it! I can neither!
Best winter fragrances for men are often amber-woody based perfumes, and that's also the case with Nuit d'Issey Noir Argent — it has an amber-woody and spicy type of tone but with an interesting composition, but it evolves into a unique and signature fragrance you will probably love.
With the first spray, I do think that this fragrance is not for everybody but it takes only a few minutes when the true colors of this fragrance start coming out and trust me – it's fantastic!
Nuit D'Issey Noir Argent opens up with a bit of the fresh grapefruit but what steals all the attention is the spicy mix of black pepper and pink pepper, along with the sweet nutmeg and myrrh. It can have a little harsh and strong opening but right after 10 minutes in the dry-down it starts leaning more toward balsamic sweetness.
I wear this perfume for all kinds of winter occasions, it is very enjoyable and pleasing so you will not smell offensive or aggressive if you decide to wear it in the office or during lunch. It probably leans toward a more mature scent but, as I said, you cannot go that wrong with Nuit D'Issey Noir Argent, if you like it, you go and wear it.
Nuit D'Issey Noir Argent by Issey Miyake short summary:
15. Valentino Uomo Intense
The reason why I fell in love with Valentino Uomo Intense is because of its balanced nature of iris, tonka bean, and leather which made turned this fragrance into a masculine, sexy and dark masterpiece (and women adore it).
Uomo Intense has a great performance, strong silage, and is a serious compliment getter — even though it was launched back in 2016, it's impossible not to include it in the best winter fragrances for men now in 2021.
The iconic iris note is the first reaction from Uomo Intense which gives the fragrance a lipstick type of fragrance. Because of the tonka bean and vanilla nuance in the backbone, the fragrance smells like vanilla-laced lipstick. As it dries down, the sweetness is outplayed by leathery notes which turns this fragrance into a winter direction.
In the terms of the occasions, I find Uomo Intense pretty versatile and easy to wear for various different events – gym, work, night-outs, and so on.
Valentino Uomo Intense short summary:
16. Mancera Red Tobacco
Haven't heard about Red Tobaccy by Mancera? How about Tom Ford Tobacco Vanille killer? Yep, that's the proper description of it.
The fantastic composition of agarwood, cinnamon, saffron, nutmeg, and other beautiful nuances adds this tobacco-based fragrance as an all-time favorite winter fragrance. It's a fragrance made for winter, definitely not something you would like to wear during warmer days.
In the bare opening, you will get that really powerful sweet tobacco note, some spiciness from cinnamon and earthy patchouli as background music. It can come out a little bit harsh or off-putting but after 30 minutes, the scent becomes sweeter, smokier, a creamy fragrance with oud undertones.
I would recommend you to apply Red Tobacco Mancera at least 30 minutes before you go out to meet someone so that fragrance has time to dry down and experience its full potential – once it happens, you will want other people to smell it on you.
Even though it's a unisex fragrance, it is definitely more masculine and if you are into warm, semi-sweet, spiced tobacco with cinnamon incense and oud nuances along with a good dose of vanilla, it will be your signature scent.
Do not be worried about the quality of Red Tobacco Mancera, it has enteral longevity and projects pretty well in the first couple of hours.
Many compared Tom Ford's Tobacco Vanille with this one, and here's the truth from someone who used 500ml of both perfumes — they are much alike but signatures of both houses are extremely recognizable. Tom Ford tends to add more natural intensity to its perfumes (hence the price) while Mancera always has that synthetic note in the background. However, considering the price differences, if you don't want to spend hundreds of bucks on a fragrance, but want an absolute beast, Mancera Red Tobacco is a way to go.
Red Tobacco Mancera short summary:
17. Jo Malone Myrrh & Tonka
Why Myrrh & Tonk? Because it gives you confidence, compliments, and self-radiance. Also because to me personally, nothing in this world smells better than myrrh. It's my list!
What has been a potential turn-off for some fragrance lovers is the fact that this scent does not have super longevity or amazingly strong performance, but even with its moderate projection it still earns a special place on the list of best winter fragrances for men.
Myrrh & Tonka Jo Malone is a sweet, lavender-based scent in the opening with a present note of myrrh and tonka bean. As it dries down, the sweetness of vanilla takes the wheel and the scent becomes more ambery, aromatic, and warm-spicy while lavender slowly fades away.
The reactions to this scent were actually fantastic because no one can stay immune to this beautiful blend of myrrh and tonka bean. Personally, I don't mind wearing this scent for any winter occasion (but I would say it fits better for night hours) and you can always spray it a few times during the day if you want to keep that sweet, ambery scent all day.
Myrrh & Tonka Jo Malone short summary:
18. Tiziana Terenzi Kirke
If you know what is Kirke by Tiziana Terenzi all about, then you are probably wondering how this fruity-oriented smell found its way on the best winter fragrances FOR MEN. I know that many websites out there say it's mostly a feminine scent, but that's not true at all.
Kirke Tiziana Terenzi starts very fruitily since passionfruit, peach, pear, and raspberry are all in the top notes — after only a few minutes the smell becomes even fruitier, richer, and sweeter. The real magic happens when the fragrance starts to dry down to a more vanilla-musky and patchouli-oriented scent with a woody backbone. A real roller-coaster of the notes.
To be 100% honest, I have no idea how to explain this scent. Tiziana Terenzi's house-blended this so well that it's almost impossible to detect any of the notes by themselves.
Even though Kirke Tiziana Terenzi opens as a fruity bomb, the dry-down is what makes it an excellent winter choice.
On top of that, this fragrance has outstanding quality – it will last forever on your skin and it has enormous silage and projection. You will not go wrong if you wear it during any season but it leans more toward winter days.
If you're a guy, then trust me and don't hesitate, Kirke will work perfectly. On the other hand, if you're a girl getting your man perfume for winter days, in the worst-case scenario you will have an amazing winter fragrance for yourself!
Kirke Tiziana Terenzi short summary:
19. Parfums de Marley Carlisle
Carlisle by Parfums de Marly is the fragrance I cannot exclude from this long list of best winter fragrances for men because this oriental spicy, semi-leathery, warm scent is a must-have for snowy winter days.
With the first spray, you get a sweet, green apple and a burst of nutmeg which gives you a lot of spiciness from the top. The real breaking point happens after 10 minutes when the fragrance becomes much nicer, more pleasant, creamy, and dense sweet.
Because of the vanilla and the base of the patchouli, the fragrance gains a noticeable woody note with nuances of warm spiciness and a slight touch of earthiness. This lovely mixture makes this fragrance perfect winter fragrances for every wood-spicy lover.
I find Carlisle Parfums de Marly very versatile and it is very easy to wear. If you are looking for a complimenting factor then you have nothing to worry about because women love it and it's a real attention grabber.
Carlisle Parfums de Marly short summary:
20. Oud for Greatness by Initio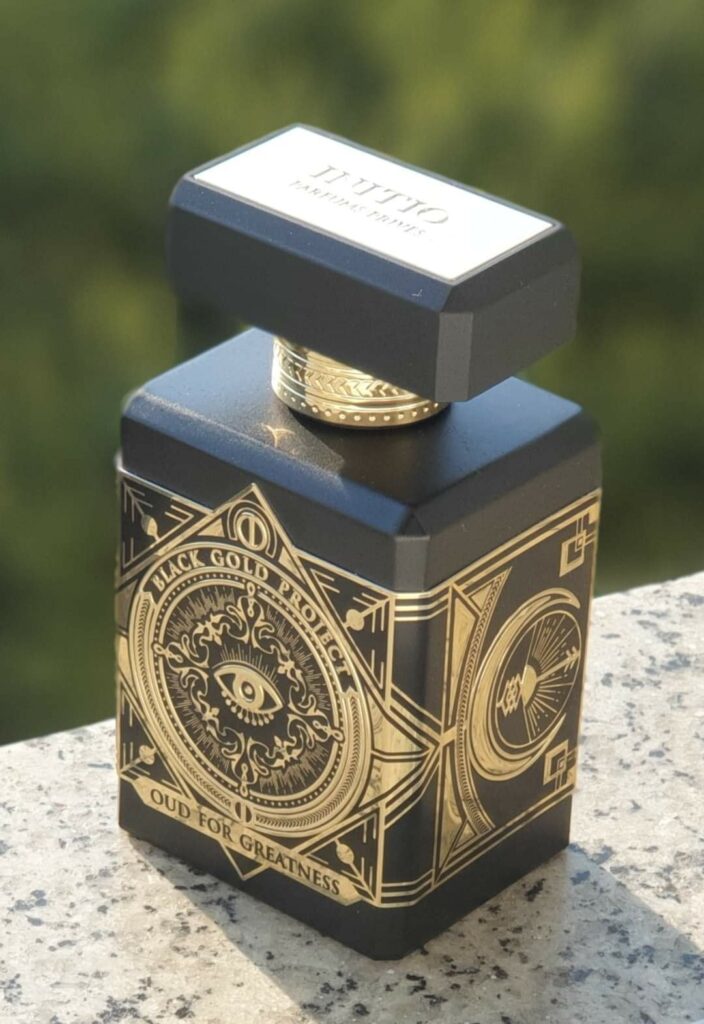 Last but not the least, this greatness came out in 2018 and it immediately draw attention.
I find Oud for Greatness one of the best winter fragrances for men so far, it is one of those scents that will remind you how beautiful you smelled the whole day even after 10+ hours – real longevity and silage beast.
Oud For Greatness is an oud-based scent with a dominant note of saffron in the opening with a combination of sweet and spicy nutmeg and the great base of patchouli. As it dries down, it evolves into a woody, earthy and dark liquid, with musk notes as covering finalization.
It's amazing for nights out, but also for business dinners, as it will leave a luxurious impression.
Oud for Greatness by Initio short summary:
If you want to read more about what Oud For Greatness is really like, make sure to check out our full review!
Conclusion
There's no way we can say which of these fragrances is the best winter fragrance for men because all of them are very different and very unique. Some of them you won't like, others you will find as your next signature scent but one is sure: any of these that you haven't tried before will get in you in a whole new world.
This list is updated every year, and for this list, the last update was December 2021.
Have you tried any of these? Which winter fragrance is best according to you?
Let me know down in the comments!
Cheers!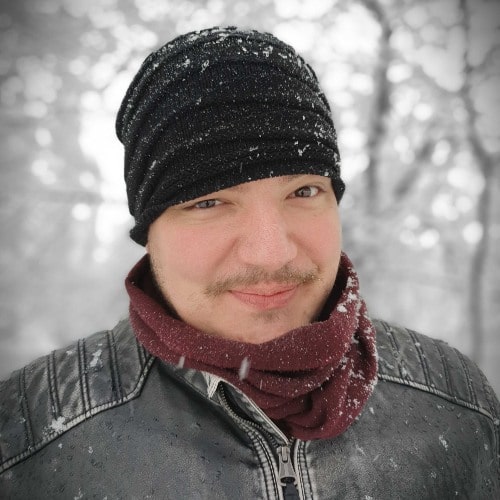 Vladan X is a founder of Fourth Sense and fragrance expert. He reviews only fragrances he owns personally, and his collection currently counts between 100 and 150 fragrances. Even though Vladan reviewed hundreds of perfumes he still didn't find the one he would call "signature" fragrance. He's still searching for that one, and in the meantime, he writes the best in-depth fragrance reviews internet has ever seen! You can read more about Vladan X here!