In a surprising twist, Emporio Armani has decided to stop selling its popular perfume, "Stronger With You Absolutely," in the United States. This move has left many people puzzled, as this fragrance had become quite popular since it was first released.
Previous month I reached out directly to Armani's house asking them to verify the information as the fragrance was no longer available on their US websites. They came back with verification that Stronger With You Absolutely is discontinued in the US just like Stronger With You Intensely.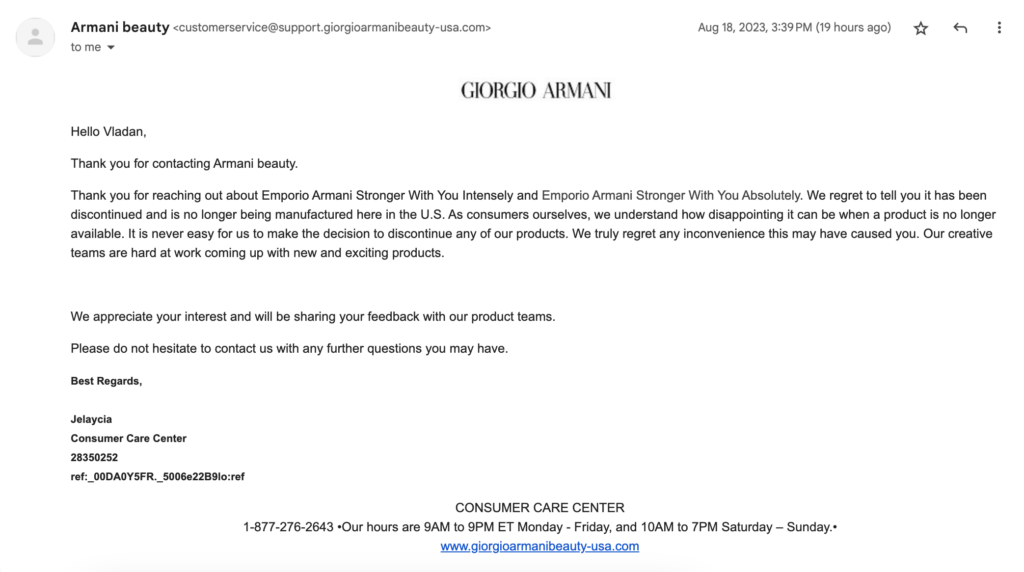 "Stronger With You Absolutely" was introduced in 2019 and became a favorite among perfume lovers. People liked it because it had a unique and captivating smell, with ingredients like spicy cardamom, sweet vanilla, and woody scents. It was known for its long-lasting scent that made people feel confident and attractive.
Armani hasn't explained why they're discontinuing this beloved fragrance in the US. This has disappointed many loyal customers who loved the perfume and the great reviews it received from both regular people and experts. People liked that it stayed on them for a long time and could be worn on many different occasions.
Even though Armani hasn't given a specific reason for this decision, it means that you won't find "Stronger With You Absolutely" in stores or from authorized sellers in the US anymore. This has made fans sad and they're now looking for other perfumes to replace it.
But here's the good news: people in Europe can still buy "Stronger With You Absolutely." Armani hasn't said anything about discontinuing it in other places, so it should still be available there.
Armani might have had different reasons for stopping this perfume in the US. It could be because people's tastes in perfumes are changing, it's difficult to make, or it's part of a bigger plan for the company. Perfume trends change a lot, so that can also affect what brands like Armani decide to do.
For people in the US who loved "Stronger With You Absolutely," there's still hope. You might be able to find it online through certain websites or from other sellers. However, it might be more expensive because it's not being made anymore.
Personally I don't recommend buying fragrances from marketplaces such as Ebay, as there's no safe way of doing it. We reviewed the best and worst places to get fragrances online so if you really want to get Stronger With You Absolutely, we recommend trusted resellers mentioned in that article.
As fans of this fragrance say goodbye to "Stronger With You Absolutely" in the US, they can only hope that Armani will make new and exciting perfumes in the future to win back their loyal customers.
In summary, Armani's decision to stop selling "Stronger With You Absolutely" in the US has surprised many, leaving fans of the perfume both sad and curious about why this decision was made. While people in Europe can still enjoy the scent, those in the US will need to explore other options or look for remaining stock through different sources to continue using this favorite perfume.
It remains a mystery why fragrances popular as Stronger With You Intensely and Stronger With You Absolutely are being discontinued, but since we as enthusiasts can't change anything, all we can do is wait and hope that Giorgio Armani truly has bigger plans this time.
We are sorry that this post was not useful for you!
Let us improve this post!
Tell us how we can improve this post?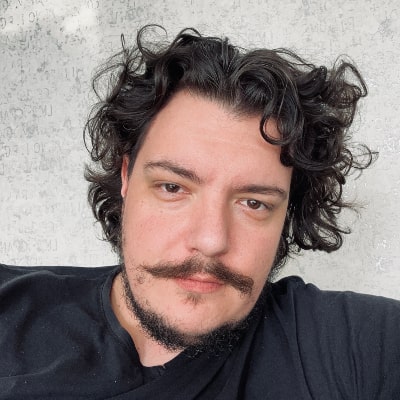 Vladan X is a founder of Fourth Sense and fragrance expert. He reviews only fragrances he owns personally, and his collection currently counts between 100 and 150 fragrances. Even though Vladan reviewed hundreds of perfumes he still didn't find the one he would call "signature" fragrance. He's still searching for that one, and in the meantime, he writes the best in-depth fragrance reviews internet has ever seen! You can read more about Vladan X here!