The first flanker of the very popular Stronger With You line by Emporio Armani was Stronger With You Intensely which came out in 2019.
At the time, Armani demonstrated to all other designer fragrance houses how fragrance producers should listen to their audience and their feedback.
Stronger With You truly achieved great success, but it also had a few things that could have been better. On the other hand, it was a line starter so it's logical that Armani purposely left space for improvement and flankers planned for future release.
Unfortunately, after many rumors, we managed to contact Armani's support team, who confirmed that Stronger With You Intensely has officially been discontinued in the US.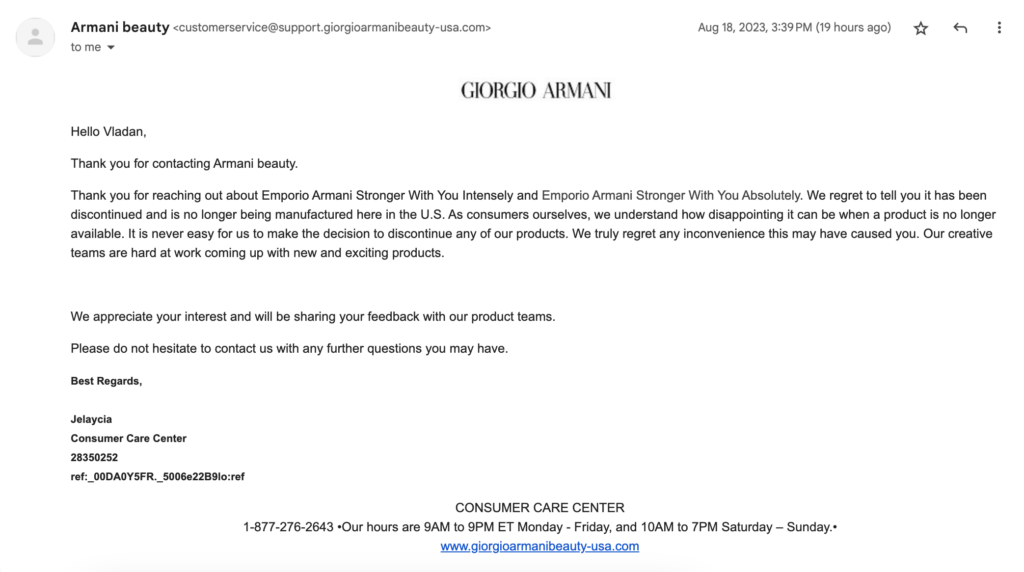 Why Is Armani Stronger With You Intensely Discontinued?
Frankly, the only logical explanation for this is that Armani wanted to switch focus to other lines they are offering.
I wouldn't say the reason for discontinuing Stronger With You Intensely is bad sales – the fragrance was warmly welcomed by the SWY fans and reviews were amazing.
Compared to the original Stronger With You, concentration was eau de parfum, performance was better, and the scent was darker, more intense, and much more mysterious. It's safe to say that it easily became the favorite flanker.
So it wasn't sales. It wasn't a lack of popularity. I wouldn't personally say that it was bad math, as the price was pretty solid for a designer fragrance.
The only thing that was left is that Armani simply wanted to focus the US audience on other lines such as Acqua di Gio and My Way.
But does that really make sense?
Where To Buy Stronger With You Intensely?
Since Armani's Stronger With You Intensely has been discontinued you might find it at other resellers that still have it in stock.
At our Fourth Sense Shop, we work with the most reliable and trustworthy wholesalers, so if we manage to get our hands on some of the stock that's left, you'll find it there.
Besides that, you might find it on FragranceNet, FragranceX, or LaBelle Perfumers.
Either way, make sure you don't buy from sketchy sources in order to avoid ending up with a fake bottle.
Right after fragrances are discontinued, on this level of popularity, they are often the subject of scams so always make sure you double-check where are you getting your fragrance from.
Also, it's important to mention that Armani said they decided to make it no longer available in the US. I asked them about Europe, and as soon as they reply I'll update the post.
However, Stronger With You Intensely can still be found on Armani's official websites for Europe, so if you have someone in Europe, they might be able to get it for you.
Conclusion
It's always sad to see good fragrances go, but in reality, there's nothing much we can do about it.
Hopefully, somewhere down the line, Armani might decide to get these amazing fragrances back to US, but until then, Stronger With You is all you can get.
Did you like Stronger With You Intensely?
What was your favorite flanker?
What do you think is why they discontinued it?
Let's talk in the comments below!
We are sorry that this post was not useful for you!
Let us improve this post!
Tell us how we can improve this post?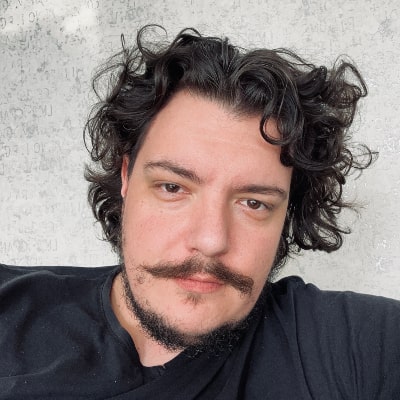 Vladan X is a founder of Fourth Sense and fragrance expert. He reviews only fragrances he owns personally, and his collection currently counts between 100 and 150 fragrances. Even though Vladan reviewed hundreds of perfumes he still didn't find the one he would call "signature" fragrance. He's still searching for that one, and in the meantime, he writes the best in-depth fragrance reviews internet has ever seen! You can read more about Vladan X here!