When you don't get the most of your perfume, the first thing that may come to your mind is that you probably wasted money. But, it's not always a fragrance that has poor performance or longevity. I've heard some people saying that Dior Sauvage can't last for more than 3 hours and as someone who used over 10 bottles of it, I assure you, it lasts much longer than that. So what's the catch?
Very often, the reason behind disappointing longevity comes from the incorrect application of the fragrance itself. Of course, not every fragrance has the power to serve you all day long, but there are many cases when people don't know how to apply it properly and make perfume last longer.
After years of being a fragrance geek and even more years of testing performance on fragrances, here is some important stuff you should know when it comes to making your perfume last longer on the skin.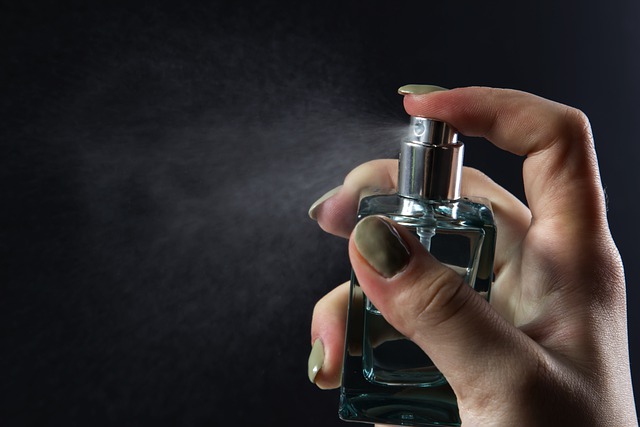 Following any of the mentioned tips may affect your perfume's longevity, but imagine following them all? You will realize that some of your scents have much better projection than you thought.
There is no need to throw away any delightful scent and waste tons of sprays thinking you will get better projection. I have prepared a few more things for you to learn today.
Disclaimer: Bear in mind that every skin reacts differently to the perfumes — you may fall into the category of people where no fragrance lasts longer than 2 or 3 hours, or you might be one of the people who smell good the entire day just after a single spray. These tips may or may not work for you.
These are 13 expert-backed-up ways how you can make a perfume last longer on your skin.
1. Take a Shower or a Bath Before Applying a Perfume
It is highly important that fragrance is applied to clean and dry skin.
Every passing minute, our skin is fighting with sweat, dust from the air, microbes, and disposing of dead skin cells. Our skin needs to breathe so scrubbing those microbes is essential.
When it comes to showering make sure to use hot water — that way your skin pores will open much better which furthermore means your skin will be much more receptive to the perfume.
Sure, you can apply the fragrance without showering first, but you surely will not reach the ultimate performance and longevity.
Applying a fragrance on the clean, dry (don't forget to dry it well) skin will allow it to welcome the scent and absorb the perfume much better.
2. Moisturize Your Skin
After showering and before applying the perfume, it's a good idea is to use an unscented lotion before spraying it.
The reason behind this step is that moisturizing (oily) skin will retain and lock fragrance in for a longer time.
In case you have a moisturizing cream with the same scent as your chosen perfume – that is even better. But, the unscented will do just as great. Dry skin will not keep the perfume as good as oily skin will.
Do not use a cream with any specific smell since the mixture you get will not be really pleasant.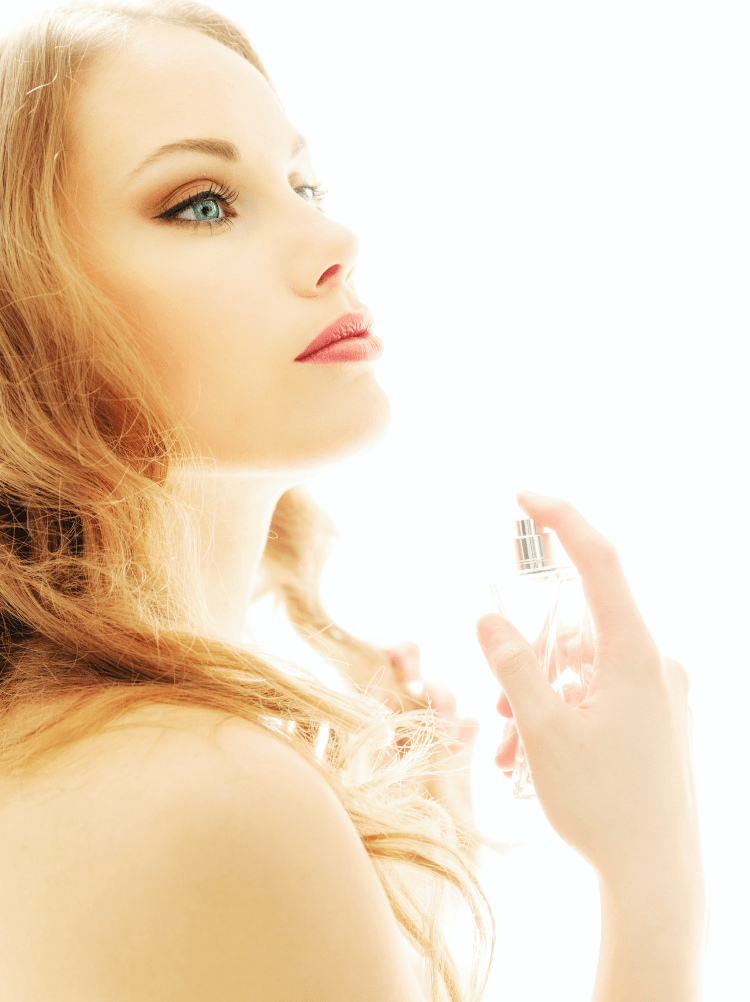 3. Use Petroleum Jelly (Vaseline)
What you probably didn't know is that petroleum jelly, when applied to the pulse points, will hold the fragrance longer than dry skin.
The ointment in vaseline will also moisturize your skin which will extend the fragrance life expectancy.
Also, it will protect the perfume from the wind and potential contact with your clothes.
Vaseline is definitely one of the best ways to make a perfume last longer!
4. Mind Perfume Concentration
You have probably seen one of these three labels: EDT (eau de toilette), EDP (Eau de parfum), and Perfume.
If you are looking for a stronger and longer-lasting scent, then you should take EDP or Perfume fragrance contraction.
EDT perfumes have 5% to 15% contraction of fragrance oil while EDP versions contain 15% to 25% which makes them stronger and they may perform better in terms of longevity. EDT fragrances tend to be lighter and airer; of course, they can also serve you for hours, but if you don't want to risk, go for EDP.
Perfume fragrances have the highest contraction (30%+) but they can be pretty strong in terms of the scent, which many people do not enjoy.
Also, bear in mind that fragrance concentration definitely affects performance, but in this article, we're talking strictly about the longevity of the perfume. Concentration will definitely affect other aspects of performance (sillage and projection), but that's a whole other story.
Just keep in mind that EDP might have better performance in terms of longevity but not in terms of sillage and projection as they depend on other factors.
If you want to learn everything about fragrance concentrations and their differences, make sure to check out our entire guide here!
5. Spray or Dab Your Fragrance, Don't Rub It In
One of the common mistakes is rubbing the fragrances with bare hands.
The best practice is to distance the bottle 5-7 inches from the body. That will prevent large drops of the scent from landing on your skin (larger amounts of the fragrance are harder to open properly).
Rubbing your fragrance in will damage the fragrance particles which will result in bad performance and perfume not opening properly. Bad opening means bad dry-down, so make sure once you spray the fragrance that you don't touch it — let it dry down properly and you'll get the most out of it.
6. Apply Perfume on Pulse Points
One of the main rules you have to follow to get the best of your favorite scent is to apply it to your pulse points. You don't need tons of sprays on random spots of your body, 1 spray on each pulse point will be enough.
Behind your ears
In the dip of your collarbone
Behind your head
On your wrists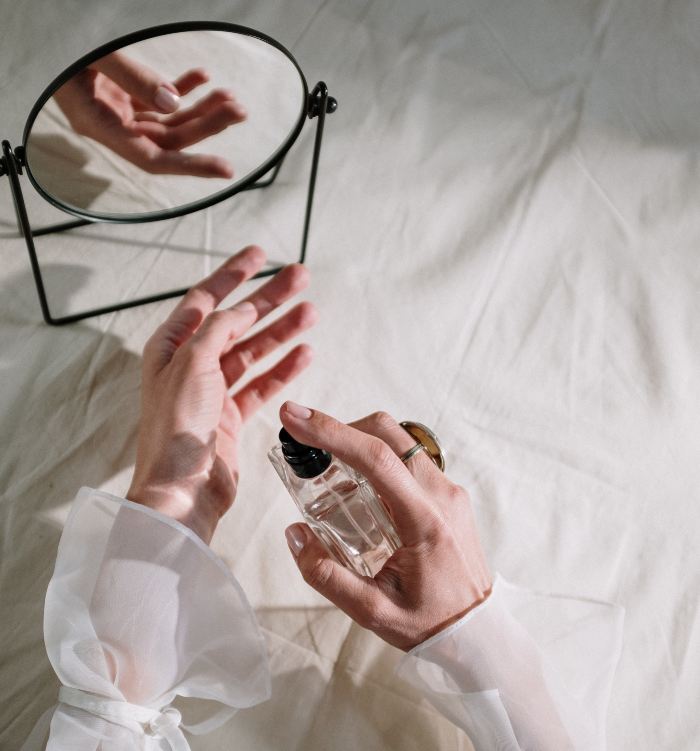 Do not spray perfume twice on the same spots because that won't allow notes to open up properly and expand to their full nature.
If you want to learn more about the proper applications of perfume for maximum performance, make sure to check our guide here!
7. Do Not Rub Your Wrists
I have seen people doing this a thousand times when testing a fragrance and it's so wrong.
Rubbing your wrists will not expand the scent on both of your hands or anything like that. The opening notes will fade away much faster than they initially would.
Also, rubbing can impact the whole fragrance drydown, and trust me, that's not the way to go — let it dry down properly.
8. Apply a Little Bit On Your Hair
There is nothing wrong with spraying your hair as well for the ultimate experience.
It's best to spray it on your hairbrush to keep your hair safe from alcohol and then just softly brush your hair. The perfume will last longer on the hair than on the skin, so it is a win-win situation.
Please be advised to apply perfume only on fresh-washed hair because the natural hair oil may harm the original fragrance smell.
Some brands sell hair perfumes that will not harm your hair in any way so you can use them as well.
9. Avoid perfume on the Clothes at any Cost
A very common mistake that almost any of us did at some point is spraying perfume on the clothes. There are several reasons why you need to stop doing it as soon as possible.
Firstly, fragrances are made to interact with human skin, not with any kind of material. Applying it to the clothes will not allow the fragrance to open properly and the material can easily absorb a good amount of the scent (depending on the clothes material).
Secondly, you can easily destroy your clothes, especially if you wear silk or cotton (the alcohol in a fragrance will not tolerate it).
Third, there is a high chance that you will have to deal with yellow stains on your shirt that will not look good.
These reasons should be enough for you to stop with this guilty pleasure and apply fragrance directly to your skin.
10. Take Care of the Perfume Bottle
This may sound silly to you but it is also important to look after your fragrance bottle.
Firstly, do not shake the bottle. Shaking the liquid can allow air to infuse the fragrance which will affect the fragrance lifespan.
Secondly, keep your bottle in a dark, cool place. High temperatures or humidity can seriously harm the fragrance and cause it to break down. Avoid placing it in the bathroom and keep your fragrance in a cool drawer or somewhere else, away from the direct sunlight.
11. Combine Fragrances
I know, this sounds weird or maybe even unpleasant, but in fact, layering fragrances has become a new strategy to make something new and interesting.
Before layering it on the skin, my recommendation is to try it first on the testing paper to see how they work together. If it turns out great, apply it to your skin as well.
Remember: when layering scents, apply the heavier first and the lighter one after. That way you will also create the top, middle, and base notes of your new scent.
With little creativity and a sensitive nose, you may create your signature fragrance and smell unique and sensual.
Some houses recommend a few of their fragrances that would work together with each other, e.g., Jo Malone or Fragrance One.
The worst thing that can happen? You will smell bad… Until you don't!
12. Reapply During the Day
There will always be some fragrances that aren't meant to be so long-lasting that we would want them to be – which is totally fine.
If your favorite scent is not a performance beast, then you can always reapply it during the day. Once you detect that your fragrance has faded away, apply it again but don't do it more than twice during the day.
Since there are times that we cannot detect our own scent, it is better to ask someone for help because you don't want to reapply it if it's still running strong.
If you have two fragrances that might work well together, you can apply one in the morning (some daily oriented scent) for the work, and if you are running out of time and have a diner coming right after work, apply the second one (night-based scent). That way you will smell beautiful throughout the day and the night as well.
13. Think About the Seasons
You have probably come across phrases like "winter fragrance" or "summer fragrance".
Yes, some fragrances should be worn during a particular season or in suitable weather.
If your fragrance is fresh, airy, fruity, citrusy, or similar, then it would be perfect to wear it during the warmer, summer, or spring days. At higher temperatures, winter fragrances may become sticky and warm, which you need to avoid.
Woodier, smokier, and warmer scents are meant for colder fall or winter days because the notes that are used will open properly on lower temperatures and you also want some balmy scents to warm you up during the chilly days.
Summary
I have probably been making all of these common mistakes when I first started getting into the fragrance world and with the years of experience, I have learned a lot about how and where to apply perfumes for the ultimate experience. In order to make a perfume last longer, you really should follow these tips.
Even perfumes with unreal quality may come out as poor compositions if they are not applied correctly so save your money and liquid and enjoy every drop you have.
Have you tried any of these tips for making perfume last longer on your skin?
What works best for you?
Let me know in the comments below!
We are sorry that this post was not useful for you!
Let us improve this post!
Tell us how we can improve this post?