Dream summer vacation often reminds us of white sand, beautiful beaches, turquoise blue water, and evening cocktail parties. If a scenario such as that could have a scent I personally would think of Tom Ford Soleil Blanc.
Soleil Blanc (eau de parfum) came out in 2016 under the "Private Blend" collection and is an interpretation of the creamy, sensual, and sexy fragrance tailored to exaggerate tropical feminine energy during hot summer days.
This "White Sun" as the name translates, has a lot to offer when it comes to bearing high temperatures and is surely a fragrance you should consider when choosing a summer fragrance.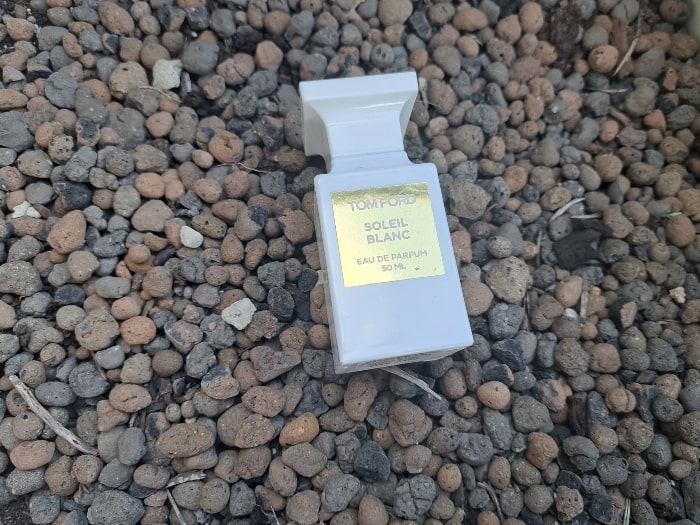 ---
Buy Tom Ford Soleil Blanc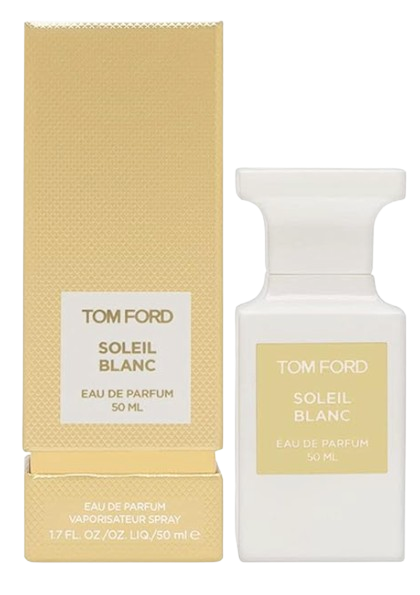 ---
In this review, we're going to talk about Tom Ford Soleil Blanc, how it smells, what the performance is like, and why it made it on our list of best summer fragrances for women in 2023!
What Does Tom Ford Soleil Blanc Smell Like?
Tom Ford Soleil Blanc smells citrusy and floral, with the main accord of coconut. Its scent is creamy, luxurious, and exotic, and carries an amazing beach vibe.
Top notes:
Pistachio
Bergamot
Cardamom
Pink Pepper
Heart notes:
Tuberose
Ylang-Ylang
Jasmine
Base notes:
Coconut
Amber
Tonka Bean
Benzoin
Right from the start, it's important to emphasize that Soleil Blanc is a professionally well-blended scent and it is difficult to identify notes and the time of their occurrence.
The opening starts as a citrusy-spicy mixture of bitter, light bergamot note and cardamom, pink pepper, and pistachio that gives the light spicy feeling but it doesn't last very long.
White floral notes from the heart of the fragrance come through early and they stay present throughout the whole fragrance lifespan.
Along with the white florals, the milky, creamy, and sweet coconut nuance is basically what Soleil Blanc is about after the initial spicy citrus fades away.
It is a succulent, buttery, and beach-oriented fragrance with the accord of coconut that truly smells irresistible.
I've seen a lot of people online comparing it with the scent of sunscreen and they are not far from the truth. However, I'd just add that we're talking about an extremely luxurious sunscreen scent.
As it further evolves and goes into the dry-down, the amber from the base becomes more prominent while the coconut along with tonka bean and benzoin gives that sweet, dense, tropical feel to it.
Soleil Blanc is a classy, buttery, expensive, and very well-blended scent that combines different aspects of present nuances and creates an attractive, sexy, and addictive solar scent.
Keep in mind that Soleil Blanc may not be the crowd-pleasing scent but it will get you compliments from everyone who likes intriguing and seductive fragrances which is something Tom Ford is known for.
Saying that I'd definitely mark Tom Ford Soleil Blanc as a safe blind buy – even if you don't like it (which probably isn't going to happen) it can be an amazing gift that will leave someone speechless for sure!
How Long Does Tom Ford Soleil Blanc Last?
Tom Ford Soleil Blanc lasts on average 7 hours. Longevity depends on how it reacts with your skin, but so does performance – on average, you will get 1-2 hours of projection.
We have talked about this several times now but it's worth reminding that summer/spring scents don't have as good performance as winter fragrances because of the notes that are used in the creation of both categories. 
However, for a summer scent, Soleil Blanc will perform better than many other light choices you can pick for high temperatures. I've seen it perform over 8 hours, but the majority of ladies in our team got around 7 hours until it became skin scent.
In terms of projection and silage, it's safe to say that it's far from beast mode, but not too bad – 1-2 hours of projection for 2-3 feet and moderate silage that leaves a trace of 2-3 feet as well.
The best compliment-getting window will be in the first couple of hours after the initial spray, but after that, you can expect that only people near you will be able to smell it.
If you're always looking for new ways to improve the performance and longevity of your fragrance, check out our post on the best tips to get the most out of your perfume.
When To Wear Tom Ford Soleil Blanc?
The best time to wear Tom Ford Soleil Blanc is during summer or warmer spring days as it performs best in higher temperatures. It fits all occasions and it can be a daytime or nighttime fragrance.
There is no doubt about which season is the perfect opportunity to pick Tom Ford Soleil Blanc because this creamy coconut and beach-vibe scent scream for high temperatures and the mix with salty air.
It can work perfectly during the daytime for any type of occasion or organized event – it fits beach time and office time without any problem!
I don't find Soleil Blanc to be clubbing or any type of crowded event scent because it doesn't have that power and silage, but for some more casual evening activities, it will work great.
You can also wear it for a date night as chances are that your partner will find that creamy coconut vibe absolutely irresistible!
If we was to pick the place and time for which this fragrance was made, I'd definitely say a beach cocktail party.
How Many Sprays Of Tom Ford Soleil Blanc Is Enough?
4-5 sprays are enough for getting the best out of Tom Ford Soleil Blanc's performance. Applying more sprays on the same spot will not result in better performance.
It's important to emphasize that Soleil Blanc is a fragrance that can be overapplied and in this case, less is more.
Applying multiple sprays on the same spot will result in the fragrance not being able to open properly and drydown, which will cause its scent to alter and become pretty heavy.
The best way to get the most out of this coconut-heavy scent is to apply a spray or two on the pulse points where your skin is warmer. That being said, apply 2 sprays behind your ears, 2 sprays on your wrists, and 1 spray in the dip of your collarbone.
We already covered the best practices for applying your fragrance so you can check that out in our detailed guide.
Sometimes, it's not the fragrance that has poor performance but our lack of knowledge on how to apply it.
Where To Buy Tom Ford Soleil Blanc?
The best place to buy Tom Ford Soleil Blanc is local perfumery which is an authorized reseller of Tom Ford's brand. If you want to purchase the fragrance online, the best places to do so are FragranceNet or Amazon.
Since Soleil Blanc isn't a crowd-pleasing scent that is highly likable, I recommend visiting a local perfumery and testing Soleil Blanc on your skin or seeing if they have samples you can bring home with you.
But, if you know your fragrance type and like coconut-amber perfumes with white and yellow florals, then Soleil Blanc can be a safe blind buy for you.
If you decide to buy it online, I would personally recommend getting your bottle of Tom Ford Soleil Blanc from FragranceNet. FragranceNet is a trustworthy store that's been in business for over 20 years so you don't need to worry about getting the original perfume. Besides that, they usually have really good discounts, so you might just catch one!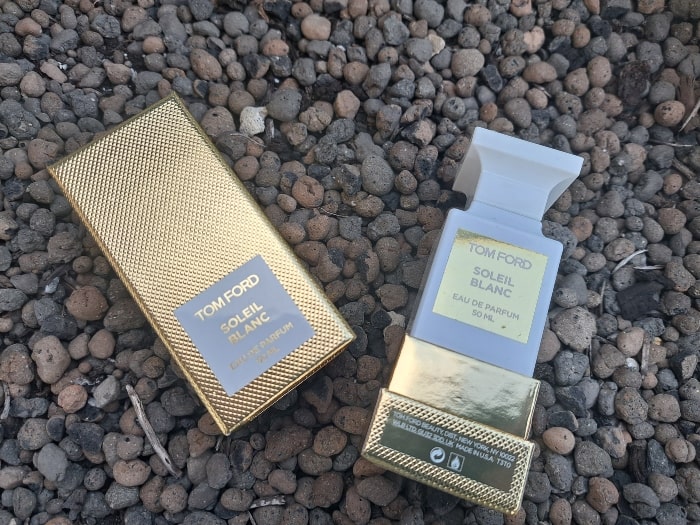 Another trustworthy source where you can get Soleil Blanc is Amazon. We always link directly to the authorized resellers or perfume house itself, so it's perfectly safe to buy.
---
Buy Tom Ford Soleil Blanc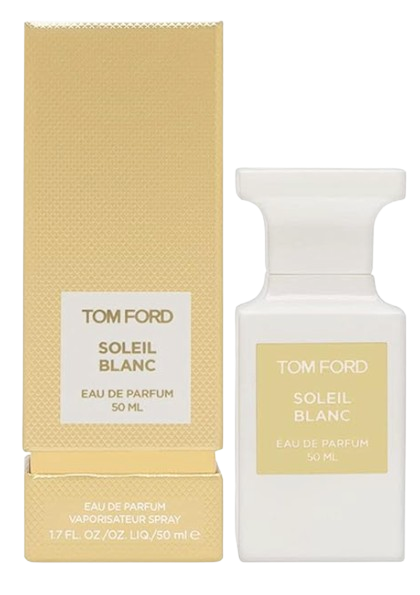 ---
Besides FragranceNet and Amazon, some other trustworthy places where you can buy Tom Ford Soleil Blanc are Tom Ford's official website, FragranceX, and Sephora. Check out our post on the best places to buy fragrances online in order to stay up to date with the best resources.
You will notice different prices on these websites but shipping times also vary. The most important thing is that if you buy from these sources, you can rest assured that you will get the original fragrance and not be scammed with fake ones.
Always be super cautious when buying fragrances online to avoid getting scammed and buying a fake fragrance — it's not that you can just end up with money thrown away, but you can also get a skin condition as fake fragrances are not tested on human skin and they are not safe to use.
Packaging
Soleil Blanc comes in an already familiar Tom Ford bottle and just like the name suggests, the liquid comes in a solid, white bottle with a golden label on the front side that has the name of the brand, fragrance name, concentration, and milliliters.
The bottle has a very nice feel in the hand and looks very elegant and classy, represents what the fragrance is about, and comes as a fresh, bright novelty to your shelf.
Soleil Blanc comes in three different sizes:
50ml (1.7 oZ)
100ml (3.4 oZ)
250ml (8.5 oZ)
Summary – Is Tom Ford Soleil Blanc Worth It?
Considering the uniqueness, performance, and versatility, but also the price point, even though it's made in 2016, Tom Ford Soleil Blanc is definitely still worth buying and trying.
Tom Ford is known to be a master of creating unique, seductive, and luxurious fragrances, and Soleil Blanc is nothing less – its creamy coconut vibe is definitely something special, there are no many fragrances that smell similar to this, and it simply has that Tom Ford luxurious scent.
Very well blended, solid performance, versatile enough to fit into the majority of situations – what more to ask?
The only downside that can be pinned to this fragrance is the price.
We all know that Tom Ford holds pretty high prices, especially for Private Blend Collection, but it's fair to say that you're getting Tom Ford experience.
However, is that experience worth that much money? Well, that's totally up to you.
For me, as someone who fell in love with the world of perfumery because of Tom Ford, it will always be worth it.
Have you tried Soleil Blanc before?
What's your take on it?
Let's talk in the comments!
We are sorry that this post was not useful for you!
Let us improve this post!
Tell us how we can improve this post?