Just two years after starting the company, Byredo made a huge success with the fragrance that originally was meant to be a fougere, but it leans more towards the woody family.
Byredo Gypsy Water was released in 2008 and its massive success was something we rarely see in the fragrance market – a completely unknown company winning the hearts and noses of the entire world.
According to Byredo, Gypsy Water was inspired by Romani people, their love for nature, very unique customs, strong beliefs that are present to this day, and their different "way of living".
I got the first bottle of Gypsy Water back in 2020, and after testing it for quite some time now and getting feedback from people around me, I wanted to make a proper review so you can know exactly what it smells like, how it performs, why it found its spot on our list of best summer fragrances for men in 2023 and is it really worth a not so modest price.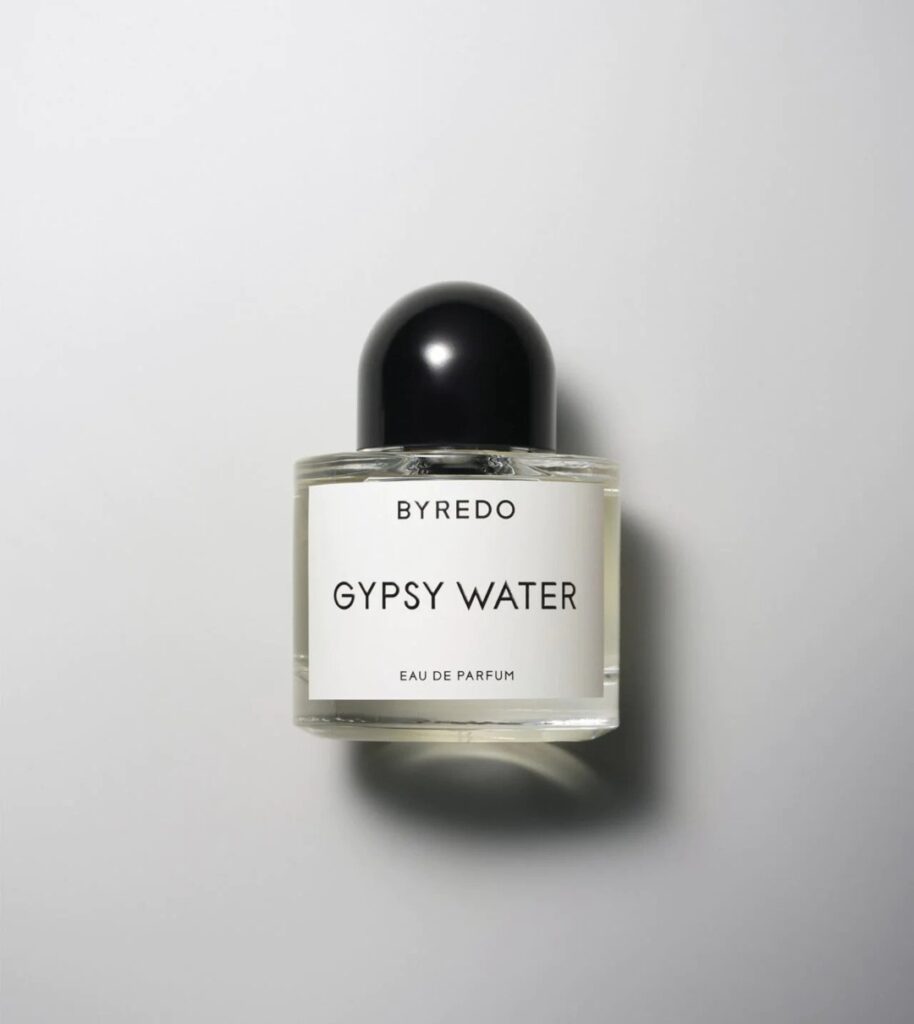 ---
Buy Byredo Gypsy Water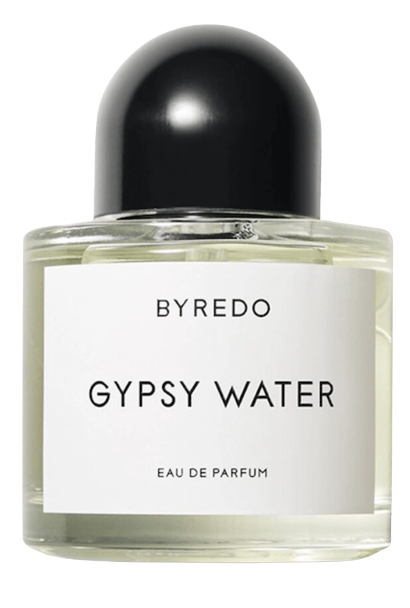 ---
What Does Byredo Gypsy Water Smell Like?
Byredo Gypsy Water is a woody fougere fragrance that smells like a common forest scent with a main note of pine needles with a crisp background of woods. It has a very light and mass-appealing scent.
According to Byredo, notes pyramid looks like this:
Top notes:
Bergamot
Juniper Berries
Lemon
Pepper
Heart notes:
Incense
Orris
Pine Needle
Base notes:
The strongest point of Byredo Gypsy Water is its opening, which makes sense when we think about its tremendous success – the majority of people are judging the perfume based on its opening, and if they click on the opening, they'll buy it regardless of its performance and drydown.
A similar but opposite case is with Moschino Toy Boy – absolutely disgusting opening, but the drydown is incredibly beautiful where the entire composition turns out to be a beautiful rose-based playful scent.
The opening of Byredo Gypsy Water is simply astonishing. The dominant note is juniper berries which give the opening a natural, crisp, and clean vibe, and it's safe to say that in combination with light citrusy accord and sharpness of pepper, this is the perfect formula for a mass-appealing scent.
Drydown that goes through the heart all the way to the base is filled with more earthy tones that give the entire composition a sense of depth whereas sandalwood and incense give a sensual and smooth vibe.
Pine needle is the most dominant so the scent truly reminds of walking through the first.
Also very important to emphasize is that Gypsy Water is completely unisex fragrance – it literally has no sex. Both men and women can wear it, and pull it off without any trouble.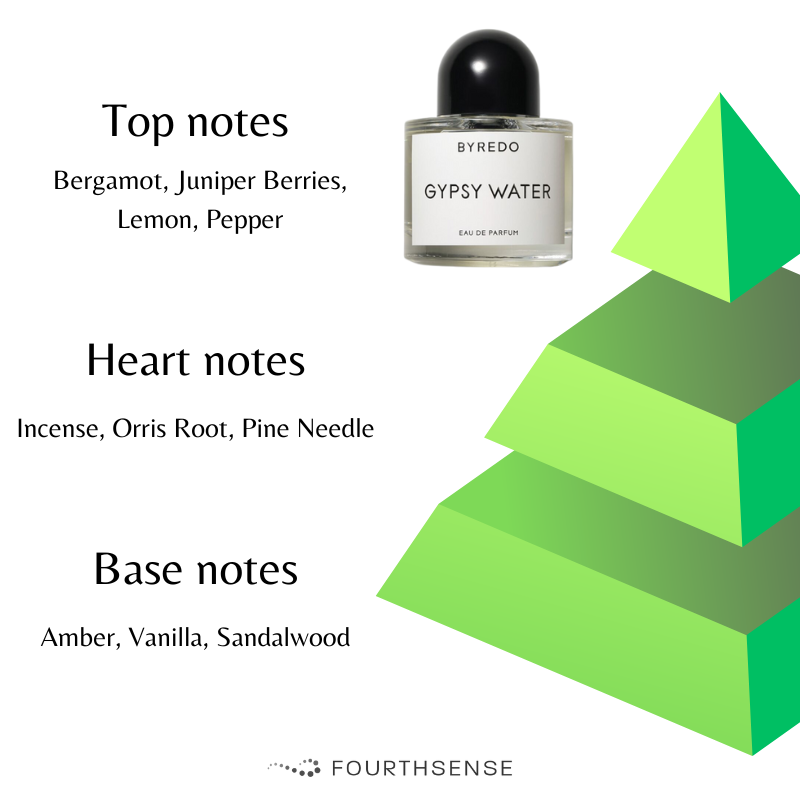 Overall, Byredy Gypsy Water is a very light, natural, and non-offensive scent that almost everyone will like.
It's a super safe blind buy, and it's perfect for casual occasions, work environments, and situations where you simply want to smell nice.
Truth be told, it's no more than that. It's not a tremendously unique scent, but it is beautiful and it will most certainly provide a sense of relaxation to the nose sensing it.
How Long Does Byredy Gypsy Water Last?
On average, Byredo Gypsy Water lasts for 6 hours, while projecting only for the first hour.
Now performance is a huge downside of this fragrance and frankly, I'm not even sure why the creators allowed this. For this price point, and such a beautiful scent, it's such a shame that it's not more powerful.
There is an argument that fragrances such as this (light and nature-oriented) shouldn't be that powerful but 5-6 hours of longevity, almost no sillage, and weak projection simply makes no sense.
Truth be told, even real pine needles in the forest have better scent longevity and project for longer periods of time after rain, than this fragrance.
Gypsy Water is in the same price range and category as Greenley from Parfums de Marly, but Greenley lasts for 9 to 10 hours and projects for 3-4 hours, as I believe it should for that big of a name and that price.
On the other hand, performance and longevity such as this are exactly what some people are looking for.
I'm definitely not one of those people, and I don't prefer reapplying the fragrance every 4-5 hours, but if you don't want your fragrance to scream and let everyone know you're wearing it, then Gypsy Water is a perfect choice.
There are several ways to improve your perfume's longevity and performance, so it might help to follow some of the tips from the post we made on that topic in case you want better longevity.
Overall, the performance and longevity of Byredo Gypsy Water are weak, but that doesn't mean the fragrance is bad – personal preference plays a major role here.
When To Wear Byredo Gypsy Water?
The best time to wear Byredo Gypsy Water is during spring and summer days. In terms of occasion, Gypsy Water is the perfect office scent or perfume for casual wear.
As a light and natural scent, Gypsy Water works best during the days when the temperature is between 60 and 85 °F, which means spring and summer days.
I wouldn't recommend wearing it when the temperature is above 85°F because high heat will shorten its lifespan. Also, I'd recommend avoiding wearing it under 60°F as there's a chance that it won't be able to open properly and perform as it should.
Daytime is definitely what suits Gypsy Water best, and it's definitely not made to be worn at night events.
Since the scent is non-offensive and very safe to wear, the office environment would be my top recommendation, but in general, Gypsy Water is perfect for casual everyday wear.
As always, the best thing would be to test it by yourself and see for yourself what works best for you!
How Many Sprays Of Byredo Gypsy Water is Enough?
Since performance and longevity aren't its greatest asset, the optimal amount of sprays for Byredo Gypsy Water is anywhere between 5 and 8.
As we previously said, Gypsy Water is very light, so you can't really overspray it.
However, no point in wasting the perfume if you don't have to.
The best places for spraying are always pulse points, and in this case, I'd recommend:
2 sprays behind your ears
2 sprays on the sides of your neck
1 spray behind your head
2 sprays in the dips of the collarbone
Bear in mind that spraying multiple sprays on the same spot will do nothing but cause the perfume not to open properly and perform as it should.
If you want to learn how and where to properly apply the fragrance, make sure to check out our post on that topic.
Where To Buy Byredo Gypsy Water?
The best place to buy Byredo Gypsy Water is the physical store that is an authorized reseller of the Byredo brand. If you're buying online, the best places are Byredo's official website, FragranceNet, and FragranceX.
I always advise that buying fragrances should be done in department stores because you have the opportunity to test the fragrance, spray it on your skin and see if is it what you want it to be.
However, sometimes physical stores are unavailable or simply don't have that product, and truth be told, that might be the case with Byredo's fragrances. Since Byredo is a niche house from Sweden, it might be difficult to find it on the shelves in the US.
Saying that, but also having in mind that Gypsy Water is a very mass-appealing scent that you will probably like, there are several options for buying online.
My personal recommendation is to get it from FourthSense Shop or FragranceNet – an online reseller that's been in the fragrance industry for over 25 years. I personally get all my fragrances for them, and they often have pretty good discounts.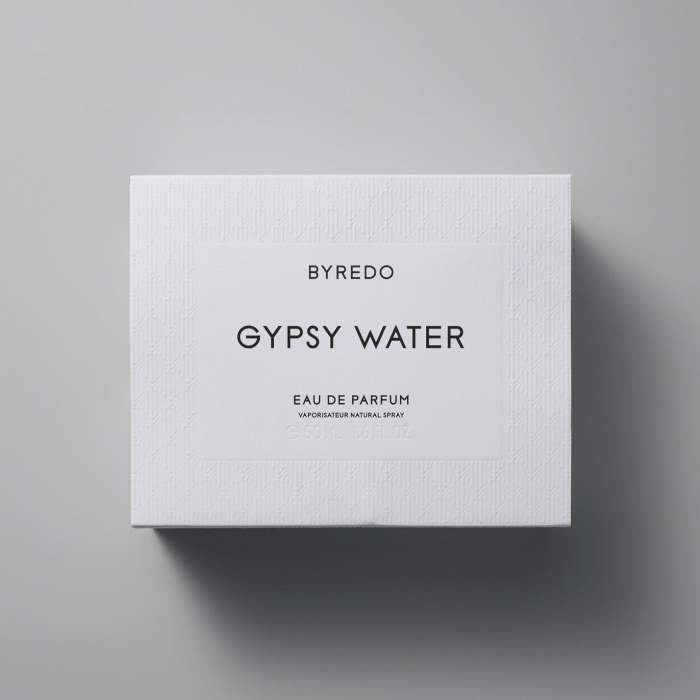 ---
Buy Byredo Gypsy Water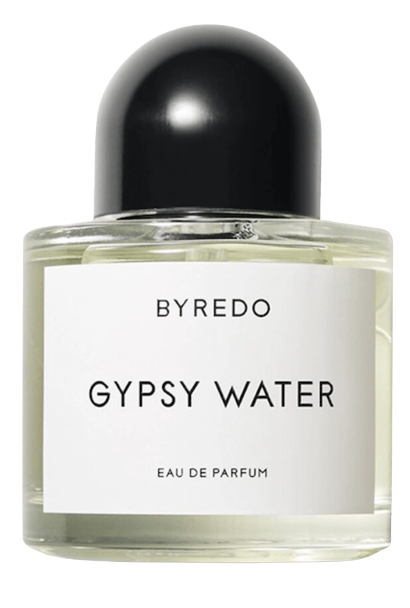 ---
The second option is to get it from Fragrance X, which is also a trustworthy source where you can rest assured that you're getting a genuine bottle.
In this case, I'd also recommend avoiding Amazon – I found Gypsy Water there, but upon inspecting it, I noticed that some reviews are generic (probably bought bots) while there were others authentic that reported shady things such as ripped cellophane or cap not fitting properly. Another weird thing is that the price was insane. Saying that, the best thing is to stay on the safe side, and get Gypsy Water someplace else.
We already covered what are the best and worst places to buy fragrances from, so make sure to get familiar with that as it most certainly can come in handy.
Always be super cautious when buying perfumes online, as there are a lot of fake copies that are a true danger to your health.
Packing
Byredo Gypsy Water comes in a simple white box that is significantly bigger than the bottle.
The batch code (along with legal information) of the fragrance should be located at the bottom of the box.
The bottle is transparent and has a black cap that fits tightly and is magnetic.
One could say that the entire presentation is simple and minimalistic. It looks better than standard design packages with a simple box, yet it's not even close to the luxurious presentation that niche houses (such as Xerjoff) have.
Overall, nice and clean presentation without a doubt – you don't get the feeling that you're buying something luxurious but something modern.
Byredo Gypsy Water comes in 2 sizes:
Conclusion – Is Byredo Gypsy Water Worth It?
Considering the uniqueness of the scent, performance, mass-appealing, and compliment factor, but also the price point, Byredo Gypsy Water can be considered as worth it.
Truth be told, this was a hard call, as the price is pretty high, yet performance is very poor.
What turned the tables was that the objective standpoint of view says that in the end, this is a beautiful fragrance, a niche scent inspired by the beautiful story, and simply a piece of art.
I might be wrong, but maybe performance and longevity are a part of that story, but to my knowledge, Byredo never had comments on that topic.
Sure, you can find many better-performing fragrances for a much lower price, but it's not all about numbers – Gypsy Water tells a story just like any other piece of art, and the creator wanted to pass the message to those willing to understand it.
If you're simply after fragrance with better numbers, then you will probably find better deals.
However, if you are a collector and you only care about art in perfumery, then getting Gypsy Water is a no-brainer.
Did you try Byredo Gypsy Water before?
What do you think about it?
Let's chat in the comments!
We are sorry that this post was not useful for you!
Let us improve this post!
Tell us how we can improve this post?