Just before 2021 ended, as a New Year's present, the house of Dior released its newest flanker of the original Dior Homme, the fourth batch but a different iteration.
I am not even sure if we can call it "new" since Dior Homme Sport has been out since 2008, but during that period, it has been reformulated three times; the question popped out — will the 2021 release be the best and the last flanker of the Sport edition?
In this post, we'll fully review Dior Homme Sport, all reformulations (including the last one), what it smells like, how it performs, and whether is it really worth it.
Batches tested: 1k01, 2k03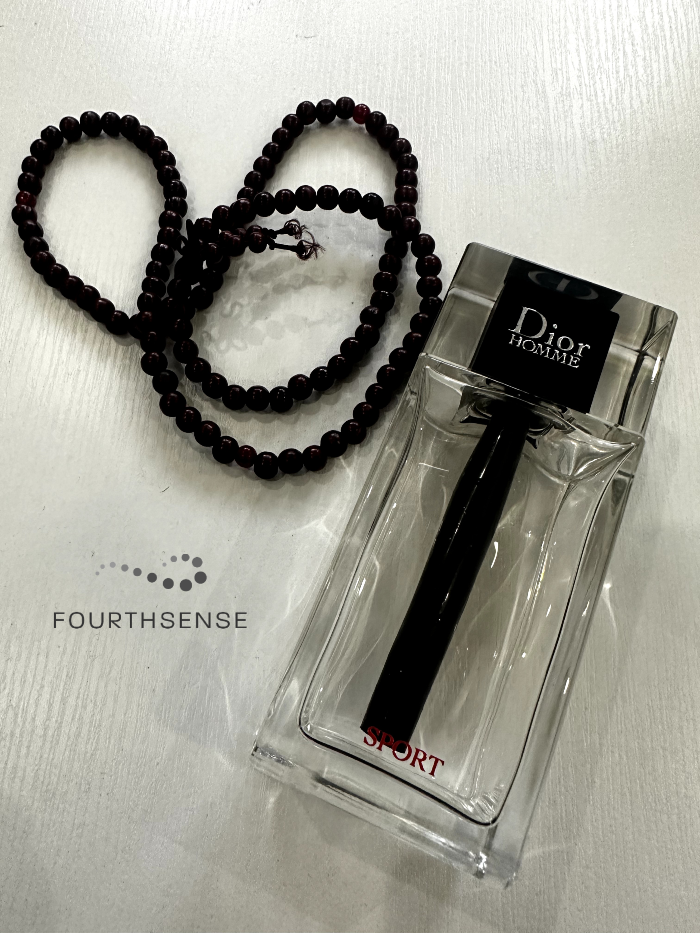 ---
Buy Christian Dior Dior Homme Sport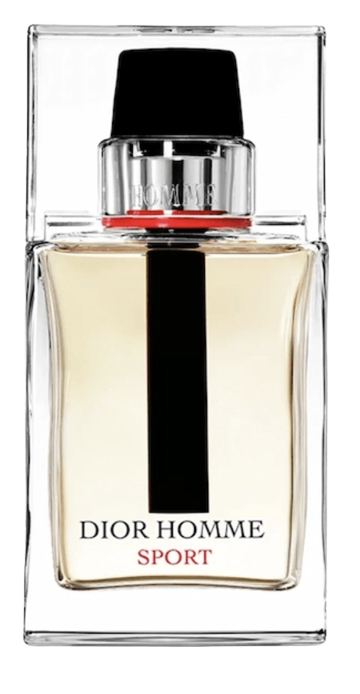 ---
What Does Dior Homme Sport Smell Like?
Dior Homme Sport smells citrusy, fresh, sharp, and sporty, with a main note of lemon leading the entire composition.
According to Dior, olfactive notes are:
Top notes:
Lemon
Bergamot from Calabria
Aldehydes
Heart notes:
Base notes:
Woody notes
Olibanum
Amber
It is important to emphasize that the Dior Homme Sport is actually the flanker of the newest Dior Homme that has been reformulated as well, in 2020. If you had a chance to smell or wear any older release of Dior Homme, you probably know that the Homme line was all about the iris note, but now they are slowly but surely moving away from that identity and Dior Homme Sport is nothing alike its predecessors.
Dior Homme Sport opens with a strong and prominent blast of lemon. It is impossible not to detect this fresh, bright, and cheerful note
With it, bergamot comes out as well, but since the majority of people are completely nose-blind to bergamot, it's likely that you will sense only pure lemon.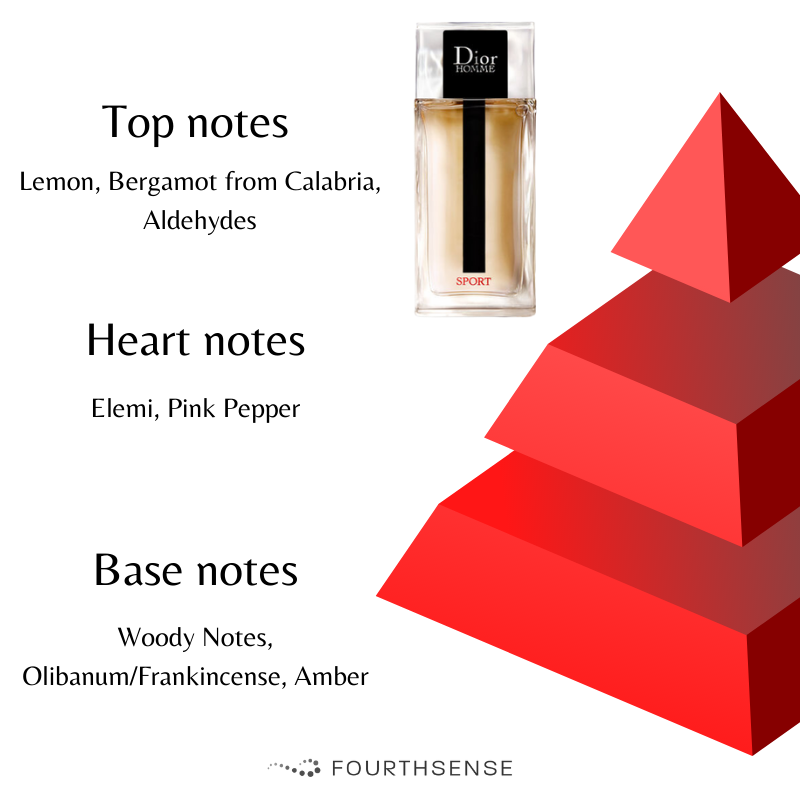 What actually surprised me is the noteworthy nuance of aldehydes that pops out immediately when the burst of lemon calms down. It almost feels like the lemony-bergamot mixture is fighting with an abstract soapy aldehydes note.
That interesting, light, and vibrant feel is present all the way until the mid dry-down when the notes from the background start smoothening that inevitable sharpness the lemon carries.
We have an elemi and pink pepper note in the middle notes, and I can't say that the scent doesn't have a slightly spicy, balsamic feel to it, especially when the fragrance sits closer to the skin.
Pink pepper can also be found in the opening of Dior Sauvage and it's exactly the note that gives that crispy sharp tone that projects feets away. In this case, combined with the force of lemon, the entire scent becomes super citrusy and pretty aggressive.
Once it gets to the final dry-down is the moment the scent gains a prominent woody, ambery, almost earthy scent and it gives the entire composition a somewhat sophisticated touch.
The final takeaway – the absolutely fantastic scent where Francois Demechy (at the time, Dior's in-house perfumer and creator of the Sauvage line) managed to smooth out that (almost headache-giving) sharpness from the opening and it leaves you with the citrusy but fresh and smooth scent that, truth to be told, is definitely mass appealing.
It's bright, it's sharp, it's everything a sporty fragrance should have. Definitely a safe blind buy and definitely a big compliment-getter.
How Long Does Dior Homme Sport Last?
Dior Homme Sport has an average performance – it will last around 6 hours, while it will project well in the first hour or so.
Performance may be a turn-off for some people since we all love our fragrances to last for eternity, but unfortunately, not every perfume is bound to be a performance beast.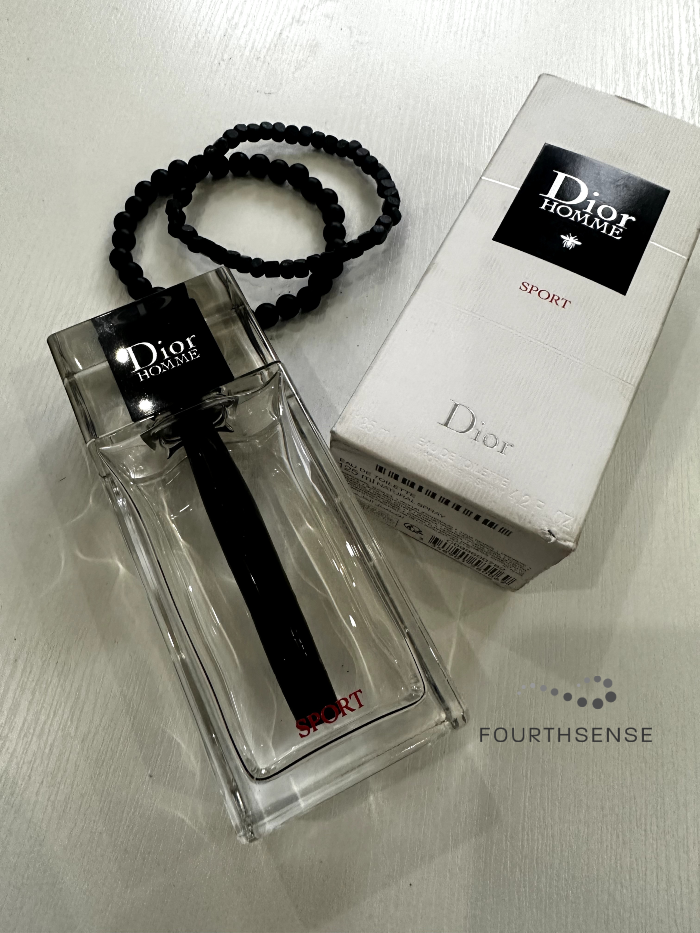 Since we are talking about the fragrance that is supposed to serve as a casual, sporty scent, I have no problem with it lasting for 6 hours (I personally get around 7). If you decide to wear it to the gym, you will take the shower after the training either way, so it shouldn't be a big issue.
When it comes to the projection, Dior Homme Sport could have been better since it projects great in the first half an hour to one hour. Its light and vibrant nature will get you many compliments in that specific period, but once it sits to the skin, it will be present but not in such a strong dose.
Sillage is moderate and you will leave the scent for 2-3 feets behind you. After 2-3 hours, sillage goes away, but the fragrance doesn't become the skin scent – people near you (especially those who come to whisper sweet nothing on your ear) will still be able to sense it.
When To Wear Dior Homme Sport 2021?
Dior Homme Sport is a versatile fragrance made for summer and spring. It is safe to wear it to work, or any other casual daytime activities.
Dior Homme Sport has a wide versatility when it comes to the suitable seasons; you can wear it during the summer heat, pleasant spring temperatures, and warmer, fall transitions.
I wouldn't recommend wearing Dior Homme Sport 2021 during colder, chillier days, and even though it gets woody at a certain point, it doesn't have that warm, leathery, and sweet feel that we are looking for in fragrances for colder days.
In the terms of occasions, this fragrance is a great choice since it is suitable for almost any day event – gym, casual walk, coffee break, work, etc.
As the name suggests, it is absolutely an excellent choice for any sports activity, especially after the shower as it will come as a great refreshment.
You can wear it on nighttime occasions but bear in mind that due to its performance, it will probably end up eaten up by other scents in the air. If you are fine with not being noticed for your fragrance and want something that sits near you, then Dior Homme Sport should do the trick.
For night-time events, I would suggest Dior Homme or Dior Homme Intense.
How Many Sprays Of Dior Homme Sport Is Enough?
5-6 sprays of Dior Homme Sport are more than enough for this fragrance to open and perform as it should.
Dior Homme Sport is a light, fresh and vibrant scent that doesn't contain a heaviness or richness to support the high-quality composition. That is the reason you may need more sprays than you would need for Dior Homme or Dior Homme Intense.
To achieve the best possible results, apply your fragrances on the pulse point, right after showering, and let your skin do the rest: 2 sprays behind your ears, 1 spray in the dip of your collarbone, 2 sprays on your wrist, and 1 spray behind your head.
You can apply fewer sprays as well if you will be taking a shower right after the training so you know that you don't need it to last more than a couple of hours.
Since longevity can be something that you might end up not satisfied with, I'd recommend going through our guide on the best ways to improve perfume's longevity and performance.
Evolution of Dior Homme Sport — All Batches Comparison
Dior Homme Sport was initially launched in 2008, and as expected, designer houses mostly look for mass-appealing scents and good numbers in the sales department. Therefore, every few years, they rebrand and reformulate the fragrance. Dior Homme Sport had 4 reformulations.
The first launch in 2008 was the first formulation. The second version of the same fragrance came out in 2012. Five years after that Dior reformulated Homme Sport again, and the last reformulation (the one we're talking about in this review) was in 2021.
Since there are still old batches of previous versions on the market and their worth goes up as time flies by, here's a short comparison of all Dior Homme Sport versions in case you decide to get the vintage one to know what to expect.
Dior Homme Sport 2008
Dior Homme Sport 2008 started this citrusy-oriented, fresh, and casual scents, and the rest of them just followed.
It opens with a perfectly blended mix of bergamot, grapefruit, and Amalfi lemon, with a slight touch of gingery effect and shadow of woody notes.
It dries down to cedar and vetiver which makes the whole composition very masculine, fresh, clean, and uplifting. You may also detect a warm spiciness from the lavender that beautifully joins the whole composition.
Dior Homme Sport 2008 could have been a perfect, sporty scent, with its good versatility and fresh aroma, but the issue lies in its uniqueness. Or lack of one.
Even in 2008 when it came out, it was something that was already seen, but if you manage to find one on the market today, I wouldn't advise getting it as it's a truly random, general fresh scent.
Dior Homme Sport 2012
Dior Homme Sport 2012 was a real, traditional flanker of the original Dior Homme that contains a lipstick touch of the iris note.
Just like its predecessor, this one also opens with a blast of citrus, but this time you will get a prominent, citron note with the effect of the ginger flower.
After only a couple of minutes, the citrus effect calms down and you get that recognizable iris note that makes the scent powdery, woody, and slightly earthy effect.
Iris note does remind you of the lipstick, but this composition is very well blended that you won't get bothered with it, just the opposite; Dior Homme Sport 2012 may be the most adored one of these older batches.
The dry-down gets woodier because of the cedar nuance from the base, it combines nicely with the iris note and stays like that for the rest of the fragrance lifespan.
You can get around 6 hours of longevity and one hour of great performance but keep in mind that this is a light, fresh scent made for warmer days, so we can't expect much more.
Dior Homme Sport 2017
Followed by earlier versions, Dior Homme Sport 2017 came as a fresh, (again) citrusy-oriented scent that was inspired by a fast and dynamic lifestyle.
Dior Homme Sport 2017 was supposed to be a more sophisticated, sexier, and urban nonchalance but I am not sure that it lived up to people's expectations.
This invigorating scent opens with blood orange, grapefruit, and lemon with effervescent and citrusy, prominent effects. This phase lasts for about half an hour when other ingredients steal the show.
We get a pink pepper which has a spicy and rosy scent, and at that moment the vetiver from the base also starts showing giving a woody hint to it.
The dry-down is a more woody-oriented smell with sandalwood and traces of vetiver, the scent remains fresh, clean, green, uplifting, and slightly spicy.
You get a solid 5 to 6 hours of longevity and around 1 hour of good projection, which is more than fine for light scents like Dior Homme Sport 2017.
Where To Buy Dior Homme Sport?
The best place to buy Dior Homme Sport is a local perfumery that is an authorized reseller of the Dior brand. If you're buying online, the best place to buy Dior Homme Sport is FragranceNet.
Being able to smell a fragrance before you buy it is exactly why I always advise visiting a local perfumery. You will be able to test it on your skin, and see for yourself how it works for you, and if you decide that's it, you can have it right away.
However, if you decide to buy Dior Homme Sport online (which is a pretty safe blind buy, as the perfume is very likable) the best place to do so is FragranceNet.
I personally get almost all of my perfumes from FragranceNet, and I never had a single issue — they always deliver on time, and they deliver original fragrances.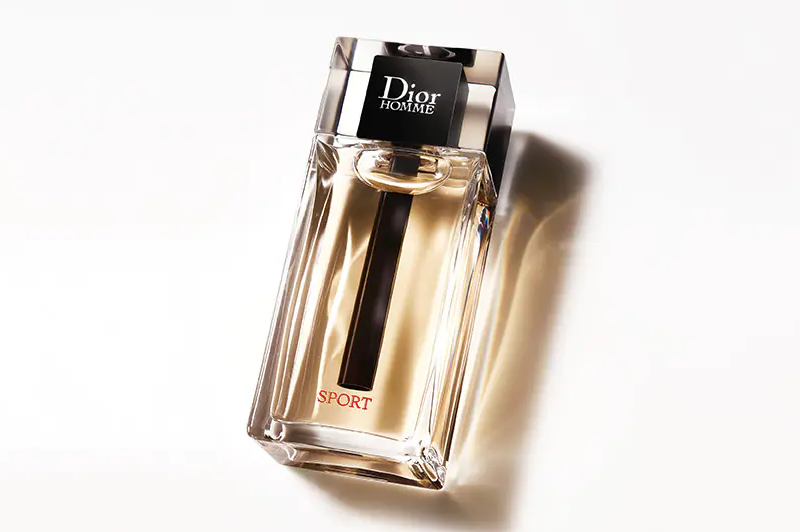 Besides FragranceNet, I found this perfume multiple times on Amazon. However, I never managed to verify how trustworthy sources on Amazon are in this case. There were no reviews, no ratings, and Amazon wasn't the one fulfilling the orders. That usually means it's fake, but maybe I'm wrong. Either way, I wouldn't recommend getting it from Amazon this time — if something changes in the meantime, I'll update the post.
---
Buy Christian Dior Dior Homme Sport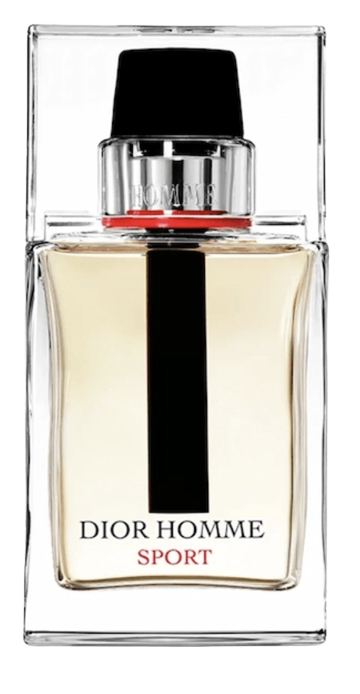 ---
In reality, you can get Dior Homme Sport in multiple online shops. Some of them are trustworthy some of them are for nothing but avoidance. To know where you're perfectly safe, check out our post on the best places to buy fragrances online.
Packaging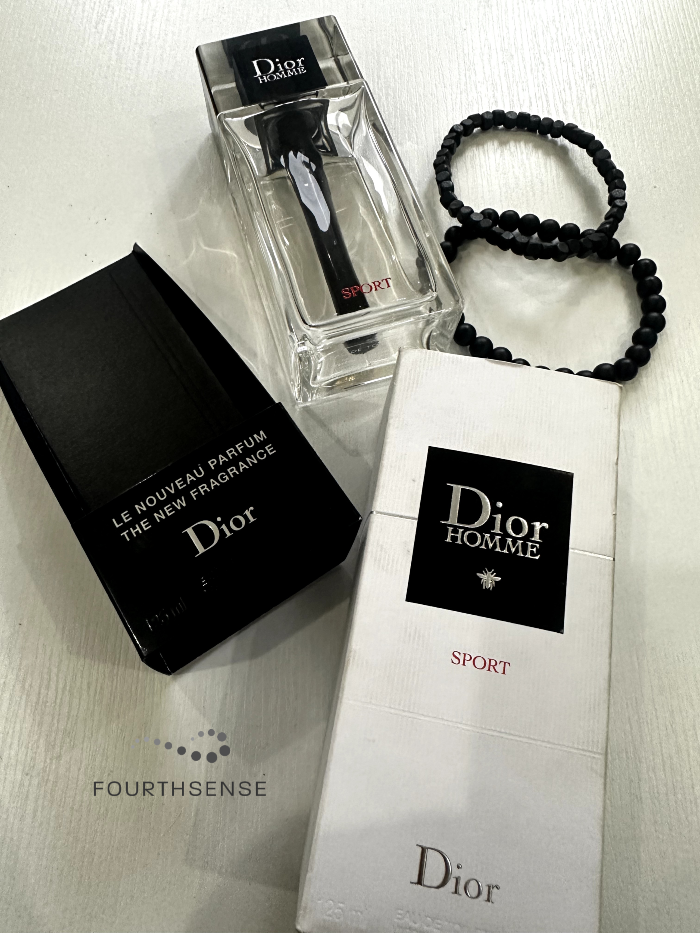 Just like the previous releases, Dior Homme Sport 2021 comes in a simplistic, transparent, classy bottle with slightly rounded corners and a plastic transparent-black glass-like cap.
The box is white with a simple Dior sign on the front. Information about the fragrance including the batch code is at the bottom of the box. Once you open it, you will notice Dior's "bug" stamp on the inner side of the top of the box.
The juice is slightly orange and in a glass bottle that has "Sport" written on the bottom of the front side, and legal details about the fragrance on the very bottom.
The atomizer is wide and rich, and the cap is not magnetic but it "clicks on". On the inner side of the cap lies Dior's traditional bug… Fly… Or bee… Whatever it is, it's in there!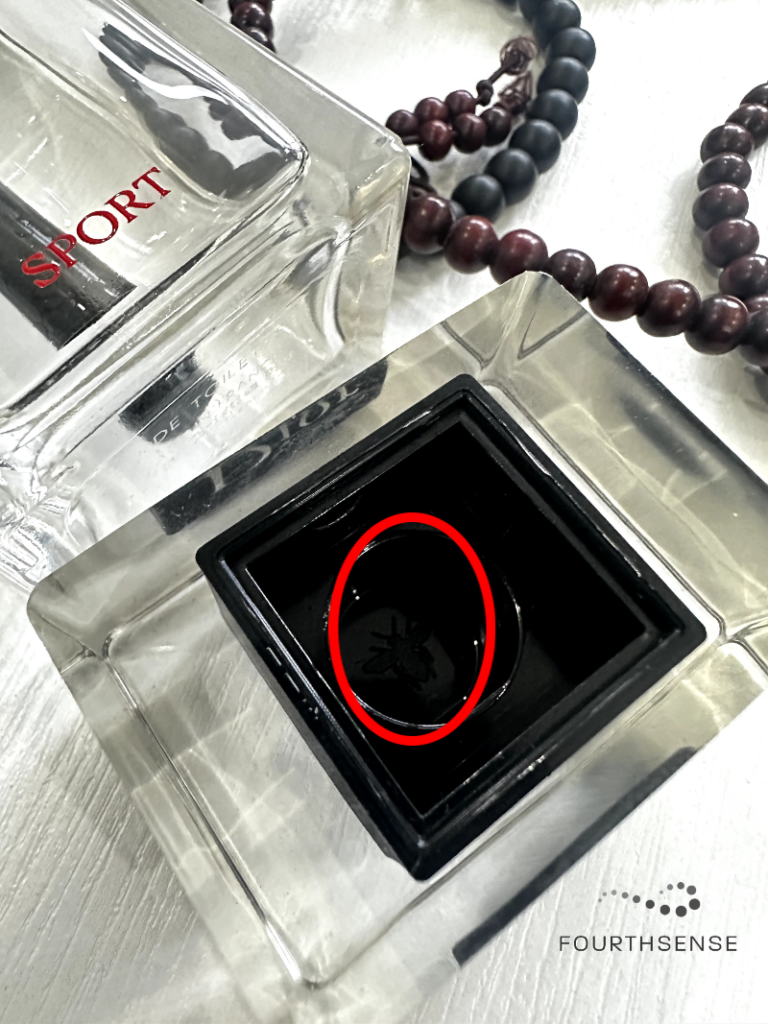 All in all, one really well-done and classy presentation.
It is available in three sizes:
8ml / 0.27 oz (travel spray)
75ml / 2.5 oz
125ml / 4.2 oz
Conclusion – Is Dior Homme Sport Worth It?
Considering the price, uniqueness, scent, but also performance, the final verdict is that Dior Homme Sport is definitely worth getting in 2023.
In general, it's a likable scent, recognizable scent, and you can wear it on many occasions where it will be able to deliver whatever it's needed.
I used to like the 2012 release the most, and now when 2021 came out, it kinda grew on me. I honestly like the direction where Dior is going with the Homme line.
I find all these Dior Homme Sport batches wonderful fragrances that justified the purpose they were initially created for but in reality, they did much more than that.
Dior Homme Sport 2021 is a noteworthy scent that may be more sophisticated, more elegant, and woodier than its predecessors, it has a wide versatility, good performance, and likable nature.
Altogether, it was a blind buy for me that went incredibly well, and after testing it out in all possible conditions, I'd definitely say it's an amazing summer (and warm spring) scent. I genuinely think that you can't go wrong with this one.
Did you try any of the Homme Sport versions?
Which one do you like the best?
Let's talk in the comments below!
We are sorry that this post was not useful for you!
Let us improve this post!
Tell us how we can improve this post?