In 2020 Parfums de Marly released a new fragrance called Sutton. Not so long after, they had to change the name of the fragrances due to fragrance house Bond No9 claiming the name, so in order to avoid legal battles and push the fragrance out during the season that it's meant for, they changed the fragrance name to Epsom.
That name didn't also stick around for a long time as someone at PdM probably figured out that the word "epsom" usually hints at epsom salts.
Finally, the third time's a charm, the fragrance was named Greenley, and it's sold to this by that name.
Parfums de Marly Greenley definitely had hiccups during the release which, truth be told, only hyped the fragrances – not much, but just enough for everyone to know about it.
So is Greenley worth the hype? Does it beat all-time PdM favorite freshie Sedley? And is actually worth the price? Read on!
Batch tested: 3130280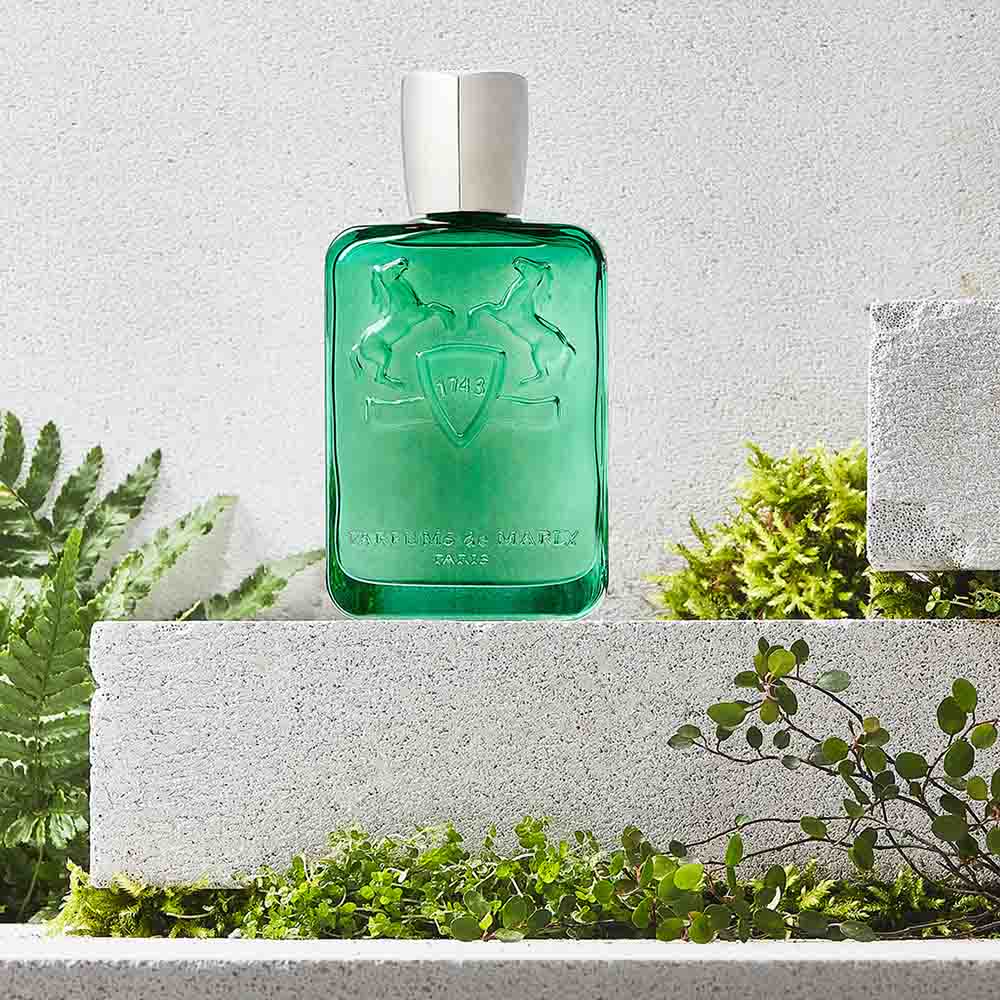 ---
Buy Parfums De Marly Greenley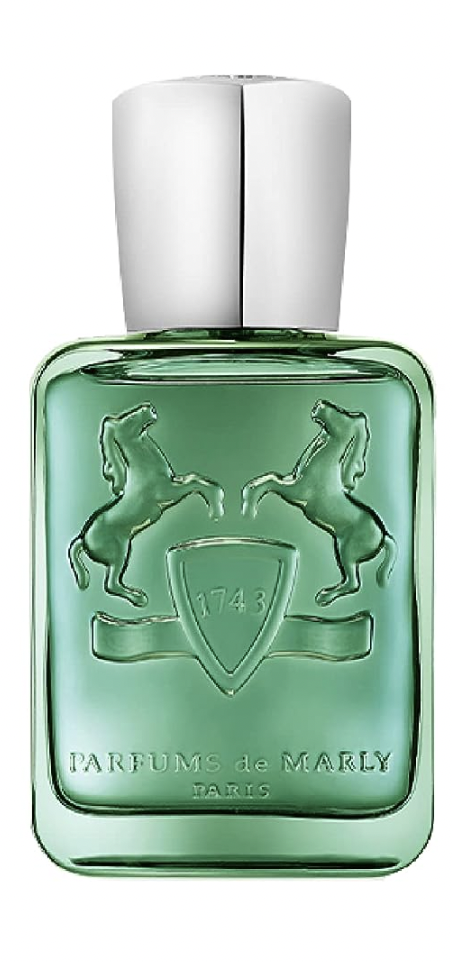 ---
What Does Parfums de Marly Greenley Smell Like?
Parfums de Marly Greenley smells very fresh, juicy, and green where the most dominant notes are apple and cashmeran.
According to Parfums de Marly, olfactive notes are:
Top notes: Sicilian Bergamot, Mandarin, Green Apple, Cashmere Wood
Heart notes: Cedarwood, Petitgrain, Violet, Pomarose
Base notes: Oakmoss, Musk, Amberwood Accord
Apples have always been a signature note for Parfums de Marly. Even though a lot of their fragrances don't have the apple listed in their olfactive notes, you can get a hint of two of the apple scent occasionally in almost all of their fragrances.
In the case of Greenley, the apple is the very first thing that you sense at the first spray – the opening is very juicy and fruity and the apple entirely dominates it. Light citruses from bergamot and mandarin can also be sensed in the opening, but the apple is definitely the most dominant.
Some people say that the scent reminds them of apple shampoo and honestly, that's not far from the truth. If you're used to using apple shampoo then the opening of Greenely will definitely remind you of it.
However, drydown makes a huge difference, so worry not, you will not remain stuck with that shampoo-like scent!
Cashmere wood is stated to be in the opening notes, but honestly, I don't feel it in the opening at all.
As soon as the drydown starts through the heart, that's where cashmeran starts appearing, and even though it blends with others, I'd definitely say that it dominates.
Cedarwood takes away that juiciness from the opening and makes the scent a bit drier and smokey. Petitgrain allows citruses to linger in the background while violet makes it a bit powdery.
All these things play around cashmeran, so the scent becomes very cozy, fresh, and green.
The base is made out of oakmoss, musk, and amberwood, and even though many feel that musk is the most identifiable, I feel that oakmoss is the most dominant in the base. Either way, a bit heavy base definitely serves to promote a green and cozy feeling and to improve the fragrance's longevity.
What's interesting is that even though apple is in the opening, now and then you can get hints of it even hours later, and I believe that's thanks to the pomarose note. Pomarose has a fruity rose scent that actually has strong nuances of an apple-like scent so that's where the apple and juiciness come from even hours after opening notes vanish.
In general, the scent of Parfums de Marly Greenley is very appealing, it definitely has a compliment-getting factor and is very green, fresh, and aromatic.
When it comes to uniqueness, it stands pretty tall. I personally don't recall smelling anything similar to this before and it's nice to see that at least someone is trying to make fresh fragrances a bit different. PdM definitely accomplished that with Greeneley so in case you want to set yourself apart from the universal fresh scent folks are usually wearing these days, then Greenley is a great option.
I don't see much that's not to be liked here, and anyone who smelled this on me during testing, never said anything bad about it – to some, it was just nice, to others it was mind-blowing.
Saying that there's no doubt that this is a safe blind buy, so in case you don't have the opportunity to test it and get it in local perfumery, chances that a blind buy will be worth it are pretty big!
How Long Does Parfums de Marly Greenley Last?
On average, Parfums de Marly Greenley lasts around 8 hours while projecting well for the first 3 hours.
Just like with any other Parfums de Marly fragrance, performance is on point, and I honestly think that they are aware that fragrances at this price point should have at least decent performance.
It's also worth mentioning that fresh and green fragrances usually made for sunny days often have poor performance, so having Greenley performing like these in this category is just amazing.
While testing it, I personally got anywhere between 8-10 hours before fragrance turns into the skin scent. Longevity depends on temperature and weather, but even after my team tested it, no one got under 8 hours.
Projection works great for the first 2-3 hours, but even after that period, people around you can feel juicy hints of apple and cashmeran.
Sillage is also very good, a bit above moderate where people you pass by will definitely be able to smell the scent trail. Of course, after the first 3-4 hours sillage becomes weaker but it never just sits close to the skin.
How Many Sprays Is Enough?
In order to achieve optimal performance, 4-5 sprays of Parfums de Marly Greenley will work just fine.
I don't think you can actually overspray this fragrance, but trust me when I say this – there's really no need to overspray it.
It's fairly potent and powerful, it has a good performance, and if you apply the fragrance properly it will reach optimal longevity, projection, and sillage power.
As always, focus on your pulse points – 2 sprays behind your ears, 2 sprays on the sides of your neck, and 1 behind your head.
If you want to improve projection, you can add 2 sprays in the dips of your collarbone, and 2 more on the inner side of your hand wrists, but again, there's really no need as it will work just fine with our initial recommendation.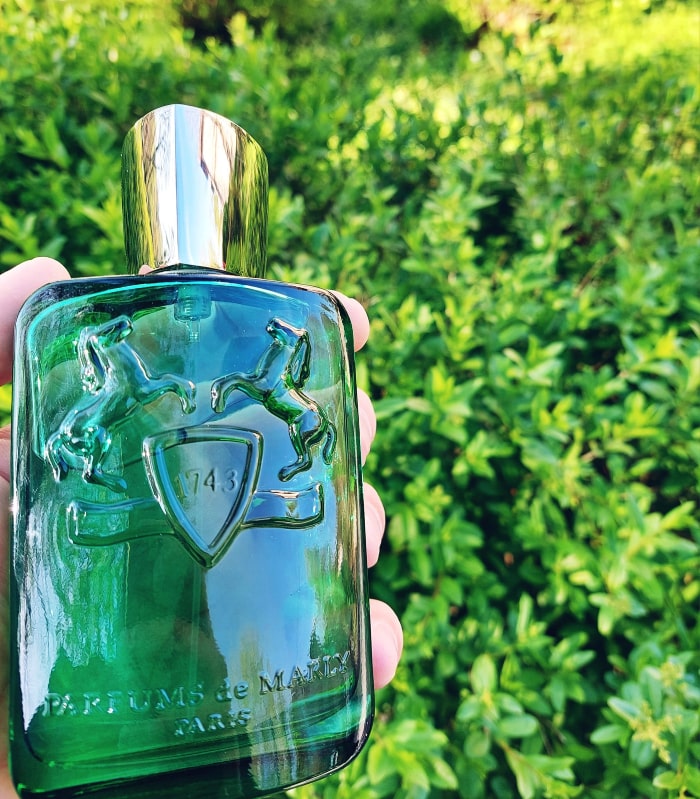 When To Wear Parfums de Marly Greenley?
The best season to wear Parfums de Marly Greeneley is during spring and summer.
Just by looking at the notes pyramid, you can easily see that this scent was made to bring refreshment and light vibes to warm spring and hot summer days.
Due to its mossy and woody base, you can also pull it off during fall, but in general, fall prefers more spicy scents as the introduction to cold winter. Green, fruity, and somewhat herbal vibes can work just fine during fall, but it wouldn't be my personal pick.
When it comes to occasion, versatility and non-offensives Parfums de Marly Greenley possesses allows you to wear it on all occasions and in any type of situation.
However, my personal recommendation is casual wear, office/work, or during any daytime activity.
To me personally, Greeneley is definitely a daytime scent, while for nighttime and nights out, I'd pick something a bit more alluring.
If you're not the type of person to match fragrances for your events, then Greenley will work just fine in any setting during spring and summer days!
Where To Buy Parfums de Marly Greenley?
The best place to buy Parfums de Marly Greenley is PdM's department store or boutique, but if you're buying online, the best places are FragranceNet, Notino, and PdM's official website.
Buying fragrances in physical stores is always recommended because you can actually test the fragrance and see for yourself does it suit you. Buying fragrances online can be a bit risky, but luckily there are lots of trustworthy resellers.
The best place that I personally recommend (if you're from the US) and the place where I got the majority of my fragrance collection is FragranceNet – they are in the fragrance business for over 25 years, and they are always super reliable. Also, it's not rare that they offer discounts!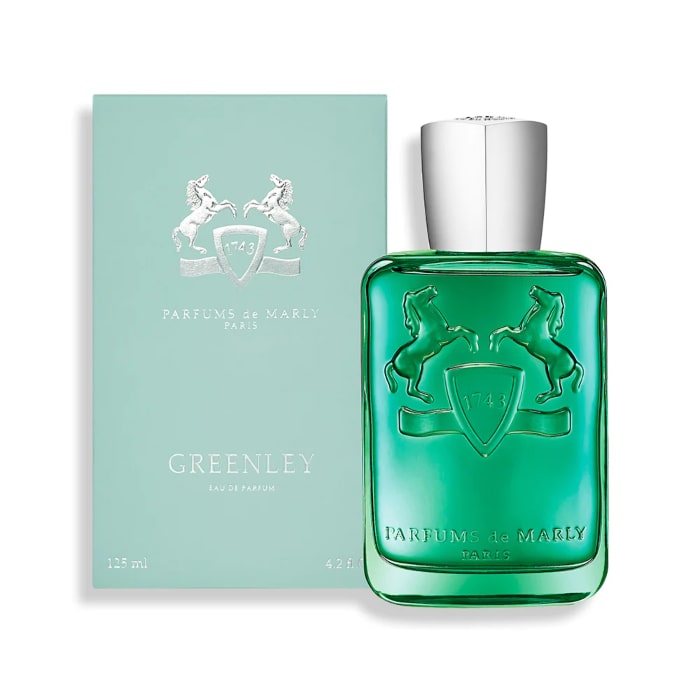 ---
Buy Parfums De Marly Greenley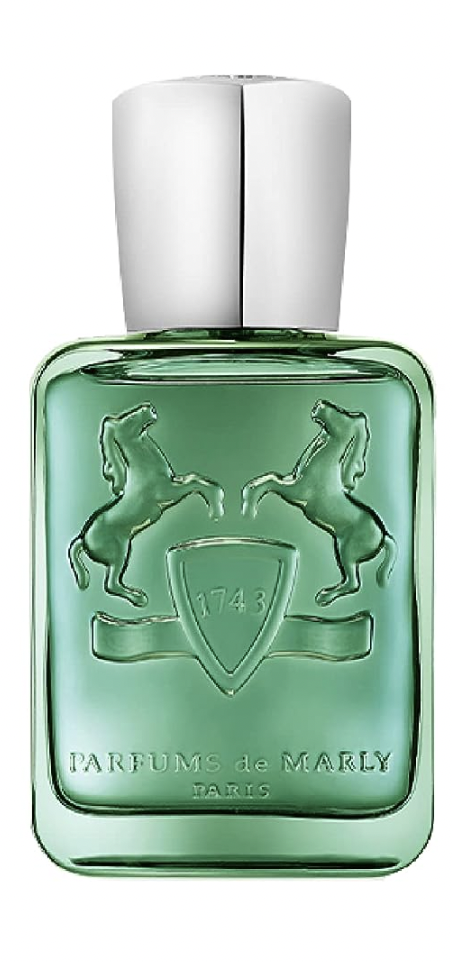 ---
Our third resource, MicroPerfumes still doesn't have any samples available, but as soon as they get it, I'll update the post.
Always make sure you're buying fragrances from trustworthy sources in order to avoid getting scammed.
Packaging & Presentation
Parfums de Marly Greenley comes in a standard format of PdM packaging. One could say that niche (and somewhat luxury) fragrance house should serve much better presentation and packing, but Parfums de Marly focuses on the quality of the scent as you're probably not going to be wearing box and bottle with you everywhere.
The box is light green – on the front, you can clearly see the Parfums de Marly logo and title "Greenley" under which they declare the fragrance concentration that is just like with all other fragrances they produce – eau de parfum.
The bottom of the box contains legal information and batch code, and the back contains ingredients and more legal information.
Unlike other bottles, but similar to Sedley, Greenley comes in a green glass bottle that is transparent to some degree. However, it's the standard format of the bottle just like for any other PdM men's fragrance.
The bottom of the bottle contains the batch code and legal information.
Parfums de Marly Greenley comes in two sizes: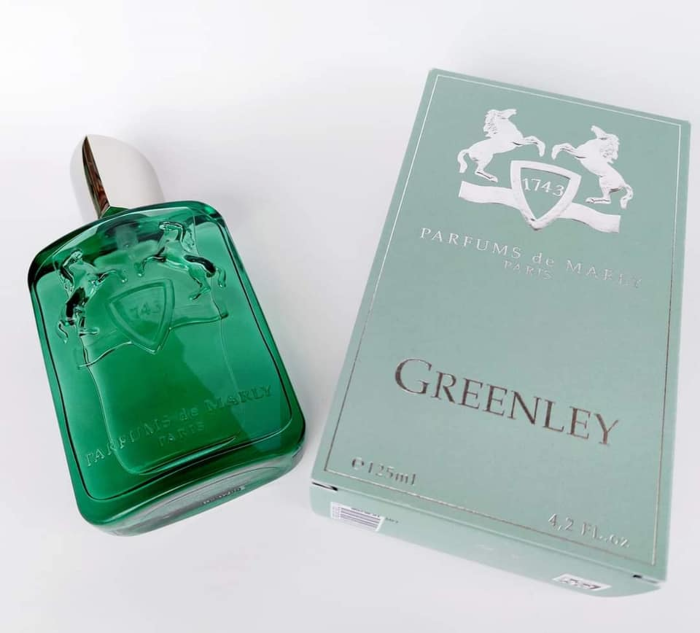 Conclusion – Is Parfums de Marly Greenley Worth It?
Considering the uniqueness, versatility, mass appeal, and compliment-getting factor, but also the price, yes, Parfums de Marly Greenley is definitely worth it even in 2023.
Even though it came out 3 years ago, Greenley is still one of the latest releases for spring and summer by Parfums de Marly. It even made its spot on our list of best summer fragrances for men in 2023!
It's rich, it's potent, it performs very well and it's definitely mass appealing scent.
As we've said previously, there's really not much to dislike here – juicy and fruity vibes combined with mossy and woody scent are always a winning combination when blended properly, and that's exactly what PdM managed to pull off.
According to them, Greenley is made to be worn "During spring and summer, for a walk into the woods". I doubt you'll have many walks into the woods, but their message is clear – it's made to be worn as an uplifting and authentic scent for relaxing and battery-charging purposes.
Speaking of authenticity, I believe that's exactly what's Greenley's biggest pro. It's unique and it definitely smells different from other freshies.
Did you try it?
How do you like it?
Which one hits the home run better for you, Sedley or Greenley?
Let's talk in the comments below!
We are sorry that this post was not useful for you!
Let us improve this post!
Tell us how we can improve this post?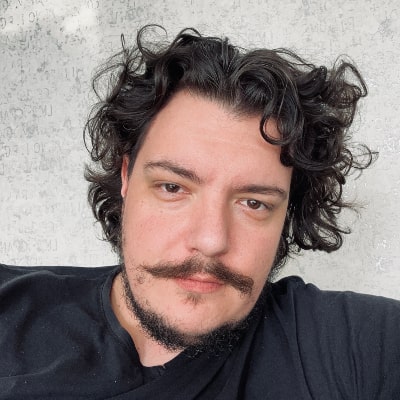 Vladan X is a founder of Fourth Sense and fragrance expert. He reviews only fragrances he owns personally, and his collection currently counts between 100 and 150 fragrances. Even though Vladan reviewed hundreds of perfumes he still didn't find the one he would call "signature" fragrance. He's still searching for that one, and in the meantime, he writes the best in-depth fragrance reviews internet has ever seen! You can read more about Vladan X here!