Inspired by the beautiful mermaid goddess named Circe, Tiziana Terenzi Kirke reflects the collection of memories of great ancient people that lived in the most flourishing Mediterranean ever seen, the place that is not locked in the south of Rome, as a natural park.
Kirke was released in 2015 and just like the goddess it was named from, the fragrance represents a magical, sensual scent that is bound to guide you on mysterious paths in the discovery of your deepest emotions.
Smelling this masterpiece for the first time in my life was like a revelation. When you have been in the fragrance industry for years, it takes a miracle to sweep you off your feet and make your jaw drop – that is Kirke.
This most surprising yet extremely pleasant perfume is love at first spray, with the outstanding quality and unique scent, it became one of my favorite fragrances of all time.
In this post, I want to tell you more about this Italian love in the bottle and why is it my personal favorite fragrance on best summer fragrances and colognes for men in 2022.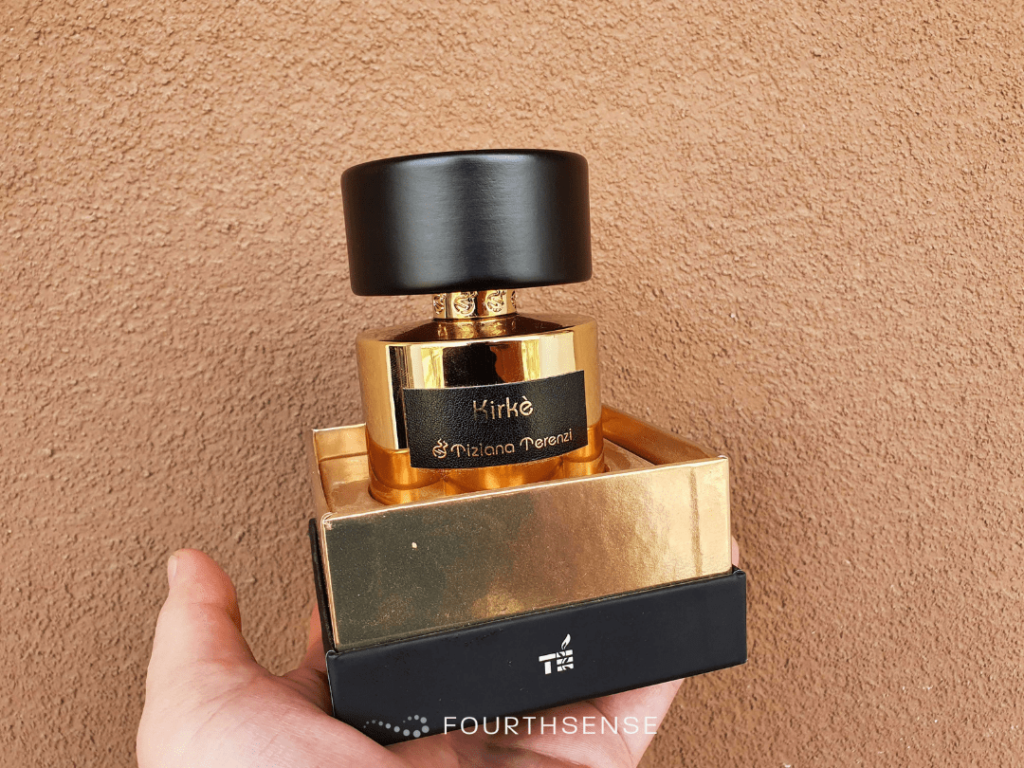 What Does Tiziana Terenzi Kirke Smell Like?
Kirke by Tiziana Terenzi smells like a fruity-oriented bomb with sweet and strong musky and woody undernote and fresh, tropical effect perfectly blended for both women and men.
According to Tiziana Terenzi, this is the notes pyramid:
Top notes:
Passionfruit
Peach
Pear
Raspberry
Cassis
Warm sand
Heart notes:
Base notes:
Musk
Vanilla
Sandalwood
Patchouli
Heliotrope
When you first spray Kirke, there is no doubt in your nose that this scent is extremely floral-oriented — it almost feels like you are walking through the floral garden.
What separates this magnificent floral perfume from other floral-oriented scents is the high quality of the Kirke blend; the mixture is so professionally evolved that it takes an ultra-sensitive nose to detect a single note.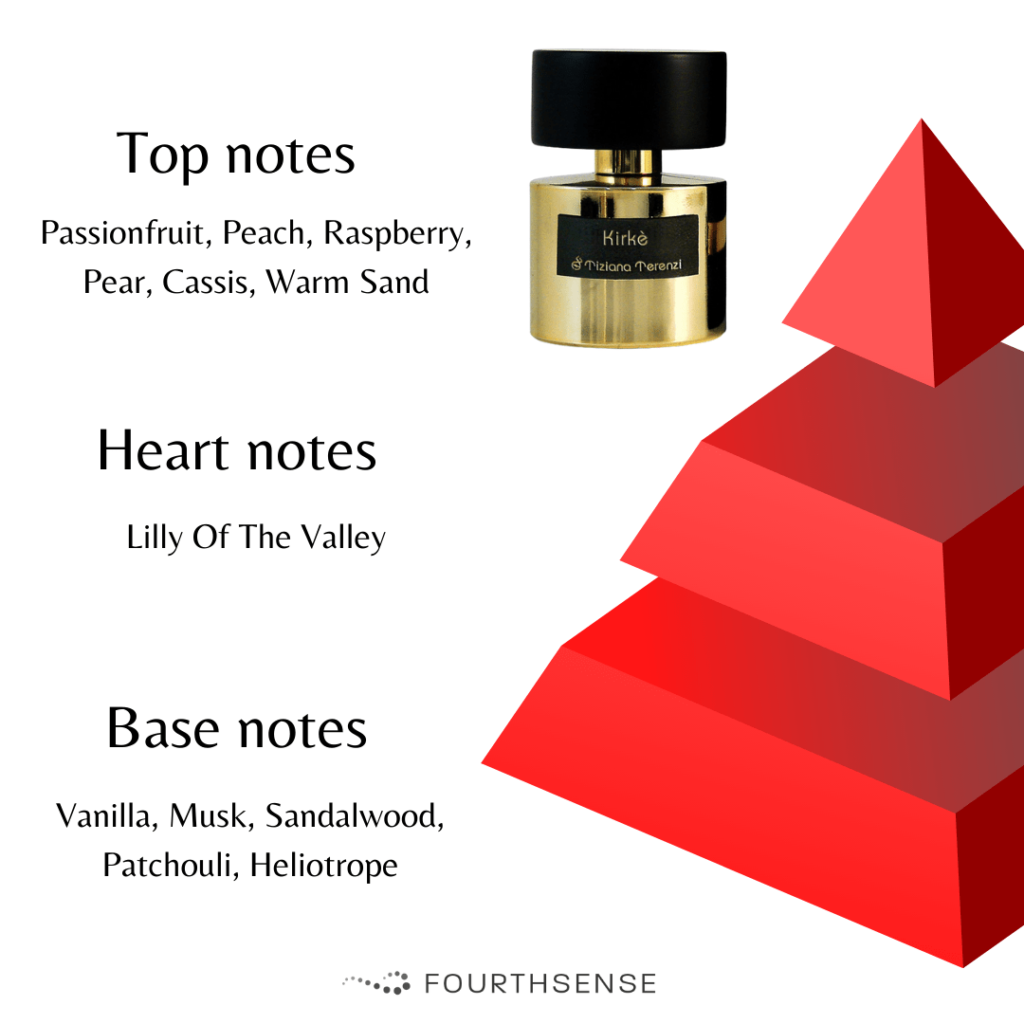 As I mentioned, the opening is highly floral and even though I can't pick up only one aroma, to me, it came as a peach, pear, and raspberry sweet combination.
After a few minutes when the initial reaction starts calming down, the scent starts closing down and projecting notes from the base. I think that is the moment when this strong fruit gives away its charm and even though I can't say that it becomes a leading note, you will be able to sense its power at some point.
The backbone is heavy in musk, but besides this animalic note, the patchouli, vanilla, and sandalwood affected the evolution of this initially strong floral scent to a powdery, fresh, musky, and slightly woody composition.
A true rollercoaster of emotions.
The final dry-down retains its uniqueness with its initial floral crown and the deep musky roots.
I heard that some people think Kirke has sort of the shampoo-like smell and it may start evolving into that direction at some point but it doesn't last more than a few minutes.
The scent of Kirke can make you feel confident and special, it can bring all eyes to you and give you the confidence you need when you are walking down the street.
The scent is truly unisex, and even though many reviews out there say that it leans more towards the feminine side, I assure you — both men and women can pull this off, but only if it fits their personality and character.
Tiziana Terenzi Kirke isn't made for the people who like private and close scents — this one will scream your name and make many heads turn.
How Long Tiziana Terenzi Kirke Lasts?
Kirke by Tiziana Terenzi is extrait de parfum which means that it will last for over 12 hours and if you spray your clothes, the scent will stay until the next washing. Projection and sillage are also extremely powerful.
Extrait de parfum is the most concentrated fragrance type out there — unlike the most popular EDP class that contains up to 20% of fragrance oil, extrait de parfum has up to 40% which makes it the strongest type of perfume.
Extrait de parfum type of fragrances are known for being extremely good in terms of performance, so projection and sillage do not lack here either.
You will get at least 4-5 hours of projection, and sillage will be present as long as perfume lingers on your skin.
Be super careful when spraying Tiziana Terenzi Kirke on your clothes, because it may even last after the next wash.
Overall, very few perfumes and fragrances from the industry are capable to deliver such performance and longevity which makes Kirke a true jewel in any collection — it certainly is in mine!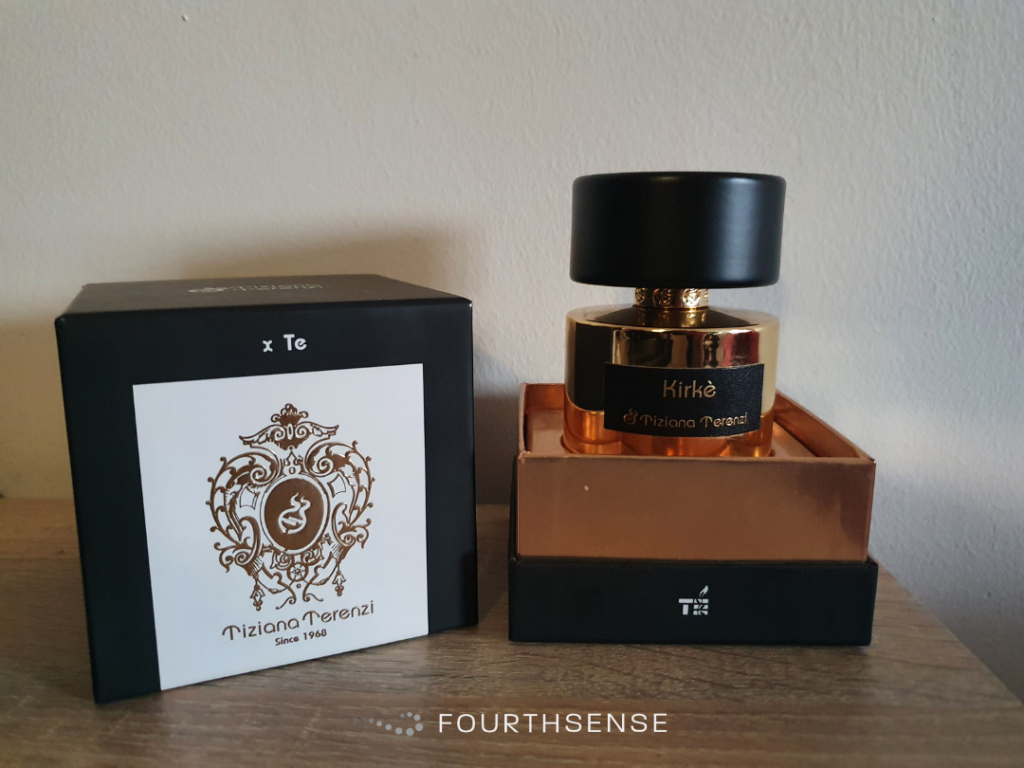 When To Wear Tiziana Terenzi Kirke?
The best time to wear Tiziana Terenzi Kirke is definitely during any type of nighttime event. When it comes to season, it can easily be worn the entire year.
Many reviews out there say that Kirke is purely a winter scent because of its fruity sweetness and (fair to say) heaviness, but I find Kirke to be extremely versatile when it comes to this — I personally enjoy wearing it during summer, especially for the night events, but I also wear it during cold winter days.
It will work either way, and no heat or cold can alter it to become something unpleasant.
When it comes to the occasion, I personally love to wear it on nighttime events when I want to stand out with the scent (as its performance allows me that), but frankly, you can wear Kirke wherever you want. I would suggest keeping it for formal events as it shouldn't be an everyday scent due to its uniqueness, but again, you can pull it off anywhere.
Also, I wouldn't recommend Tiziana Terenzi Kirke for the younger population — it's a perfume made for adults, and it simply asks for the mature wearer.
If you are an adult, definitely consider getting it for special occasions and when you want to be spotted as its powerful projection will introduce you before you speak and fight every other fragrance to put you in the spotlight of the show!
How Many Sprays Of Tiziana Terenzi Kirke Is Enough?
Because of its strong concentration, it only takes 2 to 3 sprays on the right spots on your body to reach the ultimate performance of Tiziana Terenzi Kirke.
At some point, It may even sound too good to be true, but I assure you – it is!
Extrait de parfum fragrances are known for being ultra-powerful compositions and that is the reason why you won't ever need too many sprays to smell wonderful with Kirke.
Only 3 sprays will bring the best out of this Tiziana Terenzi masterpiece, but you can't forget to spray it on your pulse points.
The pulse points are the warmer spots on your skin and they will welcome and keep the scent for a longer time.
For the best results, you can apply 2 sprays behind your ears and 1 spray in the dip of your collarbone. If you are not convinced, apply 2 sprays to your wrists as well.
Try not to over-apply this fragrance since it can become off-putting or even aggressive and start bothering people around you.
Read our full guide on how & where to properly apply perfume!
Where To Buy Kirke Tiziana Terenzi?
You can buy Kirke in any local perfumery that is an authorized reseller of Tiziana Terenzi house, or you can purchase it online on FragranceNet, Amazon, or Tiziana Terenzi's official website.
No matter how much I love this or any fragrance in general, I wouldn't recommend a blind buy, since it can always happen that the scent just doesn't work well with your nose. Also, even though Tiziana Terenzi Kirke is a pretty versatile perfume, it's also a bit polarizing when it comes to liking it — it's one of those that you absolutely love or hate.
To avoid that frustration, I always recommend visiting a local perfumery and testing the fragrance on your skin; leave for a day, see how it evolves during each phase and how well your skin will accept it. After you are sure that you are completely smitten by it, purchase it either in perfumery or online.
If you are like me you won't do that — I love every blind buy and even when I order something I end up not liking it!
If you want to buy Tiziana Terenzi Kirke online, I recommend getting it from FragranceNet as I personally order all my fragrances from there — they always deliver on time and I never needed to question is the fragrance an original or a fake. I'd say that FragranceNet is one of the most trustworthy places to buy, and considering they often have discounts, they just might be the best!
Another trustworthy source where you can get Tiziana Terenzi Kirke is Amazon — I always link directly to authorized resellers or original perfume houses on Amazon.
Besides FragranceNet and Amazon, you can also buy original Tiziana Terenzi Kirke on FragranceX and Tiziana Terenzi's official website.
You might notice prices variation on all sources but bear in mind that shipping times and terms and conditions vary as well.
Always be careful when buying fragrances online — there are a lot of fake fragrance manufacturers, and their products mimic the original but are not medically tested on human skin. The links provided in this article are 100% trustworthy as I tested them myself.
Packaging
Kirke by Tiziana Terenzi comes in a black-gold, luxurious box with a white label that has the logo of the house engraved on it. At the bottom of the box, you can also see the name of the fragrance and the concentration type.
Once you remove the top part, the fragrance sits tightly in the middle of the box and the whole presentation looks very classy and lavish.
The liquid comes in a golden bottle with a huge, black cap, along with the box, it has a rich vibe written all over it.
The fragrance comes in 100ml bottles (3.4 oZ).
Summary — It Tiziana Terenzi Kirke Worth It?
Considering the average price, but also uniqueness, presentation, performance, and scent itself, Tiziana Terenzi Kirke is definitely worth it.
This mind-blowing scent is a must-have in the collection and should be used only for special events when you want to leave an impression.
The fact that the house of Tiziana Terenzi blended this so well, and the fact that they connected it to such a powerful story, makes Kirke a true one of a kind.
As I've said before, you either love it or hate it. Either way, if you're discovering the world of scents, it's a definite must-try.
Have you tried it before? What are your thoughts on it?
Let's talk in the comments below!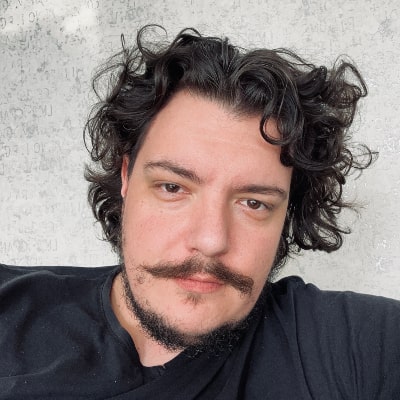 Vladan X is a founder of Fourth Sense and fragrance expert. He reviews only fragrances he owns personally, and his collection currently counts between 100 and 150 fragrances. Even though Vladan reviewed hundreds of perfumes he still didn't find the one he would call "signature" fragrance. He's still searching for that one, and in the meantime, he writes the best in-depth fragrance reviews internet has ever seen! You can read more about Vladan X here!