Bleu De Chanel, the timeless, ozone scent that evoked a completely new era of Chanel's collection and introduced us to the real meaning of classy, came out in 2010 and still carries the popularity it has 13 years ago.
It was the first fragrance launched in this collection and it's one of the last fragrances that Jacques Polge created before his son, Oliver Polge, took his place.
Jacques Polge is a true legend in the perfume industry and as the Chanel house is known for having only one master perfumer, Jacques was the one for a long time who had the honor.
This masterpiece is the epitome of an elegant, aromatic, and clean type of scent that has Chanel's grapefruit signature all over it.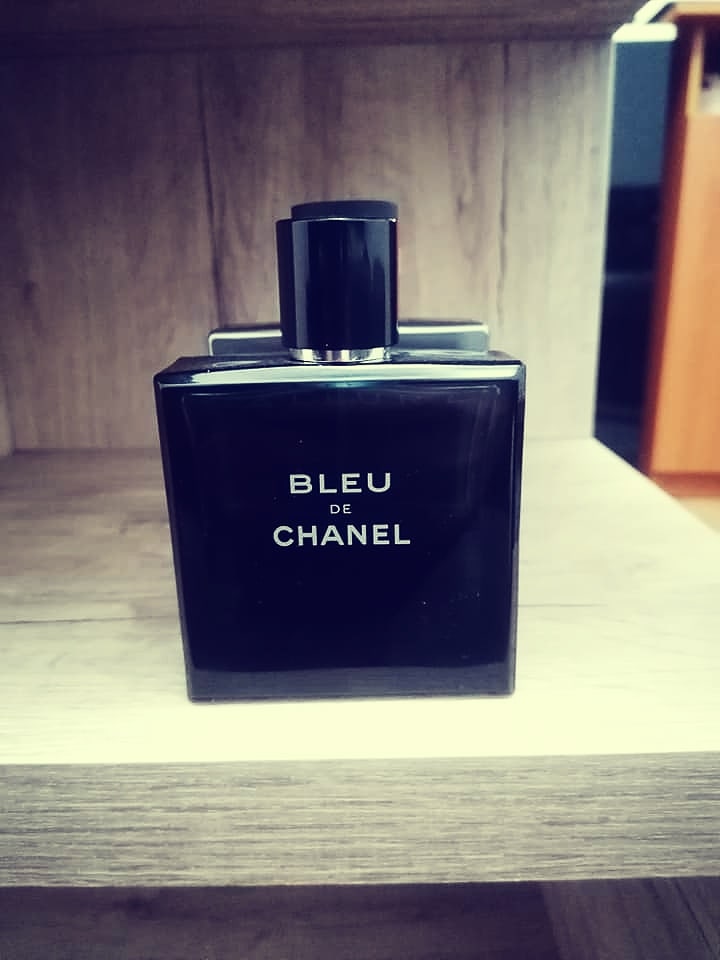 For me, trying Bleu De Chanel EDT was like coming back home from a long, exhausting journey, as it has that familiar Chanel smell that can evoke your deepest memories but at the same time, it has the power of making you feel futuristic and modern, with a heavy dose of woodiness and spiciness.
Obviously, I've been a fan for ages, but in this review, I'm going to do my best to provide you with the best objective information I can, where I'll help you figure out should Bleu de Chanel be your next buy.
Bear in mind that in this review we're talking about the eau de toilette version of Bleu de Chanel which is (many will agree) the real Bleu de Chanel.
What Does Bleu De Chanel Smell Like?
Bleu De Chanel EDT smells like a citrusy-woody mixture with a strong grapefruit opening and a heavy woodiness in the dry down. It's an aromatic fougere with a touch of spiciness and freshness.
This beautiful fragrance has remarkable DNA with timeless formula and composition of notes that succeeded to keep this fragrance at the top of its game even after all these years.
Top notes (1):
Grapefruit
Lemon
Mint
Pink Pepper
As I earlier said, the bare opening has a strong burst of grapefruit followed by lemon and a slight touch of mint that makes this fragrance so fresh, bright, and citrusy that will most certainly give you that "wow" effect.
Heart notes:
Ginger
Nutmeg
Jasmine
Iso E Super
Base notes:
Incense
Vetiver
Cedar
Sandalwood
Patchouli
Labdanum
White Mush
The dry down is much different than what you get in the opening.
The woody notes that come from cedar, sandalwood, and especially Iso E Super, blend perfectly well with all these bright and citrusy notes from the opening.
Iso E Super is a synthetic, musky note that has a little bit "weird" and unusual smell, and in this composition, it is easily noticeable, but because of the great blend with the base of incense and patchouli, it gives this fragrance a completely new, different and aromatic accord.
What gives this fragrance such an absorbing harmony is the warm spiciness that comes from ginger and pink pepper. These two notes are not pushy or offensive, you may not detect them right at the beginning but they are like a secret weapon that will make you fall in love with this fragrance.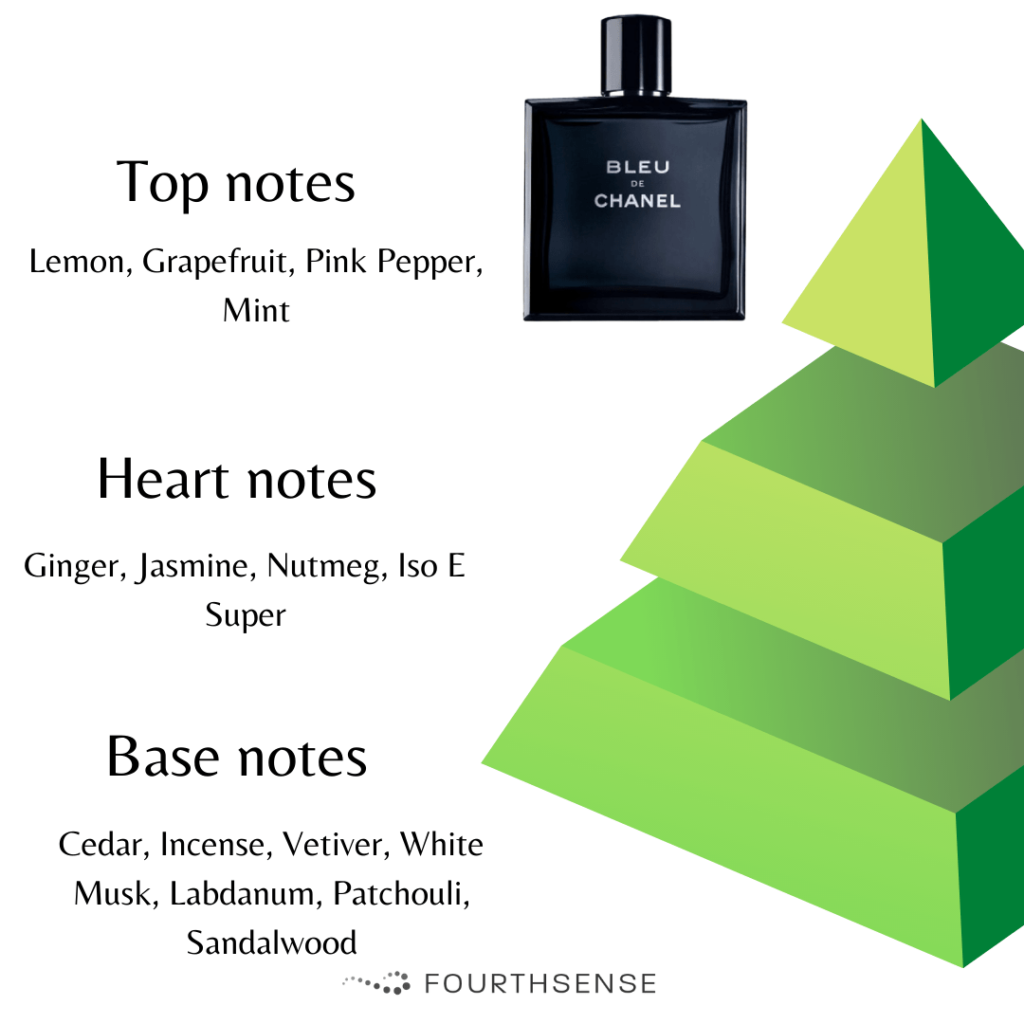 I also got a small touch of ambroxan which wasn't mentioned in the notes break down but I think it played a role in adding dustiness and woodiness to this already brilliant mixture. I may be wrong, but that's what my nose detects.
As it dries down further, the lemony and orange aroma can still be validated but it's not sharp or offensive, it will give you the citrusy effect and freshness you need and that combination will leave you satisfied.
All in all, Bleu De Chanel has a classy formula — it's a scent that is adored by everyone and you can easily pull it off without worrying if someone may not like it.
It's a huge compliment-getter and definitely can be considered a safe blind buy as it's extremely likable.
How Long Does Bleu de Chanel Last?
Bleu De Chanel EDT usually lasts from 6 to 8 hours, depending on how your skin reacts to it. When it comes to projection and sillage, they are pretty strong as well.
Fragrances that are on the market as long as Bleu de Chanel often become a subject of reformulation — companies water down them a bit in order to boost sales of new fragrances.
Once watered down, performance usually decreases, and that's also what happened to this fragrance.
However, Bleu de Chanel still performs very well, giving you 6-8 hours of longevity. I personally get around 6 hours.
Projection is also great, and Bleu de Chanel projects for around 2-3 hours, 4-5 feet around you, which is definitely a category of a screamer. Luckily the scent is truly beautiful and those around you will enjoy it for sure.
Sillage is also pretty strong and it leaves a trace for at least 3-4 feet behind you.
Bear in mind that the longevity and performance of the perfume heavily depend on the type of your skin as well as your habits of putting the perfume on.
Read our guide on 13 ways for getting the best performance out of your fragrance as we're sure there's a lot you can learn there!
When To Wear Bleu de Chanel?
You can wear Bleu De Chanel EDT in any season except winter. It can easily be a daytime or nighttime fragrance, and it's a perfect choice for any type of occasion; date night, party, or even office.
What I can say for sure is that Bleu De Chanel has great and wide versatility. It works perfectly with spring and fall, and it doesn't turn sweet during hot summer days.
Colder temperatures, however, may affect its performance big time, so that's why I wouldn't recommend wearing it during winter.
If you are wondering on which occasions you can pull off Bleu de Chanel then your answer is pretty simple – almost everywhere.
Because of its amazingly classy texture, this fragrance is a phenomenal choice for the office. It's an elegant and clean, not offensive or in-your-face type of perfume, so you can easily wear it, and rest assured you are not punching anyone in the nose.
I mostly wear it during the day, for coffee breaks and casual events, but I also had it several times on date nights and dinner with friends.
I would not recommend this fragrance for clubbing and late nights out since it is missing that quirky and eccentric smell that will separate you from the masses of people.
However, if you simply don't want to stand out and just want to smell good for the people near your, then Bleu De Chanel can be the right choice once again.
How Many Sprays of Bleu de Chanel is Enough?
3 to 5 sprays on your pulse points will be more than enough to get the best of Bleu De Chanel. It has great concentration and several sprays will make you smell delightful all day.   
Since the eau de toilette version has the most optimal concentration of all three fragrances from this collection, there is no reason to over-apply it. You can still get exceptional results by applying 3 to 5 sprays: 2 behind your ears, one behind your head, and one or two in dips of your collarbone.
If you want to get the extra effect you can also spray it on your wrists.
Learning proper spots where the fragrance should linger is super simple so make sure to check out our full guide on how and where to properly apply perfume for best performance.
Where To Buy Bleu de Chanel?
You can get Bleu De Chanel EDT in local perfumery that is an authorized reseller of the Chanel brand or you can also get it from their official website, Amazon or Sephora.
The advice that I always follow myself is that local perfumeries are always the best option to test the fragrance on your skin and make sure that fragrance is really a great choice for you before buying it. Even though Bleu de Chanel is a super safe fragrance and you will most likely love it, blind buys often end up as a total disappointment.
Every fragrance can react differently to different skin types so the scent, performance, and longevity can seriously be contrasting. That's why, if you have a perfumery close by, go test it for yourself.
Bear in mind that Chanel is a world-famous brand and fakes and scams are very much present. Luxury brands like Chanel are always a victim of copycats and that is why you should be more cautious than usual when it comes to shopping online.
I would personally recommend getting it from Amazon as the reseller linked below is trustworthy and you can rest assured that you'll get an original bottle.
Bleu de Chanel vs Dior Sauvage – Which is Better?
The eternal battle of titans.
Boss fight.
Armies of fans clash online on a daily level, trying to bring victory to this question to their heroes.
In reality, the answer is more than simple — which is better to you?
Since these two spectacular fragrances have been compared a lot, people are in constant confusion about which one is better and what is the main difference between Bleu de Chanel and Dior Sauvage.
What I want to emphasize is that Bleu De Chanel EDT and Dior Sauvage EDT are not similar. They do have a few identical notes, but they cannot be compared in terms of scent.
But if we talk numbers, Sauvage has the advantage — for a while it has been the best-selling men's fragrance which Bleu de Chanel was not, performance (longevity, projection, and sillage) are much stronger than Bleu de Chanel, and thanks to its sharpness it's a bigger compliment getter than Bleu de Chanel.
In terms of originally, I would say that Bleu de Chanel has the advantage — it's a bigger timeless classic and less marketing-oriented fragrance, which means in 15, or 20 years from now, Bleu de Chanel will probably sell better than Dior Sauvage.
Verdict — Dior Sauvage is better than Blue de Chanel if we're talking about the performance of the fragrance, but if we're talking about uniqueness, originality, and signature composition, Bleu de Chanel is the better one. When it comes to which one smells better, that always depends on personal preference.
If you want to read more details on what Dior Sauvage is really like, check out our full review here.
What's The Difference Between Bleu de Chanel Parfum and EDT?
The main difference between the first-born Bleu De Chanel EDT and the Bleu De Chanel Parfum is in direction of their creation. BdC EDT is a more citrusy, light smell with grapefruit in the spotlight, while Parfum is a more woody-centered scent, more mysterious, darker, heavier, and richer.
I already mentioned how EDT has great concentration and considering its age, it has great longevity and performance.
Since EDT and EDP were largely adored by men and women, I couldn't wait for the Parfum version of Bleu De Chanel – and it blew my mind!
The Parfum version came out in 2018 and it brought the darkness and seductiveness I was looking for in this Chanel collection. Even though the Parfum version has a very similar scent to the eau de parfum version, it is still a masterpiece on its own.
The nose behind the last fragrance of this collection, Oliver Polge, made this fragrance more woody-oriented with the touch of lemon, bergamot, and lavender, it gained such a rich and luxurious type of smell that impossible to resist.
The projection of the Parfum edition is incredible, definitely better than the EDT version, and the longevity is what really surprised me to the core.
Parfum version will last from 9 to 10 hours a day and for the first several hours it will project amazingly great.
Bleu De Chanel EDT is missing that amusing and "wacky" note, sometimes it's even called boring, but I prefer to call it classy. Bleu De Chanel Parfum has that missing part of the puzzle, it's sexier and muscular, it is a great compliment factor, and just like EDT, it is adored by everyone.
You can learn more about fragrance concentration in our guide which will help you understand what are the differences between them.
How To Spot a Fake Bleu de Chanel
Because of its popularity, the Chanel brand is one of the most copied brands of all time, and there are so many great-done fakes on the internet that can easily fool many people, especially someone who hasn't used Chanel before.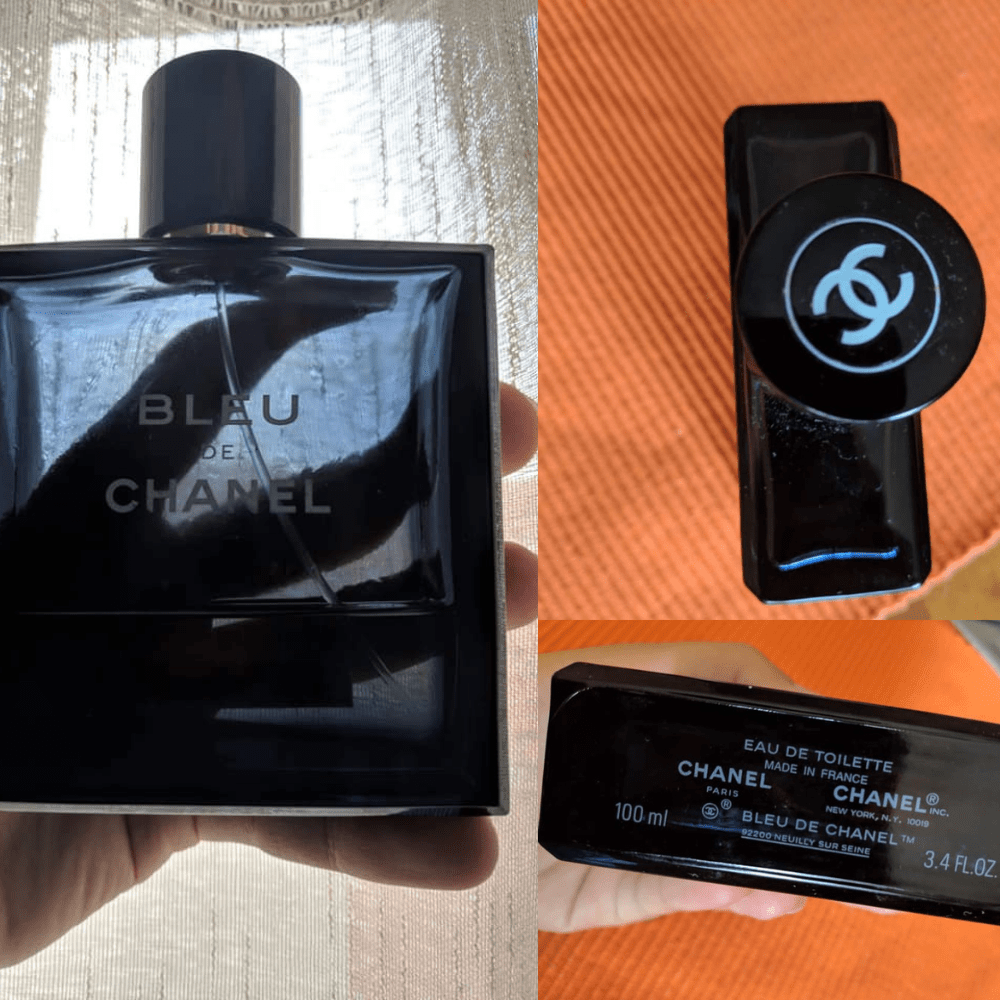 In case you are wondering if your Bleu De Chanel is original or not, here are some guidelines to help you figure it out:
Missing batch code
One of the main features that fake Bleu De Chanel EDT is missing is the batch code that should be engraved right under the atomizer, on the back of the bottle. That batch code corresponds to the batch code you can find on the original box and it's a safe way to check if the fragrance is legit or not.
Also, in case there is a batch code, you can check out if is it valid on the CheckFresh website.
Bad presentation
Firstly, the bottle of the original is slightly transparent and very clean, you can clearly see through it and the glass itself is very polished.
The fake ones are pretty muggy and dimly, it's almost not transparent at all and it contains sharp lines of glass mold, which is not the case with the original.
Font, wording, and quality of the print
The wording on the original bottle is a metallic, darker white color, while the fake has a bright, clean white for wording. Also, the name of the fragrance and the wording on the bottom of the bottle is almost not scrapable at all, while on the fakes, you can easily scrap it.
The cap
The cap of the Bleu De Chanel has a magnetic feature.
Both fake and original have that detail but on the original one, however, you put the cap, it will automatically fall right into place and the two C letters (the Chanel logo) will line up with the bottle. A very cool and interesting feature that fake does not have.
The atomizer
One more thing is the atomizer. The atomizer on the original is bright, metallic, and glossy colored, and it's slightly raised up.
The fake ones look rusted and old and also do a very poor job.
The scent
Last but not least — the scent. The reason why this is the last thing is because if you're getting Bleu de Chanel for the first time, then you probably don't exactly know how to smell it and even if you smelled it before, it's not likely that you would recognize it.
However, if you're already familiar with what Bleu de Chanel smells like exactly, then just by smelling the perfume you will be able to tell if are you dealing with a fake.
Packaging
The presentation of Bleu De Chanel EDT is very classy, dark, and clean, it looks elegant and gives an expensive type of vibes.
It comes in a very dark shade of blue, the bottle is slightly transparent but very polished and glossy. It comes with a black cap that has a Chanel logo on top of it and magnetic closure.
Once you remove the cap, you are welcomed with a metallic, bright, glossy atomizer that looks great and does an amazing job; it's very precise and well-defined.
The following fragrances from this collection have very similar appearances and every one of them looks very sophisticated and luxurious.
I like my bottles very chic and good-looking so if you are like me and the whole appearance of fragrances matters to you, then you have no reason to worry.
Summary – Is Bleu de Chanel Worth It?
Yes, Bleu de Chanel is still very much worth it, even in 2023. This timeless scent left its traces deeply engraved in many people's hearts and it will always be a timeless classic every fragrance enthusiast should have in the collection.
Some fragrances just cannot get old, and I think that even after 50 years from now this perfume will still be modern and largely used by masses of people – including me.
Citrusy and spicy aroma combined with the woody factors that this fragrance consists of was a magical composition and a success story that can win against many new and famous fragrances on the marketplace.
A fragrance with classy and fresh accords, good longevity and projection, and a meaningful signature of Chanel's brand is what makes this fragrance a great choice for anyone who likes to smell fresh and clean with a slight touch of spiciness and smokiness.  
Did you try Bleu de Chanel?
What do you think about it?
Let me know in the comments!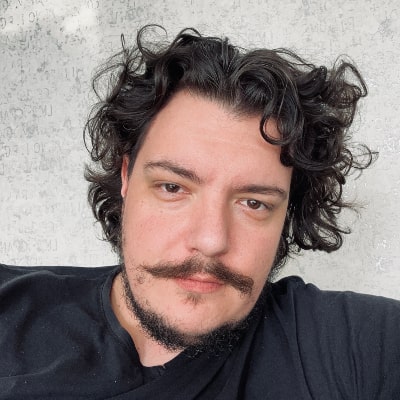 Vladan X is a founder of Fourth Sense and fragrance expert. He reviews only fragrances he owns personally, and his collection currently counts between 100 and 150 fragrances. Even though Vladan reviewed hundreds of perfumes he still didn't find the one he would call "signature" fragrance. He's still searching for that one, and in the meantime, he writes the best in-depth fragrance reviews internet has ever seen! You can read more about Vladan X here!