Louise Turner is a master perfumer famous for bottling her memories and feelings. That methodology proved to be highly successful as besides many of her famous creations, she created one of the most popular fragrances Tom Ford has today – Lost Cherry.
Tom Ford Lost Cherry came out in November of 2018 and it instantly reached massive popularity.
Well, polarizing popularity one could say – one side absolutely fell in love with it, but the other side absolutely bashed it saying it's not worth the hype and hefty price.
What's the actual story with Tom Ford Lost Cherry, what it smells like, how does it perform, why it costs like unworthy Creed fragrance, and is it actually worth it – those are all the questions we're going to cover in this in-depth review.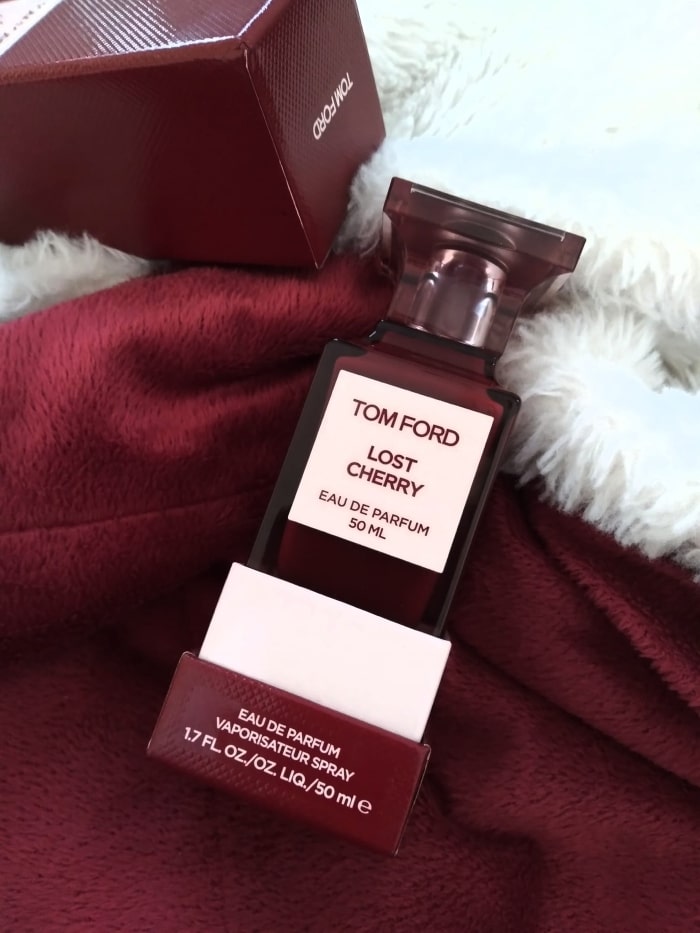 ---
Tom Ford Lost Cherry Unisex on Amazon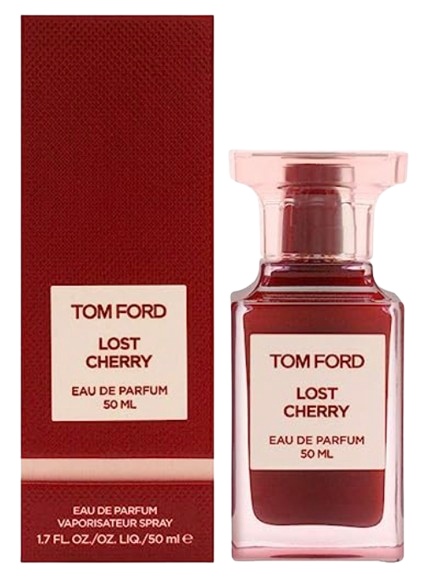 ---
What Does Tom Ford Lost Cherry Smell Like?
Tom Ford Lost Cherry smells like a warm spicy, sweet, and gourmandy scent, where the most dominant and recognizable note is cherry, followed by the note of almond.
Notes pyramid looks like this:
Top notes: almond, liqueur, black cherry
Heart notes: cherry, plum, rose, jasmine sambac
Base notes: tonka bean, vanilla, benzoin, woods, patchouli, cinnamon, vetiver
On the first spray, it's evident that cherry will lead the entire composition as the main note.
The reason why we're mentioning this (as it may sound obvious) is that there are fragrances where the name on the bottle doesn't match the main note, as the name is used as the metaphor, but the scent is completely different. This isn't the case with Lost Cherry, so if you decide to get it, better not do it if you don't like the scent of it, as it dominates the entire composition.
The opening starts with black cherry mixed with almond where the almond note gives the smoothness and silky vibe to the accord. Liqueur is also part of the opening, which gives that combination of cherry and almond a boozy feel, shifting the entire opening to smell seductive and sexy.
Even though the pyramid says there's a rose mixing with jasmine sambac in the heart, you likely won't feel any hint of the rose.
After doing some research and listening to noses much sharper than mine, I found out that there's no rose raw material in the formula, but an aroma chemical that gives rose's properties to the jasmine accord.
The heart of the fragrance is definitely floral as the jasmine scent is pretty strong, but cherry remains the dominant note. Jasmine is what makes the fragrance lean more towards the feminine scent.
What gives Tom Ford Lost Cherry's an entire feeling of rich, spicy, and sweet scent is actually the base where heavy, earthy, smooth, and sweet notes support the entire floral-fruity composition on the top.
Tonka bean, vanilla, benzoin, and vetiver give the composition sweetness, coziness, and spiciness, and woods combined with patchouli and vetiver give the composition a certain weight and smoothness.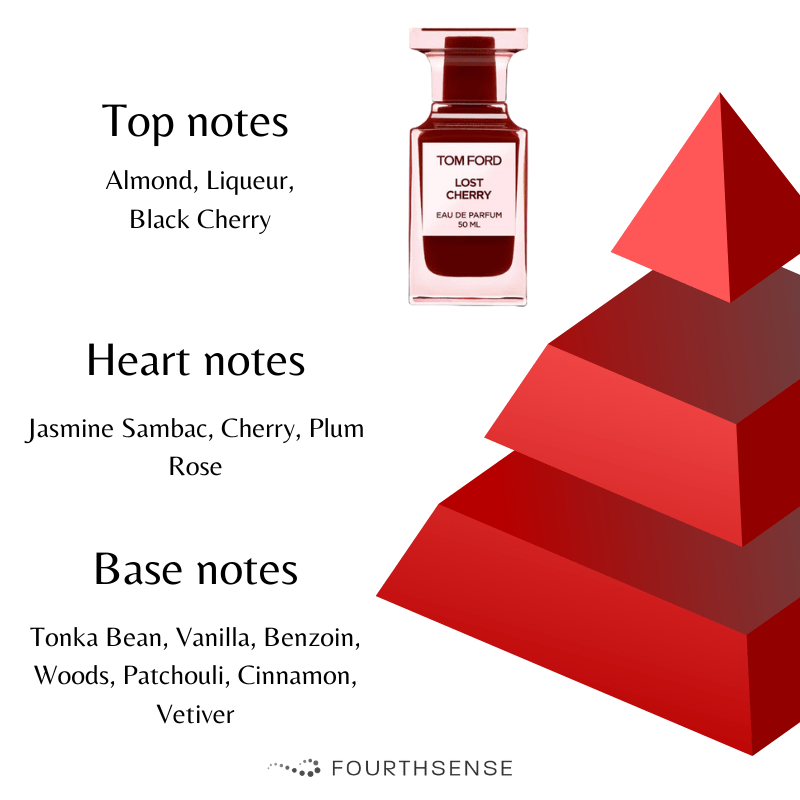 In general, if you like sweet, spicy, and slightly gourmandy fragrances, you will definitely love Tom Ford Lost Cherry.
The biggest prop goes to uniqueness, as there's nothing similar on the market that can be compared with Lost Cherry.
Louise Turner really did a masterpiece here, and it's safe to say that even though Tom Ford is a designer house, Lost Cherry smells almost niche!
How Long Does Tom Ford Lost Cherry Last?
On average, Tom Ford Lost Cherry lasts between 5 to 6 hours, while projecting well for the first two hours. Just like projection, sillage isn't strong and the scent sits close to the skin.
If it was only about the scent and what is it like, everyone would agree that Lost Cherry is an astonishing fragrance everyone should try. But the battle of pricepoint and performance such as this is actually what makes this artistic masterpiece so controversial.
The biggest disappointment for the majority of people who fell in love with this scent was the fact that it lasts only 5-6 hours while having such modest projection and sillage.
There are some tricks you can do to boost longevity and performance, but the truth is that it is weak, and that's it.
Projection lasts no more than 2 hours, and sillage leaves a very small trace behind you. Those who are super close to you will be able to sense it, while the ones standing at normal talking distance might occasionally feel the hint, but chances are they won't feel a single thing.
The only question that makes sense in this case, and the one I'd personally ask Tom Ford as I don't get it, is "Why?". Why not give such a beautiful and intoxicating scent more power? Why not make it an all-time best seller as performance is all this fragrance lacks in order to reach the stars?
Truth be told, some people reported that they get even 12 hours of longevity but honestly, I find that hard to believe.
I personally tested the performance of Lost Cherry in various situations and environments, entire team of Fourth Sense was testing it, I even made my folks at home test it. Literally no one got more than 6 hours.
If you tell someone "Hey, come smell this fragrance on me" and they sniff it off your neck, in 95% of cases you will hear "Oh, that smells amazing!". However, if you don't ask others to smell it on you, no one will notice.
We all wish this artwork had better longevity, projection, and sillage, as it would definitely make it one of the best-selling fragrances ever.
On the other hand, not everyone loves their perfume to last long. Saying that, if you don't mind having an intimate scent that lasts for 5 to 6 hours, then Lost Cherry is a perfect choice. You will get shy beauty that will sit close to your skin, and in case you want to feel her remarkable scent again, simply respray it and enjoy.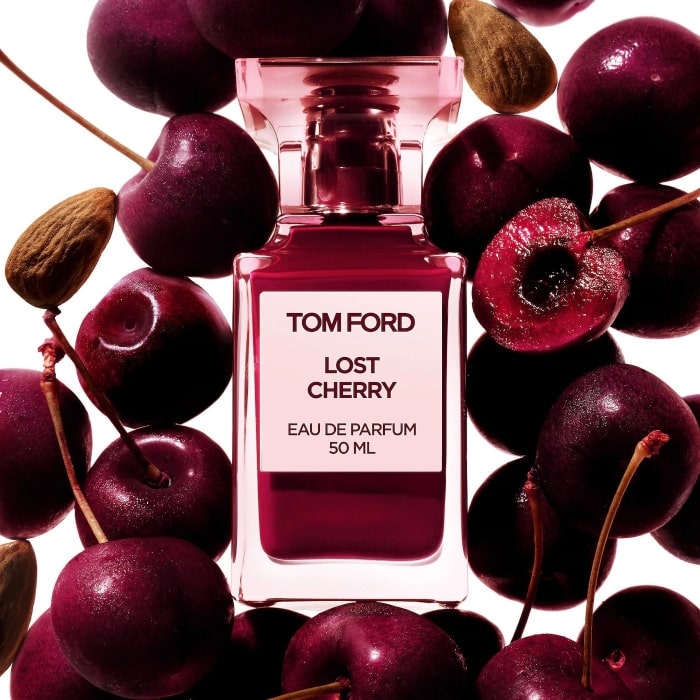 ---
Tom Ford Lost Cherry Unisex on Amazon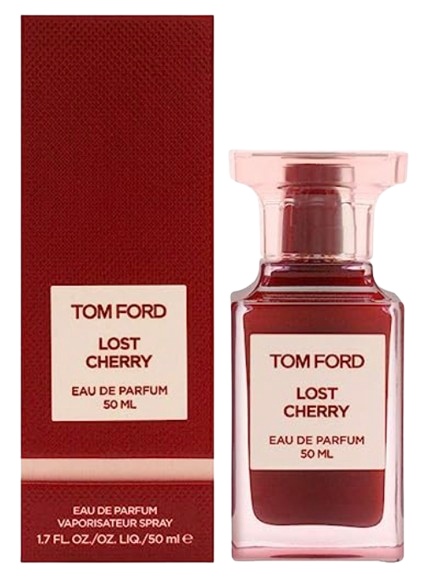 ---
When To Wear Tom Ford Lost Cherry?
The best season to wear Tom Ford Lost Cherry is fall and winter, as the scent will work perfectly and have optimal performance during colder days.
Colder spring days are just fine as well.
I'd recommend that you avoid wearing Tom Ford Lost Cherry during hot summer days as the scent is pretty sweet, and high temperatures can make it become even sweeter which can easily give you headaches.
When it comes to occasion, I find Lost Cherry to fit best into intimate moments such as dates. Since the scent is sensual, sexy, and delicious, your partner will probably find it irresistible which is something I'm sure you don't mind.
Due to its weak longevity and performance, but also non-offensiveness, you can wear it for other casual or work occasions, but Lost Cherry is a more seductive type of scent, so it fits special occasions much better.
Who Can Wear Tom Ford Lost Cherry?
Tom Ford Lost Chery is a unisex fragrance, and even though the scent leans more toward the feminine side (due to jasmine), men can pull it off as well.
Even though it's declared as unisex, the audience rated it more feminine, and the truth is, they're not wrong – if you smell it for the first time on the blotter you will sense a more feminine scent.
However, due to its spiciness and unisex nature, Tom Ford Lost Cherry will mix with your pheromone to achieve its final stage of scent.
Saying that it's highly likely that it will smell different on men and on women.
When testing it, I found it smells a bit darker and more intense on my skin than on female members of my team.
In my personal opinion, I find Lost Cherry to be a definition of a unisex scent. It fits everyone, it smells differently on men and women, and any age between 20 and 60 can pull it off without a problem.
How Many Sprays of Tom Ford Lost Cherry is Enough?
Considering the weak performance of Tom Ford Lost Cherry, you should spray between 7-9 sprays for optimal performance.
In this case, the best advice is to follow our guide on how to properly apply the fragrance for the best performance because following that specific steps will get you the most out of Lost Cherry's longevity.
In general, focus on pulse points where the heat on the skin is the highest – 2 sprays behind your ears, 2 sprays on the sides of your neck, 2 sprays in the dips of your collarbone, and one spray behind your head, and one spray on each of your wrists (inner side).
I know, this may seem like much, but if you want it to radiate at all and to have some aura for at least a while, then this would be the optimal amount.
As always, the best amount is to test it on your skin. Since the scent is spicy and gourmandy, be careful not to overapply it by spraying it multiple times on the same spot – you won't get any better performance, you'll just cause it not to open properly, and frankly, you can end up with a headache.
Where To Buy Tom Ford Lost Cherry?
If you are looking to purchase the coveted Tom Ford Lost Cherry, there are multiple options available. One of the best ways to get a genuine product is by visiting an authorized department store that stocks the Tom Ford brand. This ensures not only authenticity but also gives you the opportunity to sample the fragrance firsthand. A store visit lets you get a real feel of the fragrance on your skin, adjusting for your unique body chemistry. Tom Ford's official website has a store locator feature that can help you identify the closest authorized retailer in your vicinity.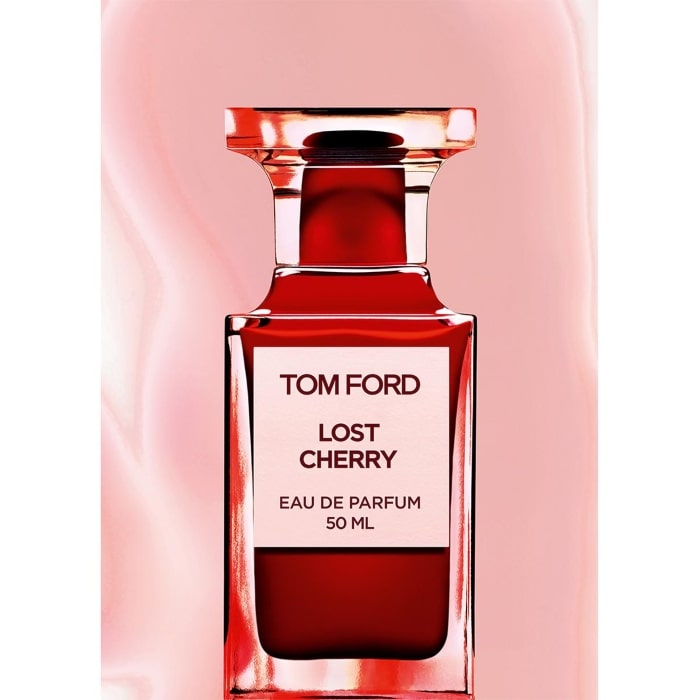 However, if brick and mortar shopping isn't for you and you prefer the convenience of online shopping, there are several trustworthy online retailers to consider. Tom Ford's official website is an obvious choice, guaranteeing the authenticity of the product. FragranceNet is another solid choice, especially if you are seeking potential discounts. Personally, I have had a great experience shopping with them. Their service is reliable, they frequently offer discounts, and their shipping is speedy. Sephora and Amazon also carry Tom Ford Lost Cherry, with Amazon being recommended for those who prioritize fast delivery.
---
Tom Ford Lost Cherry Unisex on Amazon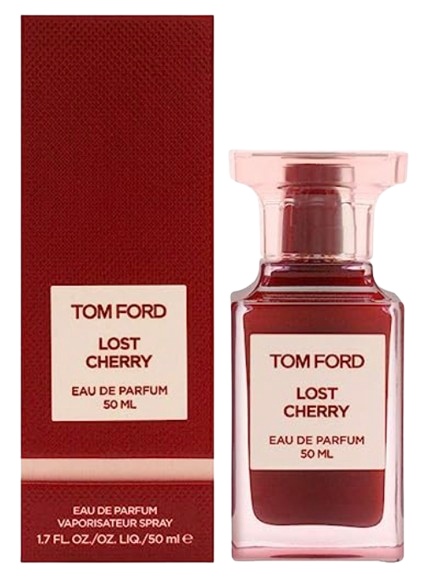 ---
That being said, if you're open to exploring more affordable alternatives to Tom Ford's Lost Cherry, we highly recommend checking out products from aromapassions.com. They offer a range of fragrances that might just hit the mark for you without breaking the bank. If you're inclined to compare prices across different online platforms to ensure you're getting the best deal on the original Tom Ford Lost Cherry, our price comparison feature can be a handy tool. And as mentioned earlier, for swift deliveries, Amazon.com remains unbeatable.
If you need more resources, you can check out our review of the best places to buy fragrances online.
Always be super cautious when making online purchases in the world of fragrances. There are a lot of scams and fake resellers that sell clones that are not medically tested on human skin. In order to avoid ending up with skin conditions, always make sure your source is trustworthy.
Packaging
Lost Cherry comes in the standard Private Blend format of Tom Ford fragrances, where the box is simple and proportional to the size of the bottle.
On the front of the box, there is a simple sign with a recognizable font that says "Tom Ford (break) Lost Cherry (break) Eau de Parfum (break) ".
Once you open the box, you will find a beautiful glass bottle that Tom Ford described best: "Lost Cherry is contained in a luscious, deep cherry-red bottle. Capturing the scent's dichotomy of sweet and dark, the flacon is adorned with a pale pink label, the color of cherry blossoms".
It's available in two sizes:
Conclusion – Is Tom Ford Lost Cherry Worth It?
Considering the uniqueness, mass appeal, complement factor, and performance but also a hefty price, the answer to that question is – it depends.
Let's address the elephant in the room – the price tag of Tom Ford Lost Cherry is astronomical. It's so high that even some of the most prestige niche houses sell their fragrances for less.
I usually don't discuss the prices of fragrances, as I truly believe that every artwork comes with a price that isn't just related to the quality of the product. Unfortunately, this time, I really had to make an exception and in my personal opinion (that you don't have to agree with), the price of Tom Ford Lost Cherry is unreasonable.
For this money, I believe that fragrance should offer more.
Uniquness factor is definitely there, if you want to smell different, Lost Cherry will work perfectly.
The beauty of the scent and mass-appeal factor is also there, everyone able to smell it will probably love it.
However, performance such as this is a factor that makes the price unreasonable (for me).
Besides the performance, I would expect more raw materials used instead of aroma chemicals. The use of aroma chemicals doesn't mean anything bad, but it's way cheaper to manipulate the scent with aroma chemicals than with raw materials.
So is it worth it?
If you are looking after a scent that not so many people have, a scent that is unique, seductive, absolutely beautiful, and you don't care that longevity is 5-6 hours with just an hour or two of projection, and you are willing to pay $400 plus for it, then definitely go for it – Lost Cherry will likely exceed your expectations as it's truly a beautiful piece of art in the world of perfumes.
However, if you're after something unique and you need it to have at least normal performance with 7-8 hours of longevity and at least 2-3 hours of projection and sillage that actually leaves an average trail, then Lost Cherry definitely isn't for you.
Even though this review is based on cold facts from an objective standpoint of view, I always provide readers with my personal input, so that would be it.
Bear in mind that my opinion is no better than yours, so if you don't agree with me, please let me know in the comments below!
I'd also love to hear your personal input if you tried this one controversial fragrance!
Cheers!
+ Bonus: Perfect Lost Cherry Dupe
---
Buy "Tom Ford Lost Cherry" Dupe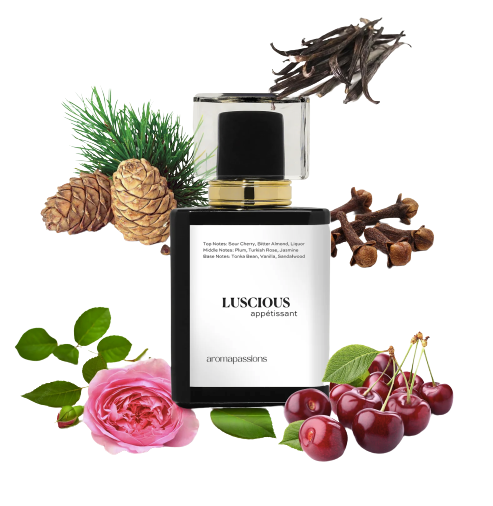 ---
We are sorry that this post was not useful for you!
Let us improve this post!
Tell us how we can improve this post?