Giorgio Armani experienced a real blast when in 1996 they released the first line of Acqua Di Gio for men. Justifiably, that masterpiece held the title of a bestseller for many years, so it came as a surprise that it took 14 years for Giorgio Armani to release the women's version.
In 2010, Acqua Di Gioia came out and the noses in charge behind it were Anne Flipo, Loc Dong, and Dominique Ropion.
This is the fragrance that has the power to bring back old but gold memories of the treasurable 2000s journeys and all the cherished years that flew past by.
It's safe to say that Acqua Di Gioia became a new, ultimate, summer scent that women would continuously reach out to when they need a fresh and sensual scent.
Because of its popularity, it is almost impossible that you haven't smelled Acqua Di Gioia before; maybe on a random passenger, on a salesperson in your favorite boutique, or maybe even on your friend.
But did the massive popularity ruin its charm?
In this review, we're going to cover fully what this perfume smells like, how it performs, and is it actually worth it.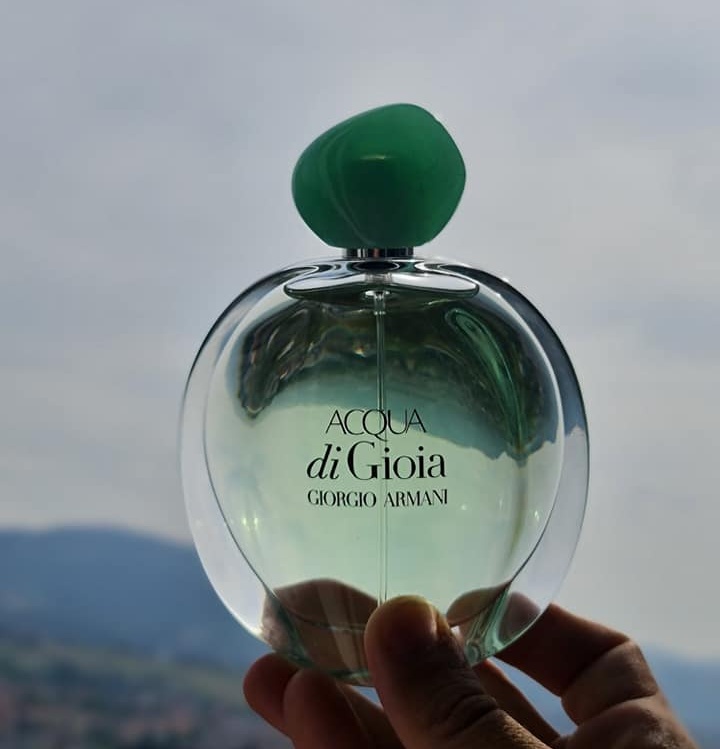 ---
Buy Giorgio Armani Acqua di Gioia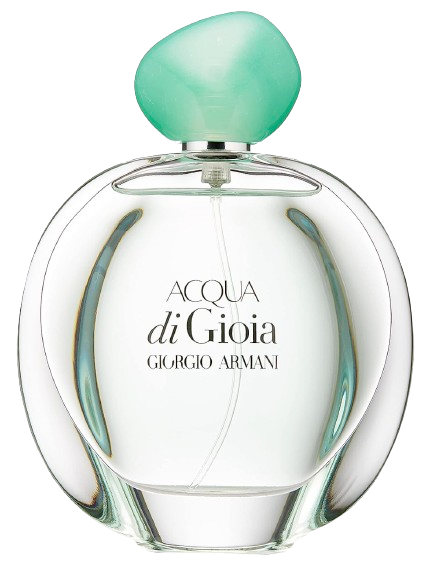 ---
What Does Acqua Di Gioia Smell Like?
Acqua Di Gioia smells like an aromatic floral scent with citrusy-mint opening, touches of fresh spiciness, and a sweet-woody backbone.
Notes pyramid is somewhat simple, so the structure is as follows:
Top notes:
Heart notes:
Jasmine
Peony
Pink Pepper
Base notes:
Virginia Cedar
French labdanum
Brown Sugar
This sensual perfume opens with the Amalfi lemon and the mint nuance but it is not mint-heavy — it is more like a side note that leaves space for other notes to do their magic. It is a bright, citrusy, watery, and ozonic type of scent.
In the early opening, the floral side of the fragrance quickly starts fighting through so you can also detect a clean, fresh, inviting jasmine nuance. The jasmine note stays present throughout the whole performance and I can say that it is one of the dominant notes in the composition.
The note of pink pepper that happens to be in the heart of the fragrance gives a clean, rosy, spicy touch to the scent. Nothing groundbreaking but it is detectable.
As it goes into the mid, the jasmine becomes more prominent giving the green, sweet, and fresh effect that mixes well with the base of the perfume.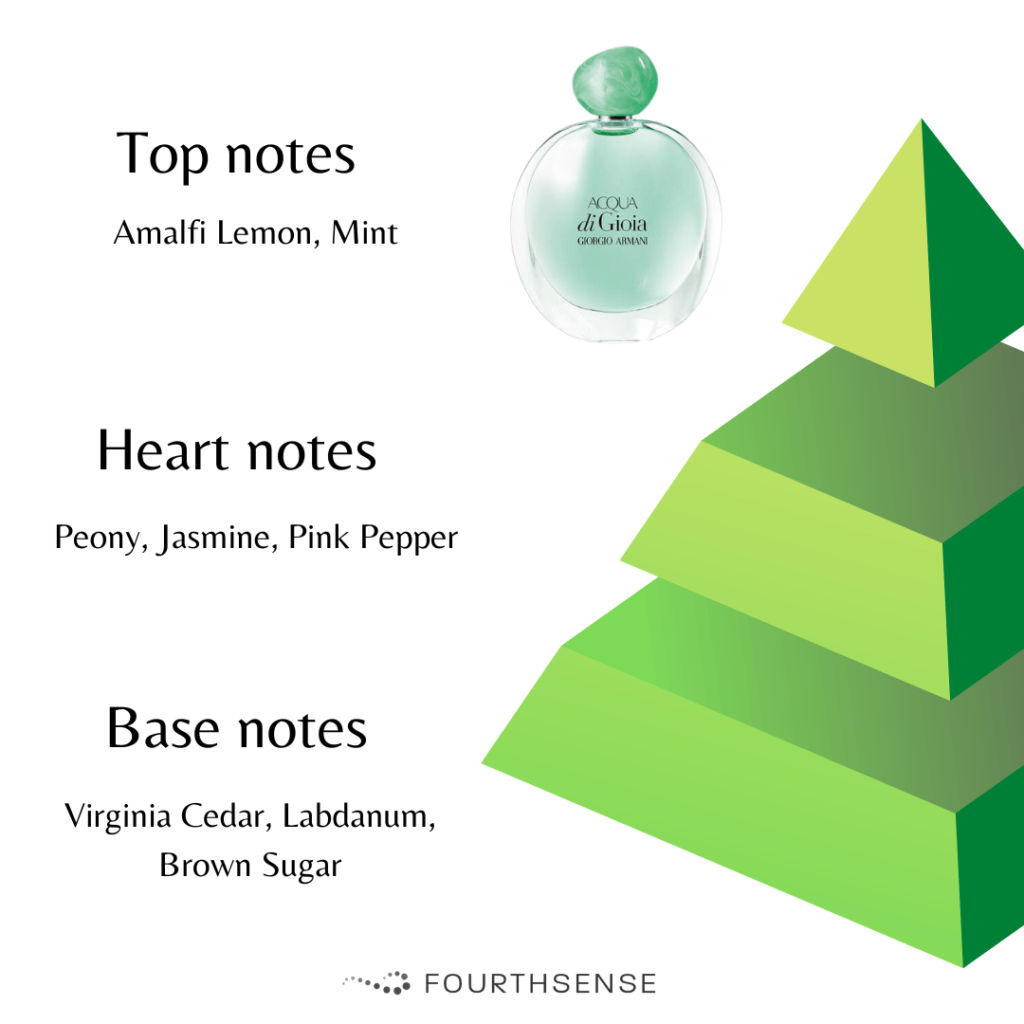 I wouldn't say that Acqua Di Gioia is overly sweet, just the opposite.
It does have a sweet aroma to it but it isn't overpowering or too dominant, just sits well with the rest of the notes giving the perfume a chance to be elegant, carefree, and sensual.
When it reaches the final dry-down, the note of the cedar wood may be the most prominent while the other two notes don't have that much impact on the overall scent.
The final dry-down is slightly woody with floral residue and a fresh, aromatic odor.
Acqua Di Gioia has a relaxing, inoffensive, and mass-appealing scent that may not be very complex or particularly distinctive, but it is still a great perfume with good versatility.
Because of its charms and everything delightful that this scent dispenses, Acqua Di Gioia definitely found its way to our list of best summer fragrances for women in 2023, regardless that it was produced years ago.
How Long Does Acqua Di Gioia Last?
When it comes to performance, Acqua Di Gioia isn't a beast, it will last from 4 to 7 hours depending on how well it develops on your skin and it will project well in the first 1 hour.
Like the majority of summer scents, unfortunately, Acqua Di Gioia won't last for eternity and perform like a monster, but it will serve you great for your daily activities.
Depending on the temperature, you can get 4 to 7 hours or maybe even more if your skin embraces it proudly.
The projection isn't that strong either; for a solid hour or so the fragrance will project great and that is the period that will get most of the compliments. After that, it becomes more of an intimate scent.
In the projection hours, it will leave a sensual trace 2-3 feet away from you.
Generally, if you want your fragrance to be a performance beast Acqua Di Gioia may not be the best choice for you, but for a fresh, bring, summer scent it does offer a pretty decent lifespan.
However, you can still get the most out of it by following our tips and tricks for increasing perfume's longevity — it might just work!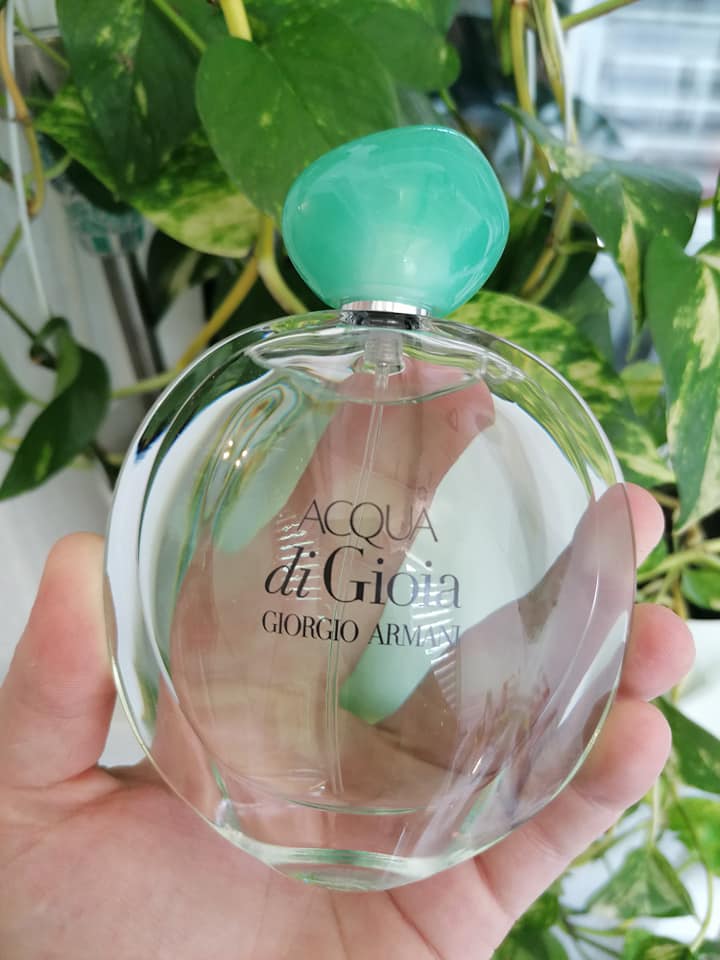 When To Wear Acqua Di Gioia?
Acqua di Gioia leans more toward warmer seasons so summer and spring would be the best choices for wearing this magnificent scent. Also, it will work great for any daytime occasion, including office, gym, coffee break, and more!
Because of its fresh, ozonic, flowery nature, Acqua Di Gioia definitely falls under the summer/spring fragrance category.
I wouldn't recommend choosing Acqua Di Gioia for any winter/fall occasion, not only because the low temperature won't allow its proper opening, but also because it doesn't have that woodiness, smokiness, or warmness that winter fragrances need to have.
However, in terms of higher temperature events, the versatility is great.
Its inoffensive and relaxing nature will evolve greatly in the work environment and your colleagues will surely adore it as much as you do.
Other types of daily activities will also allow Acqua Di Gioia to play as an amazing accessory – casual walk, gym, shopping, doing groceries, or a breakfast-date time. Whichever occasion comes to your mind.
If you are looking for a more year-round scent then you can check out Acqua Di Gioia flanker – Terra di Giorgia.
How Many Sprays Of Acqua Di Gioia Is Enough?
Applying 5-6 sprays of Acqua Di Gioia will evolve in its finest performance, especially if you apply it on your pulse points: 2 sprays behind your ears, 2 sprays on your wrists, and one spray in the dip of your collarbone.
There is one thing you don't need to worry about when it comes to Acqua Di Gioia – overapplying it and making it too aggressive or offensive, as that won't happen.
Acqua Di Gioia has a rounded scent and its bright structure is very hard to disturb.
However, applying more sprays that are necessary won't increase fragrance longevity so you will only be wasting a precious scent.
For better performance, you can also apply vaseline on your pulse points where your skin is warmer since vaseline tends to lock the fragrance in for a longer time.
Learning how and where to properly apply fragrance is essential, and in the case of Acqua di Gioia, you can definitely learn along the way as its performance will heavily depend on the places you sprayed it on.
Where To Buy Acqua Di Gioia?
The safest way to buy Acqua Di Gioia is from local perfumery that is an authorized reseller of Giorgio Armani fragrances or if you're buying it online, you can find it on Amazon or FragranceNet.
No matter how much you know your fragrance type, blind buy can easily end up as a waste of money, so visiting local perfumeries before buying/ordering your scent is the best choice.
The fact that you're able to test it before you buy it gives you a huge advantage over buying it online.
However, if you want to get it online, you can do so through these sources.
I recommend getting it from FragranceNet, as I personally get the majority of my perfumes from them and I never had any issues. 100% trustworthy and they always deliver on time.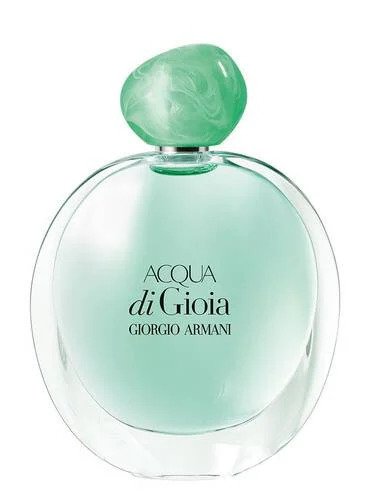 ---
Buy Giorgio Armani Acqua di Gioia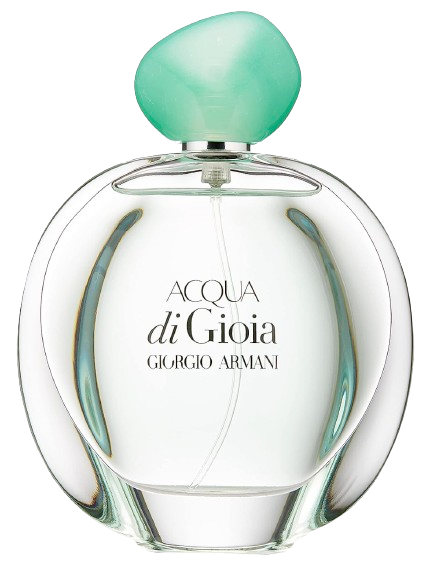 ---
Besides FragranceNet and Amazon, you can find an original bottle of Acqua di Gioia on Giorgio Armani's official website, FragranceX, Sephora, Notino, and a few other websites.
You will notice different prices on these websites but shipping times also vary. The most important thing is that if you buy from these sources, you can rest assured that you will get the original fragrance and not be scammed with fake ones.
Always be super cautious when buying fragrances online to avoid getting scammed and buying a fake fragrance — it's not that you can just end up with money thrown away, but you can also get a skin condition as fake fragrances are not tested on human skin and they are not safe to use.
Packaging
Acqua Di Gioia comes in a white-green gradient box that has the name of the brand, fragrance name, concentration, and milliliters on the front.
The liquid comes in a transparent bottle and the color of the juice is greenish or light turquoise which fits the fragrance smell so beautifully.
The bottle is rounded from all sides and has a green cap that sits nicely in its place. The automizer also does a decent job.
Honestly speaking, I like the women's presentation much more than the men's; it is a classy, feminine, and fancy interpretation of the scent itself.
The fragrance usually comes in 4 sizes:
10ml (0.34 oZ)
30ml (1 oZ)
50ml (1.7 oZ)
100ml (3.4 oZ)
Conclusion — Is Acqua Di Gioia Worth It?
Considering the price, uniqueness, performance but also scent, I would say that Acqua di Gioia is definitely worth it.
This goes without saying, but if you're a beginner and don't know much about fragrances and perfumes, then this perfume can easily be a great start and introduction to the world of scents.
It's easy-going, light, and mass-appealing and it can be a great piece in the collection. Even if you don't like it, it will make a great gift for someone as they will probably like it.
Have you tried Acqua di Gioia before?
Do you like it?
Are there any flankers you'd say are better than the original?
Let's talk in the comments!
We are sorry that this post was not useful for you!
Let us improve this post!
Tell us how we can improve this post?