After winter and warm-spicy and sweet scents pass, we all crave something fresh. With the spring, the king of Allures also wakes up – Chanel Allure Homme Sport Eau Extreme, reminding us that his reign is starting again.
Chanel Allure Homme Sport Eau Extreme was released in 2012 by Chanel and their at-the-time master perfumer Jacques Polge and it's definitely the best Allure flanker Chanel ever released.
It's safe to say that the difficulty of describing this scent is very much present, but after wearing it for years, I decided to provide you with the most accurate information about the scent itself and its performance.
What also says much about Chanel Allure Homme Sport Eau Extreme is the fact that for two years in a row, it deserved to be among the best – it proudly holds its ground in our list of best spring fragrances for men in 2023 and best summer fragrances for men in 2023.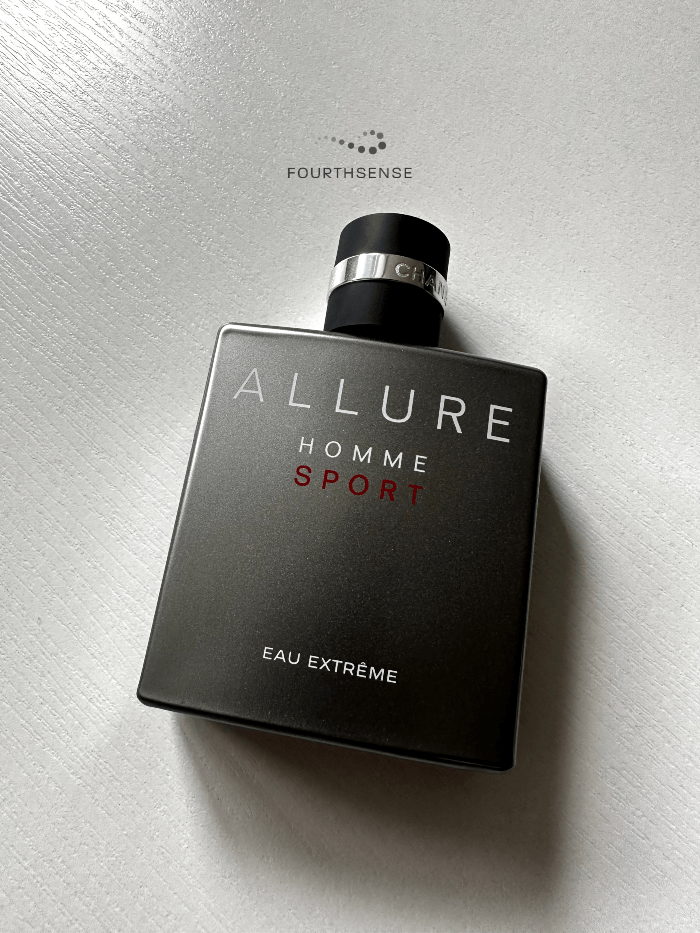 Anyways, in this article, we're going to cover all fields of Chanel Allure Homme Sport Extreme in order to help you figure out if is this the right fragrance for you.
Latest batch tested: 7401
What Does Allure Homme Sport Eau Extreme Smell Like?
Straight out of the bottle and even hours later, Allure Homme Sport Eau Extreme smells like a very fresh, clean, spicy, and aromatic fragrance where notes of mint, pepper, and tonka bean dominate all the way.
By nature, it's a fougere fragrance, which means it's very easy to wear and it's just made for light, spring days.
Polge made this fragrance very simple but very well blended – you'll be able to smell various notes and identify them.
Top notes are (1):
Mandarin orange
Mint
Cypress
Sage
Right after the first spray clearest note is definitely mint but you can also smell the mandarin orange. I'd say that cypress and sage were used just to "spice up" the main opening notes.
The heart only has 1 note and it's pepper. Pepper is also the main note here, and you start to feel it right after the alcohol from the first spray starts to evaporate – it's not aggressive but very smooth. It blends perfectly with the opening.
Right after the opening passes, the heart note (pepper) starts to mix with the beautiful base notes.
Base notes are:
Tonka bean
Musk
Cedar
Sandalwood
Tonka bean is definitely the most dominant base note but you can smell creaminess from the woods and a little bit of musk. Now, tonka bean smells earthy and sweet, but with a combination of musk and pepper, that mix smells very masculine and fresh.
Pepper is usually very sexy and sharp note, so blending that sharpness with the smooth woods and tonka bean is a brilliant idea that Polge used and created this masterpiece.
The smell of Allure Homme Sport Extreme is definitely a compliment getter but due to not-so-great performance, that compliment-getting mode will last for only a couple of hours.
Girls absolutely adore this smell but after a couple of hours, compliments will come only from those who get really close to you.
How Long Does Allure Homme Sport Eau Extreme Last?
On average, Chanel Allure Homme Sport Eau Extreme lasts for 7 hours on the skin and its projection for the first 2-3 hours, but in the end, it depends on your skin.
Some people reported only 4-5 hours of longevity, while some said that even after 12 hours they could smell it on their skin.
For me personally, longevity is quite good – I easily get around 8 hours and I would say that's the industry standard.
However, the projection could have been better.
Allure Homme Sport Eau Extreme projects for about 2 to 3 hours, and after that, it becomes pretty "private". I never got over 2 hours of projection.
Sillage also could have been better – it's moderate and it leaves a trail around the wearer for about 3-4 feet.
Allure Sport Eau Extreme probably got reformulated somewhere along the way as I've seen people talking about monstrous projection and 6-7 feet sillage from the first batches in 2012 and 2013.
Now, I'm not saying that this version performs badly. I'm just saying that it used to be a lot better. Today's version of Allure Homme Sport Extreme is also good and it will definitely serve its purpose.
Even though the performance is not on beast mode, this beautiful scent is still a go-to for many people out there, and without a doubt girls LOVE it.
It will most certainly still serve you well and it will be a good companion even with the performance that is okay.
When to Wear Chanel Allure Homme Sport Eau Extreme?
The best time and season to wear Allure Homme Sport Extreme is definitely warmer days during spring, summer, and fall. It loves warmer weather and I'd say the ideal would be between 60 and 75 degrees (15-25 degrees Celsius).
This can definitely be a daytime and nighttime fragrance without any problems, just make sure the temperature outside is within the range of 60 and 75 degrees F. That way, Allure Sport Eau Extreme will be able to have a beautiful opening, and that pepper and tonka bean will be able to dance for hours on your skin!
You can wear it in the office, on a date night, at parties in an open space, or some other place – it will have no problem performing the best it can.
Just make sure you don't wear it to the club because, in such crowded places, it won't work as it should. When I visited Thailand I tested how Allure Homme Sport performs in the club, and the result was not good at all – even the ones very close to me couldn't sense it!
When it comes to wintertime, if you live where winters are not that cold and you haven't seen snow for a long time, this can easily be your all-season fragrance. Day, night, all 4 seasons – that's rare to find in fragrances!
Wherever you wear it, Allure Homme Sport Eau Extreme will have no problem demonstrating just how awesome it is!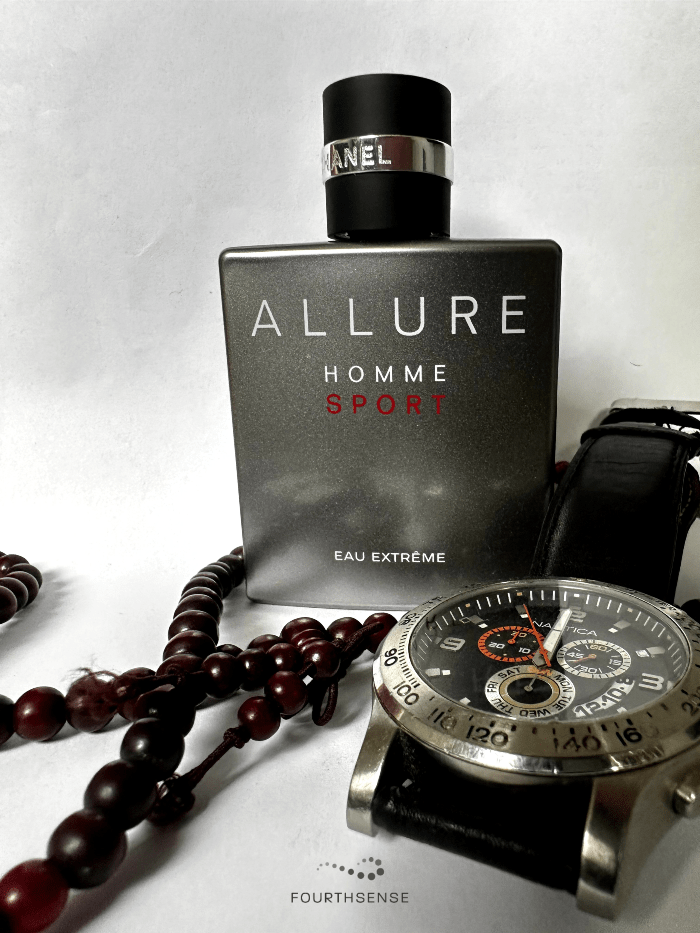 How Many Sprays of Chanel Allure Homme Sport Eau Extreme is Enough?
Short answer: you can't go over the top when it comes to spaying Allure Homme Sport Eau Extreme on your skin so feel free to apply as much as you want.
This is not an ultra-mega-giga potent fragrance that you can put only 3-4 sprays on and have hours and hours of performance.
Allure Homme Sport Extreme is a lot easier to wear the type of fragrance, and much lighter compared to "3-4 sprays max" type of fragrances. Therefore if you're happy with only two or three sprays then go with it. On the other hand, if you want to go 7 or 8 sprays, again, go with it, knock yourself out!
Just bear in mind that you won't improve its performance by spraying a ton of liquid on yourself – you'll just waste it unnecessarily.
When I'm applying Allure Homme Sport Eau Extreme I always go with 7 sprays – 2 under the ears, 1 on the neck behind the head, 2 in the dips right beside the clavicle bone, and 2 on my shirt in the chest-shoulder area.
That way if it turns out that I'll be out of the house for longer than I planned and that fragrance will disappear in the meantime, I'll still have it on my clothes because it can last for days when applied to clothes.
Altogether, you can not overapply Allure Homme Sport Eau Extreme because it's super light and fresh fragrance!
Check out our best tips for applying perfume for the best performance!
Which Chanel Allure is The Best?
The best Chanel Allure is definitely Allure Homme Sport Eau Extreme.
Chanel started with their Allure series back in 1996, creating the first-ever "Chanel Allure" which was a fragrance for women.
Allure Homme series started in 1999 and it was the first Allure fragrance for men. Since then it had 4 flankers:
Allure Homme Sport – released in 2004
Allure Homme Sport Cologne – released in 2007
Allure Homme Edition Blanche – released in 2008 and
Allure Homme Sport Eau Extreme – released in 2012.
Allure Homme Sport gained the most attention when it got out, but as we've seen it thousands of times, reformulations killed it over the years. It was such a beautiful fragrance back in the day, and it still is today, but the performance is just poor.
Three years after the Sport version, Chanel released Allure Homme Sport Cologne which was meant to be a summer scent. It's loaded with a ton of citrus and fresh spices, but performance and longevity simply weren't good.
Chanel realized that and tried to redeem themselves by releasing Allure Homme Edition Blanche just one year after the release of the Sport Cologne version.
Blanche had a positive reaction from the people and many people loved it as it had a slightly better performance and it smelled a lot more potent.
4 years later, Chanel released Allure Homme Sport Extreme which keeps winning the hearts and noses of people ever since. It ultimately has the best performance and the best scent out of all 5 Chanel Allures.
Where to Buy Chanel Allure Homme Sport Eau Extreme?
The best places to buy Allure Homme Sport Extreme are definitely Chanel stores, the Chanel website, Amazon, or Sephora.
It's always the best option to go to a Chanel store or some other perfumery that is Chanel's authorized reseller and buy it there. That gives you the advantage of testing the fragrance before deciding whether should you buy it.
Reviews like this help a lot in actually knowing if some fragrance is for you, but no review on earth can describe a scent that you exactly know you like or not.
Therefore, if you have the chance to visit some of the physical stores that would be the best option – test it there on your skin and decide if is it for you. At the bottom of Chanel's website, you can search their stores by zip code.
On the other hand, if you are more into buying online and don't want to go to these stores then you have multiple options that are completely safe. Also, if you ask me personally, I'd say that Allure Homme Sport Eau Extreme is an easy blind buy – it's such a safe fragrance that the chances of you not liking it are minimal!
The first option is to get it on Amazon – Chanel sells their products there and you will most certainly get the original fragrance. The link that I listed here leads you directly to their Allure Homme Sport Eau Extreme.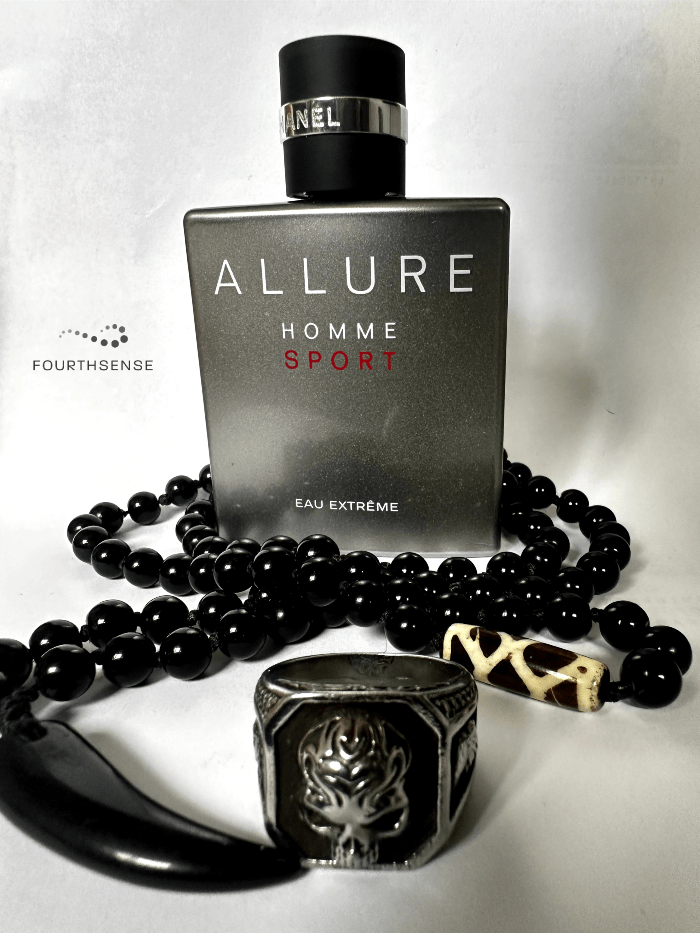 The second option is to get it on the Sephora website. Sephora is an authorized and well-known reseller of designer brands and they will most certainly deliver original fragrances.
There are more online retailers where you can buy Chanel Allure Homme Sport Eau Extreme, and you can find them in our post best places to buy fragrances and perfumes online.
Just make sure to avoid unreliable sources and sketchy websites with no reviews who often have too-good-to-be-true deals because it's mostly exactly that – too good to be true. They are selling fakes and that's something you definitely don't want.
Always make sure you are buying from reliable and trusted sources.
Packaging
Chanel Allure Homme Sport Extreme comes in a nice grey box and the bottle is made out of some sort of metal (aluminum-like). A very simple and very neat presentation overall!
It comes in 3 different sizes:
50 ml / 1.7 oz
100 ml / 3.4 oz
150 ml / 5 oz
Summary – Is Chanel Allure Homme Sport Eau Extreme Worth It?
Considering the uniqueness of the scent, performance, mass appeal, and compliment-getting factor, but also the price, it's safe to say that Chanel Allure Homme Sport Eau Extreme is definitely worth it.
It's simply an amazing spring and summertime fragrance that is loved by so many people. It's a very safe and very easy-to-wear fragrance that fits absolutely everyone.
Classic fougere for a "happy go lucky" guy who wants to smell clean, fresh, and masculine!
Performance is okay though for the price it could be a bit better.
You will get on average 6-8 hours of longevity and a couple of hours of projection, but hey – if that's too little for you, then apply it again later on! Don't fully judge the perfume based on its performance because the scent is what you actually enjoy!
It's a compliment beast and you will most certainly leave an amazing first impression with this one!
What are your thoughts on Allure Homme Sport Extreme? Do you like it?
Let me know in the comments!
Cheers!
We are sorry that this post was not useful for you!
Let us improve this post!
Tell us how we can improve this post?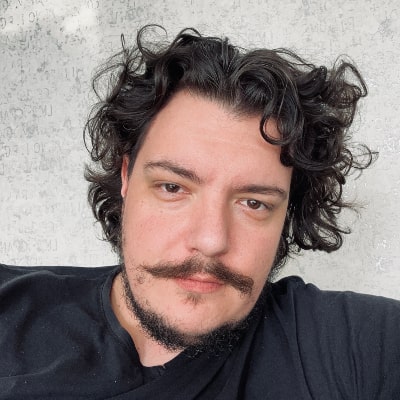 Vladan X is a founder of Fourth Sense and fragrance expert. He reviews only fragrances he owns personally, and his collection currently counts between 100 and 150 fragrances. Even though Vladan reviewed hundreds of perfumes he still didn't find the one he would call "signature" fragrance. He's still searching for that one, and in the meantime, he writes the best in-depth fragrance reviews internet has ever seen! You can read more about Vladan X here!