One of the most popular fragrance lines in the world of scents is Prada's Luna Rossa line.
In 2018 Prada released Luna Rossa Black and the hype around it was huge. It quickly became one of the line's best sellers and to this day fan base keeps growing.
But why? What's so special about it? Is it actually any good in 2023? Read on!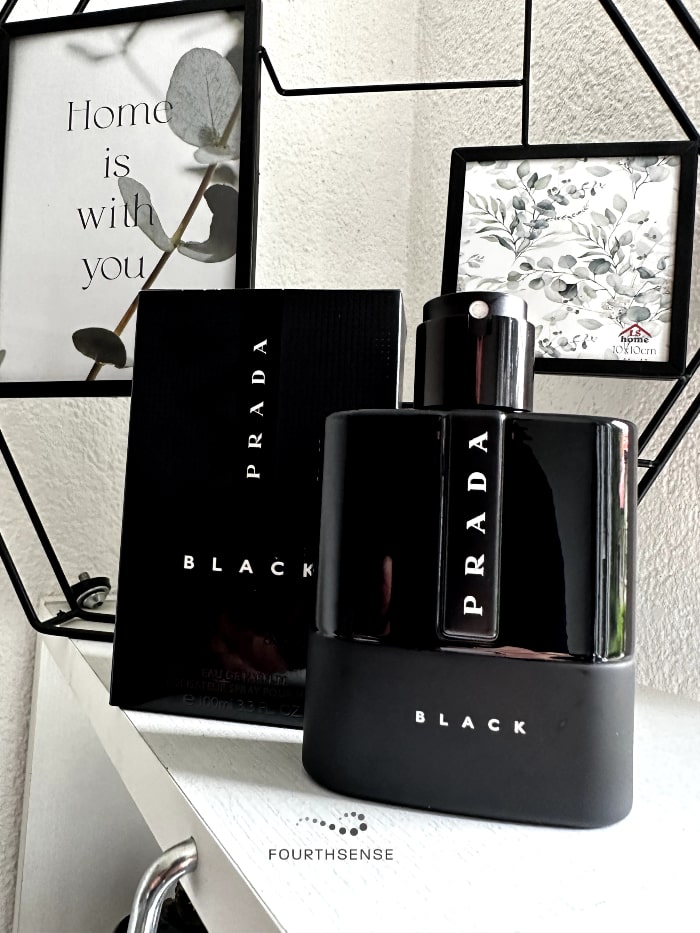 What Does Prada Luna Rossa Black Smell Like?
Prada Luna Rossa Black smells very sensual, sweet, and musky where coumarin and amber are the most dominant notes.
According to Prada, olfactive notes are bergamot, angelica, patchouli, coumarin, amber wood.
As soon as you spray the Luna Rossa Black you get a hint of sweetness, with some fresh and light hint of bergamot on the top. That fresh and light scent doesn't last long, as bergamot only serves the purpose of allowing other notes to open properly.
Angelica in the heart exaggerates the herbal nature of patchouli giving it more green tones, but patchouli plays the main role in the heart, making the scent earthy, slightly minty, and sweet.
The base is solid and it's actually the highlight of the fragrance – coumarin can clearly be detected along with the amber. Both notes are sweet, sensual, and warm.
Musk also plays a big role in overall scent, and you can definitely notice it right after the opening passes.
When looking at the notes pyramid you'd say that uniqueness isn't its strong side. However, that's far from the truth.
It's just mind-boggling how unique this scent actually is, and how Daniela Andrier (the perfumer that created this fragrance) blended these notes in such an incredible and unique way. Sure, there are a lot of other fragrances that are a blend of coumarin, amber, and musk, but I think angelica is what makes the biggest difference – it's literally what changed the entire scent.
Overall, Prada Luna Rossa Black is an incredibly alluring, sexy, and sensual fragrance that's almost impossible to ignore for anyone who senses it on you.
It's sweet, it's captivating, it will definitely make you stand out and it will definitely get you a bunch of compliments.
Considering that Prada is a designer brand that has a goal of making mass-appealing fragrances, they definitely managed to do it with Luna Rossa Black. Saying that and knowing how incredible this scent is, we definitely can mark it as a safe blind buy.
How Long Does Prada Luna Rossa Black Last?
On average, Prada Luna Rossa Black lasts for 8 hours, while projecting very well for the first two hours.
Considering the category this perfume belongs to, we can safely say that performance, in general, is average and decent.
Sweet notes usually last for a long time and I've even seen people pulling off 10+ hours with this fragrance.
8 hours is the average you can expect from its longevity.
Projection is pretty good for the first two (sometimes even 3 hours), and it projects 3-4 feet during that period of time.
Sillage is surprisingly stronger than projection, and even after 6 hours, Luna Rossa Black leaves a scent trail behind you which is exactly what makes it such a big compliment-getter.
I've had multiple batches of Luna Rossa Black, and I never spotted any difference in performance.
If you're not getting this type of performance, the problem actually might be you – make sure to check out our full guide on how to properly apply the fragrance.
How Many Sprays is Enough?
In order to achieve optimal performance, 4-5 sprays of Prada Luna Rossa Black is enough.
Since we're talking about sweet fragrance, bear in mind that if you go berserk you can actually end up with a headache – Luna Rossa Black can be overapplied, so make sure to avoid that.
4-5 sprays on pulse points are all you need – two under your ears, two in the dips of your collarbone, and one behind your head for the better sillage.
If you really want more you can spray on the inner sides of your elbows and hand wrists, but that will not increase its longevity.
Either way, it's always best to test it out and see what works best for you.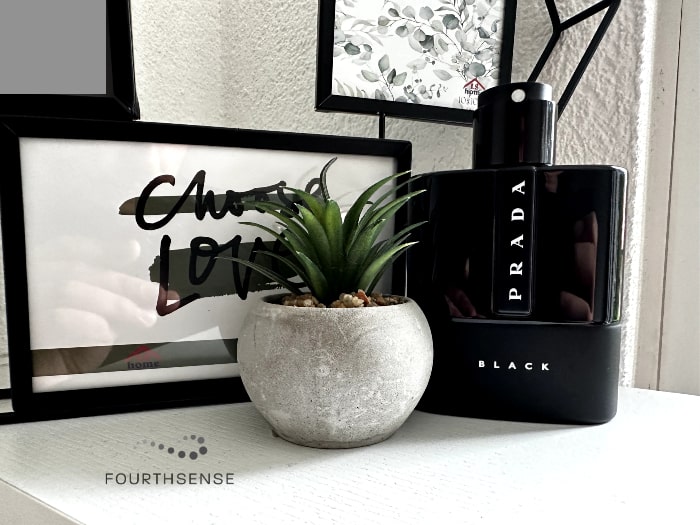 When To Wear Prada Luna Rossa Black?
The best season to wear Prada Luna Rossa Black is fall and winter when temperatures are under 60°F.
Sweet and sensual tones will perfectly work during colder weather as the entire composition makes the aura warm and cozy.
If you decide to wear it during warmer weather bear in mind that even though Luna Rossa Black is not that heavy, its sweetness can be a bit overwhelming.
When it comes to occasion, the alluring and sexy scent of Luna Rossa Black is a perfect choice for romantic settings and date nights when you want to captivate the senses of your significant other.
In general, the scent is fairly versatile and not overly aggressive which gives you the ability to wear it almost anywhere. However, it's designed to exaggerate your spicy side of personality, so that is the best time when you should wear it.
Since the Luna Rossa line has multiple fragrances in its line, you can get others to serve for different occasions such as office or casual wear, and keep Luna Rossa Black for those special occasions with your significant other.
Difference Between Luna Rossa Black and Other Flankers
Prada has 5 fragrances in Luna Rossa line:
Luna Rossa Black
Luna Rossa Ocean EDT
Luna Rossa Ocean EDP
Luna Rossa Carbon
Luna Rossa Sport
They all serve the purpose of telling different stories and therefore they all work best in different occasions and settings.
Luna Rossa line had other fragrances as well, but these ones are still in production.
Here's a table that describes the differences between Luna Rossa Black and others best:
| | | | | | |
| --- | --- | --- | --- | --- | --- |
| Luna Rossa | Black | Carbon | Sport | Ocean EDT | Ocean EDP |
| Scent | Sweet, Sexy | Fresh Spicy | Fresh, Sweet | Fresh, Clean | Woody, Sweet |
| Dominant note(s) | Coumarin, Amber | Lavender | Lavander, Vanilla | Lavender, Iris | Woods |
| Season | Fall, Winter | Year-round | Year-Round | Spring, Summer | Fall, Winter |
| Occasion | Date | All | All | Casual | Formal |
| Longevity | 8h | 8h | 6h | 8h | 7h |
| Projection | 2h | 3h | 2h | 3h | 3h |
| Sillage | 8/10 | 7/10 | 6/10 | 7/10 | 6/10 |
| Uniqueness | 9/10 | 5/10 | 6/10 | 7/10 | 6/10 |
Where To Buy Prada Luna Rossa Black
The best place to buy Prada Luna Rossa Black is Prada's department store or if you are buying online, we recommend FragranceNet and Notino.
Visiting a physical store gives you the benefit of testing the fragrance for free and see is it really for you.
However, considering how safe Luna Rossa Black is, you can get it online without worrying about whether is it your cup of tea.
If you're from the US, the best place to buy it online is FragranceNet – they often have good discounts, they are super reliable and you can rest assured that you're getting the original bottle.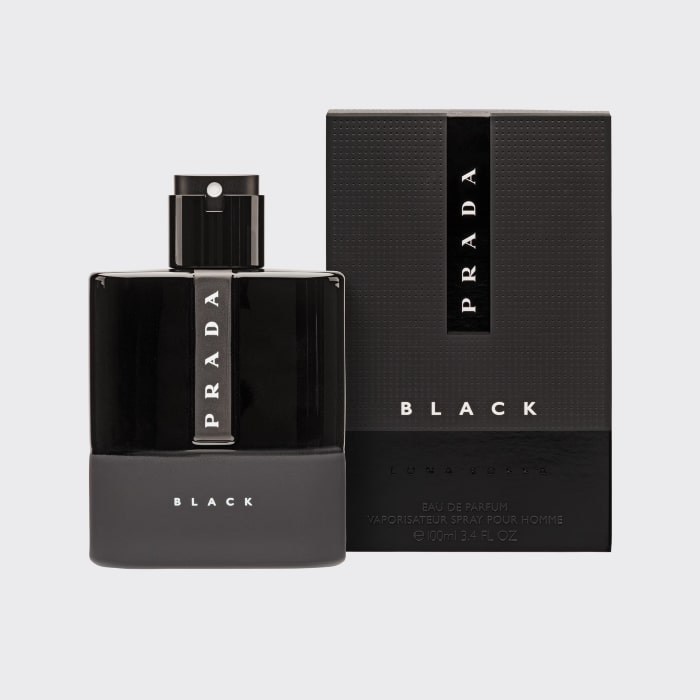 If you're from the UK, then you already know that Notino is a trustworthy reseller, so that's the one we recommend.
If you're still not sure about getting the full bottle and want to test it, we recommend getting the sample from MicroPerfumes.
Always be super cautious when buying fragrances online as you don't want to end up scammed, as there are a lot of fake sellers who sell who-knows-what in original bottles. Always buy fragrances from trustworthy resellers.
Is Prada Luna Rossa Black Discontinued?
As of the time of this writing (June 2023), Prada Luna Rossa Black is not discontinued and is still being produced and sold by Prada.
Regardless of its popularity, mass appeal, and very strong fan base, it's likely that we'll see this fragrance discontinued in the future or at least reformulated.
We're sure that Prada (just like with any other designer house) has plans for the Luna Rossa line that will consequentially affect Luna Rossa Black as well.
However, those times are not currently in sight, so we're happy to be able to still enjoy it!
Packing & Presentation
Prada Luna Rossa Black is presented in standard yet stylish packaging that is commonly seen in designer fragrances. The outer box features a sleek and matte black finish, giving it a sophisticated look. The design is minimalistic, with the Prada Luna Rossa logo discreetly displayed on the front. Opening the box reveals the bottle, offering a glimpse of what's inside.
The bottle of Prada Luna Rossa Black follows a typical design found in the fragrance industry. It is a sleek black bottle that embodies a modern and classic aesthetic. The overall construction of the bottle is of good quality, with smooth lines and a flawless finish.
The overall presentation of Prada Luna Rossa Black is in line with the standards of designer fragrances. While not particularly innovative or groundbreaking, it maintains a sense of sophistication and elegance. Prada's attention to detail is apparent in the packaging, ensuring that it reflects the luxury image associated with the brand. Overall, the packaging and presentation of Prada Luna Rossa Black provide a visually appealing and cohesive experience, complementing the fragrance it holds.
Luna Rossa Black comes in two sizes:
50 ml / 1.7 fl oz
100 ml / 3.4 fl oz
Conclusion – Is Prada Luna Rossa Worth It?
Considering the uniqueness, performance, mass appeal, and compliment-getting factors, versatility but also the price – yes, Prada Luna Rossa Black is still very much worth it in 2023.
This is one of those fragrances where it's almost impossible not to like them. I've been wearing it since 2018, and I wear it sometimes even to this day. Never did I ever hear a single person saying "I don't like it".
It's recognizable, it's unique, and it's made to show your sensual and spicy side.
Regardless of the fact that it's been a while since it came out, it found its way on our list of best winter fragrances for men in 2022, and I'm sure it will stay there once we create a list of best winter fragrances for men in 2023.
Even though Luna Rossa Carbon has the biggest hype in the entire line (due to its similarity with Dior Sauvage), many (including me) find Luna Rossa Black to be a favorite flanker.
If you like sweet and date-night fragrances, I'm quite sure you'll love this one.
Have you tried Luna Rossa Black before?
What do you think about it?
Let's chat in the comments below!
We are sorry that this post was not useful for you!
Let us improve this post!
Tell us how we can improve this post?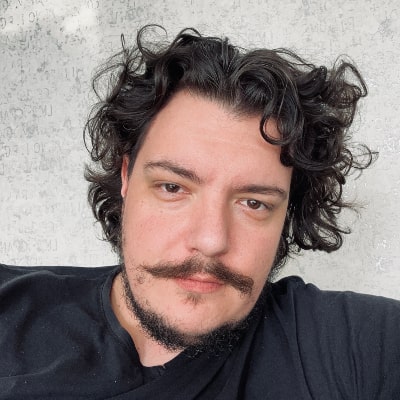 Vladan X is a founder of Fourth Sense and fragrance expert. He reviews only fragrances he owns personally, and his collection currently counts between 100 and 150 fragrances. Even though Vladan reviewed hundreds of perfumes he still didn't find the one he would call "signature" fragrance. He's still searching for that one, and in the meantime, he writes the best in-depth fragrance reviews internet has ever seen! You can read more about Vladan X here!