Although Byredo Mojave Ghost was launched in 2014, I recently managed to get my hands on it, and it definitely matched my expectations.
An interesting fact is that the inspiration for Mojave Ghost was actually Mojave Desert (North America) and since the name itself promised a lot, the high expectations were set right at the beginning as the story was similar to L'Air du Desert Marocain, where Andy Tauer created the fragrance with a scent of Marocain desert.
Byredo is a Swedish perfume production company that released Mojave Ghost in 2014 a floral-oriented unisex fragrance that definitely stood out with its perfect blend and smooth scent.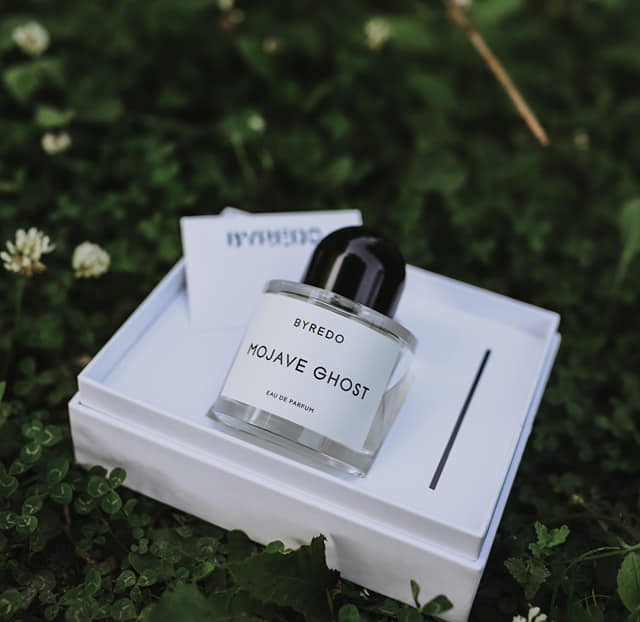 What does it actually smell like, how does it perform, and is it actually worth it? Let's see in a detailed review.
What Does Byredo Mojave Ghost Smell Like?
Byredo Mojave Ghost smells like a floral-sweet scent with a combination of woodiness and ambrette — this fragrance leaves a unique trace of bright and addicting aroma. It's a unisex fragrance with linear projection and calming effect.
The main component of this alluring fragrance is actually sapodilla, the fruit from Central America, and the magnolia flower that can be found in heart notes. Woody notes can also be sensed but definitely in a less strong volume.
According to Byredo, concentration of Mojave Ghost is eau de parfum (EDP) and the notes are:
Top notes:
Heart notes:
Magnolia
Violet
Sandalwood
Base notes:
Cedarwood
Chantilly Musk
Crisp Amber
Byredo described Mojave Ghost very poetically: "Mojave Ghost is a woody composition inspired by the soulful beauty of the Mojave Desert. In this xeric wilderness, rare are the plants that dare to blossom. With a light and graceful character top notes of musky Ambrette combine with fresh Jamaican Nesberry. Powdery Violet then unfurls to reveal Sandalwood. Finally, warm Chantilly Musk rounds out a base of crisp Amber and Cedar wood, leaving the raw spirit of Mojave Ghost to linger on the skin."
…and truth be told, that's pretty much what Mojave Ghost is like.
What made this fragrance so special is the brightness and lightness that it carries along the way. The sweet notes, such as sapodilla, magnolia, and violet, give this perfume a flowery effect that is very easily validated right with the first spray. Even though sapodilla is not mentioned in the notes pyramid, it can clearly be sensed.
The significant difference that separates Mojave Ghost from other flowery scents is a momentous touch of woodiness (especially coming from cedarwood) that is not so strong, but it is still present and it fills up the missing flick of this alluring fragrance.
Violet, from heart notes, can also be noticed, and even though this fragrance has a lot of "girly" tones, the whole composition is so heavenly blended that you cannot say it's not for men. I tested it personally for over a month, and it's most certainly a unisex fragrance that fits both genders very well.
Because of the amber, this fragrance will stick very close to your skin, and as earlier said, it's very linear.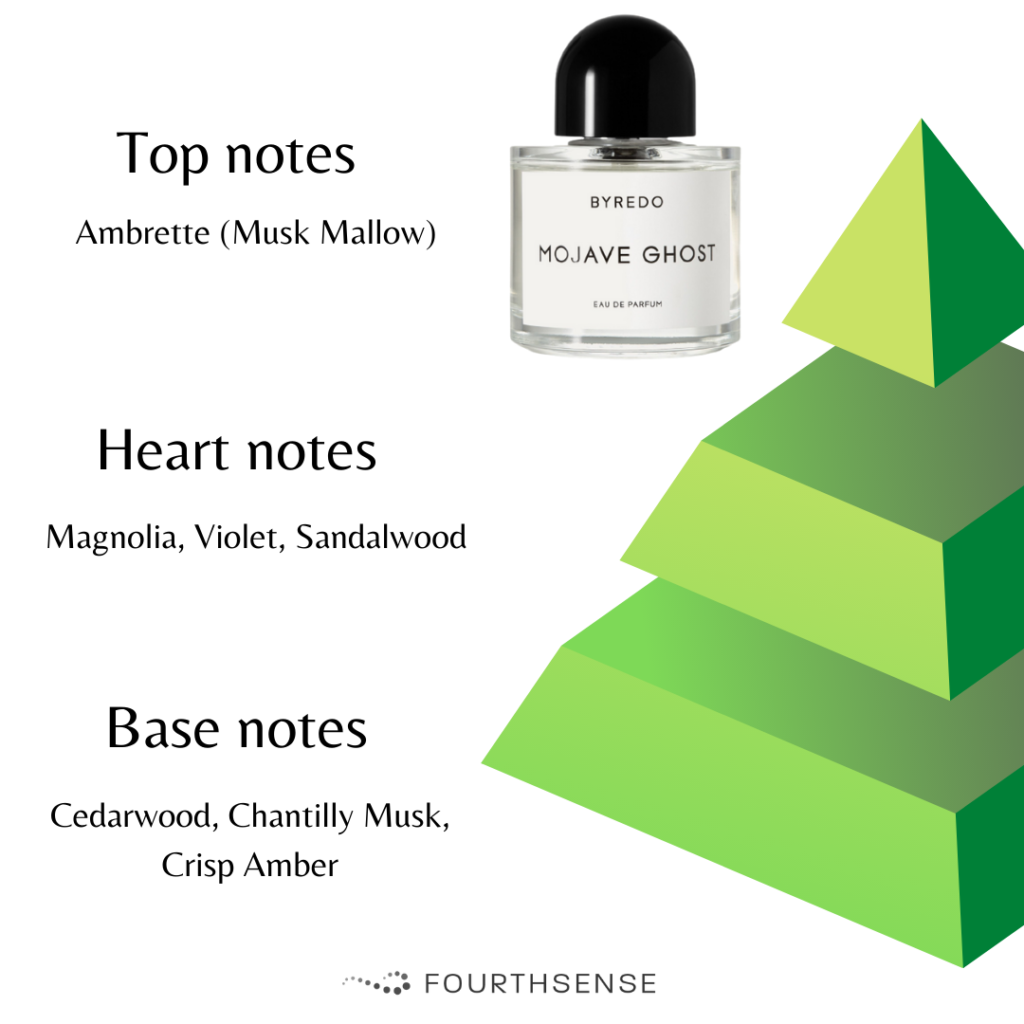 Basically, what you get in the first 15 minutes, you will have for the rest of the time that fragrance stays on your skin.
The initial smell that feels so bright and airy leaves you with a sense of calmness — it's a light and well-rounded scent and can serve as your daily go-to fragrance.
The only change that I noticed is a little touch of muskiness at the edge of disappearing, so if you wear it long enough, you will probably smell it as well.
Mojave Ghost it's not a sharp and not in-your-face type of fragrance, but as the name indicates, it leaves traces of uniqueness that will follow your every step.
To be honest, I cannot compare this scent to any other fragrance I know, so if you want to smell unique, Byredo Mojave Ghost will most certainly serve the purpose.
How Long Does Byredo Mojave Ghost Last?
Mojave Ghost usually lasts around 7 hours with 2-3 hours of solid projections and sillage.
Byredo isn't known for eternal longevity in their fragrances, which Mojave Ghost proves. Depending on the situation when and where you want to wear it, you may be required to apply it multiple times over hours.
However, even though longevity, in general, is around 7 hours, people will be able to smell it around you for about 3-4 hours, right after projections expires. After that time, Byredo Mojave Ghost becomes a very closed and private scent, that only the ones closest to you that come to whisper sweet nothing will be able to sense it.
The reason why Mojave Ghost closes after a few hours is the amber note that by default is the note that sits very close to you.
Projection is fair and as we said, you will get no more than 2-3 hours of it, which is completely fine as this is not the type of fragrance that is meant to be noticed by everyone.
With that being said, the silage is pretty moderate, maybe even weak, and Byredo Mojave Ghost definitely isn't the perfume you want to wear when looking for attention.
Getting the most out of your fragrance is something you should definitely learn, so I'd recommend checking out our guide on the best ways to increase the longevity and performance of your perfume.
If you are someone who likes intimate, bright, and airy scents, then Byredo Mojave Ghost will do the job perfectly.
When to Wear Byredo Mojave Ghost?
Mojave Ghost is a fragrance that is best to wear during spring and summer, so preferably for warmer, brighter days. It's a great daytime fragrance that can be a perfect choice for office, and coffee breaks, but also vacation days.
Because of its calming and non-offensive texture, this fragrance has pretty wide versatility.
I like to wear it during my work-free days, but it is also a great choice for the office as well since it's very intimate and will not bother anyone.
Byredo Mojave Ghost is a scent that should be used during summer and spring because flowery and sweet notes just fit perfectly in high temperatures. It's definitely not the fragrance for fall and winter, and colder days in general, as lower temperatures won't let it open and perform properly.
The scent of Byredo Mojave Ghost gives a bit more adult feeling, and it definitely doesn't fit teenagers, high-schoolers, or younger people in general. The scent itself asks a wearer to be a bit more mature.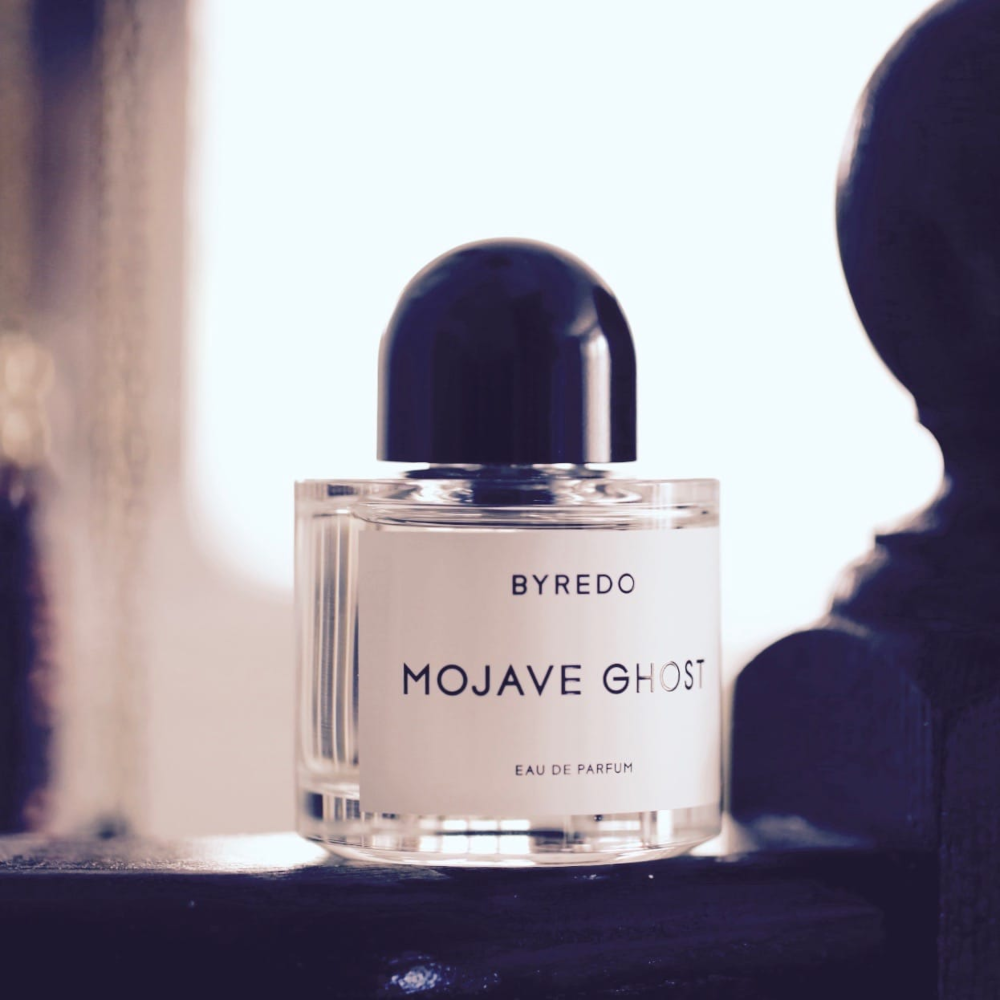 How Many Sprays of Byredo Mojave Ghost is Enough?
When applying Byredo Mojave Ghost it's best to use 3 to 4 sprays since this fragrance can be overused. Too many sprays will not allow it to open and perform properly, so in the case of Mojave Ghost, less is more.
Fragrance can massively change if you apply it multiple times on the same spot.
If you want proper opening and performance then be careful with Mojave Ghost since this fragrance may get an unpleasant creamy note when it's over-applied.
So, to get the best out of Mojave Ghost you should go with a few sprays: 2 behind your ears and 2 sprays in the dips of the collarbone.
Do not get confused since even if you apply more sprays, you will not get better projection and silage. That is a very common mistake many people do, but if you want to learn how to avoid all application mistakes and where to spray your perfume exactly, check our guide here.
To be sure what works best for you, try it for yourself since every skin reacts differently to perfume.
Where to Buy Byredo Mojave Ghost?
The best place to get Mojave Ghost is the local perfumery which is an authorized reseller of the Byredo brand. When it comes to online shoppers, you can get it from Byredo's official website, Amazon, FragranceX, and FragranceNet.
As I always recommend, to make sure that Byredo Mojave Ghost (or any other fragrance as well) is a perfect choice for you, you should visit some local perfumery that is an authorized reseller of Byredo. That way you will gain the advantage of testing it on your skin before making a decision instead of risk making a bad blind buy.
If you're buying online (and you love blind buys just as I do), then I'd advise making a purchase from trusted sources – I personally get all my fragrances from FragranceNet and they've been amazing with their discounts, and shipping times.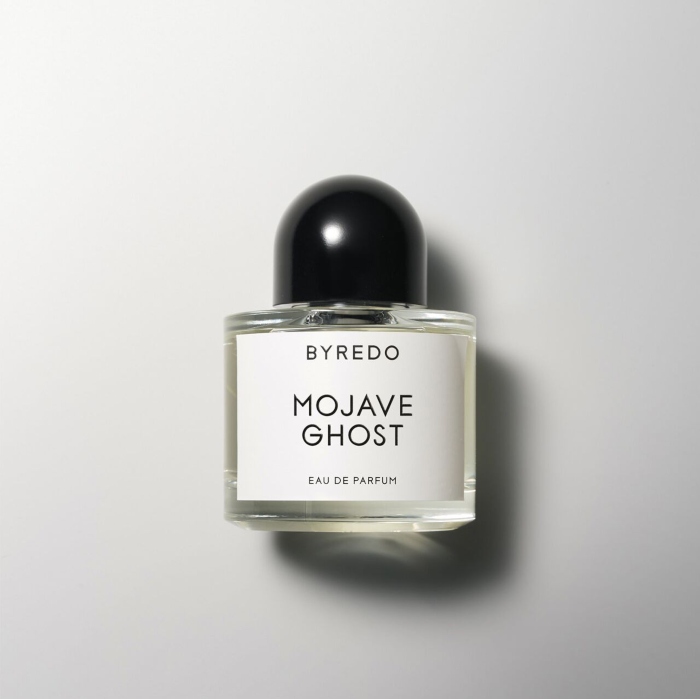 Besides that, few other trustworthy sources where you can buy Mojave Ghost are:
You can rest assured that you will get the original bottle of Mojave Ghost if you order from any of these sources. However, you may find differences in prices which is okay considering that all 4 sources have different shipping policies.
FragranceX and FragranceNet are known fragrance discounters, but I personally purchased almost all my fragrances from them, and I never got a fake.
Speaking of fakes, always be aware when buying online, as perfumes and fragrances are often the subject of copycats and scammers. With these sources you can be safe you will get what you paid for and sleep peacefully, knowing you were not scammed!
Packaging
White, simple, elegant, and clean are the words that fit the best description of Byredo Mojave Ghost packaging. As with every other fragrance from this collection, Mojave Ghost follows the collective appearance and it looks great.
Mojave Ghost comes in white cardboard that consists of the name of the fragrance, the name of the brand and the brand logo as well.
Once the cardboard is removed, you get a simple, white box that just screams elegant. The box has the name and the type of the fragrance, logos, and also two, stylish stickers on both sides that need to be removed in order to open the box.
As I said, every fragrance from that collection follows the theme, so Mojave Ghost comes in a transparent box, with a black cap and white label.
The atomizer has an engraved B letter on the top of it, and it does a pretty good job as well.
It comes in two sizes:
The entire packaging reminds me of the simplicity Frederic Malle fragrances have. All in all, the bottle and packaging of this perfume are beautiful, and if you are like me and you love to have your fragrance represented on the shelf, you won't be disappointed.
Summary — is Byredo Mojave Ghost Worth it?
Considering the price, structure, story, and scent itself, Byredo Mojave Ghost is definitely worth having in the arsenal when warmer spring and summer days arrive.
Mojave Ghost is a masterpiece in its own way. The smell you get from only a few sprays leaves a unique and interesting trace on your body and it cannot be compared with any other scents out there.
This sweet, bright, and fruity fragrance represents an intimate composition that evokes calmness and makes you feel relaxed and light.
It's a unisex mixture that can be pulled off by any man or woman with great taste and a love for airy perfumes.
Since the name suggests a lot, this fragrance will follow you throughout your long journeys and even though it will not pop out from everywhere, the pleasant smell will stay close to your skin to remind you how delightful you smelled the whole day.
It may not be a dominant and striking type of perfume but it has distinctive magic to it that can easily become your everyday go-to fragrance.
Did you try Mojave Ghost or any other fragrance from Byredo?
What do you think of it?
Let's talk in the comments!
We are sorry that this post was not useful for you!
Let us improve this post!
Tell us how we can improve this post?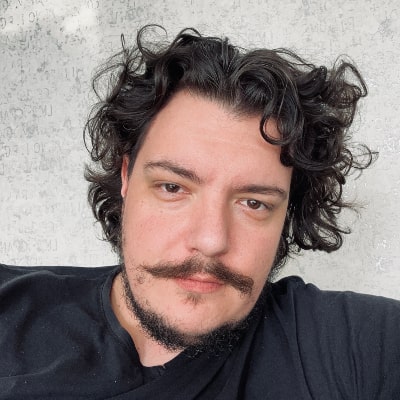 Vladan X is a founder of Fourth Sense and fragrance expert. He reviews only fragrances he owns personally, and his collection currently counts between 100 and 150 fragrances. Even though Vladan reviewed hundreds of perfumes he still didn't find the one he would call "signature" fragrance. He's still searching for that one, and in the meantime, he writes the best in-depth fragrance reviews internet has ever seen! You can read more about Vladan X here!