Not many luxury brands have held a special place in my heart, but Gucci Guilty Pour Femme made me fall head over heels on the first whiff. The iconic Italian brand has consistently stood at the forefront of style and innovation, and you may associate Gucci primarily with fashion, but for me, their fragrances have left an unfading mark on the olfactory world, with each scent painting a vivid story of allure, emotion, and luxury.
Gucci Guilty Pour Femme Eau da Parfum is a name that stirs the imagination and evokes feelings of hidden desires. Launched in 2019, this fragrance has captured the hearts of the fashion-forward, the bold, and those searching for a scent that resonates with their daring spirit. It smells like a BOSS. Like a premium aroma. Something unexpectedly pleasant, personifying a fearless declaration of self-expression and unapologetic indulgence.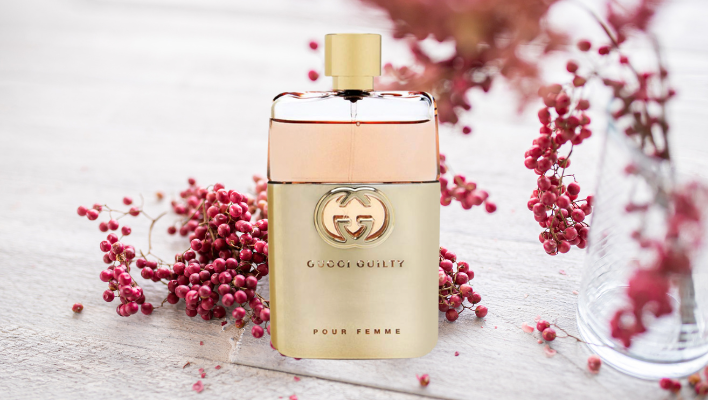 I found sensual undertones, sophisticated composition, and the irresistible call of a forbidden fragrance that beckons you closer. Whether you're a fragrancista like me or simply someone seeking a scent that'll turn heads, Gucci Guilty Pour Femme summons something for everyone. It's a world where luxury meets provocative allure- Gucci Guilty Pour Femme.
---
Buy Gucci Guilty Pour Femme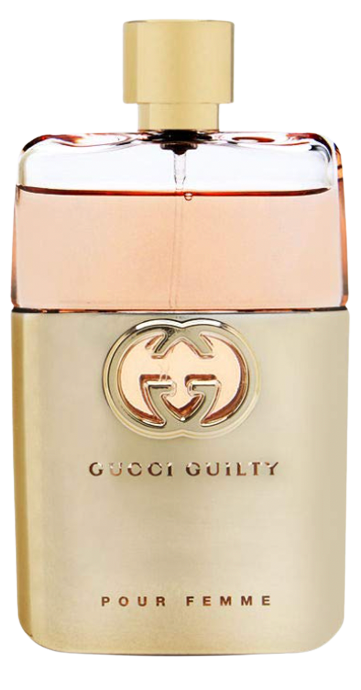 ---
What does Gucci Guilty Pour Femme smell like?
Boasting the tag #ForeverGuilty, the Gucci fragrance operates in contrast. I found it resting on the fine line between audacity and elegance, creating an intoxicating blend that's hard to resist.
Top notes include Pink Pepper, Mandora, and Bergamot.
The heart of the fragrance reveals Lilac and Geranium oil.
The base contains scents of Patchouli and Amber notes, giving it an earthy, warm finish.
To truly appreciate the genius behind this fragrance, I have to deconstruct its intricate symphony of notes. Like a masterful piece of music, its composition starts with an arresting crescendo – a burst of invigorating top notes that capture the attention and set the mood.
Think of vibrant pink pepper intertwined with the zestiness of bergamot, promising a spirited beginning to this olfactory journey.
As the initial euphoria mellows, the heart notes come into play. Here lies the very essence of the Gucci Guilty experience. The sensual lilac melds effortlessly with the lush richness of peach and the delicate allure of geranium. This phase, akin to the enchanting core of a romance, paints a vivid image of moonlit nights, whispered secrets, and the soft caress of silk against skin.
And finally, Gucci Guilty Pour Femme delivers the best with its base notes. Here, amber and patchouli create an earthy, warm embrace, reminiscent of two lovers' intertwined fingers, with the lingering touch of creamy vanilla adding the perfect finishing touch.
One can't help but admire the bottle's design — it's a gold-drenched representation of Gucci's emblematic interlocked 'G's, making it a collectible piece for brand enthusiasts. This fragrance is labeled as a floriental and boasts a symphony of mandarin, pink pepper, peach, lilac, geranium, amber, and patchouli.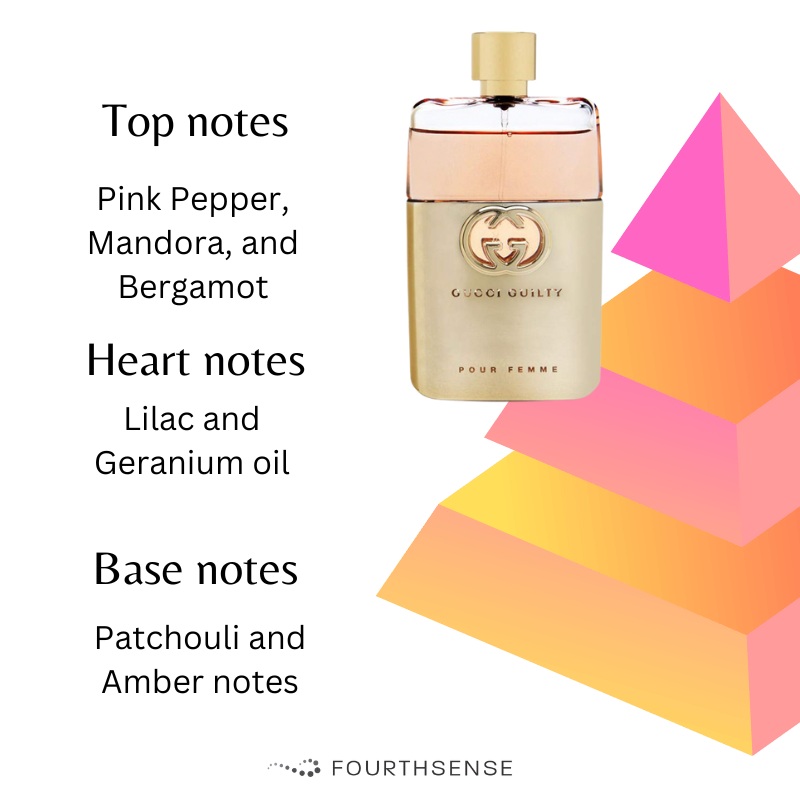 Upon the first spritz, I found it to be a luminous, fruity oriental rather than a floral one. Its opening is fresh and zesty, complemented by the spice of pink pepper, which gives it an edgy undertone. The initial hints reminded me of the famed Chanel Chance, but Guilty soon takes its own path. As the scent evolves, the continued dominance of fruity notes accompanies a gentle lilac whisper, and the geranium offers a crisp accent, enhancing the spiciness. Yet, if you're expecting the pepper to lead you into a wild adventure, that's about as far as the "edge" goes.
The "sensual" patchouli base note doesn't descend into raw earthiness. Gucci's rendition of sensuality is more about poised elegance than raw passion. The fragrance elegantly transitions into an amber-infused, slightly sweet patchouli, reminiscent of artfully crafted faux jewelry. A hint of vanilla surfaces as it matures, adding to its oriental charm. For an Eau de Toilette, its longevity is commendable.
Suitability and Versatility
What I found astounding about Gucci Guilty Pour Femme is its chameleon-like quality. If you put it on during a fresh spring morning, the vibrant top notes will evoke images of blossoms gently swaying in the breeze. Transition to a sultry summer evening? The heart notes seamlessly match the ambiance, echoing with sensual whispers that intrigue and invite.
Business or Pleasure?
All my queens, who often switch between corporate boardrooms and lavish soirées, Gucci Guilty Pour Femme, play both roles with aplomb. Its balanced composition ensures you're neither overbearing nor overlooked. The base notes, especially, exude a poised and assured confidence, making it a fitting choice for your business meetings. Yet, when the sun dips, and city lights illuminate the night, Guilty doesn't shy away. Its magnetic pull makes it a favorite for those lovely nights out.
I've often encountered fragrances that, while perfect for a particular setting, seem out of place in another. Gucci Guilty Pour Femme, however, is among those rare gems that complement almost every scenario. Whether you're donning a tuxedo or a casual tee, this fragrance doesn't just adapt, it somehow elevates the moment.
In a world where versatility is often a veiled compromise, I think Gucci Guilty nearly delivers the best of all worlds.
Longevity and Sillage
How long does Gucci Guilty Pour Femme last?
It can easily last 8 to 10 hours with a moderate to long-lasting sillage. However, it's always best to try it personally, as individual experiences might vary.
– Over the years, I've had the pleasure (and sometimes, the displeasure) of sampling an array of scents. Some promised an eternal embrace only to vanish before the first coffee break, while others, albeit short-lived, marked their presence so intensely that they left an indelible mark. Gucci Guilty Pour Femme, however, presents a narrative that's both intriguing and satisfying.
Longevity: A Day's Commitment
The scent doesn't just pay a fleeting visit; it settles, making its presence known for hours on end. For the average wearer like me, this fragrance graces the skin for a commendable 8 to 9 hours, ensuring that you're enveloped in its luxurious cocoon from dawn till dusk. Of course, individual skin chemistry and environmental factors play their roles, but on the grand scale, Guilty Pour Femme confidently lands among the longer-lasting scents.
Sillage
Gucci Guilty Pour Femme projects just enough to make heads turn, pique curiosity, and invite compliments. Those in your immediate vicinity are bound to catch whiffs of its enchanting trail, creating an olfactory aura that's both intimate and noticeable.
Reflecting on my personal experiences, moments after spritzing Gucci Guilty Pour Femme, I've ventured into gatherings and been met with inquiries about the tantalizing scent I wore. It felt neither invasive nor distant, striking a harmonious balance many fragrances aspire to achieve, but only a few truly can.
So, for all the ladies seeking a fragrance that stays and impresses without overwhelming, this is your guilty pleasure.
Value Proposition
For many fragrance aficionados, diving deep into the world of luxury scents often comes with a hefty price tag. Gucci Guilty, with its lush notes and enduring sillage, is no exception. However, luxury doesn't always have to equate to financial stress. Sometimes, the olfactory experience you seek might just be nestled within a more affordable bottle, without compromising quality.
Are Gucci Guilty Pour Femme worth the price?
Value is subjective, but Guilty Pour Femme is known for its high-quality ingredients, appealing fragrance, and legacy in luxury fashion and perfumery. For many, the unique scent profile and the BOSSY statement made by wearing Gucci Pour Femme justify its price.
---
Buy Gucci Guilty Pour Femme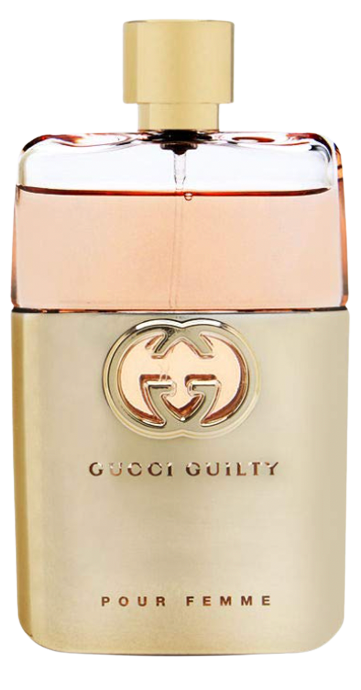 ---
Let's take a moment to indulge in the splendor that is Gucci Guilty. Ever since its inception in 2010, this fragrance has risen to legendary status within the perfume community. Gucci has pushed boundaries while trying to give people a reason to live "guilt-free," with audaciously authentic fragrances. Gucci Guilty Pur Femme perfectly meshes traditionally masculine and feminine notes and comfortably shares its space with gender-neutral icons like Le Labo's Santal 33 and CK's CK One.
From its vivid opening notes of pink pepper and bergamot, to the heart brimming with the sensuality of lilac to the groundedness of patchouli and amber in its base, Gucci Guilty is nothing short of an olfactory symphony. Yet, its brilliance isn't merely reserved for special occasions. This is a fragrance versatile enough to be worn anywhere, anytime – a daytime allure or an evening charm. However, for those seeking a similar scent profile at a more affordable price, there is an alternative available- the Dossier FOUGERE PINK PEPPER.
A Cheap Alternative
If you desire the essence of Gucci Guilty Pour Femme without the associated cost, there's a way. FOUGERE PINK PEPPER, inspired by Gucci's Guilty Pour Femme, is a commendable alternative that doesn't skimp on quality. Hailing from Dossier, this fragrance, much like its muse, hooks you in with a spicy green accord. There's a similar amber base that's both sensual and captivating. The allure of Guilty Pour Femme's spicy green and woody ambery structure is remarkably echoed in this rendition, making it an intriguing and worthy counterpart.
I think if Gucci Guilty Pour Femme is the original masterpiece hanging in a renowned museum, then Fougere Pink Pepper is the skilled artist's tribute, capturing its essence with startling accuracy and passion.
Unisex Elegance— All Gucci Guilty Profiles
Boundaries are becoming more fluid between what's conventionally 'masculine' or 'feminine'. And Gucci Guilty Pour Femme transcends gender norms, inviting everyone to partake in their allure.
Gucci Guilty's Pour Femme for Women– While specific renditions of Gucci Guilty, such as this one, might lean slightly towards traditional gender expectations, the core philosophy behind this line champions versatility and universal appeal. Just because the invigorating, soft, and deep notes cater to a broad spectrum of olfactory preferences, irrespective of gender, I don't think it should be limited to women only.
Breaking Down Boundaries
Modern fragrances, Gucci Guilty Pour Femme included, are crafted with the understanding that scents are deeply personal. It's not about 'male' or 'female'; it's about the individual. What resonates with one might differ for another, but at its heart, Gucci Guilty Pour Femme is warm, lingering, and utterly seductive.
So the question– Is there a similar Gucci Guilty fragrance for men?
Yes. Many Gucci Guilty fragrances are designed with a unisex appeal in mind. They blend traditionally masculine and feminine notes to create scents that can be worn and enjoyed by everyone, regardless of gender.
Which Gucci Guilty fragrance suits my personality?
The choice of a fragrance is deeply personal and varies based on individual preferences. While Gucci Guilty Pour Femme is a women's perfume, the entire Gucci Guilty line offers a variety of other scents.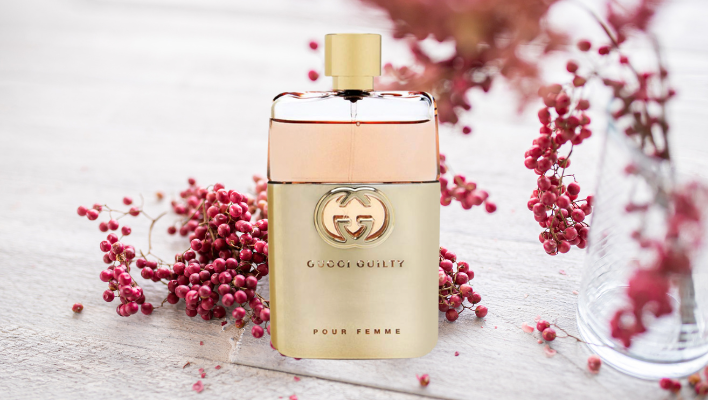 — Gucci Guilty Pour Femme is a soft, warm, and floral scent with pink pepper and lilac. It's perfect for someone looking for a traditionally feminine touch with a modern twist.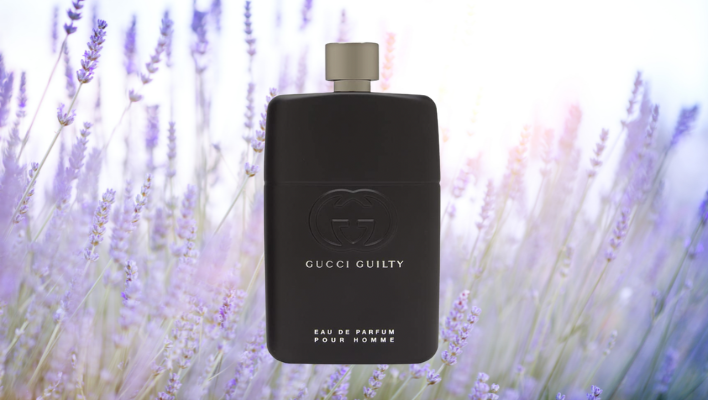 — Gucci Guilty Pour Homme offers lavender and lemon, offering a fresh and bold scent suitable for those who prefer a more traditionally masculine aroma.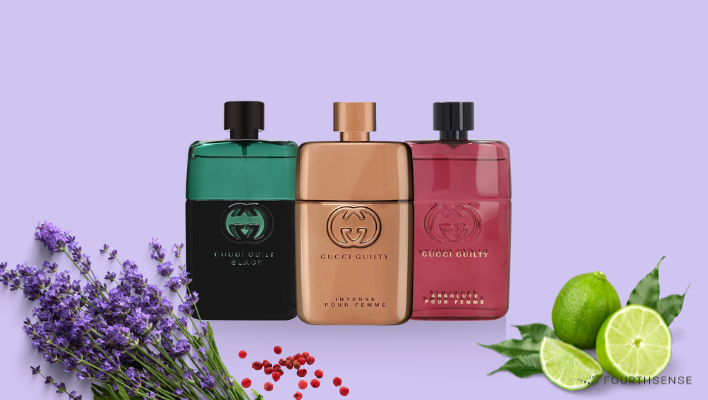 — Gucci Guilty Black, Intense, and Absolute are variants that offer deeper and richer scents. The best way to determine which one aligns with your personality is by sampling them and noting which resonates with you the most.
Final Word
Gucci Guilty Pour Femme is a unique floral scent, but let's not forget that the world of luxury fragrances, much like fashion, is vast and ever-evolving. Every scent weaves tales of individual experiences, dreams, and aspirations. If I were to label Gucci Guilty Pour Femme, it's both "modern" and "versatile." Something that seamlessly goes with the daytime office life as well as evening parties. It has more character than Gucci's Flora and is subtler than the Gucci by Gucci. However, a hefty price tag doesn't solely define luxury, and FOUGERE PINK PEPPER has brilliantly captured Gucci Guilty's delightful aroma.
Follow Fourthsense for more in-depth reviews of luxury fragrances and cheap alternatives for them. There's a universe waiting to be explored.
We are sorry that this post was not useful for you!
Let us improve this post!
Tell us how we can improve this post?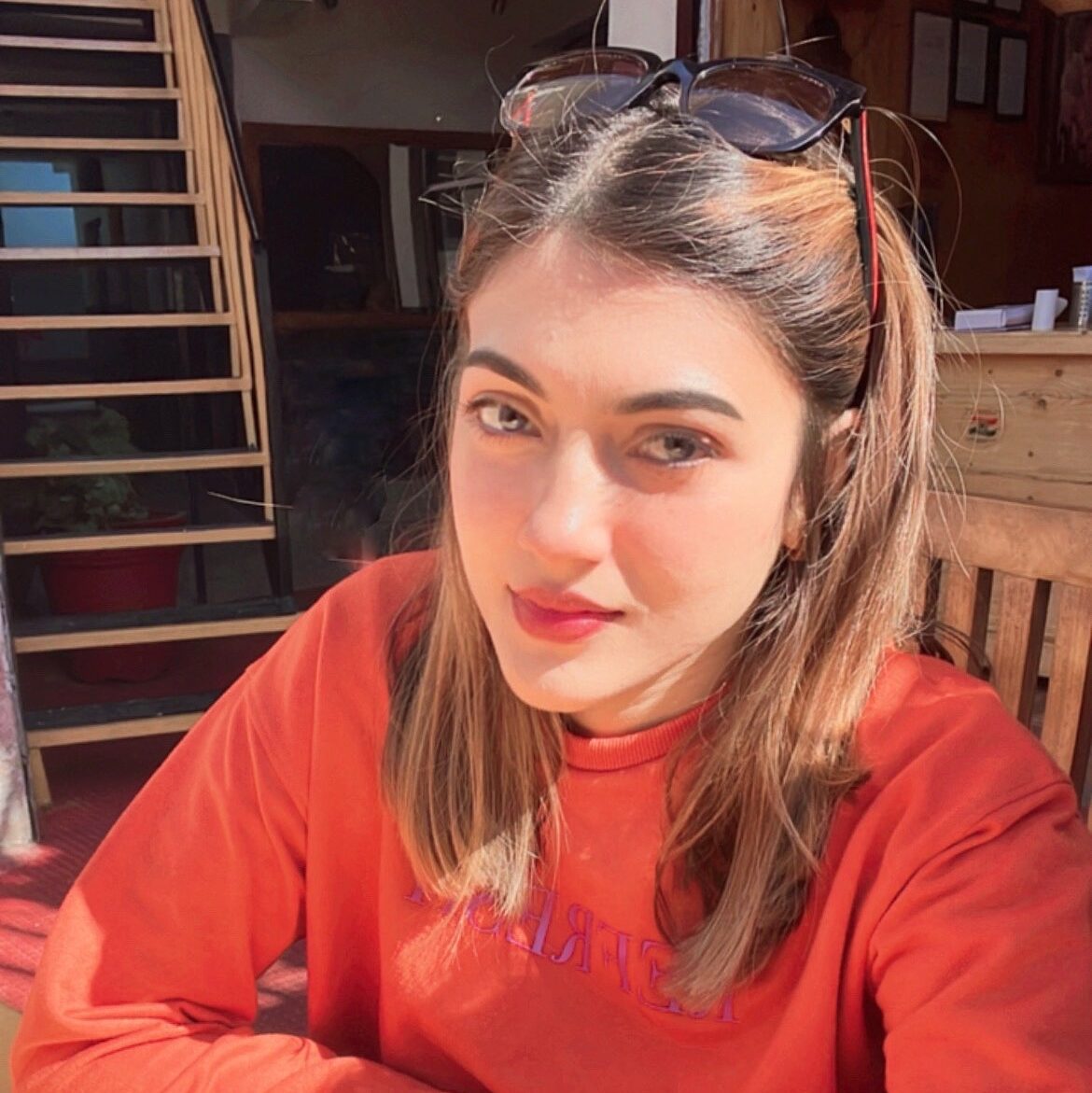 I am a seasoned content writer with years of expertise across various niches, yet with a heart that beats strongest for the world of perfumes and fragrances. Dive into my captivating narratives with the deep history and emerging trends of the fragrance industry. I make sure that these aromatic tales reach a wide audience, resonating with both the cognoscenti and everyone else who shares a relationship with the sense of smell. Beyond writing, my genuine passion for scents translates into an extensive personal collection and countless hours spent at perfume ateliers.