Guerlain L'Homme Ideal Eau de Parfum is just one out of 5 flankers Guerlain released for their L'Homme Ideal line. Personally, I find this flanker the best out of them all.
L'Homme Ideal EDP was released in 2016 by Guerlain and it was a masterpiece creation of Thierry Wasser, Guerlain's in-house perfumer, and Delphine Jelk.
This beautiful scent quickly became very popular and it won the noses of many. I personally have it in my collection and it has a special time of year for me. It's so good that it also made it on our list of best spring fragrances for men in 2022!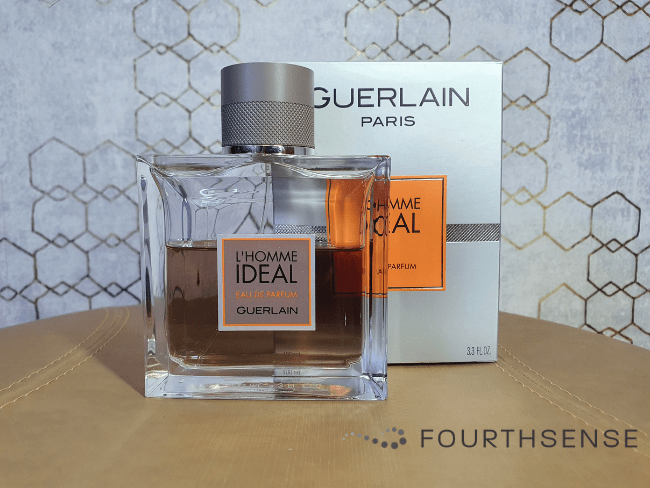 In this blog post, we're going to review Guerlain L'Homme Ideal EDP in detail!
What Does Guerlain L'Homme Ideal EDP Smell Like?
L'Homme Ideal EDP smells like a sweet, sexy, and very smooth scent and it's definitely different out of all L'Homme Ideal fragrances from the line.
Notes are beautifully blended and the main ones that you can feel are cherry, almond, and vanilla.
It smells very seductive, smooth, and woody-oriental.
Notes pyramid has quite a lot of stuff in there but let's dig into them.
Top notes are (1):
Spices
Almond
Rosemary
Bergamot
Lavander
Thyme
Heart notes are:
Cherry
Vanilla
Bulgarian rose
Incense
Base notes are:
Tonka bean
Leather
Sandalwood
The opening starts with a burst of cherry straight out of the bottle and cherry remains as the main note during the entire drydown.
Once the alcohol from the opening evaporates almond starts to kick in much better and that almond-cherry combination is just fantastic.
As it dries down, cherry and almond start mixing with intense vanilla, tonka bean, and leather. I'd say that vanilla was used here to give it the original sweetness while tonka bean was used to diversify that sweet note with a hint of earthiness.
Overall L'Homme Ideal EDP beautiful and sexy scent definitely doesn't leave anyone coldhearted – girls love it and it's definitely a compliment beast!
How Long Does L'Homme Ideal EDP Last?
Longevity is something Guerlain is not really famous about, but I was surprised by how long this fragrance lasts.
On average, L'Homme Ideal EDP lasts between 7-9 hours. Some people reported classic Guerlain short longevity of 4-5 hours, but many also reported longevity of 9+ hours. I always had around 8 hours of it and after that, it just disappears.
Performance is pretty better than previous flankers of L'Homme Ideal had but far from amazing.
Projection is solid, it projections for the first 2-3 hours, but not so far away – probably around 1-2 feet around the wearer.
Similar story with the sillage – it's somewhere between private and moderate, and it leaves a 2-3 feet trail behind you.
After 5-6 hours the only people who will be able to smell it on you will be the ones who come close to you.
However, this is not a problem for many people out there. I personally love beasts like Amouage Interlude who last for 12+ hours, the project for 5-6 feet, huge sillage, and projection power, but that's just me. Lots of people have no problem leaving their scent private, and close to them.
Also, type of this fragrance is not the type that should perform like that – this would be ideal for Netflix and chill situations!
When to Wear L'Homme Ideal EDP?
Even though many people rated it as a winter and fall fragrance, I wouldn't agree.
For me, the best time to wear L'Homme Ideal EDP is definitely during spring and fall, especially as the night time fragrance when the temperature is between 50 and 65 (10-20 degrees Celsius).
At those times it opens the best and it has the best performance – it lasts for a long time and it seems a bit more potent than it actually is.
Even though Guerlain probably thought of this as a winter fragrance (and it makes sense, as a fruity sweet combination is a killer during cold times), I don't think L'Homme Ideal EDP is potent enough to stand in low temperatures.
Coldness usually doesn't allow the fragrance to open properly and therefore to perform properly, and I didn't see some good results with it during winter.
However, when days get a bit warmer, and temperatures are between 50 and 65, it works like a charm.
I wouldn't recommend wearing it when the temperature is 65 because it's simply too much for it. High temperatures increase sweetness in fragrances and L'Homme Ideal EDP is definitely already sweet enough – increasing that sweetness wouldn't be pleasing.
When it comes to occasion, as I've said, I see it the best for Netflix and chill situations, as it's sexy and smooth, but you can also wear it at parties even in clubs. Don't expect a good performance, but whoever comes whispering you sweet nothing on the ear will surely be able to smell this beautiful scent.
How Many Sprays of L'Homme Ideal EDP is Enough?
3-4 sprays of L'Homme Ideal EDP are just enough for optimal performance of the fragrance – 2 under the ears, 1 behind the head, and 1 on the upper chest where your shirt ends.
Definitely don't go above 5 sprays as this perfume is pretty potent and very sweet.
Overspraying fragrance on the same spot will just cause it not to open properly and performance will be weak.
L'Homme Ideal EDP will work best when sprayed only once on a certain spot and 3-4 sprays as stated above will do just fine.
Check out our article on best practices for applying perfume for best performance!
Where to Buy L'Homme Ideal EDP – Discontinued?!
So in December 2020 folks started noticing that there's no L'Homme Ideal EDP in Guerlain's online shop and that prices of the fragrance on eBay are higher and higher.
This is usually a sign that a certain brand discontinued that fragrance.
So is L'Homme Ideal Eau de Parfum (EDP) discontinued?
As of this writing (January 30th, 2022), Guerlain DID NOT discontinue L'Homme Ideal Eau de Parfum (EDP) – Guerlain is just not importing it anymore in the US. If you are from Europe, you can still buy L'Homme Ideal EDP on Guerlain's website, but if you are from the US, you're going to have to find different sources.
However, even though you can't buy it on Guerlain's website nor on Amazon, there are still sellers on eBay who are selling it until they empty their stock.
Also, there are a lot of physical perfumeries that still have L'Homme Ideal EDP in their stock, so it wouldn't be a bad idea to search for it there – with a little bit of luck, you'll be able to get your hands on this beautiful scent.
Personally, I consider this a great loss in the fragrance community, and I'm happy that I managed to buy a bottle in mid-January. I'm definitely going to buy another one just in case they discontinue it fully.
The reason why Guerlain discontinued L'Homme Ideal EDP was probably that they wanted to push the sales with L'Homme Ideal L'Intense – not very the smartest move to do that if you ask me.
However, we won't be seeing L'Homme Ideal EDP anymore in the US so try to dig it out on eBay or in local perfumeries because I bet it's going to be a valuable piece to have in the future!
I didn't want to link to any seller on eBay and advise you on something I didn't try myself – please beware of scammers and always do a good investigation of these sellers. Look at their reviews and talk to them before buying the fragrance. Always be careful from who do you buy fragrances online.
Packaging
Guerlain L'Homme Ideal EDP comes in a standard grey box and the bottle is simple and neat.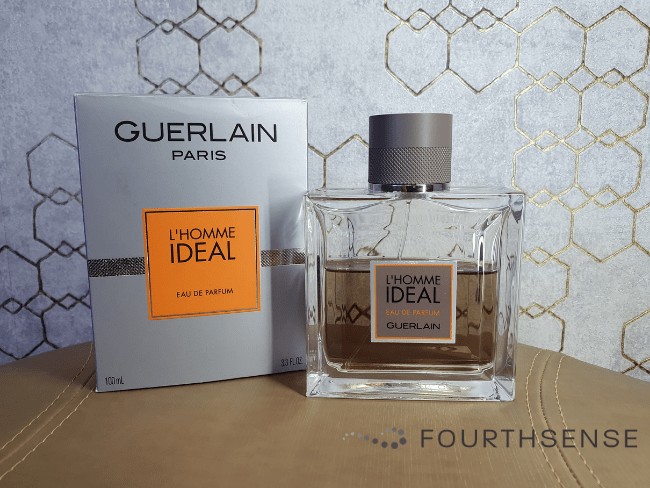 It comes in 2 different sizes:
50 ml / 1.7 oz
100 ml / 3.4 oz
Simple presentation for a beautiful scent!
Summary
Guerlain L'Homme Ideal Eau de Parfum (EDP) is a beautiful, sexy, fruity, and smooth fragrance and definitely a unique fragrance in the industry thanks to that cherry-almond combination.
Performance was never Guerlain's strongest side, but that doesn't make this fragrance any less beautiful – lots of people are fan of average longevity and projection and private sillage.
Best time to wear it is definitely during spring time and it's no wonder it came almost to the top of our best spring fragrances for men in the 2022 list! Amazing for the nighttime as it will most definitely make you more masculine and sexy.
In the beginning of 2021, Guerlain stopped importing L'Homme Ideal Eau de Parfum (EDP) in the US, but they are still producing it and selling it in the Europe – this was the move probably to boost sales of the new flanker – L'Homme Ideal L'Intense.
Overall, extremely valuable peace of art to have!
Have you ever tried it?
What's the best L'Homme Ideal flanker for you?
Let me know down in comments!
Cheers!
We are sorry that this post was not useful for you!
Let us improve this post!
Tell us how we can improve this post?