Since the time of the modern transformation of the world comes to a scent that, I can freely say, gives a trail to that time. This time, I'm talking about Davidoff Cool Water, a great example of a timeless classic and a bottle that bears the stamp of experience.
Cool Water was launched in 1988 by Pierre Bourdon and with his fragrant notes, he managed to gain the trust of men all over the world. This character has been following this fragrance for decades, so it's classified as a scent you can't go wrong with. Although many describe it as a "safe zone", Cool Water managed to stay… well cool, even today.
Playing with our sense of smell through this article I'll show you the essential characteristics of this perfume. If you are already familiar with this scent you will experience it differently after the information I have gathered and that's why I'm excited to share this knowledge of Davidoff Cool Water with you.
What Does Davidoff Cool Water Smell Like?
Davidoff Cool water smells like refreshment – easy to wear the scent of the sea, aromatic marine, and green heart.
When drops of this perfume touch your skin, aromatic scents come to life and you can smell different types of fragrant herbs. You'll feel a pleasant aroma that will give a feeling of security and masculinity.
Top Notes (1):
Seawater
Lavender
Mint
Green Notes
Rosemary
Calone
Coriander
Opening with these notes is just beautiful. "At the first scent", you'll feel a refreshing harmony that truly awakens your senses. Mint dominates both the scent and your skin. It cools you slightly, which will contribute to the overall experience of the scent. Seawater and green notes will upgrade the effect, and pieces of lavender and rosemary will add charm to this scent.
Middle Notes:
Sandalwood
Neroli
Geranium
Jasmine
Just when the first strike of freshness passes, heart notes provide a feeling of cozy air and calm see. You will feel notes on your skin that you can't go wrong with. The combination of middle notes will give you a feeling of playfulness and narrowness at the same time. If you like constant things you will definitely love this combination.
Base Notes:
Musk
Tobacco
Oakmoss
Cedar
Amber
These base notes play it safe and smooth. The wood gives it its strength, and the smell of tobacco perfectly complements it. The attitude of this fragrance is very clear, it doesn't stand out too much and it's pleasing.
I would characterize it more like a stable and less as a sexy masculine scent. Tough, not challenging. This fragrance will take you on a journey from the freshness of mint to lavender and jasmine to the aroma of wood and tobacco. All of this goes in favor of one classic fragrance that rarely leaves you disappointed.
How Long Davidoff Cool Water Lasts?
Once you put the Davidoff Cool Water on, the scent will last for 5-6 hours. You will get around 2 hours of projection and it will project smoothly, nothing aggressive.
Of course, just like any fragrance that has been around for 20+ years (i.e. Versace The Dreamer), Cool Water has been reformulated many times, so performance is not that great.
After a few hours he "retreats" and becomes more intimate. This is not necessarily a bad thing as many people prefer private scents. Its base comes to the front in that period showing its real side.
Of course, it all depends on the type of your skin. We all absorb and emit fragrance in a different way. All in all, we can conclude that this is a solid performance. With a fragrance like this, you simply know what to expect and how much you can rely on it. There are no big surprises here, once you get used to each other you become great, reliable partners!
Davidoff Cool Water Intense which is an EDP version of this fragrance has a much better performance than this one, but we'll talk about that one in a separate review.
When to Wear Davidoff Cool Water?
The best time to wear Davidoff Cool Water is definitely summertime, during the day.
This perfume belongs to the fragrances worn in the summer thanks to its refreshing effect. Its ingredients are more compatible with warmer days, simply he prefers sunlight to snow and cold.
You can wear it in the office, at lunch with friends or in the comfort of your home when you just want to smell nice! Between day and night, it definitely belongs to the day. It's refreshing and follows the daily rhythm, so I suggest you don't go with it on your nights out. It simply won't come to its core in such an environment.
If you, on the other hand, decide to wear it during colder days it simply won't work – it will never open properly and you'll smell it for 20 minutes and that's it.
Also, as I've said previously, definitely a day fragrance, not for nights out. It's too weak for that and it will most certainly suffocate in the sea of other scents.
Keep it as every day, summer, daytime fragrance and you should be all good!
How Many Sprays of Davidoff Cool Water is Enough?
Since Cool Water is not a powerful scent, you can't really go too much with it – anywhere between 5-7 sprays will do just fine.
If you want to go over 7 sprays, and get more perfume on your skin, feel free to do so. I'm sure it won't project like crazy and start smothering people around you.
However, make sure you don't go under 3-4 sprays when you are going outside with it. I'd say that 3-4 sprays would work if you are staying indoors and you just want to smell good for yourself.
Apply it on the sides of the neck and on the wrists or you can put it on the chest area. If you do decide to put some more sprays, go for it. It's all a matter of taste and how your skin reacts to a certain scent.
Apply it from a small distance so that the Cool Water can be nicely sprayed on the skin.
You can find other best practices for applying perfume here!
Where to Buy Original Davidoff Cool Water?
The best place where to buy Davidoff Cool Water is definitely authorized reseller perfumery or Amazon.
When buying any fragrance, including this one, you must pay attention to the source from which we take it. There are a lot of fake fragrances and people get tricked into buying a fake.
Fake fragrances are not tested on human skin and are not safe for use – severe skin trauma can happen and there are many cases that confirm this.
The best way to buy Davidoff Cool Water is definitely to physically go to the authorized reseller store like Sephora and get it there – that way you will know exactly that you bought the original Cool Water.
However, it's common that physical store where you can buy perfumes is miles away and you just want to get it online and delivered.
If you want to buy Davidoff Cool Water online, you can always get it through the link that I share in this post (here) – the link leads to Amazon and you can rest assured that you're buying an original fragrance.
There are whole lines of fake shops out there just waiting for your wrong move, so always choose proven places and places recommended by people of good reputation. Pay attention to consumer reviews and experiences when you decide to order any fragrance. If there are no any, it's best to stay away.
How To Spot a Fake Davidoff Cool Water?
Valuable and quality items are often targeted by plagiarists, and the perfume industry is severely affected by these actions. lately, this black market is expanding so we should be more careful while shopping for Davidoff Cool Water. Make a good check what the original looks like because it has a unique look, so it will be easier for you to spot the fake product.
In order to spot a fake Davidoff Cool Water make sure to follow these guidelines:
Learn to recognize the manufacturer's logo. On copies, the logo looks different whether it is the font or the print of the logo itself. On the original packaging, the logo is located at the very top of the bottle, and on copies, it is usually in the middle of the bottle. On the original packaging, there is always a logo on the top of the box.
Pay attention to the color of the packaging and the color of the bottle itself. Copies of this fragrance are mostly lighter in color than the original.
You can feel the difference in the weight too. Several videos on social networks (showing the differences between original and fake perfumes) are indicating that copies are mostly heavier than the original packaging.
The bottom of the box has several differences, from serial number to bar code. The original Davidoff Cool Water must have a verification number on the back of the box. And that number should match the number inside the package.
The information on the packaging is written differently on the copy of the product. On the original packaging, the letters are in shiny white color.
You can also distinguish the original from the copy by size. The product box and bottle cap are of poorer quality than fake ones and you can check it out with a simple touch. That means the materials on the fake ones are mostly thin and brittle. They are fragile and they feel empty from inside.
All in all, when you have all this in mind and analyze the original packaging nicely, you will have no problem noticing the copied ones.
Packaging
The box of Davidoff Cool Water is in light blue color which is very elegant. The bottle of this fragrance is slightly darker in color than the outer packaging and it's semi-transparent. Quite enough to be able to monitor the level of fluid you have left after each application. It's made of glass and rounded at the corners so that it fits in your hand perfectly. On the top, there's a black plug that preserves freshness.
You can choose packs of:
40 milliliters ( 1,35 fl. oz.)
75 milliliters ( 2,5 fl.oz.)
125 milliliters (4,2 fl. oz.)
Summary
Davidoff Cool Water is one of those scents that you treat with respect, primarily because of the long-standing quality and standards it maintains. It's a classic in the fragrance industry for a reason. If you are a fan of refreshing notes, smooth taste, without jumping from a well-known standard this is definitely the product for you.
Calling something "a safe zone" can give the impression of boringness, but in this industry, in order for something to be a safe zone, it's necessary to meet high standards. Customers have been trusting this product along for years and it's actually a true mirror of quality level.
With it, you know what you're up to. You'll be noticed and will receive compliments of your scent, that is for sure.
Davidoff Cool Water is a trademark precisely because of its firmness in expression. Wearing it will give you a sense of strength, so this further builds self-confidence. It's interesting to mention that women rate it as very attractive, too. This product deserves to be in your fragrance collection and will definitely find the space and time when it should keep you company.
What do you think about Davidoff Cool Water? Have you tried it before?
Let me know in the comments!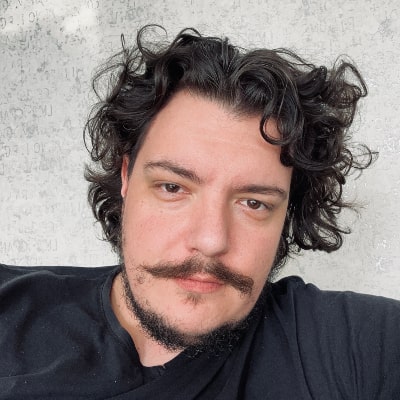 Vladan X is a founder of Fourth Sense and fragrance expert. He reviews only fragrances he owns personally, and his collection currently counts between 100 and 150 fragrances. Even though Vladan reviewed hundreds of perfumes he still didn't find the one he would call "signature" fragrance. He's still searching for that one, and in the meantime, he writes the best in-depth fragrance reviews internet has ever seen! You can read more about Vladan X here!