Versace The Dreamer was one of the most popular fragrances in the '90s and even today, it remains one of the best sellers. This amazing scent has a long and rich history that brings lots of memories to many people, which makes it sort of an evergreen fragrance.
The Dreamer came out in 1996 as the answer to the first fragrance with the note of tobacco in that time – Dolce & Gabbana Pour Homme.
It was made by Jean-Pierre Bethouart who decided to make it a bit more wearable and better overall than D&G. In a difference to Pour Homme from Dolce & Gabanna, Versace decided to add the sweet note to tobacco which immediately won the hearts of many people and it became ultra-popular.
It was a signature scent for bad boys, mafia, and bosses, especially in Belgrade (Serbia) during the '90s where it was popular so much that it almost didn't have any competition.
In this post, we're going to fully review Versace The Dreamer, and you will know exactly how does it smell, when to wear it, and is it for you.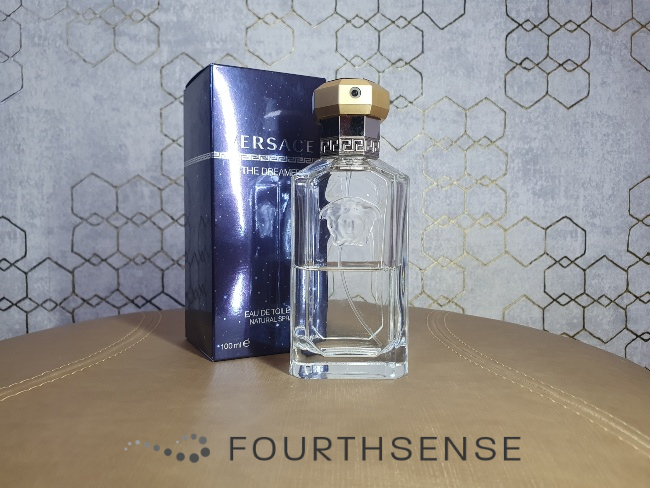 What Does Versace The Dreamer Smell Like?
Versace The Dreamer smells very synthetic, powdery, and sweet. Of course, it was reformulated many times since 1996, and therefore this version that you can buy right now smells a bit different than the original formula.
It has a very aggressive opening, a harsh shock bomb of sweetness combined with lavender, even though there is no lavender note in the late versions.
As it dries down, after about 15-20 minutes, it gets softer and softer, and you can smell the tobacco with a sweet note of vanilla. It becomes a lot less aggressive and actually very pleasant.
Considering its composition and differences between today's version and the 1996 version, notes are changed fully but manipulated in such a way to keep the original scent. Just like with Acqua Di Gio, it has been reformulated many times, but it still works fantastically for some people. These are the ingredients for Versace The Dreamer of today (1):
Top notes:
Juniper
Tarragon
Artemisia
Heart notes:
Base notes:
Versace managed to make these notes and their aroma chemicals smell as close as old Dreamer, which is pretty impressive. You feel the most of tobacco notes from the base once it fully opens, and after that, it's dominant the smell of fresh sweet lavender which is actually a note of iris in this case.
Altogether, The Dreamer still smells amazing and many people consider it their signature scent.
How Long Does Versace The Dreamer Last?
Versace The Dreamer has pretty good longevity and it lasts for about 5-6 hours. Projection is the strongest for the first 1-2h, and after that, it doesn't project at all, it just lingers on your skin until it fades.
It's well known that fragrances old like this one usually don't perform well, mainly because they went through many reformulations and got heavily diluted over the years. Reasons for this are obvious, manufacturers want to keep the original price, they want to reduce costs of production and invest in new things. Proof of this is that The Dreamer originally had real tobacco, but today it only has tobacco blossom notes.
For its years, Versace The Dreamer has just enough longevity to stay in game and still be one of the best-selling fragrances in the world.
When To Wear Versace The Dreamer?
Since Versace The Dreamer is a tobacco sweet fragrance, the best time to wear it is definitely nighttime during mid-colder days. It's awesome for clubbing, and night events and will definitely hold its ground in the sea of other scents.
When it comes to season, colder temperatures definitely fit the best – fall and spring are perfect seasons for it. You can wear it during summer too, but only during nighttime, as high temperatures during the day will cause the sweetness to be a bit "too much". I wouldn't recommend that you wear The Dreamer during winter as it will basically have no effect – very cold temperatures won't allow it to open and dry down nicely and express all the beautiful chords that it has.
Of course, there's always your personal feeling about it! Test it out, see what works the best for you, listen to people around you, and you pretty much can't go wrong!
How Many Sprays of Versace The Dreamer is enough?
5-6 sprays of Versace The Dreamer should do just the job.
It will allow the perfume to open properly and it won't be too aggressive to your surroundings.
Less than 5-6 sprays is still okay, but mainly it all depends on how you like it. If you are going out to the club, feel free to spray 6 times, if you are going out on a date, then 4 will do just the job. Feel free to test it out, you can't go wrong with it!
Also, if you want to learn how and where to properly apply the perfume, make sure to check out our guide – I'm sure you will learn a ton of new things!
Should I Wear Versace The Dreamer? Is It For Me?
If you are a beginner to fragrances, just starting with your collection and you're looking for something that you can wear in a club, for dinner, or on a date night, then you should get Versace The Dreamer because it's absolutely for you.
However, there are also some other factors that you should consider before deciding is The Dreamer right fragrance for you.
As with all other fragrances that are at the top for decades, you need to know that you will smell identically the same as lots of folks out there. If you are good with that, then go with it, but if you are looking for a more unique fragrance then definitely keep looking.
Also if you are looking for something more punchy (not only on opening), more aggressive, the smell that will project feets away and scream your name then also reconsider getting this fragrance.
The Dreamer is definitely for you if you want a bit more private scent but still punchy and dirty enough to make you smell like a boss.
Frequently Asked Questions
Just like any other fragrance that has been on the market for over 20 years, lots of questions pop up when people start talking about it, especially when they just find out about it. So in this segment, we're going to cover those questions.
Is Versace The Dreamer unisex?
No, Versace the Dreamer is not unisex – it falls into the category of fragrances for men.
Tobacco and amber in the combination with a generally synthetic smell mostly fit the men, as it lacks the softer side to open properly on women's skin.
It wouldn't be the first time that I smell The Dreamer on a girl, but honestly, it just doesn't make any sense because even those who don't know how The Dreamer smells, when they smell it they immediately say it's men's fragrance. It's that obvious.
Packaging, size?
Versace The Dreamer comes in one size, and that's 3.4 oz or 100 ml.
Those who own this fragrance for a long time know that it wouldn't just be right if it came in 50ml size!
Is Versace The Dreamer Discontinued?
No, Versace The Dreamer is not discontinued. As of the last update of this article (January 2023), Versace The Dreamer is still being produced and sold.
It went through reformulations though, but it's still in production.
Where To Buy Versace The Dreamer
Best place to buy Versace The Dreamer is Amazon and FragranceNet.
You can rest assured that if you get your bottle of Versace The Dreamer from Amazon or FragranceNet, you will most certainly get the original one.
Summary
Many readers told me that The Dreamer was their signature scent back in the day and whenever they smell that beautiful scent it brings back beautiful memories – and that's what perfume should be all about!
The Dreamer proudly represents the time when fragrances and perfumes were in one of their biggest expansions when new notes and new "ways" of making fragrances were invented.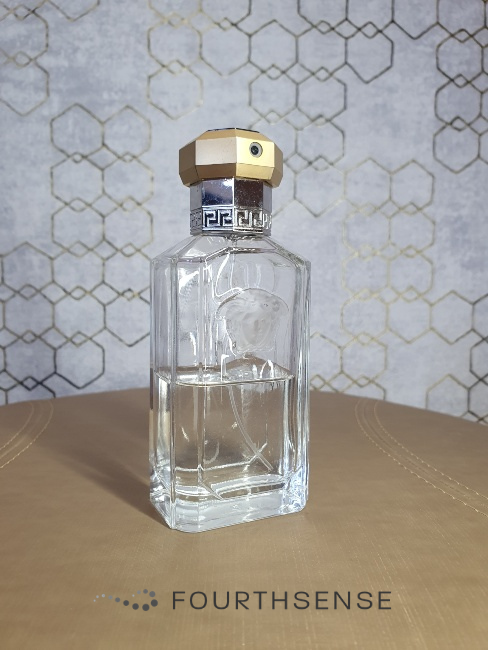 It smells beautiful, it has moderate longevity, not so good projection and sillage, but it still does an amazing job at getting you compliments.
If you are just starting with this collection, The Dreamer will definitely be an important piece of history one day, and you should definitely have it.
Or you're just looking for an inexpensive fragrance for nighttime? Well, again, The Dreamer would be just the solution!
What are your thoughts on The Dreamer?
Do you like it?
Let me know in the comments!
We are sorry that this post was not useful for you!
Let us improve this post!
Tell us how we can improve this post?