Tom Ford's Lost Cherry, Carolina Herrera's Bad Boy, Ex Nihilo's Lust in Paradise… Those are just a few of the most popular fragrances magnificent Louise Turner created, and her only creation for house of Dior is one of the best-selling fragrances Dior currently offers.
Miss Dior Blooming Bouquet is a flanker of the Miss Dior line that Dior presented in the first months of 2014 and it's safe to say that since then it dominates the world of floral fragrances for women.
Miss Dior line tells a tale about Catherine Dior, a French resistance fighter, and a very sister of one of the most popular designers in history, Christian Dior.
This flanker, Miss Dior Blooming Bouquet, is an ode to love.
But is it worth it in 2023 after reformulation?
*** Batch tested: 2F02, 3B02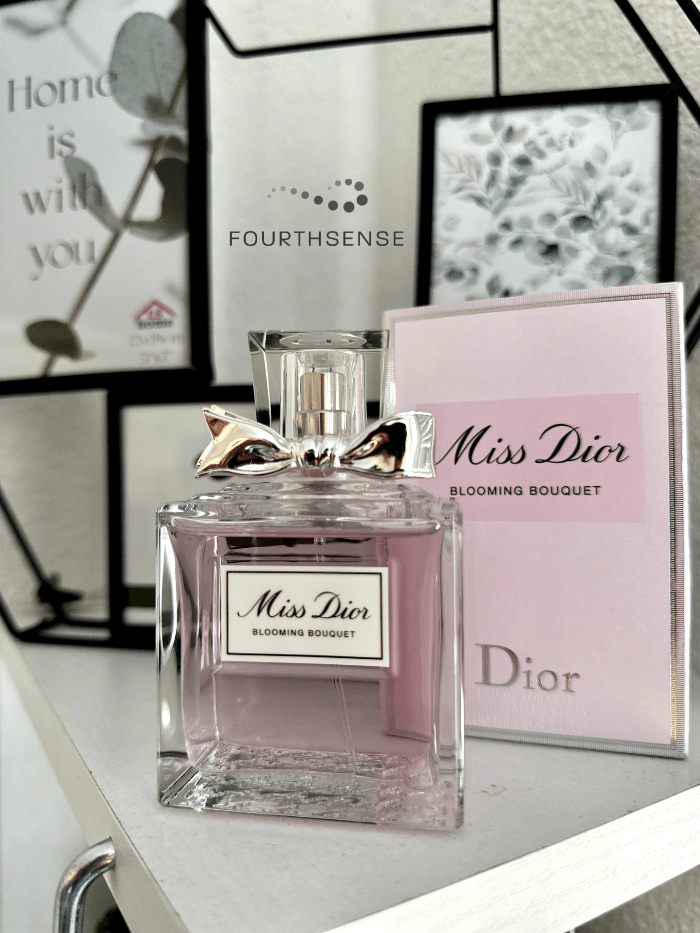 What Does Miss Dior Blooming Bouquet Smell Like?
Miss Dior Blooming Bouquet smells exactly like a bouquet of freshly blossomed flowers. The scent is very feminine and floral, whereas peony and rose notes dominate the entire composition.
According to Dior, notes pyramid looks like this:
Top notes: Bergamot essence
Heart notes: Damascus Rose, Peony
Base notes: White Musk
Now, after seeing the notes pyramid, one can't help to wonder – how does it smell on a flower bouquet when there are only two flower accords there?
Even though Dior disclosed only bergamot in the top notes, I found other sources that claim that the opening has Mandarin as well.
After the very first spray, it's clear that opening has much more juiciness than bergamot alone has, but it's hard to distinguish what exactly is there as well.
Either way, the opening is sparkling and citrusy, not too aggressive, and a perfect introduction to the flowery accords in the heart.
Right after the initial opening passes, the first hints of pink peony and rose can be sensed and that's exactly where the scent starts blooming.
Certain sources say that there's apricot and peach in the heart notes as well, and truth be told, slight fruitiness can definitely be sensed in the drydown.
However, rose and peony play the main role throughout the entire lifespan of the fragrance.
White musk from the base supports the entire composition and gives it a sensual, powdery, and smooth touch, rounding the entire composition with softness.
Peony and rose are a combination that is often used in feminine floral fragrances, but combined in this ratio and mixed with slightly fruity accords gives a unique identity.
Sure, it might remind you of some fragrances with the same combination like Parfums de Marly Deline La Rosee, but rest assured that Miss Dior Blooming Bouquet is unique enough to be recognized when someone is wearing it and not mixed with others.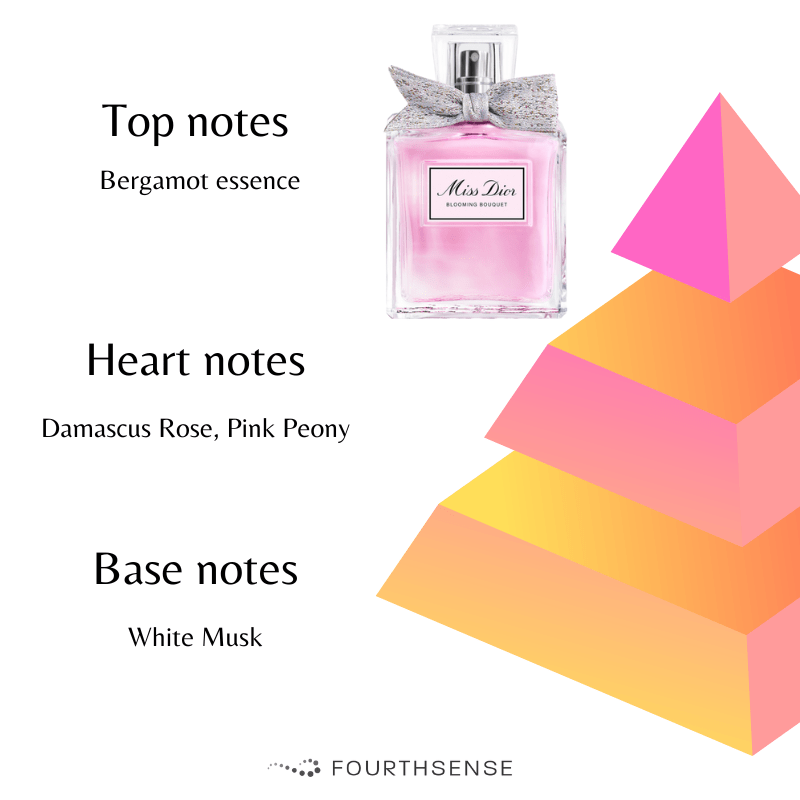 Overall, the entire scent is light, flowery, sensual, and safe to say, sexy. It's sexy in a sophisticated manner, not provocative. It will most certainly exaggerate your feminine side, and give that seductive vibe to your aura.
Miss Dior Blooming Bouquet still represents the standard among floral fragrances for women, and even if you're not a rose accord fan, this one might blow your mind as the scent is not overly aggressive and rose-dominant. It literally smells like a bouquet of flowers!
It's also safe to say that this incredible perfume is mass-appealing with a huge compliment-getting factor which makes it a safe blind buy.
How Long Does Miss Dior Blooming Bouquet Last?
On average, Miss Dior Blooming Bouquet lasts 6 hours, while projecting well for the first 2 hours.
This fragrance isn't a performance beast, but longevity, projection, and sillage are average, which is, considering the price and category, just fine.
I've seen people report a few hours of longevity, while some report over 8 hours, which means that just like with any other fragrance, it depends on your skin.
6 hours of longevity is standard for occasions this fragrance is made for, but if you want to improve that, you can try some tricks we talked about in our post 13 ways to improve the performance of your fragrance.
Projection of 2 hours is also a standard just like moderate sillage, as Miss Dior Blooming Bouquet wasn't created to dominate the space around you.
The performance of fragrance is always subjective taste, but from an objective standpoint of view, average performance fits perfectly Miss Dior Blooming Bouquet.
How Many Sprays of Miss Dior Blooming Bouquet Is Enough?
In order to achieve optimal performance and longevity, 5 sprays of Miss Dior Blooming Bouquet are just enough for the perfume to reach its highest potential.
Bear in mind that spraying multiple times on the same spot will not cause the fragrance to have better longevity.
In addition to this, I'd recommend that you avoid over-spraying Miss Dior Blooming Bouquet as the rose might become too much, especially during projection hours.
Sometimes less is more, so in this case you can follow the standard rule of applying one spray on each side of your neck, one spray in each dip of your collarbone, and one behind your head.
Those pulse points will do just fine and will provide you with optimal performance of the fragrance.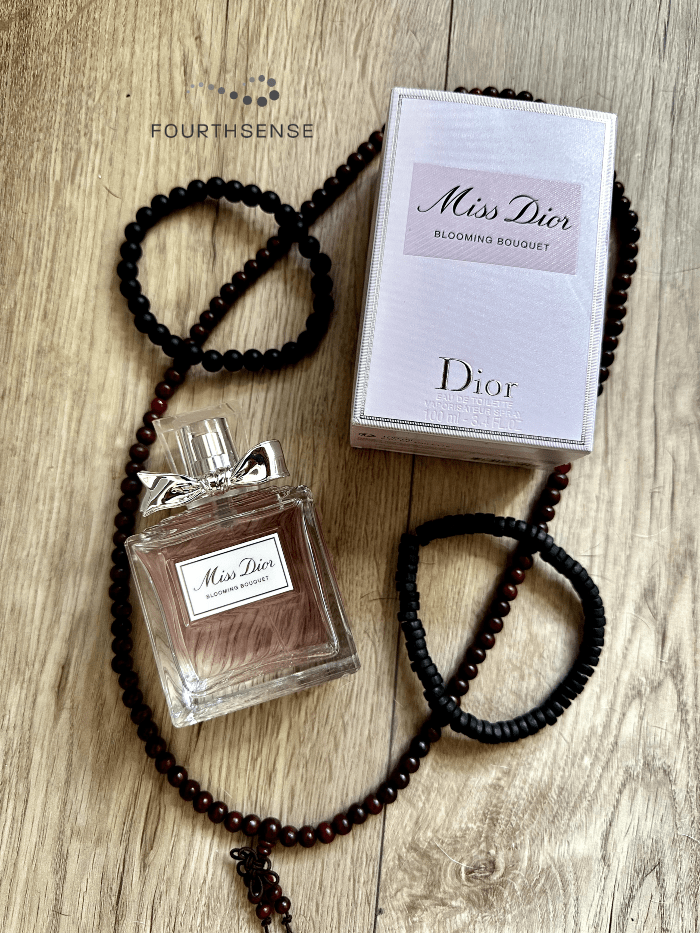 When To Wear Miss Dior Blooming Bouquet?
The best season to wear Miss Dior Blooming Bouquet is spring and summer during the daytime. When it comes to occasion, it can be casual wear or even special occasion.
Since you can't find many roses and peonies during cold winter and since the name is "Blooming Bouquet", it's safe to assume that flowery scent will fit much better into warmer spring and summer days.
Besides that, this fragrance doesn't have the weight and density to work properly during cold temperatures, so recommended wear is for any weather above 65°F.
Blooming flowers color the spring and summer days and so does Miss Dior Blooming Bouquet with its magnificent scent.
You can wear this perfume basically anywhere, as it can easily be a signature scent.
However, knowing the scent, I would recommend using it during a bit more formal daytime occasions.
Since the scent is sophisticated, classy, and a bit seductive, casual wear to the store doesn't make much sense, but if that's the impression you want to leave there, go for it!
It's always best to test where it works best for you and decide for yourself.
Was Miss Dior Blooming Bouquet Reformulated?
Yes, Dior reformulated Miss Dior Blooming Bouquet in the beginning of 2023 where slight changes in the scent were noticeable along with details on the bottle.
First Miss Dior Blooming Bouquet was more oriented towards peony, where that accord radiated with a more clean floral feel.
The new Miss Dior Blooming Bouquet is a bit sweeter thanks to the fruity notes in the background of the heart, and the entire composition feels a bit more musky.
In general, when it comes to the scent, there were no major changes – if you loved the initial Miss Dior Blooming Bouquet you will definitely love the new one, if not even more.
This is definitely not one of those huge reformulations Dior did with other lines (such as Homme), but a slight adaptation to modern times with a slight alteration in recognizable DNA.
After testing both versions, it seems that the new version has a bit better performance, but I can't tell for sure. They are not far from each other, but sweeter and more musky accords seem to linger more.
When it comes to the bottle, the ribbon has been changed, where the old bottle had a metallic ribbon while the new one has a different ribbon that we'll talk more about in the section below.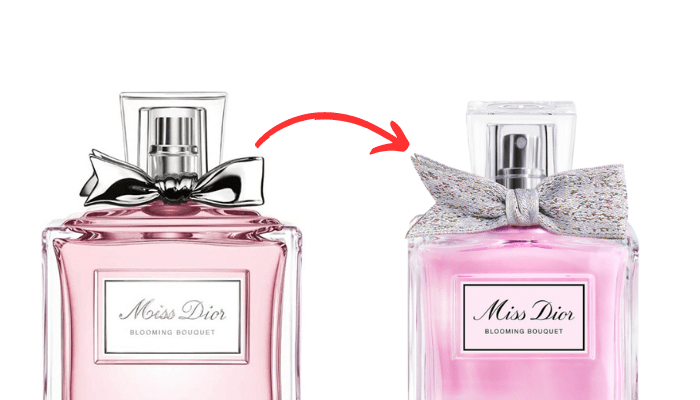 As you probably know, reformulations usually go south, but in this case, Dior did it just fine!
Where To Buy Miss Dior Blooming Bouquet?
The best place to buy Miss Dior Blooming Bouquet is Dior's department store, or if you're buying online, the best option is to get it on FragranceNet.
If you ever visited any of the reviews we're doing here at Fourth Sense, you know that we always advise that you visit local perfumery or an authorized reseller of the brand in other to ensure that you will get the original bottle, and in addition to that, you have the benefit of testing the fragrance before buying.
However, if you prefer online shopping there are a few places where you can buy original Miss Dior Blooming Bouquet.
The one I personally would recommend is getting it from our Fourth Sense Shop – we partnered with the most reliable fragrance suppliers in the US and did our best to make the original fragrances affordable to everyone, so definitely check out our shop!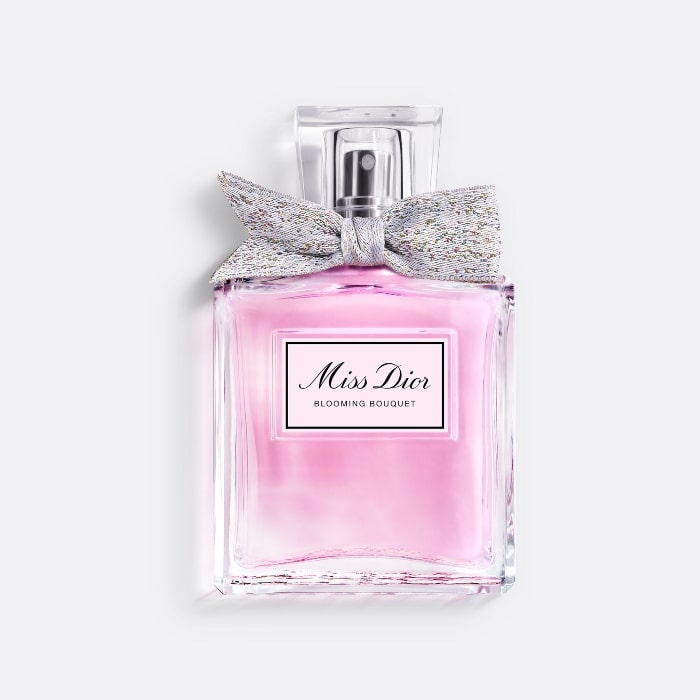 Besides our shop, FragranceNet has always been our partner, and they proved themselves to be trustworthy so many times. They've been in the scent game for over 2 decades, and they are super reliable. Their prices are a bit higher, though.
Another option is to get it from Amazon:
A few other safe options where you can get Miss Dior Blooming Bouquet are Sephora, Fragrance X, and Notino (if you're in the UK).
Always be super cautious when buying fragrances online, as there are a lot of scams and fake perfumes that are not tested on human skin. Always buy from trustworthy sources.
Packaging
Miss Dior Blooming Bouquet comes in a simple pink box where the title is led by "Miss Dior" heading in recognizable font, and "Blooming Bouquet" writing under the heading, as the name of the flanker.
Legal information along with batch code are on the bottom of the box.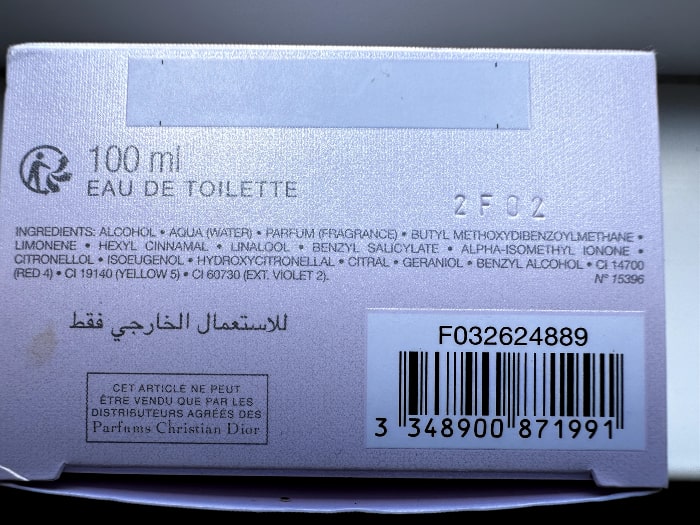 The bottle is made out of transparent glass and the liquid inside is pink.
Between the cap and the bottle, there's a ribbon with a special story, but in this case, we'll just quote Dior: "This ingenious jacquard bow, inspired by a bouquet of a thousand colored flowers, was crafted in the guarded workshops of one of the most renowned French ribbon-makers: Maison Faure, founded in 1864."
This is a true example of a simple, elegant, and clean presentation of the perfume.
Miss Dior Blooming Bouquet comes in 4 different sizes:
30 ml
50 ml
100 ml
150 ml
Conclusion – Is Miss Dior Blooming Bouquet Worth It?
Considering the uniqueness, mass-appeal factor, complement factor, and performance, but also the price and the story behind the scent, we can safely say yes, Miss Dior Blooming Bouquet is definitely worth it in 2023.
Yes, there are many other fragrances that have a rose and peony combination as the main accord, and yes some are even cheaper, but the truth is that if you wear Miss Dior Blooming Bouquet, you will have a unique DNA.
I'm saying that because lined up among similar fragrances, I would be able to identify this one without any trouble.
Pricepoint is also solid – it's not the best bang for the buck and certainly not the cheapest one out there, but it's also not crazy expensive. In my personal opinion, it's worth exactly what it should be worth.
If you love floral scents then this is a no-brainer and definitely a safe blind buy that can't go wrong.
After testing it on multiple occasions, me and my team even decided to include it on the list of best summer fragrances for women in 2023, which is a pretty big deal as we tested over 100 different fragrances for that list.
However, I'm more than interested to hear your thoughts about it!
Have you tried it before?
How do you like it?
Let's chat in the comments below!
Cheers!
We are sorry that this post was not useful for you!
Let us improve this post!
Tell us how we can improve this post?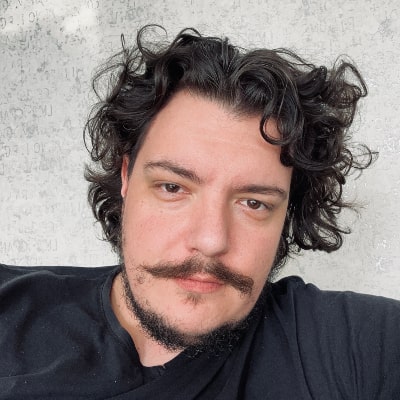 Vladan X is a founder of Fourth Sense and fragrance expert. He reviews only fragrances he owns personally, and his collection currently counts between 100 and 150 fragrances. Even though Vladan reviewed hundreds of perfumes he still didn't find the one he would call "signature" fragrance. He's still searching for that one, and in the meantime, he writes the best in-depth fragrance reviews internet has ever seen! You can read more about Vladan X here!