I've been waiting to make this review for AGES! It took me a while to get it, and once I did, it took me a few days to test and I can definitely say that this is one of the best fougeres that I've smelled in my life!
Elysium Parfum Cologne was released by Roja Parfums in 2017 and shortly it became one of the best niche fragrances in the world. The creator of Elysium is also the owner of Roja Parumfs – Roja Dove.
I've always admired the passion Roja has and the way how he connects incredible stories with scents is just mind-blowing. His creations are some of the best in the world and it's truly an honor to own a fragrance that's going to become a valuable piece of history one day.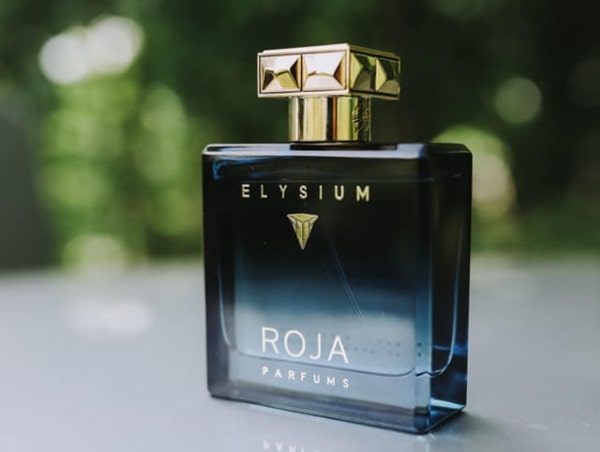 In this post, we're going to cover one of his best (if not THE best) creations – Elysium Parfum Cologne, which also made it on our list of best spring fragrances for men in 2023.
---
Buy Elysium Pour Homme Parfum Cologne by Roja Parfums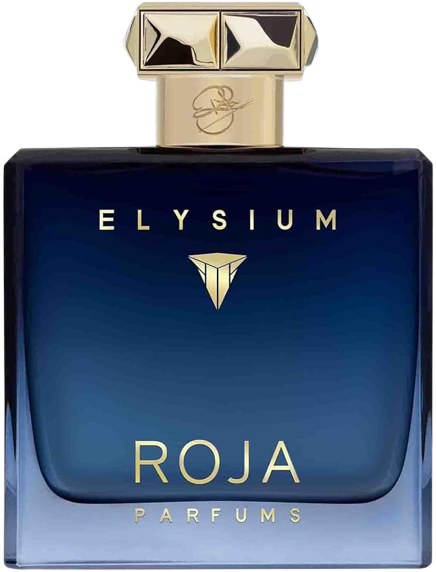 ---
What Does Roja Elysium Parfum Cologne Smell Like?
Overall, Elysium Parfum Cologne smells like fresh, dry, citrusy, and very masculine scent and the main notes that you can smell right away are grapefruit, vetiver, ambergris, and lime. Absolutely beautiful fresh fougere!
Elysium Parfum Cologne is an extremely complicated scent, very well blended, and definitely one of those scents that evolve so much like it's telling a story – and it is.
Notes pyramid is huge and there's a ton of ingredients (1). Top notes are:
Grapefruit
Lemon
Lime
Bergamot
Thyme
Artemisia
Galbanum
The opening starts as crisp, fresh, and dynamic with an amazing burst of lime and grapefruit which are reinforced with pink pepper. In the opening, you can also slightly feel a special type of musk that works like a top note even though it's in the base, and it's the only musk in the world that performs that way.
After Elysium Parfum Cologne gave a good first impression and opening time closed, you get to the place where true magic starts – the heart of the perfume. Heart or middle notes are:
Vetiver
Juniper berries
Lilly of the valley
Cypriol Oil
Black Currant
Jasmine
Apple
Rose
Pink Pepper
Cedar
Base notes are:
Ambergris
Labdanum
Vanilla
Benzoin
Leather
A combination of heart notes is just stunning. Vetiver and grapefruit would be the only note that you could detect while others are mixed in such a good way that's almost impossible to figure them out. Overall, after initial opening passes and you get to the heart notes, you Elysium Parfum Cologne starts smelling like fresh lavender combined with a touch of floral-fruity combination.
Since there's no lavender in the heart notes, the combination of heart notes gives that lavender-like accord that you can sense – just another proof of just how genius Roja Dove really is.
Some of the notes were used not for their particular scent, but to help other notes blend in or stick out. Just like I've said, pink pepper was clearly used just to give the extra burst in citrus in the opening, not for the actual pink pepper scent.
This beautiful heart sits on the very masculine base and combines beautifully with it – vetiver and ambergris are playing tango for hours and telling a story about heroism.
Why heroism? Well as I've said previously, Roja is fantastic at combining stories and scents. And Elysium is a story of heroes. But I'll tell you about that a bit later.
How Long Does Elysium Parfum Cologne Last?
On average, Elysium Parfum Cologne lasts for about 6-7 hours before it turns into a skin scent. Some people reported they had around 4 hours of longevity, on the other hand, some reported 12+, but I got a solid 6 hours on my skin, without any drops in performance.
When it comes to performance in general, Elysium Parfum Cologne is solid.
Lots of people say it's a waste of money because $400+ fragrance doesn't last longer than 6-7 hours on average, but I believe that's totally missed point. 6-7 hours of daytime fragrance is the standard and price shouldn't be related to it because, in the end, you're paying for a whole lot of things before longevity.
In terms of projection, Elysium Parfum Cologne projects for 4-5 hours without any problems. It's projecting for about 3 feet around you and sillage is moderate.
Bear in mind that these numbers always depend on your skin. It's common that some fragrances work amazing on your skin while someone else doesn't even get half of what you get and the other way around. We are all different and so are the fragrances in combination with our skin.
Overall, performance is an industry-standard.
For me personally, nothing more is needed out of daytime fragrance.
When To Wear Elysium Parfum Cologne?
The best time to wear Elysium Parfum Cologne is definitely over spring or summer days, during the daytime.
Warmer days work beautifully with these fresh and citrusy notes and the masculinity that ambergris and vetiver are giving makes it even better in that combination!
You won't make a mistake if you decide to wear it during nighttime – Elysium was made out of high-quality ingredients and it will work whenever and wherever.
When it comes to where to wear it, I'd say any occasion is good. I personally love to wear it during daytime business meetings, but if you want to wear it when going out on a date night, put it on, and it will stick with you even after midnight!
Just make sure to avoid wearing it over winter or cold days during the fall because it will never get the chance to open properly, and you might not get the best out of it.
How Many Sprays of Roja Elysium Parfum Cologne is Enough?
Elysium will perform just fine with only 3 sprays – 2 prays under your ears and 1 on the back of your head, and that should be enough for optimal performance.
Since we're talking about extremely potent fragrance there's no need for spraying it all over… everything. I tested many variations and turned out that I got the same results with 3 sprays and 7 sprays.
You won't make a mistake by applying 7 or even more sprays, but you're just wasting this beautiful perfume. 3 sprays are all you need.
The best option is always to test what works for you best. Maybe 3 sprays will give you 12+ hours of monstrous performance, or you won't even get 4 hours with 10 sprays. Test it out, see what works for you, and adopt it as the general rule!
However, just make sure you don't apply multiple sprays on the same spot – this will cause the fragrance to take a longer time to open, and you won't get any better performance. If you want to learn what's the best way to apply fragrance and how definitely check out this article!
Where to Buy Roja Elysium Parfum Cologne Pour Homme?
The best place to buy Elysium by Roja Parfums is definitely Roja's online store, Amazon, or physical perfumeries who are Roja Parfums authorized resellers.
Not so many physical stores out there have Roja Parfums because Roja is a niche, luxury, and prestigious brand. There are some locations that are Roja Parfums authorized resellers and you can check all those locations here on the Roja Parfums website.
---
Buy Elysium Pour Homme Parfum Cologne by Roja Parfums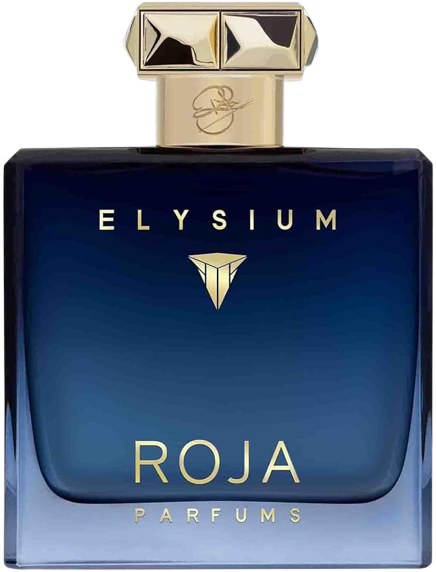 ---
Do NOT buy Roja Parfums from a store that is not an authorized reseller because there's a good chance that you will get scammed, and end up with a fake fragrance.
If the locations of authorized resellers are not near you, you can always safely buy online. I recommend getting it from Amazon from a trusted source like the one we linked above or getting it Roja Parfums official website.
Also, make sure to avoid sketchy websites that sell it under the price because they are selling fakes in 9/10 cases.
Packaging
Roja Parfums is a luxury brand and the packaging of Elysium is nothing less than a luxury.
Elysium Parfum Cologne comes in a beautiful navy blue box with a Roja Dove logo and at first sight, it just looks so premium.
When you pull the fragrance out of the box, you get the perfume in one of the most beautiful bottles that I've ever seen. Golden cap with Roja's autograph and the fading blue bottle. Absolutely premium look!
Elysium Parfum Cologne comes only in 100 ml (3.4 oz)
Why is Elysium so Expensive?
I have no problem with fragrance being super expensive as long as the quality is top-notch – and when it comes to Elysium Parfum Cologne, it definitely is.
Elysium Parfum Cologne is expensive because it's made out of top quality natural ingredients and by buying it you're not just buying the liquid – you're buying Roja's fragrance, you're buying a masterpiece of art and you're buying a story that this genius perfumer worked on for a very long time.
When it comes to the quality, Roja always makes eau de parfum formulations, and he said multiple times that his fragrances contain at least 25% of fully natural ingredients which is considered as top quality because natural ingredients are super expensive (e.g. 2 pounds of oud is around $40,000.00!)
When it comes to the brand – Look at it as a collectible item. Once this fragrance stops being produced, the price will go even more up. Why? Because that's how it works when the artist creates one of the best pieces of his life.
I love Roja because he's a perfumer who is also the owner of his perfume house brand, and that's not very often in the world of fragrances. Even though I'm quite sure he has all kinds of experts around him, he definitely does the heavy lifting – creating.
I see lots of people online not liking the idea that any fragrance should be that expensive, and I understand that, but I beg to differ.
Every artist has a full right to set the price on his piece of art, and it's perfectly fine as long as the quality is delivered.
If we speak about the performance of the fragrance, that's something the perfumer decided how it will go! Roja could easily make it a lot stronger or a lot weaker. He decided this performance goes along with the story of this fragrance!
That means that he creates his art any way he wants – performance, just as chords and notes, tell a story about something. So in my opinion, no one, including me, can't tell an artist how to create his art!
Conclusion — Philosophy and Inspiration Behind Elysium Parfum Cologne
In one interview Roja talked about the inspiration behind making Elysium Parfum Cologne.
Inspired by the movie Gladiator, the scene where Maximus dies and goes into heaven where his family awaits, Roja started thinking about two things – heroes and heaven.
What is heaven for us? For someone that may be their family, for someone it's just Sunday off, while for others it's a philosophical point that represents final destination – anyway it can be thousand of things. But when imagining it, you see yourself watching up, to the sky, somewhere in the distance, completely absent from reality around you. Roja wanted to capture that daydreaming moment.
Roja was also thinking about heroes. When we say "hero" we usually imagine a male figure – it can be a Spiderman, Batman, your father, your brother… The hero is usually someone you admire and look up to. In Gladiator, Maximus ended up as a hero to many, but first and foremost, he was a hero to his family. Roja wanted to capture the masculinity of a hero.
Therefore name for this fragrance — Elysium is one of the oldest words for paradise.
For the end, I'll let Roja sums it up as I believe this is truly the best way to describe Elysium:
"A scent created for a man who needs no help in reaching his Elysium, his paradise."
Did you try Elysium? What do you think about it?
Let me know in the comments!
Cheers!
We are sorry that this post was not useful for you!
Let us improve this post!
Tell us how we can improve this post?