Inspired by high altitudes of the snowy Swiss Alps and Oliver Creed's fondness for skiing, in 1995, Creed house surprised the audience with the freshness of high mountains and windy glades and represented one of the most complimented Creed's fragrances of all the time – Silver Mountain Water.
Back in 1995, Silver Mountain Water was one of the most abstract fragrances from this house, and even now, 27 years later, it still carries that name.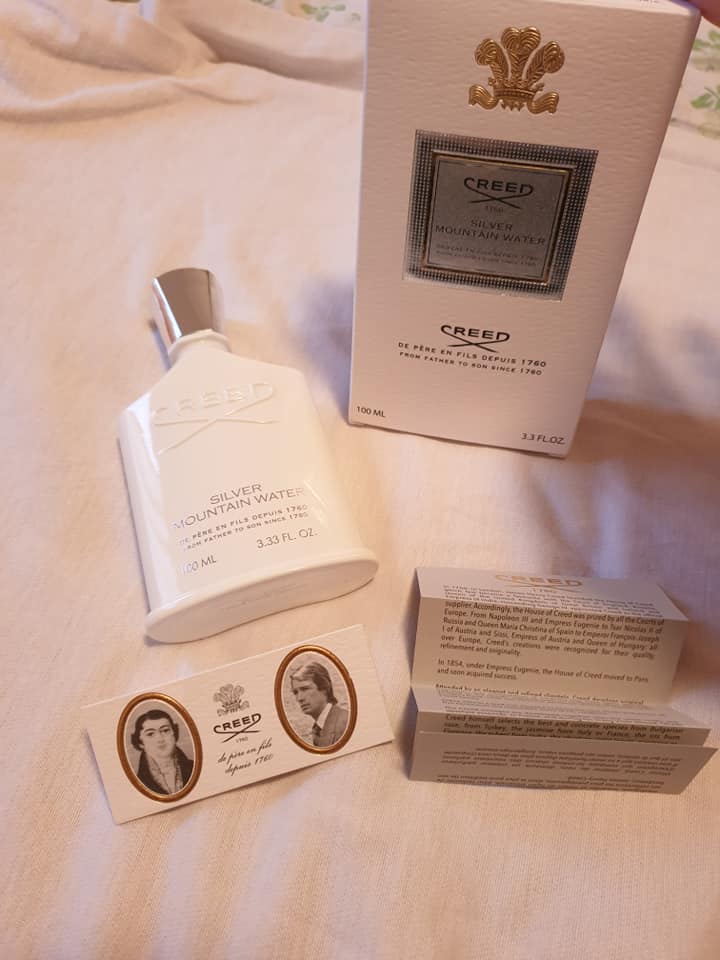 Creed fragrances are known for having fresh and high-quality ingredients and most of the time, once you smell their fragrance, you automatically get that one overpowering note (like in the case of Aventus and its pineapple note) but once I smelled Silver Mountain Water soon did I realize that was not the case.
The blend is incredible, the freshness is outstanding, the quality of notes is incredible, and even after all these years, this fragrance can definitely get you at the top of the Swiss Alps' highest peak.
But is it worth it?
What Does Creed Silver Mountain Water Smell Like?
Creed Silver Mountain Water smells like a burst of green tea (dominant note) with a combination of a citrusy combo of bergamot and mandarin orange. After dry down, the scent continues to be extremely fresh with a beautiful musky background.
According to Creed, notes of Silver Mountain Water are:
Top notes:
Heart notes:
Green Tea
Black Currant bud
Base notes:
Before we break down the actual scent of Silver Mountain Water bear in mind that Creed house is known to have different batches, which means that the batch I'm smelling might now smell as the batch you will buy or the one you currently possess. Differences in scent and performance are minor, but existing. Consider this review an expert breakdown but still subjective opinion, as all noses in this world are different (meaning you may find it smell like something else).
The opening welcomes you with green tea but combined with top notes mandarin and neroli you also feel the citrusy punch but still very smooth.
I can safely say that it's one of those fragrances that are beautifully blended and many people say they got a metallic scent from it. I can see where they are coming from because in certain moments it gets a little bit metallic and I suppose it can be because of the black currant and green tea combo, but I don't find it weird at all. In all honesty, it smells very great and even that metallic touch made this scent even more delightful and unique.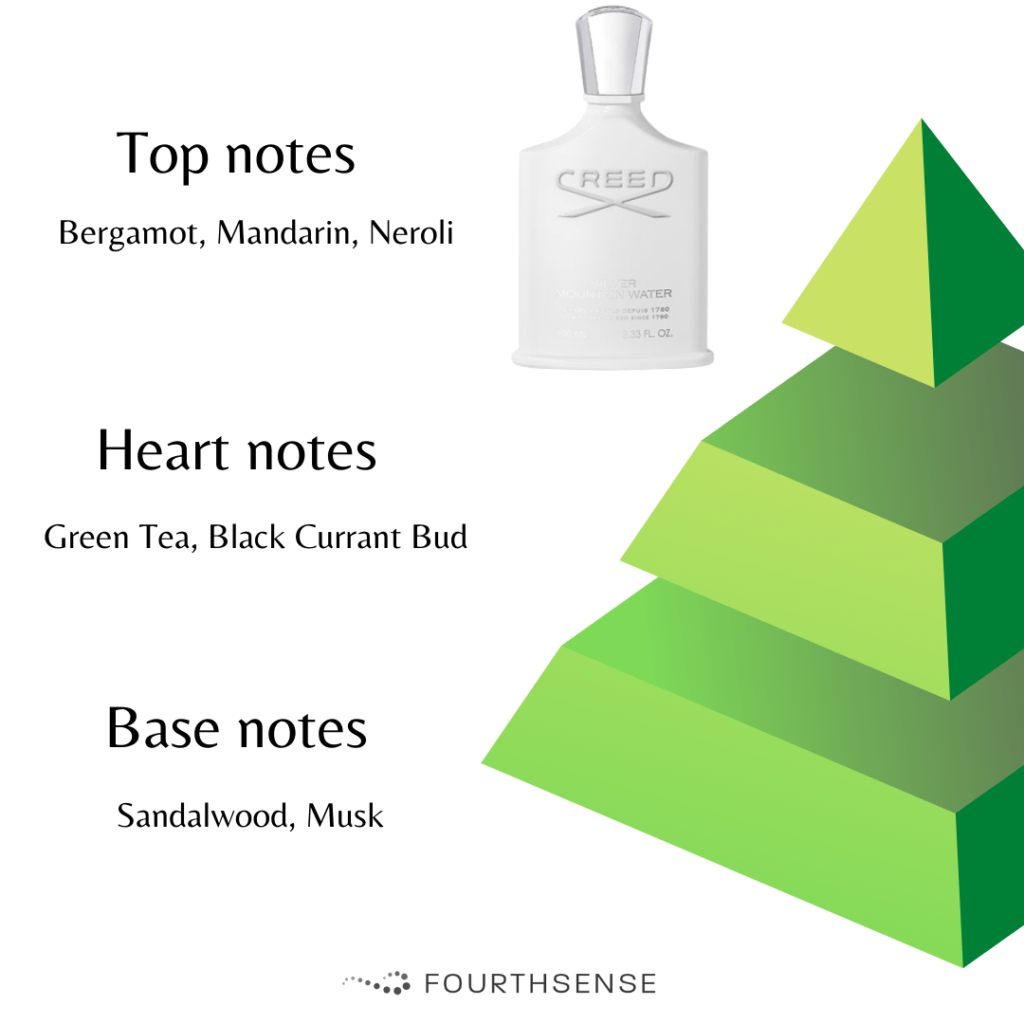 After about ten minutes, black currant and musk are kicking in and the scent becomes more greenish, smoother, and chilly — the base really dives depth to the entire scent. Green tea stays present in the dry down as well, but it starts fading away after a while.
In the final dry down, you can smell sandalwood base with musky effect, and throughout the whole lifespan, the Creed Silver Mountain Water keeps that herbal, green, fresh, clean scent with a soft touch of woodiness from the base.
All in all, it smells very good. Every fan of fresh and green bombs will most certainly find its cup of tea in Creed Silver Mountain Water.
It is categorized as a unisex scent, but if I had to decide I would probably say that this snowy freshness is 60% masculine and 40% feminine. Still, I think any woman can pull it off.
Creed Silver Mountain Water will awaken your imagination and like almost every other Creed's masterpiece.
How Long Does Creed Silver Mountain Water Last?
Creed Silver Mountain Water has above average longevity and it will last from 7 to 8 hours. In the terms of performance, it projects great in the first 1 to 2 hours and sillage gives a few feet trail of scent behind you.
There are not many Creed fragrances that will last for eternity and that's something that shouldn't be expected from Creed. Unlike Aventus, Creed Silver Mountain Water has an average or a little above the average longevity and it will make you smell delicate for 7 to 8 hours tops.
The longevity can also depend on your skin but I do not think you will get more than 9-10 hours in case your skin reacts great to this scent. You can always try to improve the longevity of the fragrance by following our 13 ways to get the most out of your perfume.
The projection in the hour or two works great and that is the period when you will most certainly get a ton of compliments — it's definitely a scent made for crowded places in case you want to grab all the attention to yourself.
With that being said, it's unnecessary to say that silage is extensive and you will leave traces a few feet behind yourself which will also produce compliments wherever you step your foot. Just as projection, strong sillage lasts for about 2 hours, and eventually starts fading away.
Bear in mind that Silver Mountain Water came out 27 years ago and that there are many fragrances that will have better performance than this one, but its unique scent gives it an opportunity to stay modern and largely used by the population
When To Wear Creed Silver Mountain Water?
The best time to wear Creed Silver Mountain Water is during higher temperature days (summer and spring) since the scent as fresh as this one works best on those days. In terms of occasion, Creed Silver Mountain Water is most definitely a daytime fragrance for casual activities or even office hours.
Since this fragrance is highly herbal and fresh, I don't see anyone wearing it during colder days which is kind of funny since Oliver Creed was inspired by the frostiness of the Swiss Alps. However, he did succeed to manifest that chilly and cool effect with green notes coming from the pure nature itself.
Versatility is definitely leaning toward wideness, and there are very few occasions I cannot picture myself wearing it. It's a great choice for most day-based activities, it can be a good gym fragrance or scent you pull off for casual walks or coffee breaks.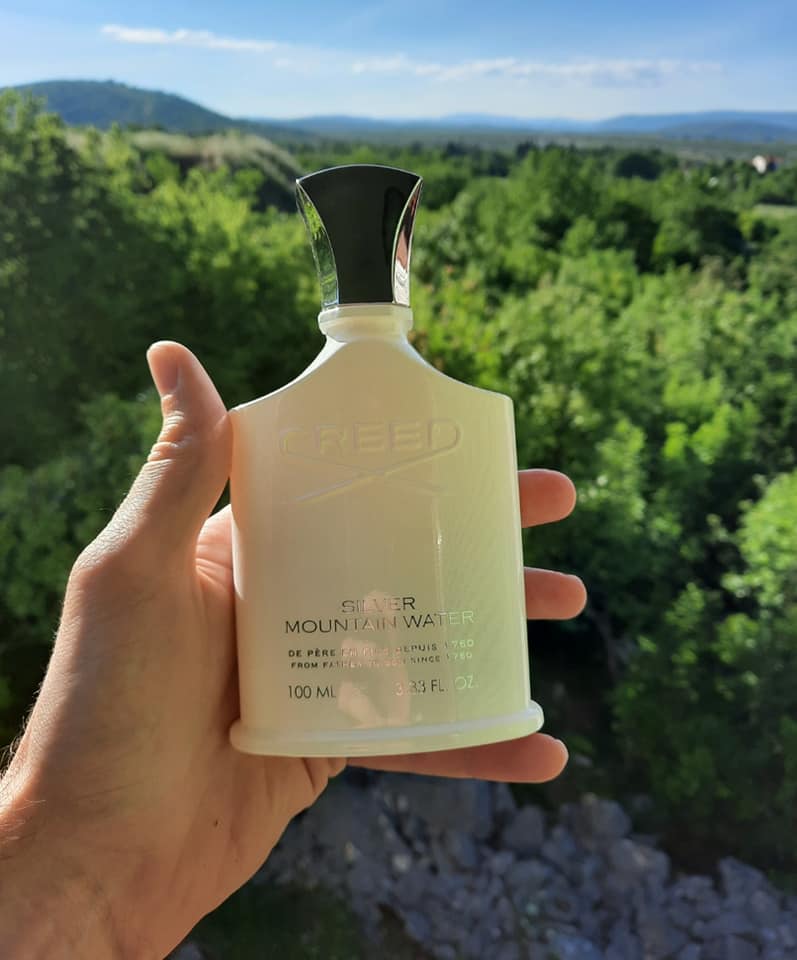 I have never worn Creed Silver Mountain Water in the evening or night-time and I don't think it is the optimal choice for night occasions, it is addicting, it is smooth and light but it will not give you that dark, mysterious, leathery type of feelings you expect from night fragrances.
I can safely say that this fragrance is made for everyone and Creed house has a habit of making ultra-versatile scents, which I really adore.
That's why I always say that Silver Mountain Water has an ageless construction and it doesn't matter if you are 20 or 60 years old, feel free to apply it and wait for a volcano of compliments.
How Many Sprays of Creed Silver Mountain Water is Enough?
Around 6 to 7 sprays of Creed Silver Mountain Water will be enough for getting the best from this fragrance — since it's a very light, smooth, and fresh scent, you can freely apply more than usual.
Creed Silver Mountain Water radiates with the freshness of the Swiss Alps and it is a very light scent that is almost impossible to turn into an aggressive, offensive, annoying type of fragrance. Even though it has a great projection for around 2 hours after applying it, it is a well-rounded scent and there is just a tiny chance you will overdose with it.
The recommendation is to spray Creed Silver Mountain Water, or any other fragrance as well, on your pulse points since those are the places where your skin is warmer and the perfume will last longer and project better on those spots.
With that being said, apply 2 sprays behind your ears, 2 in the dip of your collarbone, 1 behind your head and you can apply 2 sprays on your wrists. For proper application, make sure to distance the atomizer for about 4-6 inches from the skin.
If you want to know more about the proper ways how to apply any fragrance for the best performance, you can check this post out.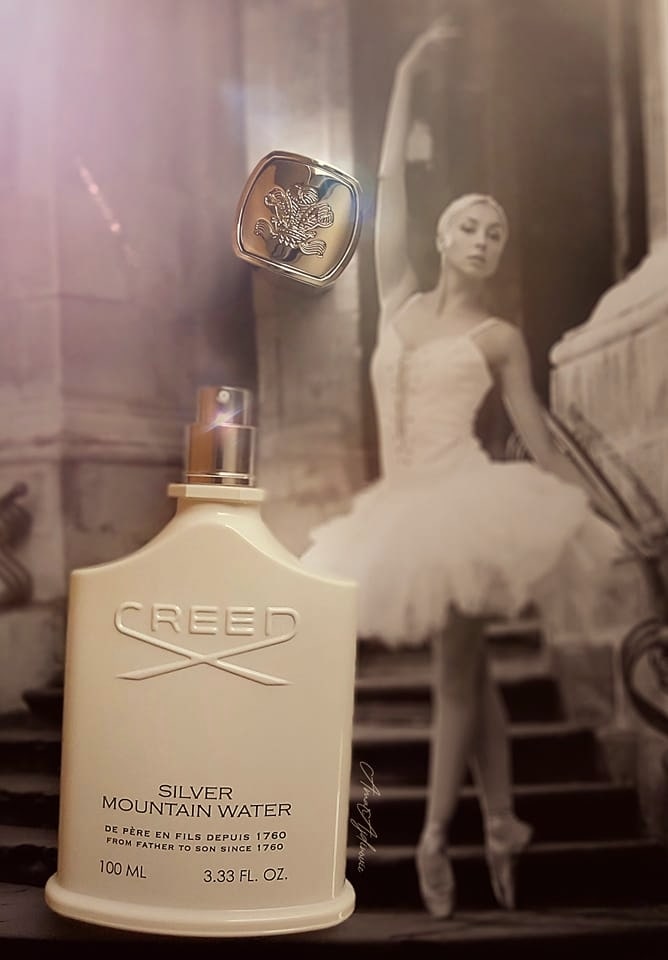 Where To Buy Creed Silver Mountain Water?
The safest choice for getting the original Creed Silver Mountain Creed is local perfumery that is an authorized reseller of Creed house or Creed Boutique itself. If you want to buy online, you can do so by visiting Creed's official website, FragranceX or FragranceNet.
As you probably already know (hopefully not from personal experience) Creed is one of the most copied fragrance houses of all the time and you can find clones of every Creed fragrance everywhere on the market. That is why being super careful is a must when it comes to purchasing Creed Silver Mountain Water and making sure you are buying it from trustworthy sources.
Of course, the best option would be to visit the local perfumery that is an authorized reseller of Creed house, test it on your skin, see how will your nose react to it, and then make a decision.
Because of the times we are going through right now, many of us will go with the online shopping option, and in that case, make sure you buy from trusted sources — Creed's official website, FragranceX, or FragranceNet. You may find different prices on all 3 sources, but shipping times also vary — in any case, if you get Creed Silver Mountain Water from any of these 3 sources, rest assured that you're getting 100% original.
Packaging
Created in 1995, and it still holds that classy look — Creed Silver Mountain Water comes in a white, porcelain bottle that has a simplistic and classy look, wrapped in a beautiful, standard Creed box.
The box and the bottle itself have been changed over the years, so the initial box had embossed Creed's logo all over the package with a silver label stuck on the front side — the bottle also looked different than how it looks today.
Nowadays, Creed Silver Mountain Water is wrapped in a white, textured box, that also has a simplistic vibe to it and contains a silver Creed logo with a silver label on the front side.
The cap on the new bottles is silver and has the Creed logo on top of it, it also looks very clean and interesting at the same time. Same as every Creed scent, this one also has a beastly atomizer.
All in all, minimalistic but decent presentation as expected from Creed house.
Available bottles are:
50ml / 1.7 OZ
100ml / 3.33 OZ
250ml / 8.4 OZ – different, golden packaging
500ml / 16.8 OZ – different, golden packaging
Summary — Is Creed Silver Mountain Water Worth It?
Considering the scent, performance, history, brand, but also the price, the only true answer to this question is — it depends.
If you're looking to buy a casual everyday fragrance that smells beautiful, it's definitely not worth it as you can achieve that with much cheaper fragrances. However, if you want to possess the piece of history and enjoy the story of the Swiss Alps, then Silver Mountain Water is definitely worth it.
Creed has always been a controversial company, because of the batch differences, price, and performance overall. Yes, Green Irish Tweed, Aventus, Viking, are all incredible perfumes, but if we talk about the quality of scent and performance of the fragrance, none of them are actually worth it.
Having the Creed fragrance, however, has always been a status symbol and from that point of view, it's like buying Mercedes Benz. Much better cars out there, but when seen in Mercedes, that's a story for itself.
So it depends on what are you looking for — something to smell amazing or to be recognized for what you're wearing?
As a collector and someone who studies fragrances for almost a decade now, I have Silver Mountain Water, and I had multiple batches over the years. But when I want to smell REALLY good, for daytime activity, truth to be told, Silver Mountain Water isn't my first pick. It's great, but there are better ones. If I wasn't collecting fragrances, I seriously doubt I'd have it.
Have you tried Silver Mountain Water?
What are your thoughts on it? Do you find it worth it?
Let's talk in the comments!
We are sorry that this post was not useful for you!
Let us improve this post!
Tell us how we can improve this post?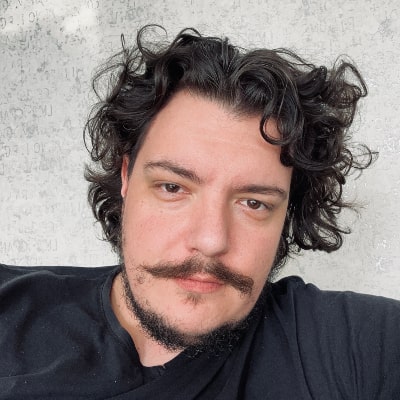 Vladan X is a founder of Fourth Sense and fragrance expert. He reviews only fragrances he owns personally, and his collection currently counts between 100 and 150 fragrances. Even though Vladan reviewed hundreds of perfumes he still didn't find the one he would call "signature" fragrance. He's still searching for that one, and in the meantime, he writes the best in-depth fragrance reviews internet has ever seen! You can read more about Vladan X here!