First fragrance that pushed the Creed sky high and made them an internationally well-known perfumery house was Green Irish Tweed – a fragrance for men made by Olivier Creed in 1985.
Green Irish Tweed is also one of the oldest fragrances that are still being produced and sold worldwide. Right after it came out, it became a huge hit, and even today it's a must-have for many people.
I personally don't like the philosophy of Creed house and I'm not a huge fan of their fragrances, but Green Irish Tweed is a definite must-have in my collection (along with Aventus from 2013) and I almost cannot imagine springtime without it!
This beautiful scent is a masterpiece of Olivier Creed and definitely one of the best fragrances Creed house ever had. Even though it's produced in 1985 it still made it almost to the top of our list of best spring fragrances for men in 2022!
In this article, we're going to review Green Irish Tweed in detail and I hope it will answer possible questions you might have and help you decide should you get it! If I missed some of the questions feel free to let me know in the comments!
What Does Green Irish Tweed Smell Like?
Creed Green Irish Tweed smells very sophisticated, fresh, slightly spicy, clean, and natural. It belongs to the fougere family of fragrances and it's extremely easy to wear, everyday spring scent!
A beautiful and minimalistic combination of natural ingredients accomplishes the goal Creed wanted to accomplish with this scent – to make you feel "sophisticated, classic and effortlessly masculine – just like nineteenth-century gentleman's country tweed".
Creed usually doesn't make very complex fragrances in terms of the number of notes, and Green Irish Tweed is a great example of how a fragrance can be very well blended with only a few notes.
Before we dig into the actual smell of Green Irish Tweed I wanted to give a little disclaimer:
Bear in mind that the technology Creed uses for producing fragrances is pretty much minimalistic – they are the only ones who still make all their fragrances by hand. This means that every batch of fragrance may vary and that the concentration of notes might differ. Furthermore, this means that you may not the get same smell as I did with my Green Irish Tweed and that you might not smell certain notes like I did which doesn't necessarily make me right or wrong about the scent, nor does it make you right or wrong.
Overall this is a beautiful fragrance and the concept and idea are the same – to make you smell fresh, clean, masculine, and simply beautiful.
Saying that let me do my best to describe the scent of Green Irish Tweed:
Top notes are (1):
Lemon
Verbena from India
Peppermint
The moment you spray it lemon and verbena hit you in the face with the full force and you feel peppermint tickling your nose during the entire opening – such a beautiful fruity and citrusy opening! Alcohol starts to fully evaporate within 10 minutes and the opening starts drying down to the heart.
The heart only has one note and its violet leaves.
Right before the opening passes you start to feel violet, and the iris from the base follows it in a step. The heart is fully reached in about 20 minutes after the initial spray and it's just so smooth and non-offensive!
To me, it smells like a walk through dried and cut grass on a warm spring sun, and hints of violet keep teasing you. Absolutely magical and nostalgic scent!
As time passes by base starts getting more dominant – base notes are:
Florentine iris
Sandalwood
Ambergris
I would put iris in a heart note because it comes a bit early, but Creed says iris is in base notes. Anyways, wherever it is, the combination of iris and violet is just beautiful and it really gives that countryside feeling.
As cut grass can often have sharp dry scent sandalwood was used here to give it smoothness and it did just that – it made Green Irish Tweed so smooth, buttery, and powdery.
Ambergris also played a role here in making it smooth, but I'd say the main reason ambergris is here is to make the scent more masculine and that played out fantastically.
The creaminess of sandalwood and masculinity of ambergris and be smelled in about an hour after applying Green Irish Tweed, but I could smell ambergris even in the top notes during the opening.
As I've said, this is easily one of the best spring scents out there and it's super non-offensive!
Many people compare Green Irish Tweed to Davidoff Cool Water and there are certain similarities but compared to Green Irish Tweed, Cool Water smells super synthetic and cheap – it can't even come near to the quality of Green Irish Tweed.
Wearing this incredible scent will definitely make you "pop-up" among others but not in a bad way. Speaking of wearing Green Irish Tweed…
When To Wear Green Irish Tweed?
The best time to wear Creed Green Irish Tweed is definitely during warmer spring days when the temperature is between 60 and 70 degrees (15-20 degrees Celsius).
It's originally made to smell like spring and "spring meadows coated in frosty morning dew".
It just fits perfectly into the time of year when nature is waking up and the environment gets greener every day.
If you wear it during winter days cold temperature won't let it open properly and performance would be just too poor. On the other hand, high heat will make the freshness of Green Irish Tweed a bit sweet, and it just won't have the identity that is supposed to have.
If we're talking about the occasion, any daytime occasion including work, hangouts, lunch at parents' or friends' house, will work just fine. You can't go wrong with this safe fragrance and the noses around you will most certainly be pleased!
I wouldn't recommend it for night parties and clubs as it might not deliver masculinity for that type of event. Also, I see it easily underperforming in crowded places as aggressive fragrances might make Green Irish Tweed too private – for example, sharp scents such as Dior Sauvage would easily beat the smoothness and powdery scent of Green Irish Tweed in a crowded place.
How Long Does Creed Green Irish Tweed Last?
On average Creed Green Irish Tweed lasts for about 10 hours on your skin and it's projecting for the first 2-3 hours.
Green Irish Tweed was always known as a fragrance that lasts for hours on your skin and Creed made sure that longevity never lacks with this perfume.
When it comes to performance, I'd say that performance is just right – not too strong, but not weak either.
On average you get around 2-3 hours of projection and it's projecting for about 3 feet around the wearer.
Sillage is moderate, just as it should be as this is daytime spring fragrance, and it leaves a trail of 4-5 feet behind you.
What more could you ask for?
These performance perks work exactly like that on my skin, but however, I get around 12 hours of longevity with Green Irish Tweed. People around me are still able to smell it even after 12 hours and that's something I appreciate with Creed very much.
Not all daytime fragrances should last this long because people usually like to put something different on during the night. However, since Green Irish Tweed can be used on multiple occasions stated above, longevity this big isn't the problem.
How Many Sprays of Green Irish Tweed is Enough?
Green Irish Tweed is a pretty potent fragrance and 2-3 sprays should be just enough for it to have optimal performance – 2 under your ears and 1 behind your head.
However, if you want to cover more surface and get a few extra hours of longevity feel free to add 2 sprays in your dips right beside the clavicle bone under the shirt or 2 sprays on your shirt in the chest-shoulder area.
Bear in mind that you won't increase the performance of the fragrance by applying multiple sprays in the same place or on all parts of your body. You might increase longevity as perfume sticks to the clothes for much longer than on the skin, but performance in terms of projection and sillage will remain the same.
Also, multiple sprays on the same spot will just cause fragrance not to properly open and perform poorly, so I wouldn't advise that.
Green Irish Tweed was always a very well-rounded fragrance and in my opinion, there's no need to waste precious liquid when you can get optimal performance and 10 hours longevity with just 2-3 sprays.
But feel free to test it – it's always the best to test out and figure out what works for you best!
Who Wears Green Irish Tweed?
Since it came out in 1985 many celebrities fell in love with this fragrance because it was prestigious, super long-lasting and it simply smelled incredible, just like it smells today too.
Some celebrities who were known for wearing Green Irish Tweed are Clint Eastwood, George Clooney, Ozzy Osbourne, Derrick McKey, Patrick Bruel, and even Naomi Campbell! (2)
It's not rare that I smell a men's fragrance on a woman, and I've seen lots of gals who love to wear fragrance for men, and that's fine – I just can't imagine Ozzy Osbourne wearing this!
Anyways, bear in mind that you shouldn't buy a fragrance just because you're favorite celebrity wears it – the fragrance is a personal choice and you should pick what fits your personality and nose best!
Is Creed Green Irish Tweed For You?
Even though Creed was always making prestigious fragrances specially made for celebrities and men of power, those times passed and these days everyone can wear Creed fragrance if that scent matches their personality.
Green Irish Tweed is a very easy, lightweight, and non-offensive fougere that perfectly matches gentleman personality, a man who has charisma and who's laid back easy going person, an adult who is financially stable but not bragging about it.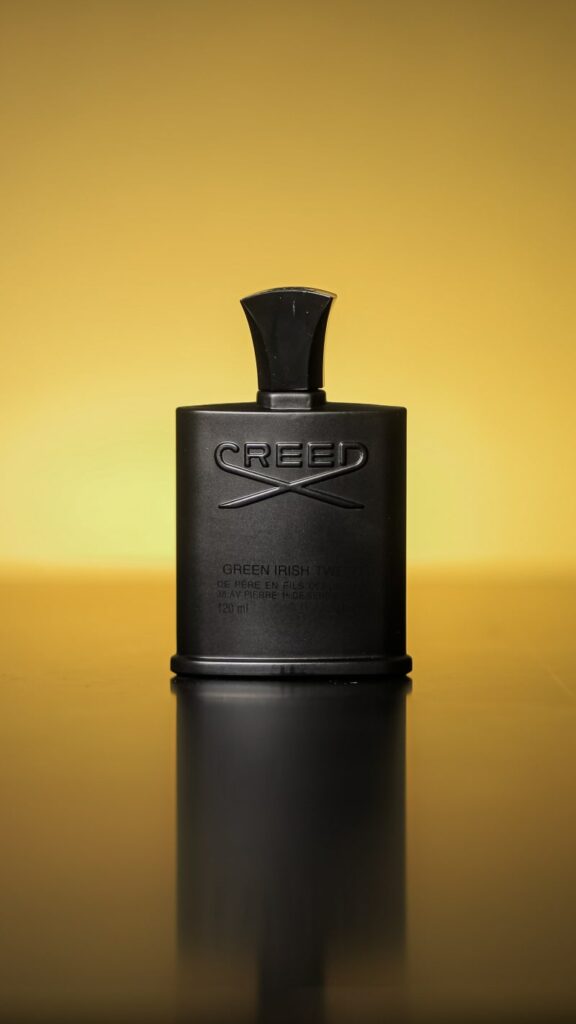 Even though this fragrance is so safe and non-offensive I wouldn't recommend it if you are none of these things, because it simply doesn't match your character.
Creed had a vision that Green Irish Tweed will be worn by someone who is already sophisticated, classic, and effortlessly masculine, and where Green Irish Tweed offers the definitive touch, akin to a perfectly tailored riding outfit and the finest tweed suit (3).
Therefore, in my opinion, it simply wouldn't fit into urban street style.
But hey, as I've said, always test it and figure out does it work for you!
Where To Buy Creed Green Irish Tweed?
You can buy Green Irish Tweed in perfumeries who are authorized resellers of Creed or you can buy it online on Creed's website or Amazon.
Of course, the best option is always to go into the perfumery and check it out because you get the advantage of testing it before you buy. This is always the best option because not every fragrance is a safe blind buy. Also, this is the best option because you know for sure that you will get the original fragrance.
Luckily, Green Irish Tweed is a pretty safe blind buy so you can get it online without having to worry will you like it, because chances are 95% that you will.
Amazon is usually the go-to for everyone so I've linked to Creed's official product listing for Green Irish Tweed there, so you will most certainly get the original.
Beware of buying fragrances online on sketchy websites with no reviews – they often sell fake fragrances that are not tested on human skin. Always buy from a trusted source!
How Can You Tell a Fake Green Irish Tweed?
Just like with any other fragrance that has been around for a long time and became very popular, Green Irish Tweed also has a bunch of copies out there – fake imitations hiding in fake bottles.
In order to spot a fake Green Irish Tweed, you have to know what the original box and bottle look like. Follow these guidelines in order to tell if your Green Irish Tweed is fake:
Original Creed Irish Tweed costs over $300 and fakes are usually selling for $25-100. Some good copies go even higher, but the general rule is if the price looks too good to be then it probably is.
The cap on the fake Green Irish Tweed is usually wider and slightly bigger than the original one
Scratch the bottle – if the black color peels, then you probably have the fake one as the original black color on the original bottle cannot be scratched.
The original bottom is smooth just like the front or back of the bottle, while fake ones usually have a different bottom (color and material)
Check the batch code online – you can use the sites like CheckFresh which can help you identify the fake one.
These guidelines can help you tell a fake Green Irish Tweed but make sure to do detailed research online in order to be 100% sure. The best place to do the research is YouTube because videos often help a lot more.
Packaging
Green Irish Tweed comes in Creed's standard white box and once you open it the bottle is matte black with a golden top of the cap. Very simple but luxury presentation!
Green Irish Tweed comes in 5 different sizes:
50 ml / 1.7 oz
100 ml / 3.4 oz
250 ml / 8.4 oz
500 ml / 16.9 oz
1000 ml / 33.8 oz
As always, if you're getting it for the first time I recommend getting 100 ml because it's the best price/ml value and if you don't like it you can always gift it to someone. However, if you do like it, then you know which size you should get next!
Summary – Is Creed Green Irish Tweed Worth It?
Yes, this is a never-ending battle when it comes to fragrances – is it really worth spending over $400 to get a fragrance? Well, if you were buying some other Creed fragrance like Viking or Silver Mountain Water, I'd probably say do what you want but I don't believe it's worth it – meaning you can get many other better fragrances for a much cheaper price.
However, we're talking about Green Irish Tweed and I'd definitely that it's 100% worth it getting it because it's ultimately the best Creed's fragrance right besides Aventus.
This amazing fougere fragrance will most certainly stay in the industry as an all-time classic and a favorite scent for so many people.
It's beautiful, fresh, citrusy, woody, and classy – sophisticated springtime.
Also bear in mind that you're not just buying Green Irish Tweed – you are buying the Creed fragrance and their market has always been in the luxury industry.
I love Green Irish Tweed so much that I had to put it as the best niche spring fragrance for men even in 2022.
If you give it a shot, I'm pretty sure that's going to become your spring king too!
Have you tried it before? Do you think it's worth it?
Let me know in the comments!
Cheers!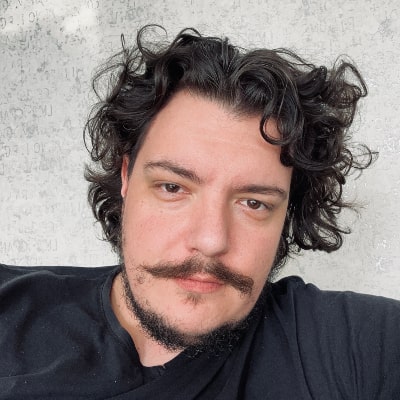 Vladan X is a founder of Fourth Sense and fragrance expert. He reviews only fragrances he owns personally, and his collection currently counts between 100 and 150 fragrances. Even though Vladan reviewed hundreds of perfumes he still didn't find the one he would call "signature" fragrance. He's still searching for that one, and in the meantime, he writes the best in-depth fragrance reviews internet has ever seen! You can read more about Vladan X here!