Versace Eros Eau De Toilette, the fragrance that came out in 2012 and still sits on the throne of being the "King of clubbing " – But does it? The competition is getting hotter with every passing year, but some fragrances just cannot get old – Versace Eros is still the one.
The inspiration for this magnificent fragrance came from Greek mythology, or to be more specific, from the Greek God of love – Eros. It's unnecessary to say that a background story like this one leaves a historic afterimage and people's expectations are quickly raised high.
Eros is one of the fragrances that were hyped even before it came out and to a certain point, it really made people's wishes come true.
Regardless of the age, Eros Versace is just adored and loved amongst generations, especially the younger population, and even though Eros EDP and Eros Flame came out not long time ago, Eros EDT is still a fragrance to go for many people.
Many people think that designer fragrances don't last too long in terms of their uniqueness due to the lack of story behind it, but Versace Eros (along with other designers like Dior Sauvage or even Acqua Di Gio) is still being sold like crazy and people love it!
In today's post, we'll talk about Versace Eros in the most realistic and objective light, based on my personal experience from being a consumer of this clubbing fragrance for over a couple of years now.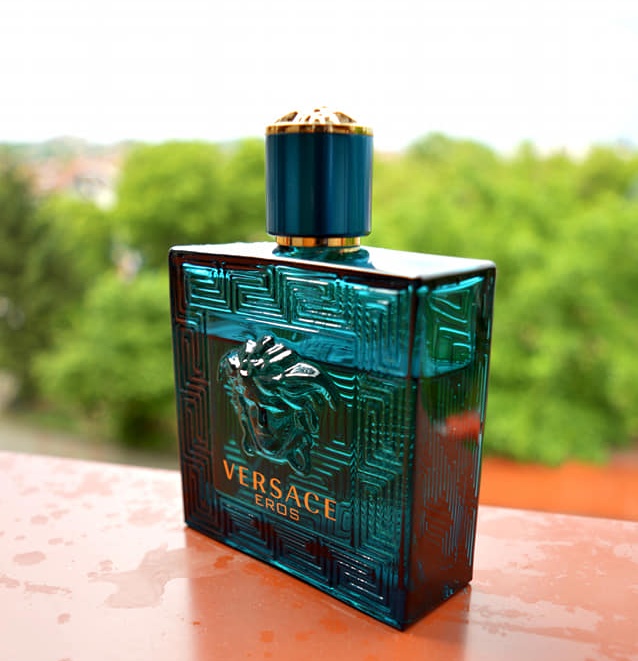 What Does Versace Eros Smell Like?
Versace Eros smells like a fresh, manly, sexy, and aromatic fougere, with a strong presence of mint note.
According to Versace, these are the notes.
Top notes are:
Heart notes are:
Tonka Bean
Ambroxan
Geranium
Base notes are:
Madagascar Vanilla
Virginian Cedar
Vetiver
Oakmass
Versace Eros has a strong opening of freshness and sweetness that comes from the perfect blend of green apple, mint, and the noteworthy scent of tonka bean. As it dries down, it evolves into a vanilla-based, loud and expansive composition with a light touch of greenish and woody notes.
Aurelian Guichard, the nose behind this Greek God masterpiece, made a perfect blend of cooling and clean effect of mint. The note of the lemon cannot be easily validated but the expansiveness lemon gave this fragrance is embraced with open hands.
The opening for some people can be sitting really flat to the skin but once Eros starts drying down, it's a completely different mythology – vanilla is coming through in heavy doses, the scent becomes sweeter and softer, and it really leaves a recognizable note.
The base of Eros contains two different notes of Cedarwood but in my opinion, the masses of vanilla and tonka bean took the wheel and woodiness is something that this fragrance lacks – which is not bad after all, you still have that sexy and playful vibe all around this fragrance and that's why it's a perfect clubbing scent.
Once Eros completely dries down it evolves into a scent that really reminds me of bubblegum and for many people I talked to, they get the same feeling. I also smelled something like a mandarin with the combination of apple which made this perfume really sweet and cocky.
One thing I want to emphasize is the beautifulness of the way how all notes are perfectly blended with each other, the composition is linear and soft, not a single note is stepping out, and on top of that – it's a real compliment getter.
This is an inviting, funny, friendly, sexy, and cool scent, it will introduce you before you speak and grab everyone's attention wherever your step your foot. You will not go unnoticeable with Versace Eros.
Many times, I heard people say how Eros EDT is missing a unique feel to it and that it has been worn for so many years that literally everyone can detect it with no prior knowledge. Do I agree with that? Yes and no. There are many tonka bean based fragrances and in terms of notes, Eros shares some similiters with other designer fragrances, but in my opinion, no one succeeded to craft all those different notes in such a quirky and playful composition. I mean, there is a reason why we call it a King of clubbing.
How Long Does Versace Eros last?
Versace Eros EDT had an excellent projection and longevity and could have lasted for 10+ hours, while the opening projection lasted 1 to 2 hours. According to the people reports for past previous years, both projection and longevity decreased with the newest batches.
Since I started using Eros EDT years ago and I still have my bottle from 2017, the quality of this perfume always succeeded to surprise me in a positive way. That same batch serves me for 10 to 11 hours without a doubt, and it projects very well in about the first hour or so.
What has been a wild topic when it comes to Eros is that people are suspecting that it became a victim of reformulation – did they decrease the concentration or change something in the terms of compositions? Either way, people smelled the trouble.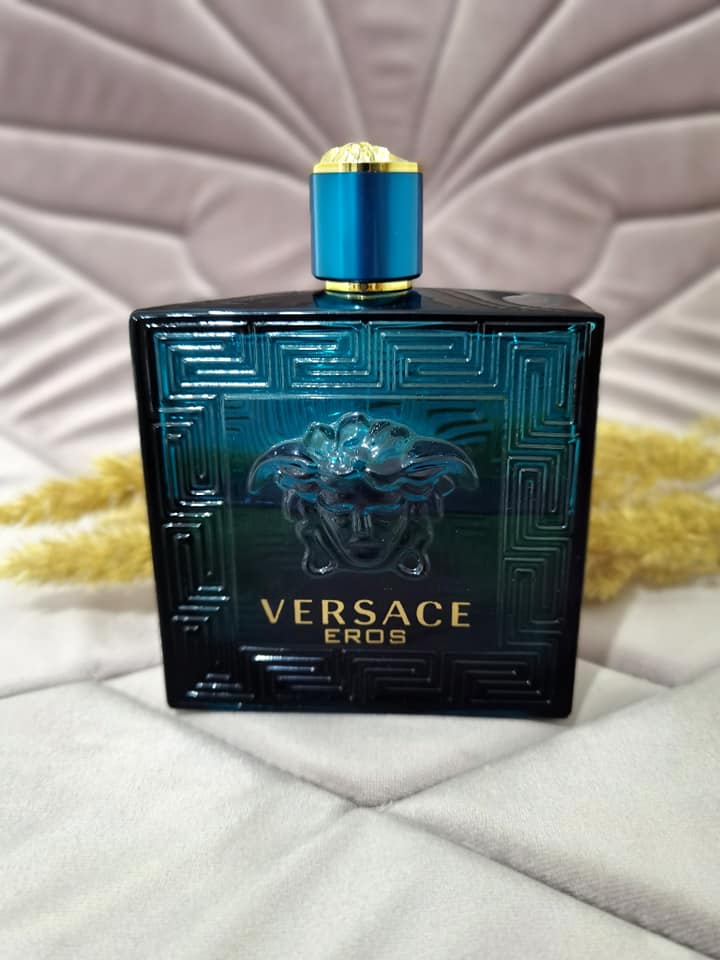 Many designer perfumes have been thrown under the bus and experienced reformulation and in the majority of cases, the outcome was not so great which caused frustration for people, especially the ones that have spent years using that same scent. Acqua Di Gio by Giorgio Armani is a perfect example of that.
Even though it's probably reformulated (a couple of times) since the first production, longevity, and performance are still there compared to other fragrances.
When To Wear Versace Eros?
Versace Eros is a definite all-season fragrance with a slight tendency to fit better on a bit colder days. In general, you can wear it all year long. Regarding occasion, it's a perfect night option made for clubbing nights out.
As I already mentioned quite a few times, this fragrance has that playful, sexy, youthful vibe that makes its versatility pretty narrow. It's not made for the office, or the gym, it's not for a casual daily routine, it's purely made for the darkness of the night and for the lights of the club.
That obvious fact leads us to one more noteworthy truth — this fragrance is definitely more focused on the younger population. I cannot see some older gentleman pulling this off and feeling confident and seductive, it does not have that rich, luxurious, ravish type of smell that you expect for one mature man to use.
When it comes to seasons, I find this fragrance to be more of a colder-time type of scent. All the sweetness and aromatic nuances just fit better for some leathery jackets and stylish scarves.
I have also worn it during transitions seasons, and I know many people who apply it during summertime as well, so it's pretty hard to go wrong with Eros in terms of weather.
Versace Eros is a definite year-round fragrance, perfectly made for clubs, dinners, dates, and other night events.
How Many Sprays of Versace Eros is Enough?
4 to 6 sprays of Versace Eros EDT will be enough for optimal longevity and projection. You can apply 2 sprays behind your ears, 2 in the dip of your collarbone, and 1 spray behind your head. If you want to grab more attention in crowded clubs, apply 2 sprays on your wrists too.
Versace Eros is a pretty well-rounded scent and you don't need too many sprays to get the best from it. What I always say is not to waste precious scent if it's not adding on projection and longevity, which is the case with Eros.
If you have newer batches then maybe you should apply around 7 sprays for optimal performance, in case Eros really was reformulated and they decreased the concentration.
If you are interested in how to apply any fragrance properly, then you can check this post out where I explained better how to get the best of each fragrance.
Where to Buy Versace Eros EDT?
Versace Eros EDT can be bought in local perfumery that is an authorized reseller of Versace house. You can also find it on FragranceNet and Amazon if you're buying online
No need to say that the best shopping option would be to visit a local perfumery, test the fragrance on your skin and see if it's something you can fall in love with it.
When it comes to buying online, I would personally recommend going with FragranceNet as that's the place where I buy all my fragrances personally. They are super trustworthy, shipping is pretty fast and safe, and you can rest assured that you're getting the original bottle.
Amazon is also a fair option if you want it fast (if you're a member of Prime).
Besides those two, you can also buy it on FragranceX, Sephora and
This fragrance is known for being highly safe in terms of the FDA so it's approved and tested on the human skin.
Packaging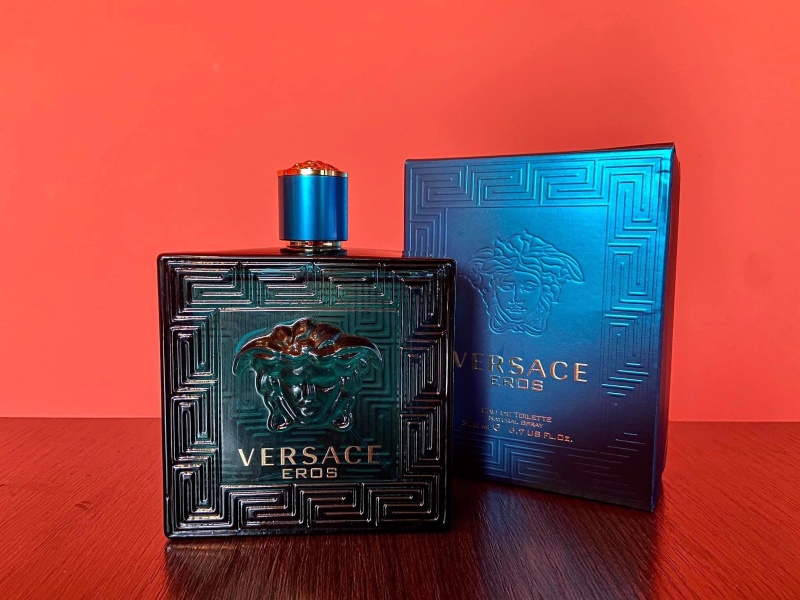 Versace Eros EDT was the first of the Eros collection and it is represented in a turquoise blue bottle that has Greek culture look written all over it, with the logo of the brand in the middle and the name of the fragrance right below it.
The cap looks very chic and follows the theme, where you can also find Versace, golden logo on top of it.
The whole appearance just reveals the initial inspiration that Eros was made from and I like how the design follows that same idea. It looks cool, stylish, unique, and mannish, I love to see It on my bedroom shelf.
Two other fragrances also follow the same style, with Eros EDP coming in the almost identical bottle as the EDT version and Eros Flame that brings a fiery vibe with a red, Greek bottle.
It is available in:
Mini size of 10ml / 0.3 OZ
50ml / 1.7 OZ
100ml / 3.4 OZ
200ml / 6.7 OZ
Summary – Is Versace Eros EDT Still the King of the Clubbing?
Versace Eros Eau De Toilette is still a go-to clubbing fragrance for many young people.
It may sound weird that even after 9 years of its launching, this fragrance is still called a King of the clubbing, and I must say that I am not surprised. The delightful mythology that evolves around this liquid was made so strong that it gave him a chance of becoming an eternity scent.
The issue that appeared from the possible reformulation of the original composition is something that may turn off many Eros lovers and that's where the alternatives come in. Before buying Eros EDT, I would suggest you try EDP and Eros Flame as well since both of these fragrances smell amazingly good and they can be a great replacement for Eros EDT if you want better projection and longevity.
If you are the type of person that likes your scent to be easily acknowledged, funny, youthful, sweet, and sexy, if you are looking for a compliment getter and smell that will every woman fall in love with, then Eros EDT is your, perfect fragrance.
Did you try it? What are your thoughts on it? Let's talk in the comments!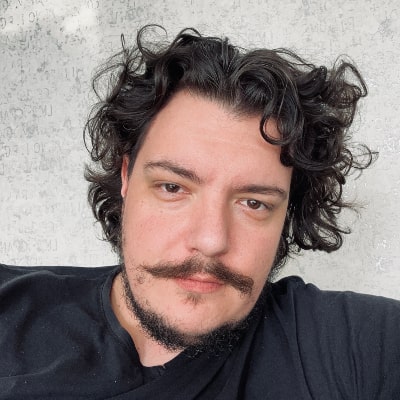 Vladan X is a founder of Fourth Sense and fragrance expert. He reviews only fragrances he owns personally, and his collection currently counts between 100 and 150 fragrances. Even though Vladan reviewed hundreds of perfumes he still didn't find the one he would call "signature" fragrance. He's still searching for that one, and in the meantime, he writes the best in-depth fragrance reviews internet has ever seen! You can read more about Vladan X here!