If you ever studied the history of art even for a little bit, you've likely seen that some of the biggest artworks came out of inspiration from women.
Truth be told, that inspiration will never vanish, and even today we can see amazing pieces crafted from it.
One of the latest great examples: a fragrance line that came out in 2020 by Giorgio Armani, called My Way.
Master perfumers Bruno Jovanovic and Carlos Benaim created Giorgio Armani My Way, where the idea was to present the scent that is "an invitation to open your horizons and experience meaningful encounters all over the world".
My Way is inspired by an authentic woman, her curiosity, and her eagerness to explore and celebrate life.
However, does it really live up to that vision? What it actually smells like? And is it really worth its price? Read on!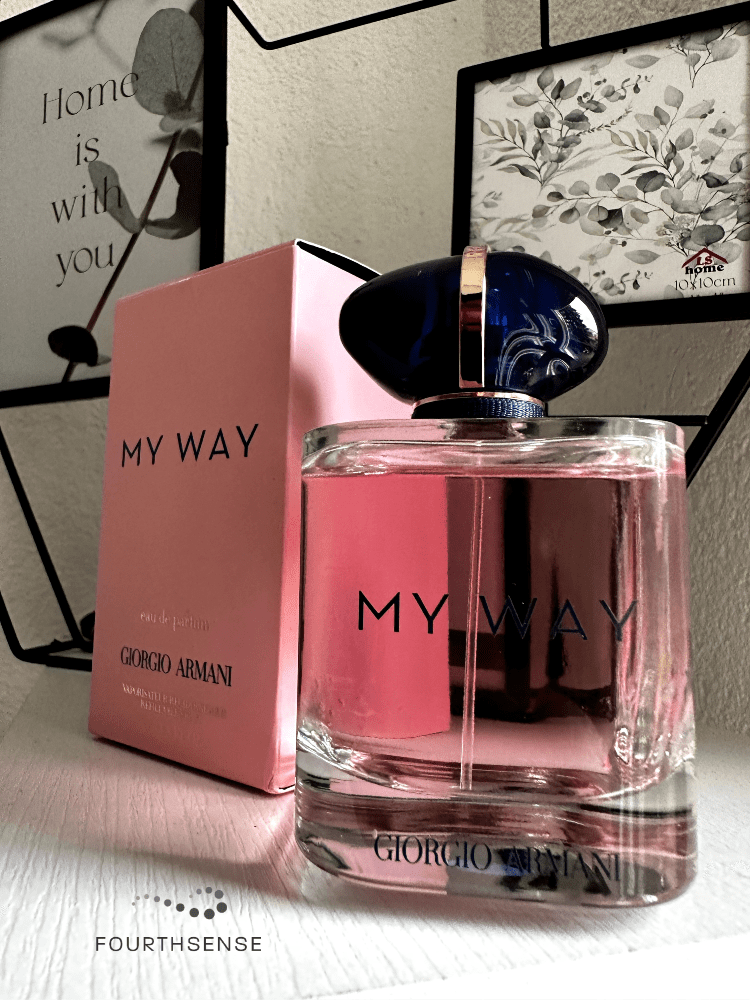 What Does Giorgio Armani My Way Smell Like?
Giorgio Armani My Way smells very floral and fruity sweet where the most dominant note is a blend of jasmine and tuberose.
According to Giorgio Armani, notes pyramid looks like this:
Top notes: orange blossom and bergamot
Heart notes: jasmine and tuberose
Base notes: vanilla, cedarwood, and white musk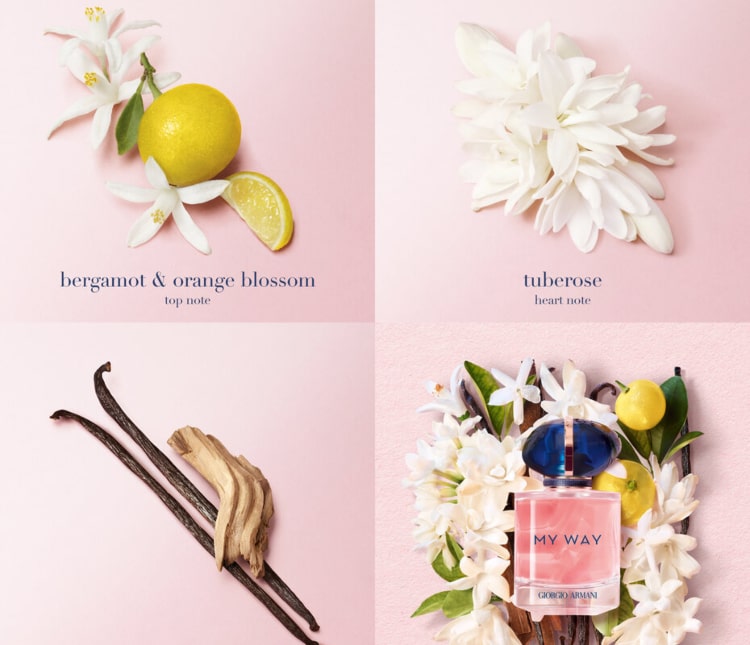 Even though there's bergamot in the opening notes, the opening scent smells much more fruity and sweet than citrusy. You can clearly detect the juiciness from the orange blossom and that scent will linger and radiate for about 15 minutes.
After the opening passes, a blooming bouquet composed of jasmine and tuberose will start dominating all throughout the fragrance's lifespan.
While testing I specifically wanted to see which out of those two notes dominate more, and to my nose, they're completely even – at some points, you get hints of jasmine, while on others you feel the tuberose.
This type of blend will work differently on every skin, which means that in your case jasmine may be a bit more dominant while on someone else tuberose might be the leading one.
The base contains vanilla (which is obvious due to the slight sweetness the scent contains), cedarwood that balances that sweetness of vanilla, and white musks that make the entire composition feel almost cotton-like and soft.
Overall, the scent of Giorgio Armani My Way is soft, sensual, and very feminine. It definitely lives up to the vision of a curious and authentic woman all while promoting her most beautiful feminine sides.
It's not incredibly unique, and definitely not something you can't find similarities with something you smelled before, but it's unique enough to have a recognizable DNA and a good foundation for future flankers.
It can be considered a mass-appealing scent even though tuberose might not be everyone's cup of tea.
From a man's perspective, this is definitely a head-turner for me, and for my male colleagues.
If we're to rate how safe this blind buy is, we'd say 8/10.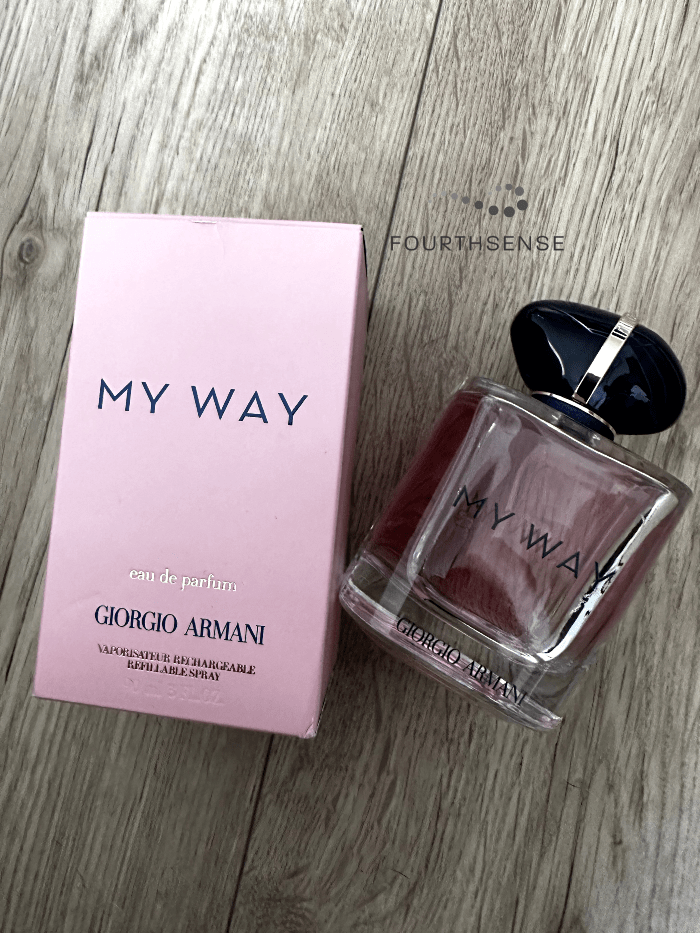 How Long Does Giorgio Armani My Way Last?
On average, Giorgio Armani My Way lasts for about 6 hours while projecting well for an hour or two.
This is far from a performance beast, but considering that it's made for light summery and spring days, and the fact that it has a certain amount of sweetness to it, there's not much to expect.
Usually, the leading fragrance of the line (which is My Way in this case) establishes the DNA of the entire line and has average performance – that allows future flankers to develop further and satisfy the needs of customers. Some of them are performance beasts, some go out in different olfactory families, while some simply tell a different story.
That's exactly the case with My Way, where longevity is around 6 hours. Projection is at arm's length and lasts for about an hour or two. Sillage is also not super powerful, but it is existent, so others will be able to sense it after you pass by.
First hours jasmine and tuberose dominate, while for the last hour or so, white musk with very little sweetness (of vanilla) is all you can detect.
There are a few tricks that you can do in order to increase the performance but in general, you won't go anywhere above 8 hours in best case scenario.
How Many Sprays Is Enough?
In order to achieve optimal performance, 6 sprays of Giorgio Armani My Way are all you need.
It's recommended that you do not overapply this perfume as that sweetness can become pretty heavy and suffocating, especially during high heat.
As always, focus on pulse points – two sprays on each side of the neck, two sprays behind your ears (one on each side), and two in the dips of your collarbone.
If you want some extra spots for improved performance, you can spray it on the inner side of your elbow, and the inner side of your hand wrists.
Make sure you don't apply multiple sprays on the same spot as that will do nothing but waste the fragrance – you will not gain any performance boost.
Learn how to properly apply fragrance in order to get the most out of every single one you use!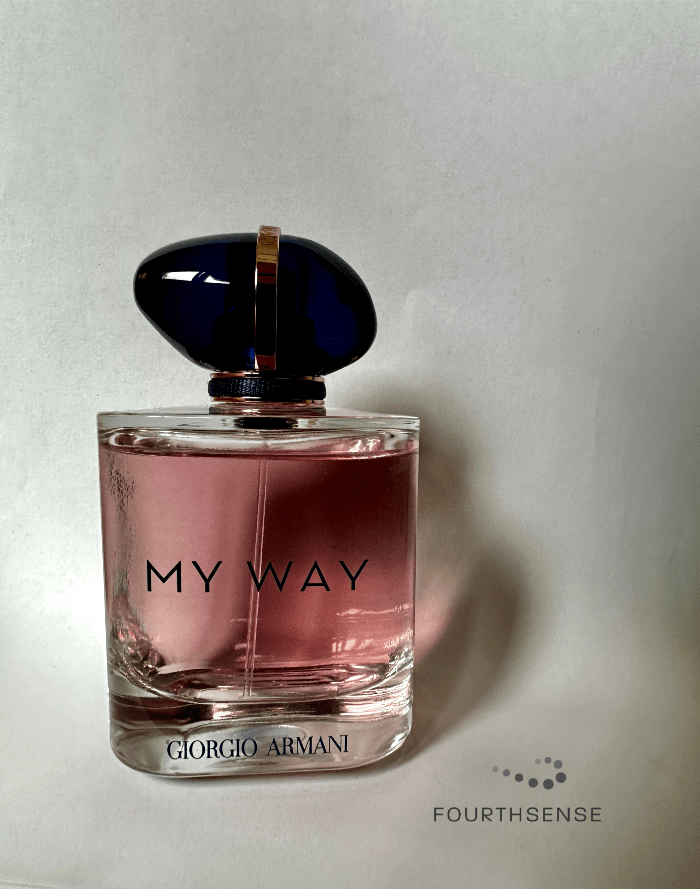 When To Wear Giorgio Armani My Way?
The best season to wear Giorgio Armani My Way is warmer spring and summer days. When it comes to occasion, its versatility and non-offensiveness allow all types of occasions.
Even though it's not often that we see sweet accords work well during high heat, My Way is built in such a way that sweetness of it is soft and fits perfectly during summer and spring.
In general, any weather above 65°F will work just fine, and My Way will perform as it should.
On the other hand, I wouldn't really recommend wearing it during fall and winter, especially during very cold days. Even though it's a bit sweet, the entire composition is simply not powerful enough to withstand low temperatures that require sharpness and a strong backbone to last and perform. Generally speaking, you can, but don't expect optimal performance.
Due to its likable, soft, and non-offensive scent, you can wear Giorgio Armani My Way literally anywhere – it can be a great office fragrance, special occasion, or date night.
Its versatility allows it even to be a signature scent even though certain seasons don't work that well with it.
Frankly, I personally can't think of a place or occasion where this fragrance can't be a good fit.
Where To Buy Giorgio Armani My Way?
The best place to buy Giorgio Armani My Way is Armani's department store. If you're buying online, the very best places are FragranceNet (US), Notino (UK), or Giorgio Armani's official website.
It's always best to go to a physical store that is an authorized reseller of the Giorgio Armani brand and to test the fragrance for free without buying. That allows you to actually figure out do you like the scent and is it really for you.
However, if you're like me and prefer buying online, then there are several places where you can buy My Way, knowing that you're getting the original bottle.
The best place to do so (if you're from US) is FragranceNet – they're one of the most trustworthy fragrance sellers on the market for over 25 years, and you can rest assured that you're getting the original bottle in no time.
---
Buy Giorgio Armani My Way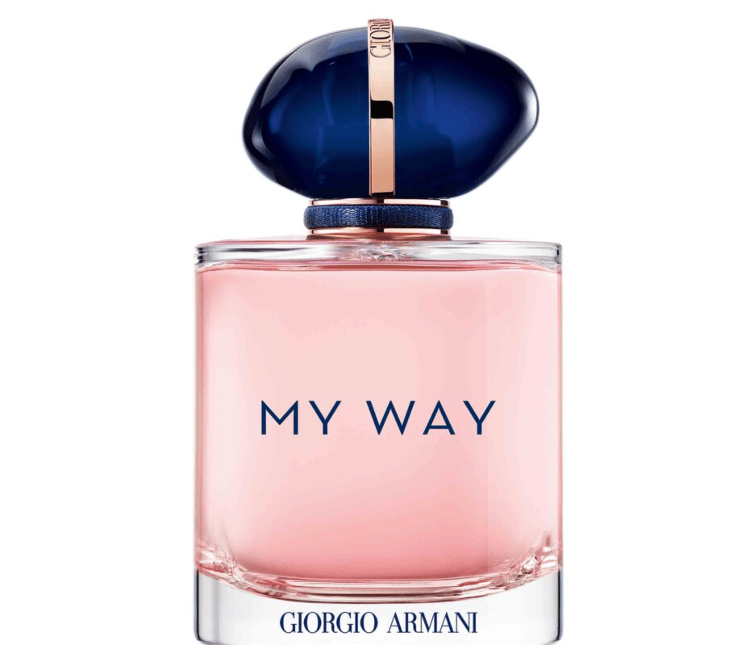 ---
Besides FragranceNet, you can find Giorgio Armani My Way on Amazon as well.
If you're from the UK, I'd recommend getting My Way from Notino.
If you're not much into blind buys or you're not sure if My Way is the right one for you, you can buy a sample at MicroPerfumes and test it out.
Those would be the main sources I personally recommend (along with Giorgio Armani's official website) – prices may vary but so do shipping times. If you need more, definitely make sure to check out our post on the best and worst places to buy fragrances from.
Always make sure you buy from trustworthy sources in order to avoid ending up scammed, or even worse with severe skin conditions as fake fragrances are not tested on human skin.
Packaging & Presentation
Giorgio Armani My Way comes in a simple pink box where the main title and fragrance house are written on the front, and legal data including ingredients on the back and bottom.
The batch code can be found on the bottom of the box and on the bottom of the bottle.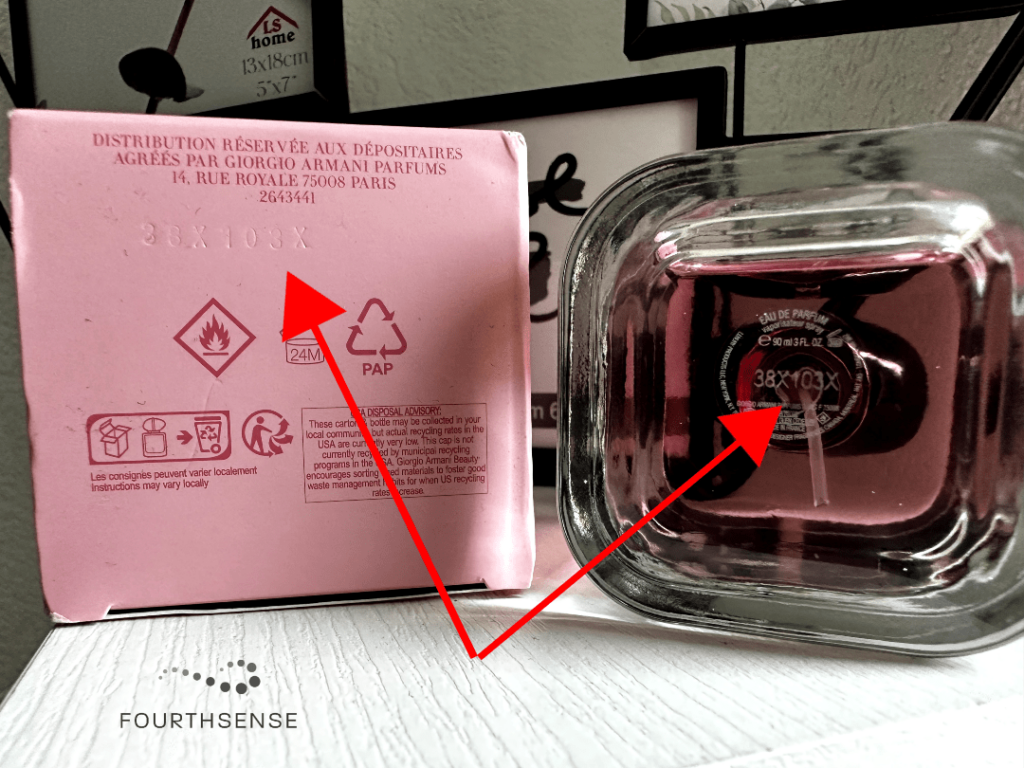 The bottle is made out of the transparent glass with a blue glass magnetic cap with a gold metal stripe – Giorgio Armani wanted to make it a "metaphor for the world as blue is the universal color that unites us all". The golden stripe represents the journey of a woman and her life.
Overall decent and simplistic presentation – something that we'd expect from a designer house.
Giorgio Armani My Way comes in 4 different sizes:
1.0 oz / 30 ml
1.7 oz / 50 ml
3.04 oz / 90 ml
5.0 oz / 150 ml (refill)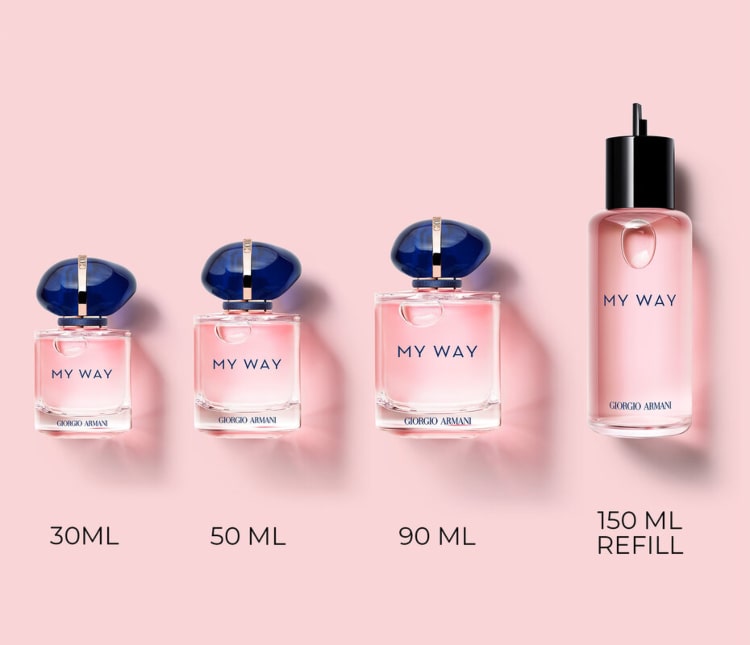 Conclusion – Is Giorgio Armani My Way Worth It?
Considering the uniqueness, versatility, mass appeal and compliment-getting factor, performance but also price, yes, Giorgio Armani My Way is definitely worth it in 2023.
It might not be as unique as you'd want it, and it might not perform as you'd want it, but here we're speaking about emotionless, objective facts, and the fact is that this scent is simply beautiful.
Everyone can wear it, it fits any type of occasion and situation and exaggerates all your feminine sides.
While building the list of best summer fragrances for women in 2023 we had no choice but to include it there simply because it's modern, it tells a story that should be promoted, and its price allows almost anyone to afford it and enjoy it.
The My Way line is evolving quickly and it already has multiple flankers: My Way Intense, My Way Floral, My Way Parfum and My Way Nacre – as we said previously, a very good foundation in the DNA!
Did you try Giorgio Armani My Way before?
What do you think about it?
Let's talk in the comments!
We are sorry that this post was not useful for you!
Let us improve this post!
Tell us how we can improve this post?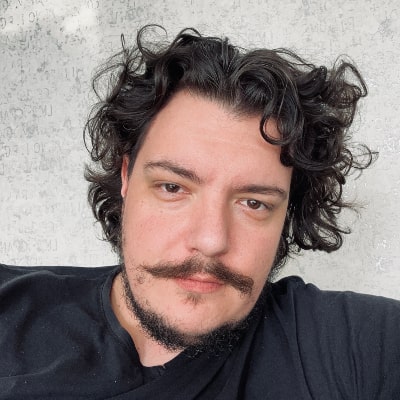 Vladan X is a founder of Fourth Sense and fragrance expert. He reviews only fragrances he owns personally, and his collection currently counts between 100 and 150 fragrances. Even though Vladan reviewed hundreds of perfumes he still didn't find the one he would call "signature" fragrance. He's still searching for that one, and in the meantime, he writes the best in-depth fragrance reviews internet has ever seen! You can read more about Vladan X here!