After reviewing the famous Acqua Di Gio original that came out unbelievably 26 years ago (time really flies) and after reviewing one of its best flankers, Acqua Di Gio Profumo (that proved to be a major success of Giorgio Armani), it's time we round up the story with another fantastic flanker.
Acqua Di Gio Profondo is one of the latest iterations of the original release and it came out in 2020. The nose behind it is no other than Alberto Morillas which immediately raises the expectations as Mr. Morillas is known to be a king of fresh fragrances.
It's known that the Acqua di Gio line accomplished a lot in the world of scent — it won the hearts and noses of many, and even to this day, it's one of the best sellers. But when is actually the time for the perfume house to stop doing spin-off fragrances of a certain line?
Is Acqua Di Gio Profondo really something the world needed?
Is it about the money? Or legacy?
In this post, we're not just going to answer these questions, but we'll also review Acqua Di Gio Profondo thoroughly — its scent, performance, uniqueness, and actual worth.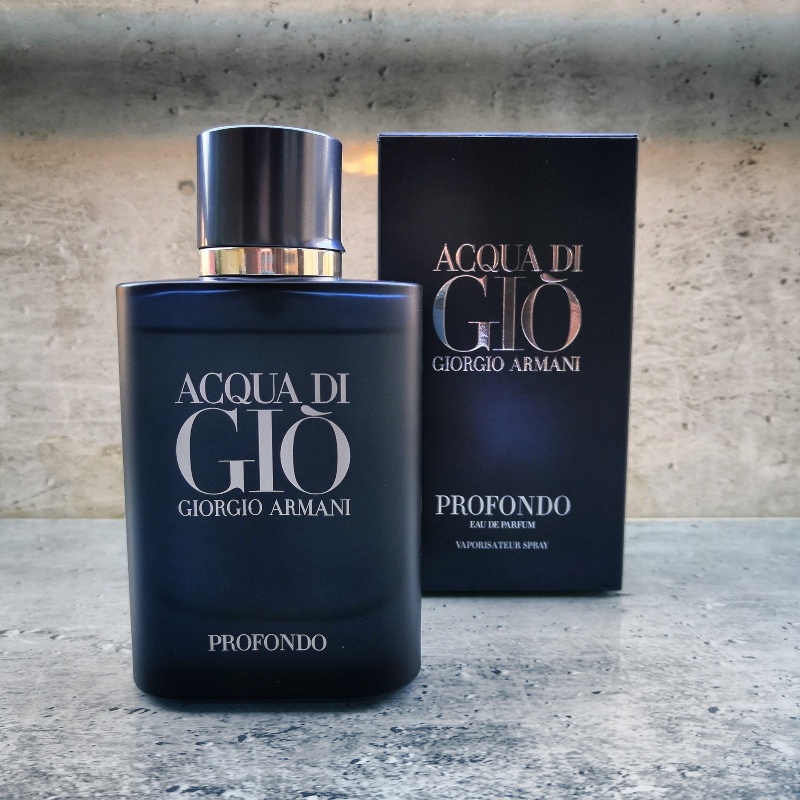 ---
Buy Acqua Di Gio Profondo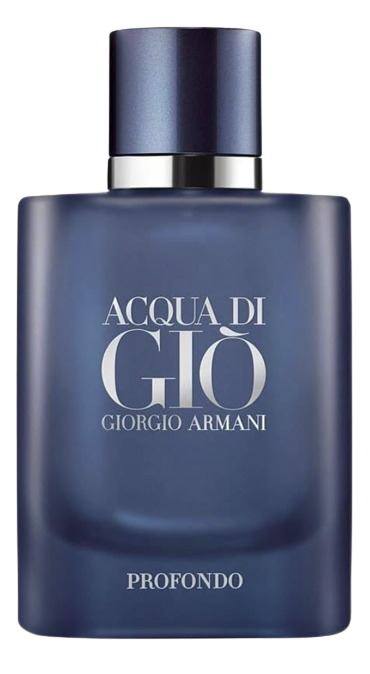 ---
What Does Acqua Di Gio Profondo Smell Like?
Acqua Di Gio Profondo smells like an aromatic, juicy, marine-type of scent that immediately reminds you of a blue sea with white beaches. It is a green, fresh, clean scent with a mineral undernote.
According to Giorgio Armani, olfactive notes are:
Top notes:
Marine notes (modernized by Aquozone)
Bergamot
Green mandarin
Heart notes:
Base notes:
Woody Minerals
Musk
Patchouli from Guatemala
Amber
From the very first spray, Acqua Di Gio Profondo hints at the scent of juicy, green, and fresh citrus that comes from bergamot and green mandarin. After approximately several minutes, the sea notes and aquozone merges with the citrus and the scent gets an aquatic, marine vibe.
Aquozone is actually a newly developed molecule that brings another nuance of freshness, that gives a bit synthetic, but fresh and iodic scent.
Right from the opening, mineral notes from the base lure in the background and give the scent a fizzy effect. Those fresh, mineral notes stay present throughout the whole performance but they are never overpowering or aggressive, instead, they sit quietly underneath other notes.
When we are talking about Acqua Di Gio Profondo as a flanker of the original line, it is important to emphasize that Acqua Di Gio Profondo definitely has that familiar DNA that we have seen in the original iteration.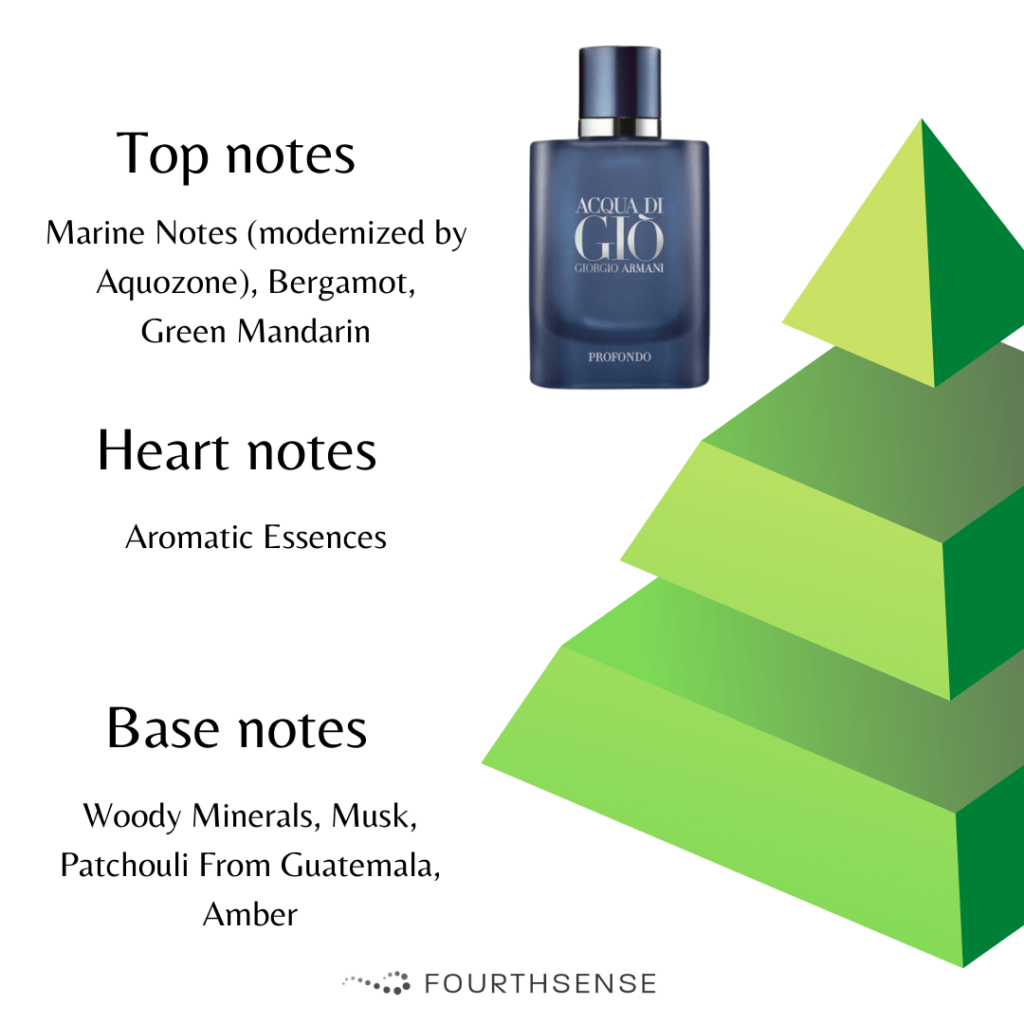 It is safe to say that they took the original DNA and modernized it while adding a blue touch to the existing, stunning composition.
As it goes into the heart, you will get rosemary, lavender, and mastic that combined together give a bitter, kind of spicy, green vibe. The more it evolves, the more it becomes aromatically oriented while keeping the initial freshness from the opening.
Acqua Di Gio Profondo is 100% a pleasant, mass-appealing, and attention-grabber fragrance that is extremely easy to like.
If you are a long-time consumer of Acqua Di Gio original, then Profondo flanker won't be anything extraordinary or exceptional. You need to keep in mind that Acqua Di Gio Profondo is a flanker that contains a similar DNA, which means it is not a completely different scent.
For those of you that enjoyed the original release, you are going to love this one as well. And if you haven't worn any Acqua Di Gio fragrances before, Profondo can easily be the one where you can start.
The final dry-down doesn't change much and the scent stays green and fresh with a little bit of musk and patchouli. I wouldn't say that Acqua Di Gio Profondo ever gets significantly woody as the patchouli never gets that demanding. Patchouli is an earthy note that gives on heaviness, but here, it was used to ground the scent in general.
To me, it seems like Acqua Di Gio Profondo is Armani's attempt to remind people that the DNA of the original still works with a bit of modernization.
Considering the scent and how beautiful but also mass-appealing it is, I'd definitely say that this is a safe blind buy that has almost no chances to go wrong.
How Long Does Acqua Di Gio Profondo Last?
Acqua Di Gio Profondo will last from 7 to 8 hours and it will project great in the first 1 to 2 hours. The sillage of the Acqua Di Gio Profondo is also above the average so it will leave sensual traces 2-3 feet behind you.
Just like the Profumo, Acqua Di Gio Profondo is a very stable scent — by definition, Acqua Di Gio Profondo is an eau de parfum, but considering this is a hot-season perfume, performance is just fine.
Many people have issues with summer scents that can't last more than 3 hours, but this perfume will definitely outperform the industry's average.
Sillage is also very nice and since Acqua Di Gio Profondo is a mass-appealing beast, the beautiful trace that will follow you throughout the day will get you many compliments.
After approximately 3-4 hours, the scent will become more intimate but those who come closer to you will still be able to detect it.
Summer fragrances are usually built with not-so-great performance, but in general, perfume's performance heavily depends on you and how your skin reacts to it. There are many ways to improve perfume's longevity, so in case you need an extra couple of hours, check out some of our tips & tricks for increasing perfumes longevity — I'm pretty sure some of them will help you tremendously.
When To Wear Acqua Di Gio Profondo?
The best time to wear Acqua Di Gio Profondo is during spring and summer as its notes match the season, but also because higher temperatures will allow the fragrance to perform properly.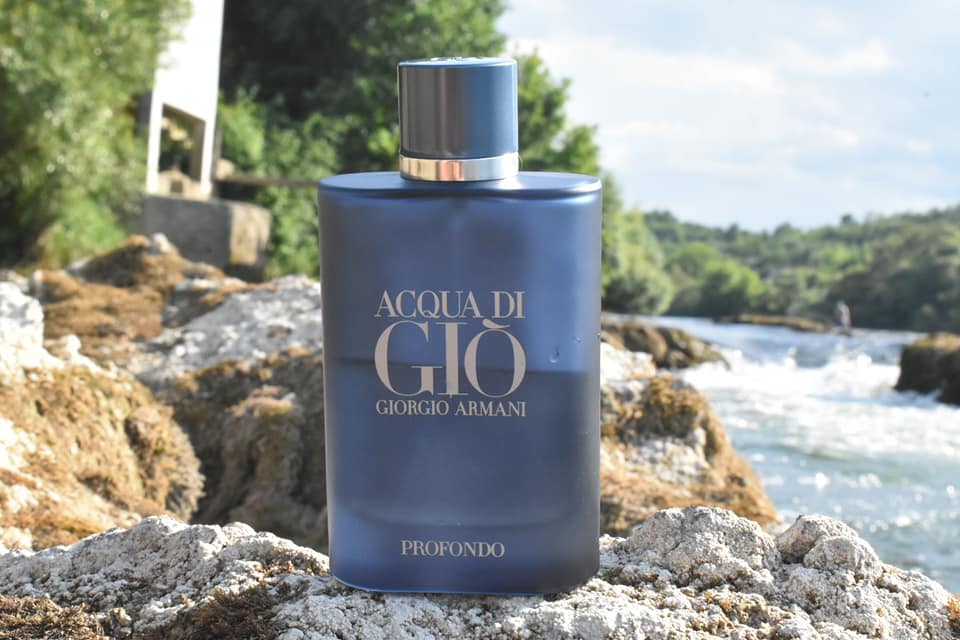 I like to say that Acqua Di Gio's scents are pretty versatile. However, this aquatic, blue, fresh perfume will just not work for colder winter and fall days.
In terms of the day and night, even though it leans more toward daytime occasions, night-based events will do just as great.
Because of its ultra-pleasant nature, Acqua Di Gio Profondo can serve great as an office scent — it never gets too aggressive or overpowering so your colleagues will only be able to enjoy your stunning perfume.
Besides the office, other casual activities or romantic date times are also more than suitable for Acqua Di Gio Profondo.
Whenever you decide to wear it, Acqua Di Gio Profondo won't disappoint you.
How Many Sprays Of Acqua Di Gio Profondo Is Enough?
5 sprays of Acqua Di Gio Profondo will deliver optimal performance of the fragrance — 2 under your ears, 1 behind your head, and 2 in the dips of the collar bone.
I love Acqua Di Gio Profondo because you can't overapply it, but you can always waste precious liquid since more sprays will not increase its longevity.
In general, it all depends on your personal preference. Some people love to bathe in the fragrance, while others never go above 2 sprays — if you don't like our recommendation test it for yourself and see what works the best for you. Either way, you can't go wrong with it.
Knowing how and where to properly apply perfume is essential when it comes to getting the most out of the perfume. Once you master that, you will easily notice the change in performance, but also in the dry-down.
Where To Buy Acqua Di Gio Profondo?
You can buy Acqua Di Gio Profondo from many local perfumeries who are authorized resellers of Giorgio Armani house. The best-recommended online places are FragranceNet and Amazon.
Testing fragrance directly on your skin before you decide to buy should probably be the usual routine for every one of us. But, sometimes time and our everyday activities don't leave us enough space to go and explore the perfumeries.
The good thing about Acqua Di Gio Profondo is that it's a scent you are most likely going to like so a blind buy solution may not be that bad for this naturally mass-appealing perfume.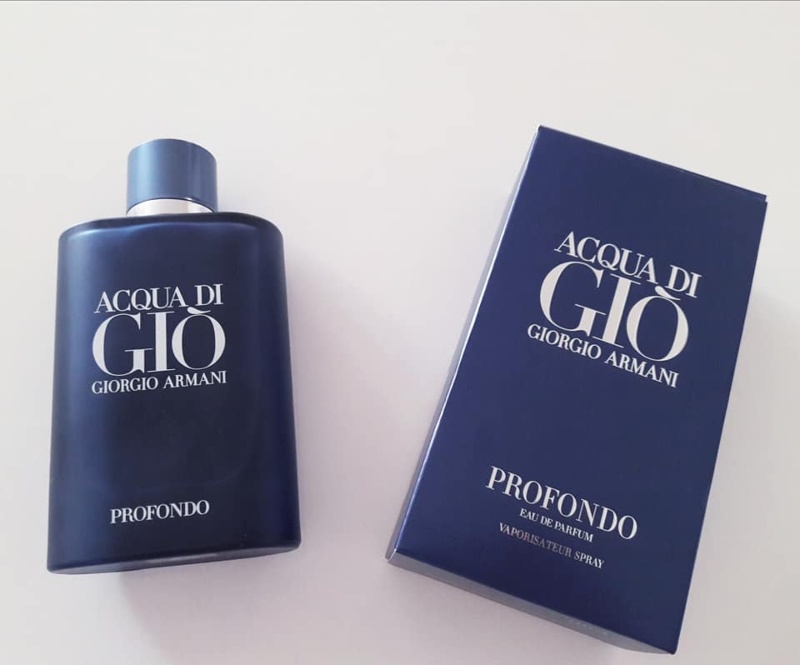 If you decide to buy it online, I would personally recommend getting your bottle of Acqua Di Gio Profondo from FragranceNet.
I personally buy all my fragrances there, and you can rest assured that you are getting an original bottle. Besides that, they usually have really good discounts, so you might just catch one!
---
Buy Acqua Di Gio Profondo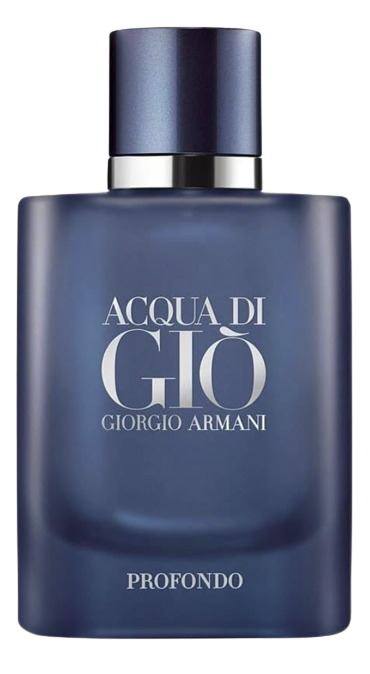 ---
Besides FragranceNet, another trustworthy source is Amazon. We always link directly to the authorized resellers or perfume house itself, so it's a perfectly safe buy.
You can also get your bottle from Giorgio Armani's website but bear in mind that you might end up paying a bit more for the same thing you can get from FragranceNet or Amazon.
If those resources are not enough for you, there are also a few other trustworthy online fragrance resellers that we covered in a separate post.
You will notice different prices on these websites but shipping times also vary.
The most important thing is that if you buy from these sources, you can rest assured that you will get the original fragrance and not be scammed with fake ones.
Always be super cautious when buying fragrances online to avoid getting scammed and buying a fake fragrance — it's not that you can just end up with money thrown away, but you can also get a skin condition as fake fragrances are not tested on human skin and they are not safe to use.
Packaging
Like its anchors, Acqua Di Gio Profondo comes in an elegant, cuboid bottle with rounded edges and a nice, metallic touch on the cap.
The presentation is minimalistic with the deep blue, matter color of the bottle, and fragrance information displayed on the front side.
All in all, it is a very sophisticated, classy, and clean packaging that will look great on your bedroom shelf.
The fragrance comes in 4 sizes:
40ml (1.35 oZ)
75ml (2.5 oZ)
125ml (4.2 oZ)
200ml (6.7 oZ)
Conclusion — Is Acqua Di Gio Profondo Worth It?
So in conclusion, Acqua di Gio Profondo is great, but did the world really need it? Was it supposed to battle Sauvage? Why not then create a new line instead of doing another spin-off even after 20+ years?
Well, designer houses such as Armani focus on creating art but only if they estimate that art is going to be profitable.
Money is always part of the game, and perfumers are often a secondary priority — they usually have the job to create something mass-appealing, because that means more sales.
In my personal opinion, we didn't need Profondo, but I get it — the Acqua Di Gio line has a lot of fans around the globe, so why not make something similar to the original, but modern, that people can enjoy. It's like Game of Thrones fans still hoping for season 9.
However, is Acqua Di Gio actually worth buying?
Considering its story, uniqueness, scent, performance, complexity level but also price, Acqua Di Gio Profondo is definitely worth it.
It doesn't matter if you're just getting into the world of scent or you're an experienced collector, Acqua Di Gio Profondo is on its way to becoming a standard everyone should know about.
Like it or not, Acqua di Gio Profondo is a very well-rounded scent that will most certainly work as a compliment getter and you and the people around you will be able to enjoy it.
Sure, we'll always find what could be better, but the reality is that Acqua di Gio Profondo is good, which is why it made it to our list of best summer fragrances for men in 2022.
Have you tried Acqua di Gio Profondo?
What do you think about it?
Which out of 3 did you like best — Profumo, Profondo, or the original?
Let's talk in the comments!
We are sorry that this post was not useful for you!
Let us improve this post!
Tell us how we can improve this post?