Musc Ravageur by Frederic Malle has really got me intrigued with that timeless and sensual scent that succeeds to find its way to our shelves even after all these years (released in 2000.) and the nose behind this dangerously musky perfume is no one else but Maurice Roucel!
If you are like me and before trying a completely new scent you already have certain expectations, then you probably feel the same about Musc Ravageur — is this powerful perfume that came out such a long time ago really so phenomenal that people are to this day still madly in love with it? I can tell you right away, it is undoubtedly remarkable.
As perfume maker Maurice once said: "It's an archetype of sensual perfume" and he really set up an ultimate standard which turned out to be very true – this unisex fragrance has a dark and sensual aura, with perfectly blended composition it is indeed the best perfume of this collection!
I am going to cover every aspect of Musc Ravageur and hopefully, at the end of this post, you will make your decision whether this theatrical scent is for you or not.
What Does Musc Ravageur Smell Like?
Musc Ravageur smells like sensual, sexy, mysterious desire covered in musk with amber and other spicy and smokey notes.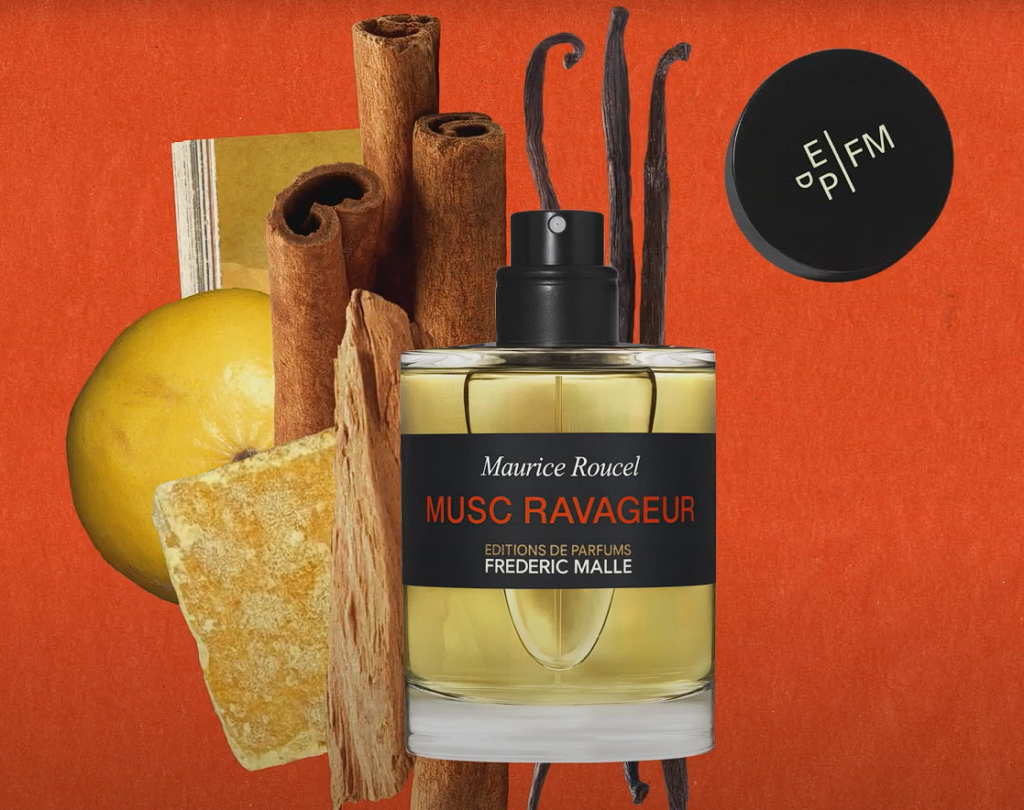 With the very first spray, there is no doubt that you will feel that the renowned signature of a French perfume – Frederic Malle has really left its traces deeply engraved in this warm and sweet fragrance, slightly incense-y but classy and essential perfume perfectly crafted for both men and women.
Top notes are:
Heart notes are:
Base notes are:
(notes obtained from official Frederic Malle website)
The opening that comes from the flawlessly blended mixture of lavender, mandarin, and bergamot gives this initial smell a clean, light, and elevated effect. Bergamot was added after the initial formula to lighten things up a bit, as the original formula was a bit rough on opening.
Once the top notes dry down slowly, Musc Ravageur becomes this incredible amber oriental perfume heavy on musk — musk was so intense that Maurice even describe it as animalic and very much aphrodisiac. Very spicy, very cinnamon and vanilla heavy — it literally smells like sex in the bottle.
One very dominant and comforting note is actually vanilla that has great involvement in making this composition so sensual and sweet that you will wish to wear this perfume every day which is absolutely fine as the intention was to have Musc Ravageur as the skin scent.
Maurice really blended this exclusive scent so well I cannot clearly recognize a cinnamon note, but the warmness and spiciness that comes from it can be very easily identifiable.
The story of Musc Ravageur was truly incredible and even though I'd like very much to tell you all about it, I think it's best that you feel the energy from Frederic Malle and Maurice Roucel themselves:
How Long Musc Ravageur Lasts?
The Musc Ravageur can easily last for 9+ hours, while the projection will serve you for at least 4 hours. Even after 8+ hours, people will still be able to smell it on you and the fragrance will not lose its charm.
There is no need to doubt the longevity of Musc Ravageur; I have applied it at 9 AM before work and at 6 PM the fragrance could still be smelled on me.
When it comes to sillage, it is also pretty strong so it will leave traces behind you for at least 5-6 feet, which I find totally acceptable. With that being said, it's only logical to conclude that this woody and sensual scent will gain you many compliments – I personally got a lot of compliments from both men and women.
Altogether, I can safely say you will not be disappointed with the quality and longevity of this French, dominant scent and you will for sure be complemented by both genders.
When to Wear Musc Ravageur?
Musc Ravageur is made for colder winter or fall weather, and it's best to wear it during nighttime.
Because of all woodiness and smokiness that come from musk, vanilla, and cinnamon, this fragrance is made for colder times, preferably for winter, but you can also easily pull it off during fall as well.
It is definitely not for summer since this perfume is the total opposite of the fresh and citrusy type of smell you will find in summer fragrances, and because of the high-temperature fragrance will not be able to open properly nor perform.
When we talk about day or night, it's definitely night, even though you will not go wrong if you wear it during the day as well (like I do).
Because of the darkness and naughtiness in this alluring perfume, it is better to show it off during some romantic, night date.
You can wear it on formal events, date nights, business meeting, late-night drinks, or for some more personal and intimate occasions – this sensual fragrance can get you wherever your heart desires and you will not go unnoticeable with this alluring smell.
As Maurice once said: "for a hyper-sensual woman" and that is what this fragrance really is — hyper-sensual.
How Many Sprays of Musc Ravageur is Enough?
3-5 sprays of Musc Ravageur will be more than enough for optimal performance and 9+ hours longevity. 2 under the ears, 2 inside of your wrists, and 1 behind the head. This fragrance has a great performance so do not overdo it.
As soon as I got Musc Ravageur, since I was really amazed by this dangerous scent, I "accidentally" applied more sprays than I should have and the result I got is okay, but a complete waste of sprays. Musc Ravageur has great quality and performance, not many sprays are needed to get the best of it, and applying too many sprays will only make people around you irritated. No matter how good a perfume smells, it can be overused and with that, it will lose its charm.
Once you apply it, you will smell gorgeous the whole day, without having to apply fragrance again.
For better application, make sure to check out our full guide on how to apply perfume for best performance!
Where to Buy Musc Ravageur?
The best option to buy Musc Ravageur is in local stores or perfumeries who are authorized resellers of Frederic Malle, or if you want to shop it online, then you can find it on their website or Amazon.
Personally, I like to smell the perfume before I decide to buy it and that's why I am a lifelong customer of local perfumery – it gives you an opportunity to test the fragrance and you will see if it's for you or not.
If you are like me and you are planning to visit a physical store then do not make a decision immediately after you spray it; leave it for at least 20 minutes, go for a quick coffee and then smell it again.
This fragrance will reveal its true magic after approximately 10 minutes and that's the moment you will know for sure if you want it or not.
If you are more of an online shopper, then the best places to get it are either their official website or Amazon.
Amazon is an authorized reseller of Frederic Malle, you can be absolutely sure that you will buy the original fragrance and not be scammed with a fake one.
Please make sure to get your fragrances from trustworthy sources and not from suspicious websites that might be selling fakes.
Packaging
Musc Ravageur, as every other perfume from that same collection, follows the same pattern and comes in a transparent, bold bottle, with a black sticky label where you can find the name of the perfume, name of the nose Maurice Roucel, name of the brand and type – EDP.
Frederic Malle perfumes have in general the idea of focusing strictly on the scent — no fancy packaging, no marketing, no scent-testing. Every perfume is the artwork of the perfumer, so, therefore, their all packaging is super simple.
Along with that, it has a black, minimalistic cap, with a pretty solid atomizer. The perfume itself has kind of a golden color, so it looks pretty delicate.
It comes in 2 different sizes:
If you are like me, and you are in love with dark and amber-oriented fragrances, then you can easily go with a 100ml bottle since versatility is wide and you will probably end up using Musc Ravageur more often than you thought so.
Summary – Is Musc Ravageur The King Of Sensuality?
This outstanding fragrance is just like Maurice said, it's sensual, sexy, dark, and theatrical; with all these musky, woody, and ambery notes, it can very easily become your next favorite unisex perfume.
The best of this collection, Musc Ravageur succeeds to take you to the moon and back with its dangerously alluring smell, along with amazing longevity and great performance, this perfume will serve you perfectly for any winter/fall occasion.
Musc Ravageur became my go-to fragrance when I want to feel seductive and classy, it is definitely worth the price and if you are into woody and smoky scents, you should try this masterpiece of Frederic Malle.
Have you tried it? Do you like it? Let me know in the comments below!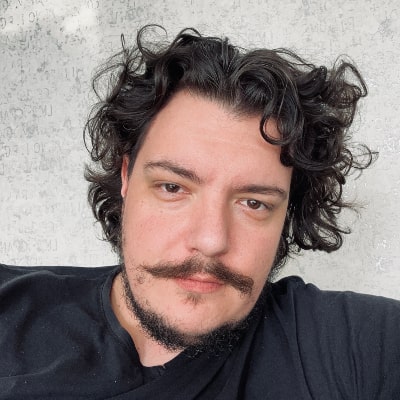 Vladan X is a founder of Fourth Sense and fragrance expert. He reviews only fragrances he owns personally, and his collection currently counts between 100 and 150 fragrances. Even though Vladan reviewed hundreds of perfumes he still didn't find the one he would call "signature" fragrance. He's still searching for that one, and in the meantime, he writes the best in-depth fragrance reviews internet has ever seen! You can read more about Vladan X here!