It's not a secret that Jeremy Fragrance brought so much drama and different reactions after releasing his first perfume called Office for men.

But when the Black Tie for men was released, it is safe to say that people have gone WILD, not only because of its name but also because Jeremy has seriously stepped up his game with fruity and creamy top, combined with unique woody mid-tones and his, already well-known, base that gives you that sweet spiciness and sexiness as the fragrance dries down. But also the price.
The name Black Tie For Men has really set up certain expectations since the Fragrance One brand follows the whole "occasion-based" context, which is quite an alluring way of giving each perfume a particular purpose.
Does perfume actually live up to those expectations, well… let's find out?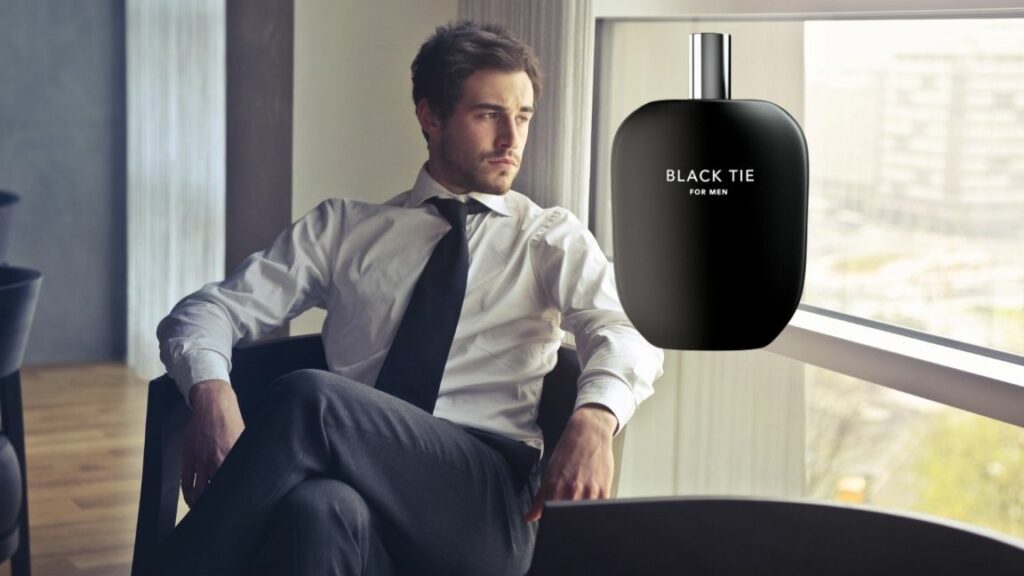 What Does Black Tie For Men Smell Like?
Black Tie For Men smells like a perfect mix of spicy, sexy, and daring tones with dark, smoky, and leathery effects, which leaves you with that powerful scent every alpha man would be looking for.
But maybe the best way to describe the initial smell of "Black Tie" is just like Jeremy said: "Intercontinental fragrance" whose top is made of Brazilian mandarin, Italian lemon, and American orange oil.
Top notes are (1):
Brazilian mandarin
American Orange Oil
Italian lemon
Middle notes are:
Guaiac Wood from Paraguay
Base notes are:
So, as you can imagine, very fruity and citrusy, also sweet, but don't get me wrong, not too sweet or youthful, more like the fresh and clean type of smell, I could even say seductive.
After approximately one hour, it starts to easily dry down, and as it happens, the woody mid-tones (from Guacic Wood) actually come to the fore and you can very easily notice that leathery smell, followed by a little bit of dustiness and depth, which is quite tempting.
I don't know is it just me, but from time to time I could even smell ambroxan, even though Jeremy didn't mention it in the note breakdown, but maybe it's just me.
The base of perfume contains vetiver, cardamom, and patchouli, and that combination already worked pretty well with Jeremy's previous perfume "Date for men", but this time, they all blended much more nicely with inky mid-tones. The undertones are not sharp, super strong, or harsh, they are all well mixed and you cannot tell that any of these notes stand out.
While speaking of the Black Tie smell, I cannot miss one significant detail that I noticed almost immediately, and that is the noteworthy difference between this fragrance and every other Jeremy's perfume.
Black Tie is much more unique, pleasant, and niche-oriented than his previous fragrances – it has that darkness in its composition that gives you confidence and attractive sensation, and in all honesty, it is a real compliment factor.
How Long Black Tie For Men Lasts?
Black Tie For Men will surely last from 8 to 10 hours, and the silage is also pretty solid, you will leave traces of this tempting smell 5 or 6 feet behind.
Talking about the performance of Jeremy's perfumes became pretty much unnecessary because, since his first Office For Men fragrance, it was crystal clear that Fragrance One has crucial and essential qualities that we are all looking for.
Who doesn't want a perfume that lasts long, stays on the skin even when hours passed by, and still attracts attention and compliments all around you? I absolutely want it.
"Black Tie" will last from 8 to 10 hours for sure, once you spray it, there is no need to worry that your colleagues or friends will not notice the new, sexy and pleasant fragrance you just bought. The silage of this fragrance is strong as well and you can be sure that people around you will easily catch it.
Also, there is one interesting advantage, which is the fact that Black Tie goes amazingly good with Date For Men, so if you have a lovely, romantic lunch with a woman and a business, formal dinner in the evening, you can combine these two fragrances and arrive in style at both occasions.
When to Wear Black Tie For Men?
The versatility of Black Tie For Men is, surprisingly, wide – the best time you can pull it out is definitely spring and fall, and when it comes to day or night, I would recommend going with night. As the name indicates, this perfume blends perfectly with a night date atmosphere.
Deciding when to wear a Black Tie should be straightforward and undemanding since the name of this fragrance says a lot about Jeremy's vision of this perfume.
But, the versatility of "Black Tie" is, in my opinion, wider and richer than it is supposed to be, which is not bad at all. Even though, Jeremy said: "It is not for everybody", I think that anyone can very easily pull it off, and it doesn't even matter if you decide to wear it on a date, in office, or even casually, I don't think you would go wrong.
When it comes to a season, I would go with a transitional time of the year, so mostly spring and fall, definitely not summer, because it is not that fruity and chilly, but also not winter, because it is missing that sensuality you look for in winter perfumes. If we talk about day or night, I would say night, but feel free to wear it during the day as well.
How Many Sprays of Black Tie For Men is Enough?
4 to 6 sprays of Black Tie For Men will surely be enough to release the real power of this dark and seductive perfume. Apply 2 under the ears, 2 inside of your wrists, and 1 behind the head and you should be all good.
Since fragrance is created by Alberto Morillas (worldwide famous perfume maker), I did not expect anything less than outstanding quality, so just a few sprays of the "Black Tie for men" will be more than enough for you to smell amazingly delightful wherever you decided to wear it, and receive flattering compliments (because let's be honest, we love when someone notices our new, fancy perfume and say something admiring).
But, do not get ahead of yourself, since you do not want to punch people in the faces with the strong, leathery flavor of Black Tie, try not to spray it like a crazy person, not only because you want to stay classy and elegant, but because it is way too expensive to just use it in abnormal amounts.
Where to Buy Black Tie For Men?
If you have a perfumery close to you that is an authorized reseller of Fragrance One, you should definitely visit it first. When it comes to online shopping, you can find it on Fragrance One official website and eBay.
Deciding which fragrance to buy is often a tough decision, especially when you cannot smell it before making a decision. That's why my advice for you is to try to find Black Tie in local perfumery and see for yourself if this perfume is made for you or not.
You can also order it on Fragrance One official website, and it is safe to say that's the best place to get it, since often there are different (drastic) discounts, where you can buy 1 and get 2, or get 100ml for half price, or even choose their pre-made bundles. If you ask me, bundles are a great way of getting Fragrance One, since you can get several men's perfumes and also some women's fragrances, which you can sell later and keep the ones you like.
Right now, Amazon and Sephora still do not sell Black Tie, but I am sure it will be available on these platforms as well, in the future.
Packaging
This Jeremy's fragrance comes in a black, matte bottle with a white title and silver cup. Underneath the cap is a pretty solid atomizer that will surely do the job. Simple, elegant, and dark.
Talking about packages actually is very disappointing. Black, effortless box, with the image of the product itself, pretty boring if you ask me. And, the fragrance is packed up in a matte black bottle, with a white title and silver cap, and underneath the cap is a pretty solid atomizer, nothing special, nothing exciting.
I know that we are not buying perfume because of its look but because we want to smell sensational, but, sometimes we just expect some good-looking bottle that will be a cool decoration on your shelf, something that will look expensive and luxurious. You know what I am talking about.
Jeremy should definitely work on the packing so that we can have a feeling of buying a prestigious, glamorous, and niche-oriented perfume since that is what the "Black Tie" is supposed to be.
Summary
So, is Black Tie For Men really the most dominant and authoritative niche fragrance or commercial designer's perfume? I would say – something in between.
The "Black Tie" is a great, pleasant, sexy perfume, with fruity and woody notes, a real compliment factor, and with great performance and versatility, but I cannot say it can reach some famous names on the perfumery marketplace.
It has great potential and quality, but it still has designer sensibility, and Fragrance One cannot be compared with, for example, Creed or Tom Ford, let alone Paco Rabanne.
Maybe, in the future, Jeremy will come up with fragrances that will blow our minds and reach that prestigious level that other brands have, but for now, I am positive that "Black Tie" represents a new level of Jeremy's magic.
The "Devil DNA" as Jeremy once called "Black Tie" is a perfect choice for anyone who wants leathery and smoky fragrance, with fruity opening and citrusy flavor, you will smell seductive and sexy, and be noticed by many.
If that is what you are looking for in a fragrance, then you should definitely give it a try.

We are sorry that this post was not useful for you!
Let us improve this post!
Tell us how we can improve this post?