Founded in 2013, the house of Nishane reached massive success in previous years with the recognized quality of its fragrances.
In 2018, Nishane Hacivat came out, and it quickly became one of the house's best sellers even to this day.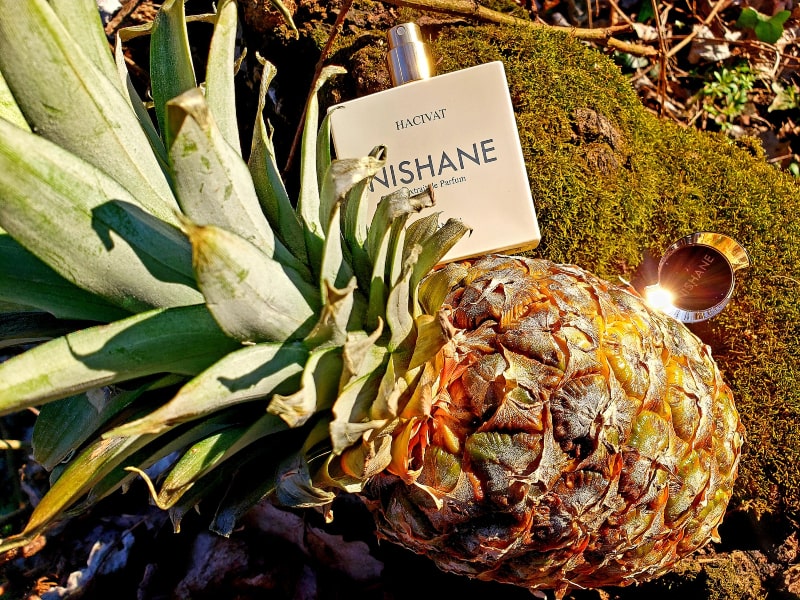 Hacivat came out as the part of "Shadow Play" collection, where Nishane was inspired by the traditional Turkish shadow play called Hacivat and Karagöz – in the play, Hacivat is a respected gentleman with real manners, well educated and smooth.
One of the key reasons this fragrance reached massive success is not just because of its quality and background story, but because of many reports that claim that Hacivat smells very similar to Creed Aventus.
So does Nishane's Hacivat smell like real Hacivat? Are we looking at another Creed Aventus clone? And is it really worth its hefty price?
---
Buy Nishane Hacivat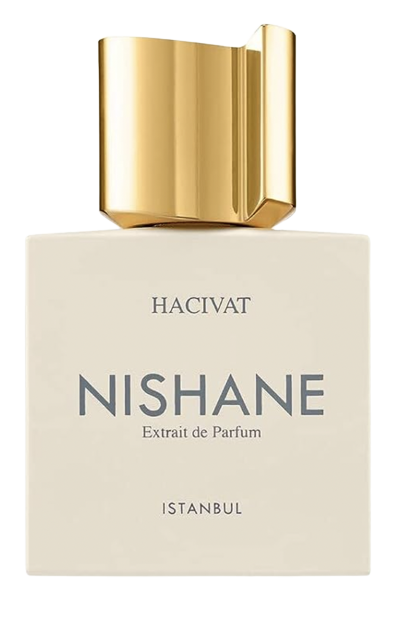 ---
What Does Nishane Hacivat Smell Like?
Nishane Hacivat smells dry, woody, and fresh where the most dominant notes are pineapple and moss.
According to Nishane, notes pyramid looks like this:
Top notes: bergamot, pineapple, grapefruit
Heart notes: jasmine, patchouli, cedarwood
Base notes: cedarwood, oakmoss, timberwood
Before we dig into the scent, I know that you probably heard or even found this article by looking at the differences between Creed Aventus and Hacivat. In this section, we're going to focus solely on the scent of Hacivat, regardless of any similarities it may have with other fragrances.
As Nishane is a niche house, you immediately know that Hacivat will probably smell different from the majority of other scents you tried.
And you're not wrong.
The opening starts very citrusy and very sharp where in a matter of seconds the entire scent will dominate the space around you.
You immediately feel the note of pineapple and what gives it a citrusy feel is bergamot which is pretty concentrated. Even though there's also grapefruit as the note in the opening, I would say the scent is much more citrusy than fruity.
Drydown is exactly where you see the power of Hacivat – the scent becomes very dry and woody, but almost in a sparkling manner. It's dense, metallic, and extremely intense.
Me and my team didn't notice any floral notes such as jasmine, which means that jasmine was used for its properties and manipulation of other notes.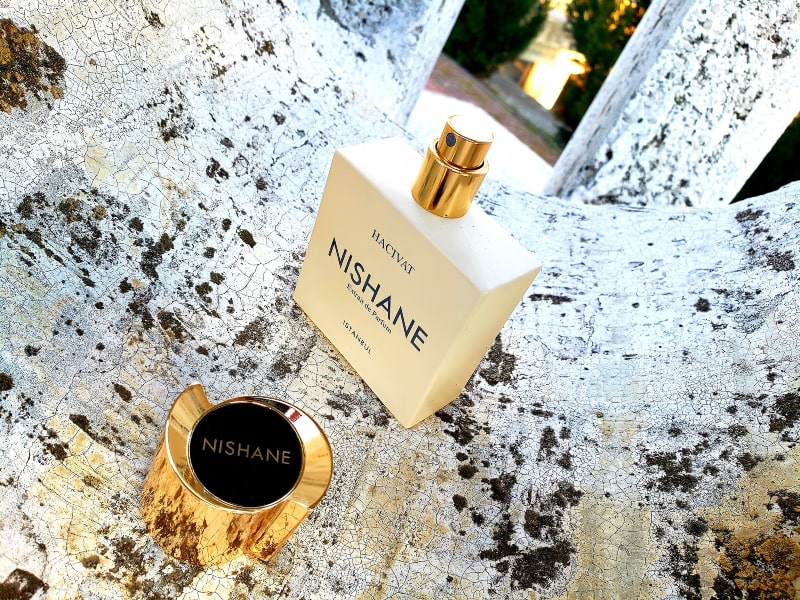 Saying that you're left with woods, patchouli, and moss in the heart and base.
---
Buy Nishane Hacivat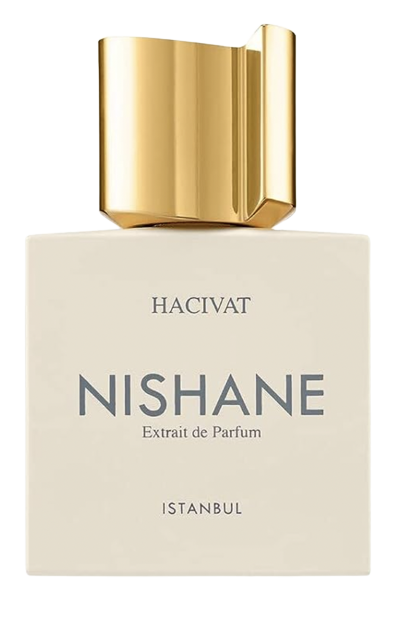 ---
In order to better picture the scent of Nishane Hacivat here's what those notes actually do and what's their purpose:
Patchouli leads the woody accord with the earthy, balsamy, and mint-woody scent
Cedarwood provides the woody tone and is known to feel dry, peppery, and a bit smoky
Timberwood also provides a woody note but with resinous and aromatic tones
Clearwood is a raw material that smells like very dry patchouli, used to boost the patchouli feel
Oakmoss gives more on dryness, but also on woody and green tones
All that combined, you can imagine that once Nishane Hacivat reaches the final drydown stage, the final scent will be very dry, very woody, and very intense – just like a true chypre fragrance should.
Even though there's no musk in the composition, the scent definitely has the musky accord.
In general, Nishane delivered a great example of master niche perfumery – the scent is very unique, it has a strong and recognizable DNA, it's a true unisex even though it leans a bit on the male side, and what's most important, it has a storytelling trait.
As we previously said, Hacivat was a gentleman, an educated man, and a well-respected persona in society. Since Nishane is a Middle Eastern house, luxurious woody scents such as oud and others were often used by the higher class, which fits Hacivat from shadow play. I'm sure there's a lot more to discover around that story and compare it to the drydown of the fragrance, but we'll leave it at this – niche perfumery is not about liking the scent, but using the olfactory composition as art to tell a story about something or someone.
Speaking of liking the scent, Nishane did their best to make this perfect blend mass appealing, and they succeeded. This is a truly beautiful composition, a very appealing scent that definitely has a big compliment factor as well.
If you're into dry and woody scents then Nishane Hacivat is definitely a safe blind buy for your collection!
Has Nishane Hacivat Been Reformulated?
No, Nishane Hacivat has not been reformulated since its release.
I've reached out directly to Nishane with this inquiry and as soon as they respond I'll post the official statement here.
I'm aware that many reported changes in performance and in some notes but, in general reformulations come with changes in the appearance of the bottle and significant changes in the scent.
I've also noticed sometimes minor changes in different batches, but before pointing fingers, there are a few things we should be aware of:
The quality of raw materials changes in different batches, which means that even though the formulation is the same, the scent might be a bit different
Working with raw materials increases the chances of the scent smelling differently due to multiple reasons
We can become nose-blind to a certain extent to some notes
Nothing beats the first excitement about the fragrance we love, but first excitement and impression can happen only for the first encounter with the fragrance
Saying all that, it's likely that the formula remained the same, but we or some different variables might change over which Nishane doesn't have power.
Rest assured that even though Hacivat came out in 2017, you will have the same scent and performance even in 2023.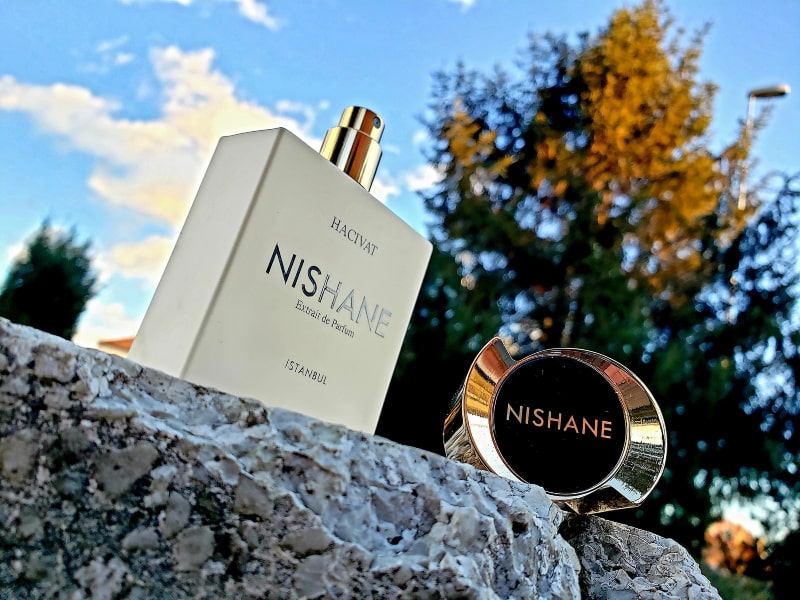 How Long Does Nishane Hacivat Last?
On average, Nishane Hacivat lasts over 12 hours, and it projects massively in the first 6 hours.
If you're after a true performance beast, then Hacivat will definitely fulfill your expectations.
When we say performance, we mean absolutely all aspects of it: longevity is easily all-day, projection is feets away for hours and hours, and sillage leaves a mile-long trail behind you.
What's interesting is that Hacivat is not ambroxan heavy – the majority of fragrances such as Dior Sauvage Elixir that project powerfully and have huge sillages are filled with ambroxan, an aroma chemical of ambergris.
Nishane Hacivat achieves its power through the heavy use of raw materials and through its concentration (extrait de parfum).
How Many Sprays is Enough?
In order to achieve optimal performance of Nishane Hacivat, 2 sprays on the neck (one on each side) are all you need.
There's really no need for overapplying this fragrance, as every spray is extremely powerful – as soon as you spray it, people in other rooms will smell it within seconds.
Also, overapplying Hacivat may result in the scent being too suffocating and causing headaches not just to you, but to people around you.
It's extremely important to know how to properly apply fragrance, as there's genuinely a proper way for doing it, and causing mistakes will just cause the scent not to open and perform properly.
This also may be the reason why some people report that it's reformulated – I assure you it's not, there are just a few rules you have to know before spraying it.
When To Wear Nishane Hacivat?
The best season to wear Nishane Hacivat is spring in summer, but it can also be a year-round fragrance. When it comes to occasion, its versatility allows any type of occasion.
What you really need to know and remember is that this is a very powerful perfume. The reason why this is important that you remember is that when it comes to occasion, be aware that you will be noticed, and a lot of people around you will smell it.
If you're attending an occasion where you don't want to stand out and let everyone know that you entered the room before you actually did, then it might be a better idea to avoid wearing Nishane Hacivat.
For any other occasion where you don't mind being "the one in the room that smells good", Hacivat will work just fine.
I'd also recommend not wearing Nishane Hacivat to work or the office – it's too powerful and it might bother people around you despite its beautiful scent.
When it comes to weather, dry, woody, and musky tones will work the best during spring and summer days when the temperature is anywhere above 65°F. It will be even more powerful and aggressive during high heat, so bear that in mind.
Even though it adapts perfectly to hot conditions, due to its monstrous performance but also woody tones, Hacivat will blend into fall and winter days without any trouble.
Saying that we have to admit that it's not every day that you see a niche perfume with such a mass-appeal factor, rich history, and ability to adapt to any weather condition and season!
Nishane Hacivat vs. Creed Aventus – Differences & Similarities
Okay, so it's time we address the elephant in the room – what's the difference between Creed Aventus and Nishane Hacivat?
Despite popular opinion, the only similarity Creed Aventus and Nishane Hacivat share is their opening note of pineapple as both dry downs go in totally opposite directions.
The truth is that Creed Aventus is such a popular fragrance (and has been for the past 10 years) that it completely took a monopoly over the note of pineapple. Considering that note of pineapple wasn't used as often as other fruity and citrusy notes, it makes sense why Creed popularized it.
Saying that, every fragrance that comes out after with the note of pineapple in the opening is considered to be similar to Creed Aventus, or even a clone, which in reality makes no sense.
And that's their only similarity – pineapple fruitiness in the opening.
Differences between Creed Aventus and Nishane Hacivat are huge:
Aventus dries down into a fruity and mild woody scent, with traces of smokiness, while Hacivat dries down to super dry woods and patchouli
Aventus has around 7 hours of longevity and 2-3 hours of projection, while Hacivat lasts for over 12 hours and projects for 6.
Musk accord in the background is completely different in both fragrances
Aventus has a much juicier scent profile, while Hacivat is super dry
Thanks to the pineapple in the opening, these two were often compared but rest assured that they are completely different perfumes where the only similarities are in the opening and mass-appeal factor.
So to wrap it up – no, Hacivat is not an Aventus killer as many influencers advertise nor it falls into the same category as Aventus. They are different art pieces that tell different stories via recognizable but unique and different scent DNA.
Where To Buy Nishane Hacivat?
The best place to buy Nishane Hacivat is Nishane's department store or other perfumeries that are authorized resellers. If you're buying online, the best places to buy are Nishane's official website, FragranceNet, and Fragrance USA.
Regardless of the fact that you will love Nishane Hacivat, it's always best that if you have to opportunity to go to the actual department store to do so, as that will give you the chance to try and test the fragrance before buying.
However, if you're not able to do that, or you simply prefer buying online there are solutions to that as well.
The place I'd personally recommend as the source where I get all my fragrances is FragranceNet – with them, you can rest assured that you will get the original bottle within just a few days. They also often have discounts ready for you if you sign up for their newsletter.
---
Buy Nishane Hacivat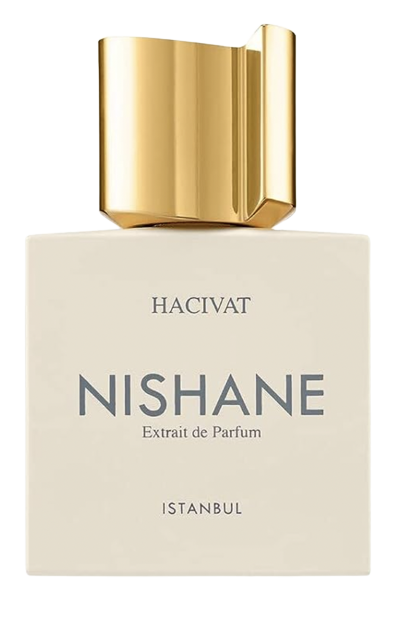 ---
If you're not certain about the purchase, and you'd prefer to try it out first, I recommend getting your sample from MicroPerfumes – they will deliver any size between 0.75ml and 5ml of original perfume so after testing you can decide whether should you get it.
Besides FragranceNet you can also find Nishane Hacivat on Nishane's official website, Fragrance USA and Fragrance X.
If you require additional resources, check out our post on the best places online to buy fragrance.
Always avoid online sellers that have no background in order to prevent scams, and in the worst case getting a fake fragrance that hasn't even been tested on human skin. Always buy from trustworthy websites.
Packaging & Presentation
Nishane Hacivat has exactly the presentation that a niche house should have.
Hacivat comes in a beautiful black box that gives a luxurious feel to the entire presentation.
The box is much larger than the bottle, and once you open it, the white-painted bottle with a golden cap is in the center.
On the front side of the bottle, you can find 4 rows of writing in different sizes: HACIVAT > NISHANE > Extrait de Parfum > ISTANBUL.
Overall, it's safe to say that Nishane invested in the presentation to make it appear luxurious and prestigious, and they did it. Presentation worthy of the scent!
Hacivat comes in 3 different sizes:
15 ml / 0.5 oz
50 ml / 1.7 oz
100 ml / 3.4 oz
Conclusion – Is Nishane Hacivat Worth It?
Considering the uniqueness, mass-appeal and compliment factor, versatility but also price, yes, Nishane Hacivat is definitely worth it in 2023.
Many entered the world of niche perfumery via mass-appealing niche fragrances such as Creed Aventus, or Parfums de Marly Layton, so Nishane Hacivat can also be a great entrance.
Sure, the price is a bit higher compared to other fragrances, but rest assured it's worth every penny – it's a beautiful piece of art, its performance is monstrous, and its versatility allows you to use it absolutely any time anywhere.
Have you tried Nishane Hacivat before?
What do you think of it?
Let's talk in the comments below!
Cheers!
We are sorry that this post was not useful for you!
Let us improve this post!
Tell us how we can improve this post?