In 2010, the world of fragrances changed forever with the coming of Creed Aventus. Since that day, literally, nothing is the same.
Aventus managed to set up a monopoly over the pineapple note where almost any fragrance that came out after 2010 had pineapple note was almost instantly declared Aventus-like or even Aventus clone.
Besides astonishing scent with an incredible mass-appeal factor, Aventus became popular due to its controversy with batch variations, where in a certain period of time every single batch smelled differently. And that was super annoying.
After evolving over the years, and changing every aspect of the fragrance but the price, people started turning towards Creed Aventus alternatives, seeking scents of old batches, a performance worth the price, but also similar DNA for a much lower price.
Many fragrance houses (but also scammers) were inspired by how amazing Aventus was, so similar perfumes came out quickly.
Over the past few years, I tested over 20 Creed Aventus alternatives and clones, so if you're looking for one, these would be the best ones.
1. Club De Nuit Intense Man by Armaf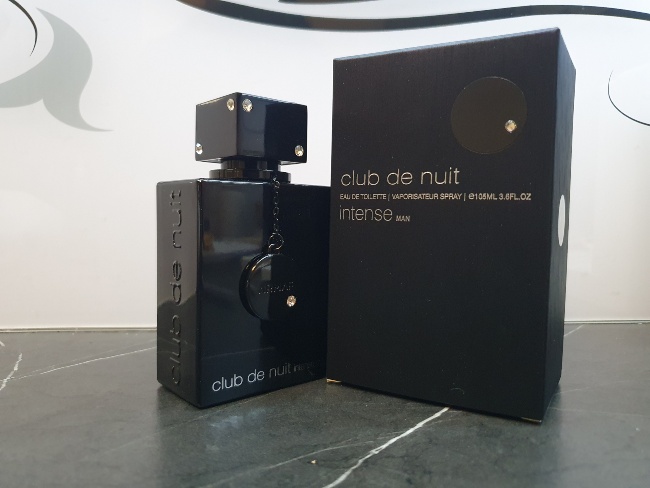 Okay, we're addressing the elephant in the room.
If you heard of Aventus, you have most certainly heard about Armaf Club de Nuit Intense Man.
It's one of the most popular copycats of Aventus, and at some point, it was among best selling fragrances in the world. The reason for that is that CDNIM is very inexpensive, yet very close to the scent of Aventus.
With low price comes a few cons as well – the opening is super synthetic and safe to say disgusting and it never actually reaches the depth of smokiness like Aventus.
However, if you manage to bear with it for 10 minutes, that awful opening will pass, and CDNIM will open into a beautiful, pineapple and birch combination-based fragrance.
This was one of the first Creed Aventus clones on the market that came out in 2015. Since then, Armaf released several flankers that are also very close to the scent of Aventus:
Club de Nuit Intense Man Limited Edition
Club de Nuit Intense Eau de Parfum
Club de Nuit Intense Pure Parfum
They are all different but all mimic the Creed Aventus DNA.
In my own personal opinion, even today, Club De Nuit Intense Man (EDT) is the best clone among the others they created after.
| | |
| --- | --- |
| Avg. Longevity | 7 hours |
| Avg. Projection Distance | 3 ft |
| Sillage | 7/10 |
| Biggest Pro | Price |
| Biggest Con | Opening |
| Aventus Similarity | 8/10 |
Want to know more about this fragrance? Read our full Armaf Club De Nuit Intense Man review!
2. Explorer by Montblanc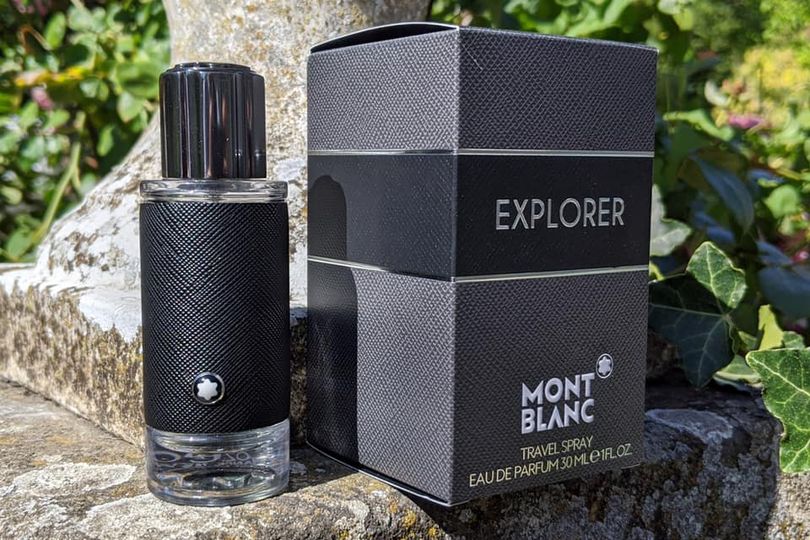 Another elephant in the room, but we can't talk about Creed Aventus alternatives and clones without mentioning Montblanc Explorer!
4 years after Armaf released CDNIM, Montblanc released Explorer, attempting to take a piece of the pretty big cake. Knowing what job they did, I'm sure they managed to take quite a bit!
Montblanc Explorer definitely has a lot in common with Aventus, and compared to CDNIM it's a lot smoother.
However, just like with CDNIM, a very low price takes its toll – performance is pretty weak, where the latest batches are lasting between 4-6, but after only an hour or two, the fragrance becomes pretty intimate.
Explorer still has beautiful composition and it's certainly a big compliment-getter. However, make sure to get it only if you don't mind reapplying it every now and then or if you're simply okay with the performance displayed in the table.
Want to know more about Montblanc Explorer? Read our full review!
| | |
| --- | --- |
| Avg. Longevity | 5 hours |
| Avg. Projection Distance | 1 ft |
| Sillage | 5/10 |
| Biggest Pro | Price |
| Biggest Con | Performance |
| Aventus Similarity | 7/10 |
3. L'Aventure by Al Haramain Perfumes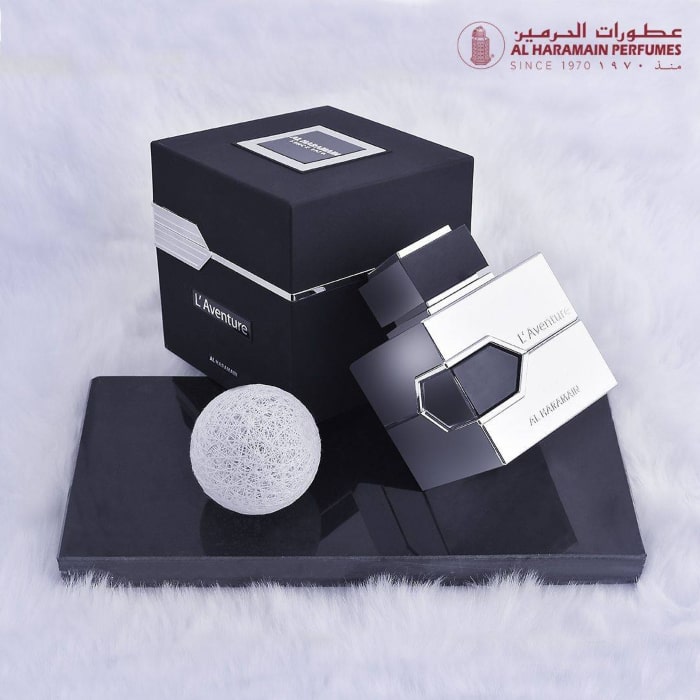 If you're really after the fragrance that smells identical to Creed Aventus, then I believe you can't get any closer to the original scent than with Al Haramain L'Aventur.
L'Aventur came out in 2016 and to this day, among all other clones and alternatives, it smells closest to Aventus.
What's interesting about L'Aventur is that according to their website, there's actually no pineapple note itself even though you can clearly smell pineapple in the entire dry down – opening notes are bergamot, elemi, and lemon!
The notes pyramid is very similar to Aventus's, where instead of birch, L'Aventur has a combination of woody notes.
In general, this smells almost the same as Aventus, so if you're after a cheaper version of Aventus with similar performance, then L'Aventur is what you're after.
After its initial release in 2016, Al Haramain came out with a bunch of flankers of the L'Aventur line, but the one that is also worth considering as Creed Aventus alternative is L'Aventur Intense – it's also very close to Aventus, but performance is through the roof, literally beast-mode Aventus!
| | |
| --- | --- |
| Avg. Longevity | 7 hours |
| Avg. Projection Distance | 4 ft |
| Sillage | 8/10 |
| Biggest Pro | Similarity to original scent |
| Biggest Con | / |
| Aventus Similarity | 9/10 |
4. Hacivat by Nishane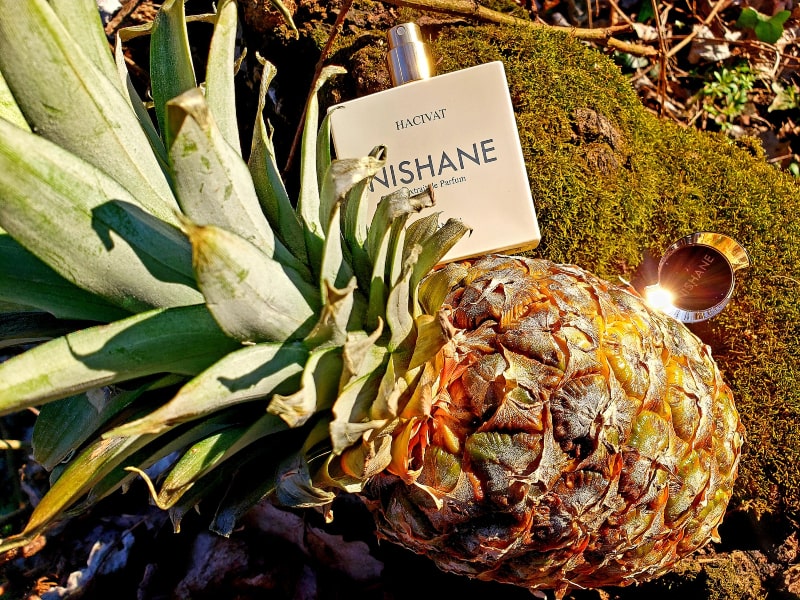 Now, there's a good difference between clones and fragrances inspired by other fragrances.
Turkish fragrance house Nishane released Hacivat in 2017 and even though it immediately got the hype of being an Aventus clone, Hacivat was far from that.
The only thing they actually share and have in common is the pineapple in the opening. From there, their dry down goes in completely different directions.
Aventus evolves into light woody and smokey vibes while still remaining that juicy fruity theme. On the other hand, Hacivat becomes an extremely dry, intense, and wood-heavy scent.
Their performance is also much different – even though Creed stabilized the performance of Aventus in 2022, it's still nowhere near the performance and longevity of Nishane Hacivat which is monstrous.
If you're looking for clones, then avoid Hacivat as you will get something totally different. But if actually want something different with a recognizable fruity pineapple note in the opening, then Nishane Hacivat is definitely one of the better Creed Aventus alternatives.
Sounds interesting? Read our full Nishane Hacivat review!
| | |
| --- | --- |
| Avg. Longevity | 12 hours |
| Avg. Projection Distance | 5 ft |
| Sillage | 10/10 |
| Biggest Pro | Uniqueness |
| Biggest Con | Too powerful |
| Aventus Similarity | 5/10 |
5. Supremacy Not Only Intense by Afnan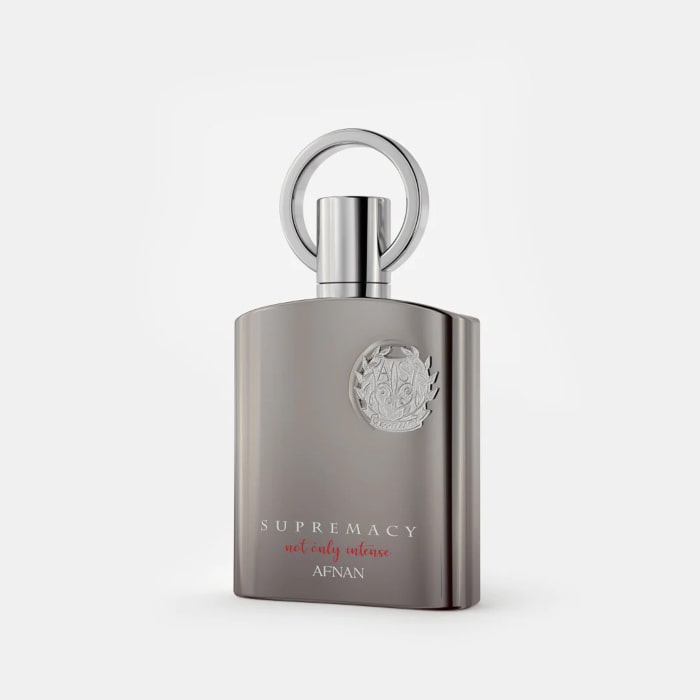 Afnan Supremacy Not Only Intense came out in 2021 and thanks to its opening and drydown it was immediately declared as one of the Creed Aventus clones.
However, that's not the case.
If we're comparing it to Aventus, sure there are similarities (hence the spot on this list) – fruity opening based on black currant and citruses, and woody drydown. But, after smelling it and testing it on multiple occasions, I think Afnan actually wanted to create a Nishane Hacivat clone here.
Its drydown goes in a woody direction just like Hacivat's, but compared to Hacivat, the base feels more synthetic. Opening and heart are very close and similar, but the base of Supremacy Not Only Intense is simply flat and synthetic.
That, however, doesn't mean it's bad – some people may find Hacivat's drydown too intense and powerful, which in that case, Supremacy Not Only Intense corrects.
In reality, both were definitely inspired by Creed Aventus, its story, and mass-appealing scent, but if you're after something that leans more towards Aventus just with a slightly woodier drydown, then Supremacy Not Only Intense is a great solution.
| | |
| --- | --- |
| Avg. Longevity | 10 hours |
| Avg. Projection Distance | 4 ft |
| Sillage | 9/10 |
| Biggest Pro | Performance |
| Biggest Con | Synthetic base |
| Aventus Similarity | 6/10 |
6. Brasilia 13zz01 by Alexandria Fragrances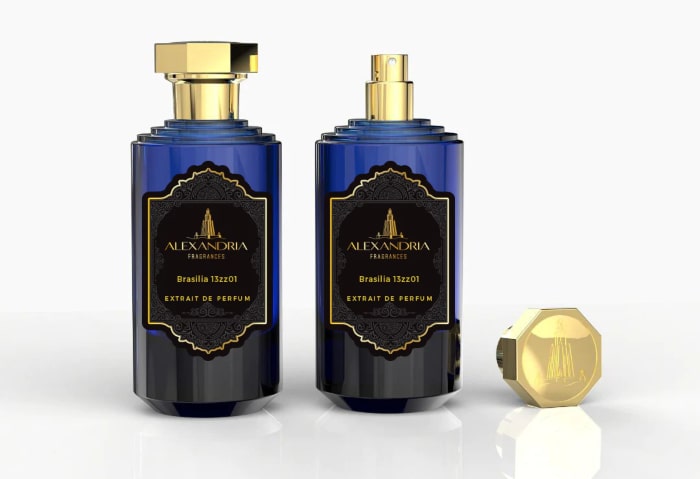 When Creed alternatives started popping up on the market, none of the houses actually were willing to say that they imitated, or were inspired by the victorious scent and story of Aventus.
None of them, except Alexandria Fragrances.
If you take a look at their website, you will find multiple fragrances that clearly say that they were created based upon the inspiration of Creed Aventus.
The most popular one, that actually smells super close to Aventus is Brasilia 13zz01 and for a while, this was a go-to fragrance for anyone looking for a solid Aventus scent.
Compared to the original scent of Aventus, Brasilia 13zz01 smells a bit more lemony and sharp, but the notes pyramid is almost identical to old Aventus batches – pineapple in the opening, birch smoke in the heart, and musks in the base.
Compared to others on this list, Alexandria Fragrances actually declares Brasilia 13zz01 as a unisex fragrance and claims that anyone can wear it, which after testing resulted to be pretty much the truth. It's a bit more versatile than Aventus in terms of who can wear it, and although the scent DNA is 90% the same as Aventus's, Brasilia 13zz01 smells more unisex.
Besides Brasilia 13zz01, Alexandria Fragrances released some other Creed Aventus alternatives:
Brasilia – focused more on Aventus's general scent
Brasilia Cologne – inspired by Creed Aventus Cologne
Brasilia Prive – Inspired by Creed Aventus batch 11z01 (if you're looking for early Aventus batches, this is it!)
So if you're really looking for something amazing like Aventus, Alexandria Fragrances offers multiple options, and I'd personally say that Brasilia 13zz01 is the best!
| | |
| --- | --- |
| Avg. Longevity | 7 hours |
| Avg. Projection Distance | 3 ft |
| Sillage | 7/10 |
| Biggest Pro | Very close to Aventus |
| Biggest Con | / |
| Aventus Similarity | 9.5/10 |
7. Emperor Extrait by Parfums Vintage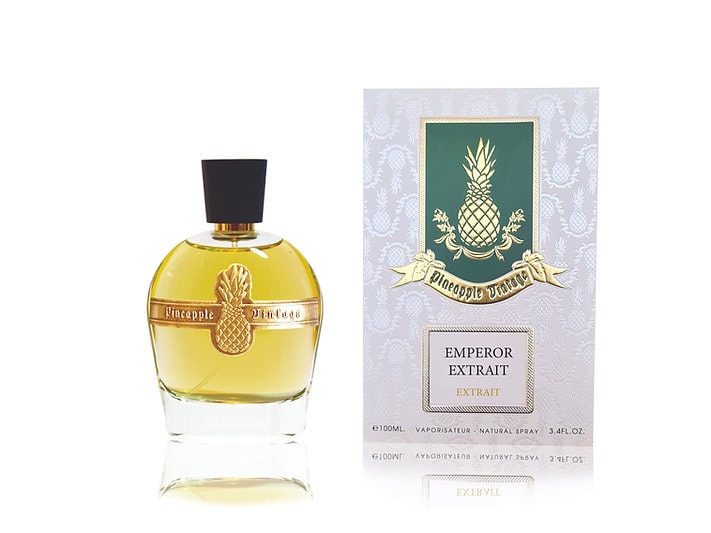 Speaking of companies who don't shy away from their love for Aventus, Parfums Vintage may be Aventus's biggest fan.
Their Pineapple range line counts over 20 fragrances, all inspired by Creed Aventus.
This is easily the heaven for anyone who is a die-hard fan of Creed Aventus, as this allows you to explore all variations that Aventus could have been.
This list of Creed Aventus alternatives simply couldn't go without mentioning Parfums Vintage, but truth be told, it was super hard to pick one out of 20 to be our recommendation for the Creed Aventus alternative.
So I based the recommendation on my personal preference – pineapple was always great, but what I personally loved about old Aventus was its smoky drydown.
Saying that, my personal best Creed Aventus alternative from Parfums Vintage is Emperor Extrait and that's the recommendation.
Fruity opening, a light heart that allows pineapple to keep dominating, and a heavy base of birch smokiness, musks, patchouli, and ambergris.
Creed builds their fragrances to be airy with a focus on top notes, while Emperor Extrait is much more focused on the base, which makes it a lot heavier compared to Aventus's scent.
It's important to note that Parfums Vintage Emperor Extrait is not a Creed Aventus clone, but a fragrance inspired by it. The difference is the purpose, where clones are made to smell identical, while fragrances inspired by others were made in a unique way, with a twist.
Considering that there are 20 fragrances you can pick from, set your imagination free and pick the one that smells like you'd want your Aventus to smell.
My personal recommendation is Emperor Extrait, and rest assured that you can't go wrong with it.
| | |
| --- | --- |
| Avg. Longevity | 9 hours |
| Avg. Projection Distance | 4 ft |
| Sillage | 8/10 |
| Biggest Pro | Smokiness from old batches |
| Biggest Con | / |
| Aventus Similarity | 8/10 |
8. Cedrat Boise by Mancera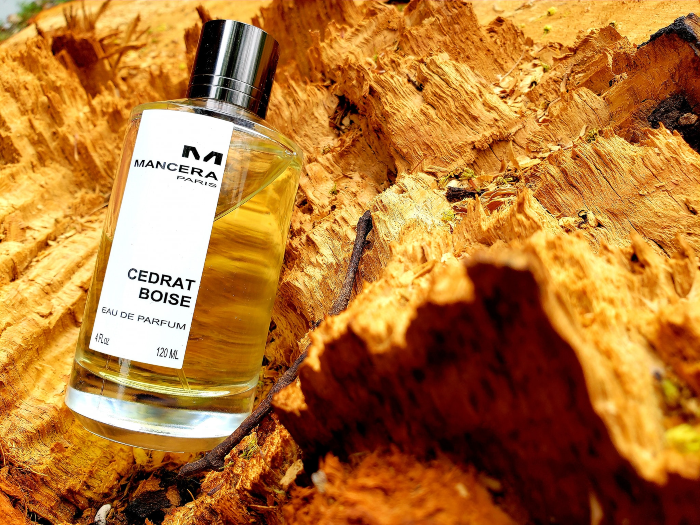 Okay, let's move a bit away from the pineapple signature as not all Aventus inspirations actually need to have it.
If you compare Mancera Cedrat Boise with Creed Aventus, you will clearly see the differences in the scent, where Mancera focuses more on fruitiness in opening and heart with various fruit notes, and its drydown is based on not-so-dry and not-so-smokey woods.
Similarity? Well, the evolvement of the scent – fruits go to the woody and leathery base.
If you're after a real alternative that doesn't have much in common in terms of scent with Aventus, then Mancera Cedrat Boise is a really good choice as its mass-appealing scent is different, but still crafted the way Aventus was.
If this sounds interesting, you can learn more about Mancera Cedrat Boise in our full review!
| | |
| --- | --- |
| Avg. Longevity | 9 hours |
| Avg. Projection Distance | 3 ft |
| Sillage | 6/10 |
| Biggest Pro | Uniqeness |
| Biggest Con | Performance in batch variations |
| Aventus Similarity | 4/10 |
9. Poseidon's Elixir 13ZZ by Dua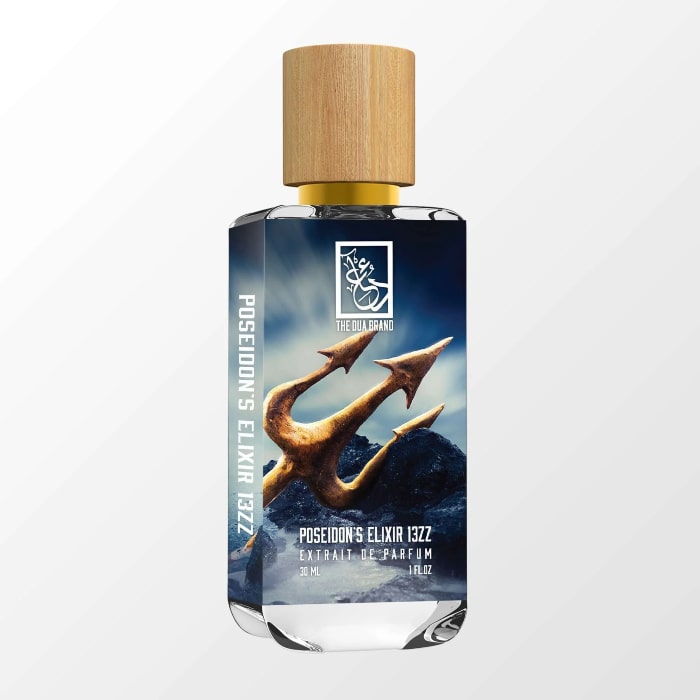 One of the companies that took the original DNA of Creed Aventus and tried to make it as close as they can is Dua, and with their Poseidon's Elixir 13ZZ, they actually did it.
After over of hundred variants in production, Poseidon's Elixir 13ZZ was released and if we speak about clones, this one is super close.
It's hard to compare which one among other clones such as Brasilia 13zz01 and L'Aventure smells closest, but among those ones, Poseidon's Elixir 13ZZ leads the race when it comes to price.
It's a mass-appealing compliment-getter, it has that birch tar smokiness and signature pineapple in the opening, and if you want to have a scent that people will easily confuse with the original Creed Aventus then this might be the best bang for the buck!
| | |
| --- | --- |
| Avg. Longevity | 7 hours |
| Avg. Projection Distance | 3 ft |
| Sillage | 6/10 |
| Biggest Pro | Price |
| Biggest Con | Occasionally synthetic |
| Aventus Similarity | 9.5/10 |
Conclusion – Why Buying Creed Aventus Alternatives
As you already know, Creed Aventus went through major changes over the past decade but still managed to set a new standard in fragrance industry.
In general, its victorious, irresistible and mass appealing scent is what bought many enthusiasts, and even got many into the world of niche perfumery.
However, there are couple of reasons why buying some alternatives might be a good idea:
Creed Aventus is expensive – not overpriced, but really expensive. No artwork can be overpriced, but not everyone can afford to spend $400 on a fragrance
Seeking for old formulations – many still miss that first smokiness and muskiness of Aventus. Since you can't find it in today's version of Aventus, some of these alternatives definitely got you covered
You like the theme but not the creation – there are people who simply don't like the scent of Aventus but like the idea of a fruity top drying down to a woody base. Hence, some alternatives offer solutions to that.
It's also important to emphasize, that no alternative nor clone will ever be exactly the same as Creed Aventus.
Creed doesn't just sell the scent of Aventus. They sell their name. They allow you to say that you are wearing Creed.
It's luxury. It's a fashion standard. It's a whole package.
Some people want to wear a Gucci shirt, while others don't care if its Gucci or a random no-brand shirt.
Saying that, if you don't care about the brand and this stuff in general, alternatives will work great for you as you can get similar scent.
But in the end, Creed Aventus is Creed Aventus.
Have you tried any of these Creed Aventus alternatives?
Did we miss some you find to be great?
Let's talk in the comments below!
We are sorry that this post was not useful for you!
Let us improve this post!
Tell us how we can improve this post?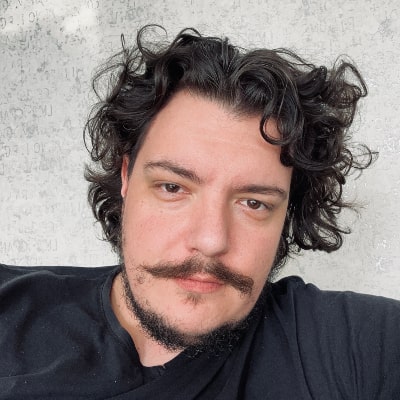 Vladan X is a founder of Fourth Sense and fragrance expert. He reviews only fragrances he owns personally, and his collection currently counts between 100 and 150 fragrances. Even though Vladan reviewed hundreds of perfumes he still didn't find the one he would call "signature" fragrance. He's still searching for that one, and in the meantime, he writes the best in-depth fragrance reviews internet has ever seen! You can read more about Vladan X here!