When Mancera decided to create Cedrat Boise, no one could expect that it would grow so fast and become what it actually became. Released in 2011, it became one of the most popular Mancera perfumes of its category!
There were some doubts about its quality since the price is extremely affordable, but those doubts were sprayed away from the very first moment. Some notes are not for everyone's everyday use, but it gives sunny refreshing vibes to anyone who checks it out for the first time.
From the first contact with this fragrance, you get hints about what kind of smell you should expect, since wooden notes are involved from the name itself (boise=wooden), across all ingredient layers, all the way through the dry down.
There are several attractive elements that have been combined in order to create such a recognizable note it owns, and you will get familiar with all required details in this review, so you can decide if Cedrat Boise is a fragrance for you.
What Does Mancera Cedrat Boise Smell Like?
Mancera Cedrat Boise smells like a fruity, citrusy but at the same time woody scent, perfectly fitted for formal or casual formal events. It reminds many people of Aventus with a woody note, but it's definitely a very unique scent that differs from Aventus completely.
Cedrat Boise was made by Pierre Montale, master perfumer of the house of Mancera and perfume house of Montale.
Top notes (1):
Citrus from Sicily
Blackcurrant
Cold spices
The moment you feel it, it will hit you with an opening fruity citrus note. The longer you focus on it, you will be able to clearly determine each and every factor included in creating this fantastic fragrance. After initial aromatic lemon freshness, it will hit you with a combination of bergamot, blackcurrant, and discreet, yet equally important cold spices that will close out the top note of this fragrance.
Heart notes:
Leaves of Patchouli
Aquatic Jasmine
After you reach the heart note aquatic jasmine in combination with patchouli makes the fruity tone even stronger, and that is when it gets a little musky, yet at the same time clean, with creamy and catchy vanilla touch on the top of it.
Base notes:
Woody notes
Leather
Oakmoss
Sensual Vanilla
It gets even better by the time since the secret reveals when you reach the base tone mixed of sandalwood, cedar, leather, moss, oakmoss, and, of course, vanilla as the key ingredient that defines it.
The longer it develops, the more spices you will feel, which makes it very cozy, which again is a bit weird as most citrus-based fragrances are not known for being cozy.
After the first spray, most of the folks start thinking: "Wait a minute, I know this one".
To be fair, that's not a surprise, since there is no doubt it has a certain similarity with Creed Aventus in terms of tone combination, as both of them has citrus and blackcurrant combinations, and it is recognizable on first smell, but the main difference is that Mancera Cedrat Boise does not consist of pineapple in any way, which is one of the trademark ingredients of Creed Aventus.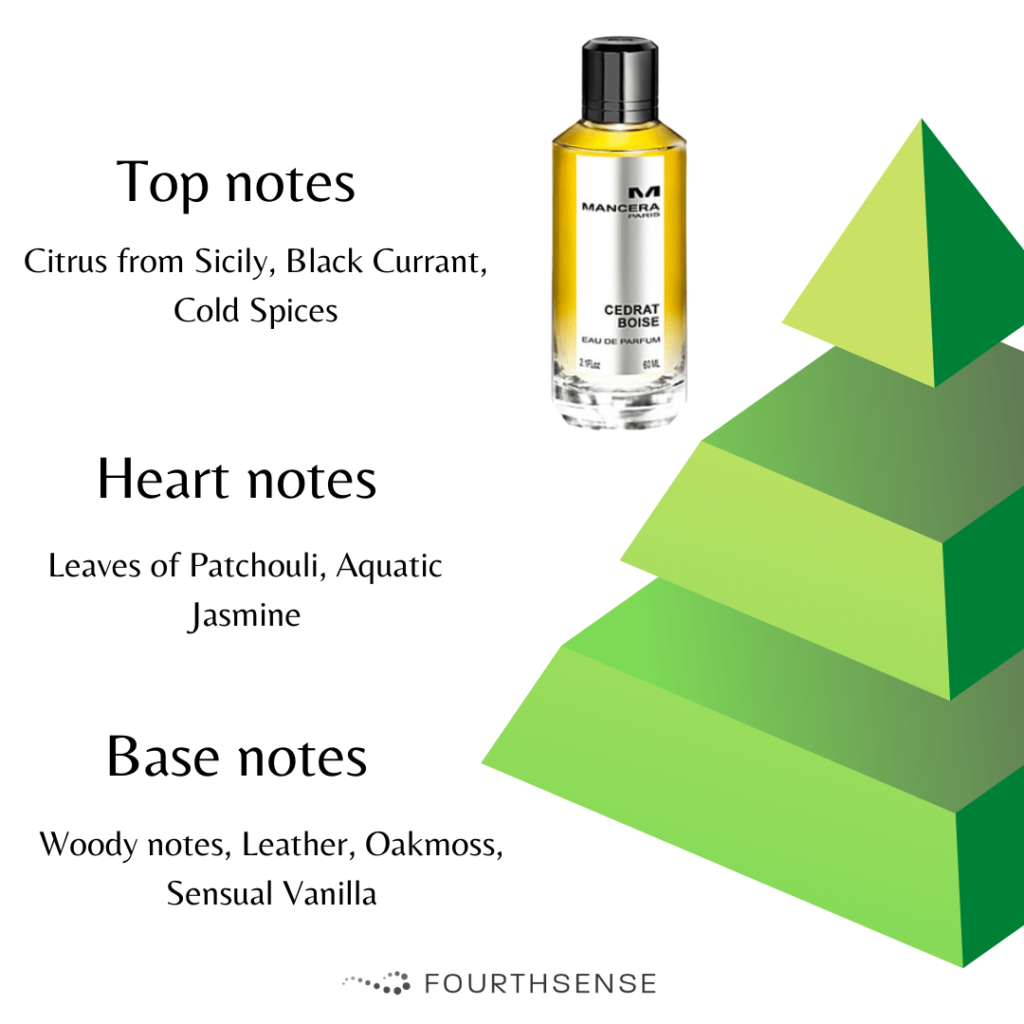 Despite this slight similarity, you don't need to worry if you are going mainstream with this one, since Cedrat Boise comes from a niche perfume family, and it makes no sense at all that Mancera would create a "copy" of a perfume that is on the market for less than a year.
Bottom line is that it reminds me of an existing one, but many consider Cadrat Boise as a better option between these two.
After all, it's not so terrible if you are compared with the best, right?!
How Long Mancera Cedrat Boise Lasts?
Mancera Cedrat Boise lasts from 8 to 10 hours. Depending on the weather, occasion, or clothes you are wearing, it can go even up to 12 hours.
This is the thing most users are thrilled with since it is incredible how long and consistent it is. It doesn't fade in any possible way, but gets better and better the longer you have it on, due to the developing scents as explained earlier.
No doubt durability and performance are the best qualities you will find in Mancera Cedrat Boise. What is the most attractive thing about it is that it doesn't fade by the time, since, despite changing the scent for a little bit, it is as effective from the first spray until you take it away.
It's rare that all critics and users agree on the exact durability time, but you can be sure that for 8-10 hour periods it won't let you down, under any circumstances.
When to Wear Mancera Cedrat Boise?
Though it is neutral, the best time to wear Mancera Cedrat Boise is in spring or hot summer nights.
Despite being listed as best for warm periods, it should not be taken as a rule, since Cedrat Boise showed up even at the coldest periods of the year. Due to its versatility, you could easily spray it on any given occasion. You will feel comfortable and cozy in case you are taking your partner on a date, or in case of a formal gathering since it is nothing but catchy.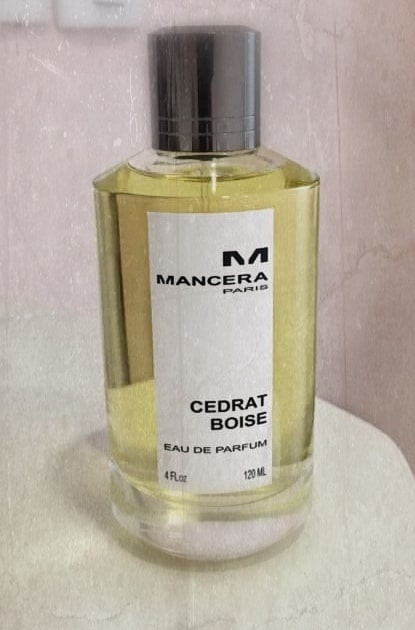 Mancera Cedrat Boise is a rich, aromatic scent that pops off the skin and makes it impossible to go unnoticed. Be prepared to receive tons of compliments in any area you step in wearing this one. It's a crowd-pleaser, and your self-confidence goes sky-high while having it on.
You can even take it in the coldest winter days under the shirt, no matter if you are at work or informal gathering, a confidence boost is never harmful.
How Many Sprays of Mancera Cedrat Boise is enough?
The optimum amount of Mancera Cedrat Boise is 3-7 sprays.
This is the most personal thing, and it is different for any of us, but there is some general advice that should be taken into consideration, since no matter how great perfume is, you can always go too hard on it, and ruin the party for yourself, and your skin.
Due to its fabulous projection of a minimum of 2-3 ft even with a couple of sprays, it goes way beyond your personal space and there is no possibility that you will enter the room without compliments.

While mostly being used for hot summer or spring days, it doesn't affect projection whatsoever. Not even the hottest days will reduce the projection and longevity of Mancera Cedrat Boise.
It always comes down to your personal taste, but we believe it would be best if you start with no more than 7 sprays, and let your senses decide for you.
Where to Buy Mancera Cedrat Boise?
The safest way to purchase Mancera Cedrat Boise is via FragranceX or Mancera online shop.
Since Mancera belongs to the family of niche perfume companies, the price for this fragrance is maybe the best part of it.
However, FragranceX is known to be a reliable perfume discounter, so the price of the Mancera Cedrat Boise might be lower there.
Mancera has only a few fragrances on Amazon, so that's the reason why I didn't mention it here.
Just be very cautious when buying fragrances online as there are a lot of fake perfumes out there and I bet you'd hate spending few hundred bucks on fake perfume!
Packaging
Simple minimalistic yet elegant style is what is a trademark for this perfume.
Mancera always comes in their 120ml bottle.
A black square box with a white sticker on it from the outside can only give you a clue on what comes next right after you open it. A classy silk bag with the Mancera logo all over it gives it a touch of elegance and luxury.
As soon as you open the bag that luxurious tone keeps on with a rounded screwable cap that provides both confidence when closing it and attractiveness at the same time.
The bottle itself is clean glassy with a white sticker on it and completes the entire concept of simple yet elegant packaging design.
Summary – Is Mancera Cedrait Boise Good?
A combination of EDP longevity, performance, and absolutely every other perimeter you bear in mind while selecting a perfume, is way above average, which makes it a great choice for yourself, as well as a perfect option for a lovely present that would certainly fulfill any expectations.
There is no doubt about the actual qualities this fragrance provides you with. Not only aromatic ingredients are wonderfully mixed, but you can afford it for what you might call an absolute steal.
As far as quality goes, Mancera Cedrat Boise has been listed among the top products on every respectable top fragrance list from the moment it entered the market (including our best spring fragrances for men), with high compliments in reviews from both experts, and users.
The thing that satisfies users the most is the compliments they received after they tried it. There is no situation, occasion, or company that you will be a part of, where at least a couple of people will not approach you with compliments.
Despite many having prejudice about it in the beginning, since it reminded of Creed Aventus, even the biggest critics changed their mind listing it as a standalone masterpiece from Mancera.
With a history of having high-quality fragrances, Mancera took it to another level with Cedrat Boise, since you would face an epical challenge trying to find a bad review of it.
Last, but definitely not least, there is an important note for our ladies. Despite being known as mostly male, Mancera Cedrat Boise is listed as unisex perfume, which is like a cherry on top of this delicious piece of art, that Mancera Cedrat Boise certainly is.
This one is a no-brainer, you must have it!
We are sorry that this post was not useful for you!
Let us improve this post!
Tell us how we can improve this post?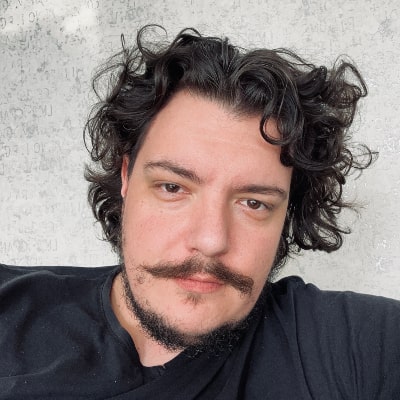 Vladan X is a founder of Fourth Sense and fragrance expert. He reviews only fragrances he owns personally, and his collection currently counts between 100 and 150 fragrances. Even though Vladan reviewed hundreds of perfumes he still didn't find the one he would call "signature" fragrance. He's still searching for that one, and in the meantime, he writes the best in-depth fragrance reviews internet has ever seen! You can read more about Vladan X here!