The fragrance has been a trending topic for over a decade now, and still, it hasn't been talked about enough. Black Orchid by Tom Ford is so far one of the most popular fragrances by this famous house.
Since it came out in 2006, the chances that you came across this legendary scent are pretty high, and recently I realized that even after all these years, this fragrance is living in its full glory. Its most popular flanker, Velvet Orchid, was on a good road to beat it, but Black Orchid never gave up the race — it's still people's favorite.
This interesting composition of 23 nuances created an ultra-unique aroma, especially at the time it was released. Of course, as time passed by, many houses came up with their black orchid-inspired scents, but Tom Ford's masterpiece turned out to be eternal.
Black Orchid is described as a women's perfume but its nature proved differently; nowadays the Black Orchid is considered a unisex scent and it is gender-neutral.
Today's post is dedicated to one of Tom Ford's most popular creations. I will share with you all the reasons why Black Orchid might be a perfect liquid for you, or how it may turn out to be everything you would never buy.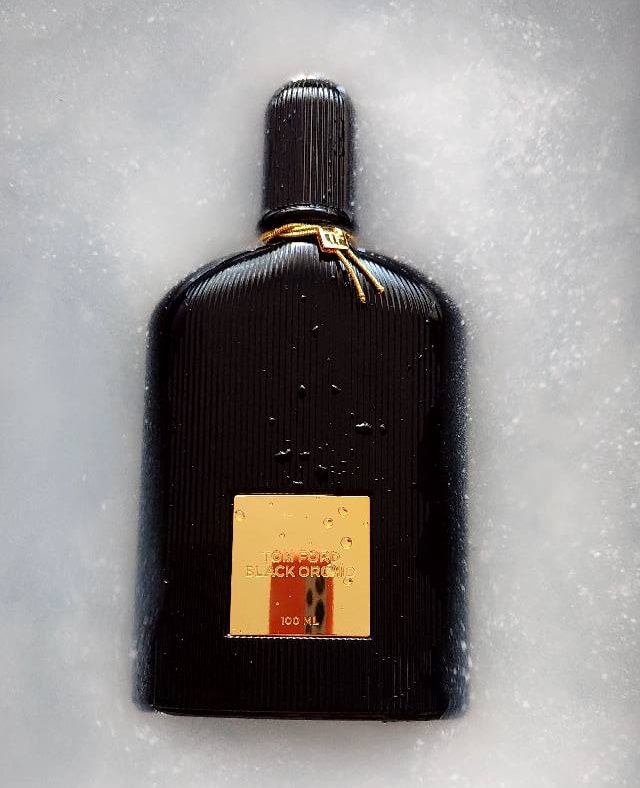 ---
Buy Tom Ford Black Orchid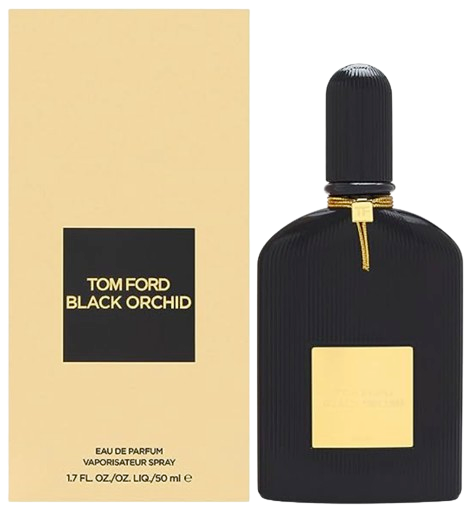 ---
What Does Black Orchid Smell Like?
Black Orchid by Tom Ford is an ambery-floral-oriented fragrance with a prominent patchouli and woody backbone. It is a sweet, earthy, warm spicy scent with a touch of Mexican chocolate and truffle. It smells sweet and very sensual.
It's a professionally blended composition that requires strong, blending skills that Tom Ford tends to invest in its high-quality scents.
Top notes:
Truffle
Gardenia
Black Currant
Ylang-Ylang
Jasmine
Bergamot
Mandarin Orange
Amalfi Lemon
Heart notes:
Orchid
Spices
Gardenia
Fruity Notes
Ylang-Ylang
Jasmine
Lotus
Base notes are:
Mexican chocolate
Patchouli
Vanilla
Incense
Amber
Sandalwood
Vetiver
White musk
When you read all the nuances that Black Orchid is made from, you really don't know what to expect from the scent, and that is exactly how this fragrance evolves — unexpectedly beautiful.
The first spray gives you a fruity-floral and earthy mixture of several different notes that you cannot really detect individually. It is a strong and bold opening, very prominent and unique to the level we can call unconventional.
Because of its slightly untypical but powerful opening, this fragrance is not a mass-appealing, ultra-loveable scent that everyone would like. It's literally the opposite.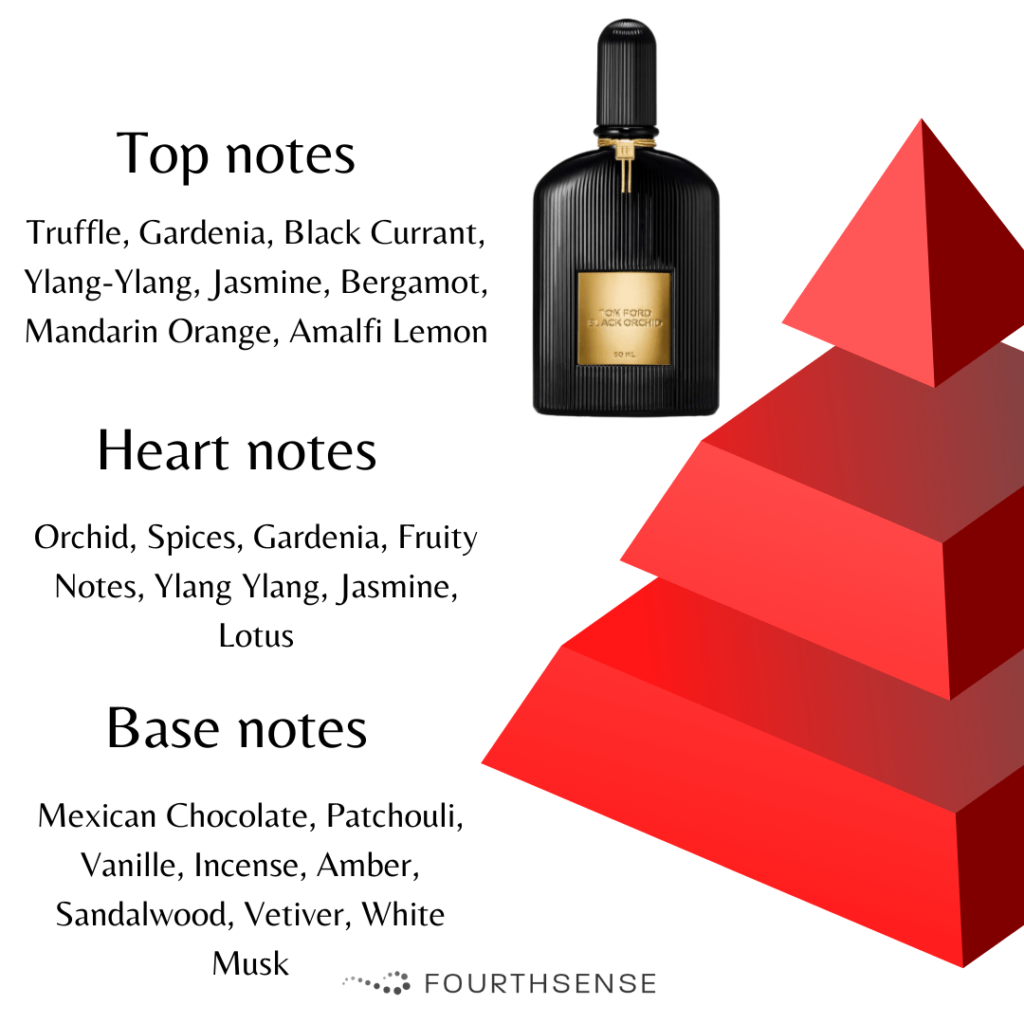 Black Orchid has a distinctive bone, lots of things are evolving at the same time and the perfume reaches several different stages in its lifespan. You may like some of its phases, you may hate them all, or you may fall in love with every single one of them.
Once the dry-down phase starts progressing, you get a fruity cocktail — a warm spicy effect and the florals from the opening stay present as well.
The middle dry-down may be the "weirdest" of them all since there are lots of things going on. You get the sweetness, spiciness, and almost like a jammy effect.
Many people also smelled the truffle (mushroom) note, which has a musky, ambery, animalic scent, and even though my nose didn't detect it, it doesn't seem yours won't.
Black Orchid is also a gourmandy scent, as it contains some gourmandy notes like truffle or Mexican chocolate.
The note of orchid doesn't have a particular smell, so you won't be able to detect it, it is a fantasy note that fragrance crafters tend to create from other, synthetical nuances.
The final dry-down is definitely the best phase of Black Orchid; the vanilla note becomes more prominent, the woodiness, darkness, and muskiness start fighting through and you can smell a mass of patchouli as well. That is the moment the scent becomes dark, rich, sexy, addicting and you will experience a completely different side of the Black Orchid — the dark side I'd say, which made it one of the most seductive fragrances ever.
As I mentioned, this fragrance is not for everybody. If you like to bring something different to your environment, if you are a brave, bold person that isn't afraid of being stared at, then you will love this masterpiece.
Is Black Orchid Male or Female Perfume?
Black Orchid by Tom Ford is originally created as a fragrance for women. However, its scent leans more towards the unisex type of fragrances, as it fits perfectly and dries down differently on men and women.
The versatility of this amazing perfume is something many will appreciate, but also something many won't find as their cup of tea.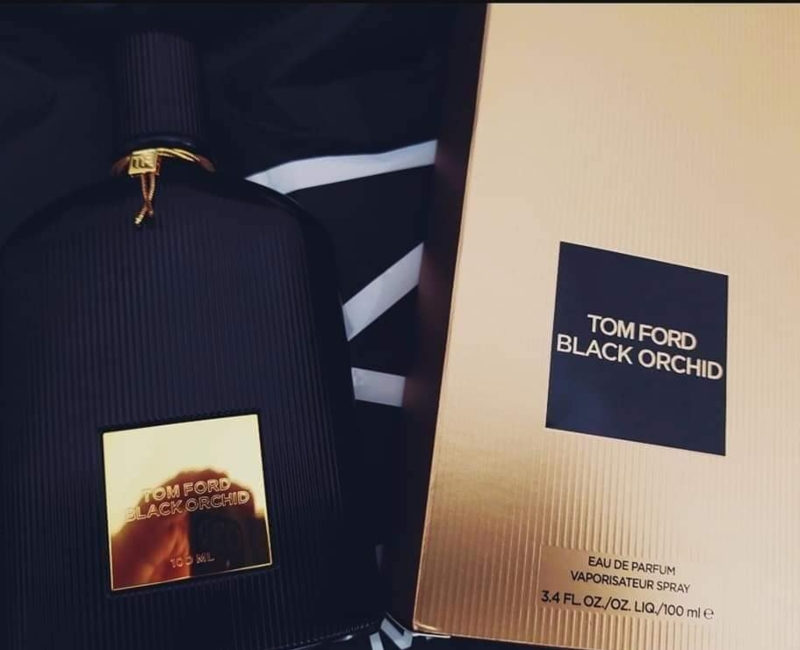 How Long Black Orchid Lasts?
Black Orchid by Tom Ford is a powerful, high-quality fragrance that can last for more than 8+ hours, depending on how your skin embraces the scent. The projection is amazing in the first 2 to 3 hours, while the sillage can go up to several feet in distance.
The performance is something you have no reason to be worried about when it comes to this magnificent beast. Once you apply it in the morning, you don't need to worry if the scent is going to fade away before dinner, because it won't.
The projection is also satisfactory, in the first 2 to 3 hours it evolves beautifully around you, and with the silage being strong as well, people a few feet away from you will have no issue detecting it.
There are over 10 different ways you can boost the performance of your fragrance, so in order to get the most out of it, definitely consider trying some of them out.
When To Wear Black Orchid?
Black Orchid by Tom Ford is a warm scent made for colder, chilly fall or winter periods. It is a scent that works monstrously well for any evening occasion when the temperature allows it, especially in crowded places.
Black Orchid isn't a year-round scent or a fragrance that you would wear regularly as your signature scent. Its versatility covers the lower temperature months since it has a warm, sweet, woody scent, hot seasons are off the table for Black Orchid.
Besides the temperature limitation, I picture it as an accompaniment to a romantic but luxurious dinner date or even when going to the club or a bar where the party is at. It is a rich and sexy scent, it has a dark aura that would work best for night occasions, but some days, formal events would fit as well.
I wouldn't recommend Black Orchid for the gym or casual walk in the park, it is more of a tuxedo, boss-inspired scent than an informal choice.
How Many Sprays Of Black Orchid Is Enough?
Only a few sprays of Black Orchid is enough for achieving optimal performance. It is a strong-concentrated scent with great quality, so applying 2 to 3 sprays on your pulse point will do the job.
The majority of people are used to applying numerous sprays of the perfume, thinking it will make the fragrance last longer and project louder. A number of sprays that are needed for a fragrance to open properly and give you its best performance vary from scent to scent.
When it comes to Black Orchid, you don't need 7 unnecessary sprays to destroy a fragrance composition, you just need to apply it on the right spots.
When applying any fragrance, make sure to spray it on your pulse points where your skin is warmer. You can apply 2 sprays behind your ears and 1 spray in the dip of your collarbone. If you want to learn how and where to spray the fragrance for maximum performance, make sure to check out our guide here.
Keep in mind that this is a robust scent — applying more sprays than needed can turn this stunning creation into an aggressive, overwhelming type of fragrance that will make people around you uncomfortable.
How To Spot a Fake Black Orchid?
Black Orchid, like many other Tom Ford creations, tend to be a victim of fake production, which is why you need to be extra careful when choosing the place you will get your bottle from.
To make sure that you are buying an original batch, I want to share with you some major differences between original and fake batches, that will definitely save you money and frustration.
Starting from the packaging, the fake bottles come in a bumpy, unpolished box, it almost looks like second-hand packaging from a previous owner. It has the same, goldish color, with Tom Ford initials on the top, but it's visibly, poorly replicated with no attention to details.
At the bottom, you will find a serial number on both boxes, but on the original, you can see the batch code engraved in the box, while the fake one doesn't contain one, which is a major difference.
Also, at the back, the original one contains the list of the fragrance ingredients while the fake one has some strange, cautious text added.
Inside the original box, the fragrance sits in a black, classy, higher-quality, ribbed plastic wrapper; it fits well and sits smoothly inside the box. The fake one comes in a white, low-paid, and destitute plastic wrapper, it takes effort to take it out and fragrance can easily fall out from the box.
The original liquid comes in an elegant, black, ribbed bottle, it is very precisely and beautifully created, it contains a golden tile with the name of the fragrance and the brand name, along with the sizing. On the other hand, just like the box, the bottle of the fake looks bumpy and poorly designed. It is also a black, ribbed bottle but its ribs are too smooth and shiny.
The atomizer on the original one has a shinier, more goldish color and looks very clean and nice, while the fake one has a pale and rustic design.
At the bottom, on the original, you can see some fragrance information written in goldish color, along with the batch code engraved as well. The fake one has those fragrance details but is written in white color.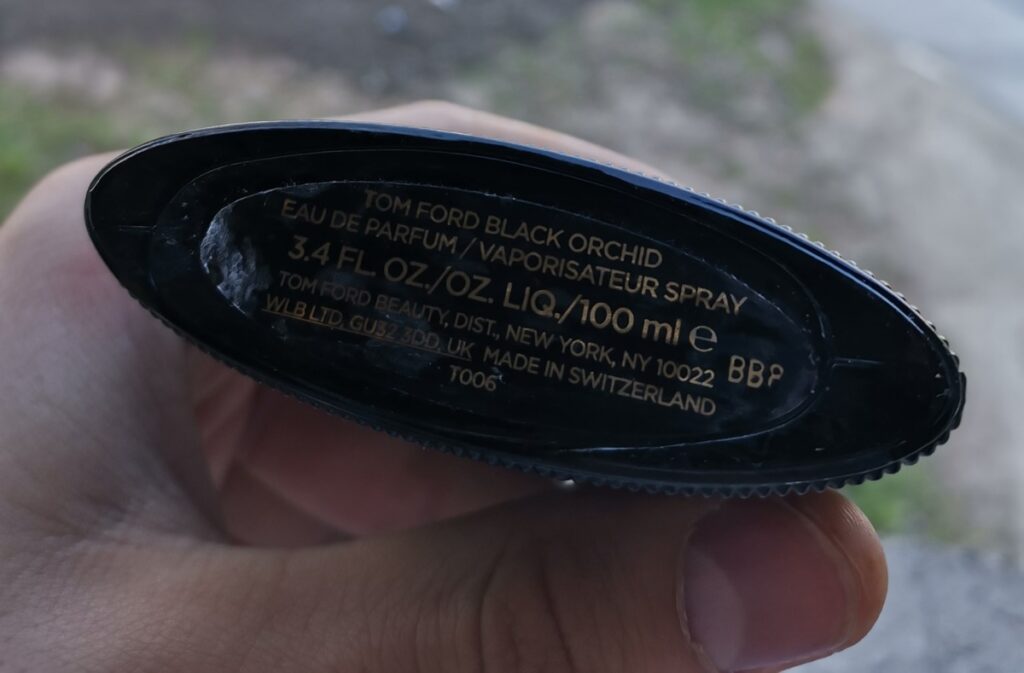 The difference is pretty clear and easy to spot, but if you ordered your fragrance online and haven't seen the original bottle then you could easily get fooled with the fake batch.
If you got your bottle from some "strange" website, go grab your fragrance and check if it has all the details that the original one is supposed to have!
You can also use these two YouTube videos (video 1 and video 2) for assistance in determining the originality of your flanker –
Where To Buy Black Orchid by Tom Ford?
Black Orchid by Tom Ford is best to purchase from local perfumery that is an authorized reseller of Tom Ford's brand. If you want to purchase the fragrance online, the best place to do so is FragranceNet.
Because of its unique and not-so-conventional nature, I wouldn't recommend blind-buying Black Orchid since you may end up hating the scent and wasting your money.
That's why I would specifically recommend trying Black Orchid in a local perfumery first, and if your nose falls in love with it, as mine did, then you can either purchase it there or buy it online.
If you're however determined (or excited like me about every blind buy), the best place to buy Tom Ford Black Orchid is FragranceNet or Fourthsense Shop — I get all my fragrances directly from them, and you can rest assured that within a few days you'll get an original bottle of this amazing fragrance.
Another option is to get it from Amazon — the button below will lead you to a trustworthy reseller.
---
Buy Tom Ford Black Orchid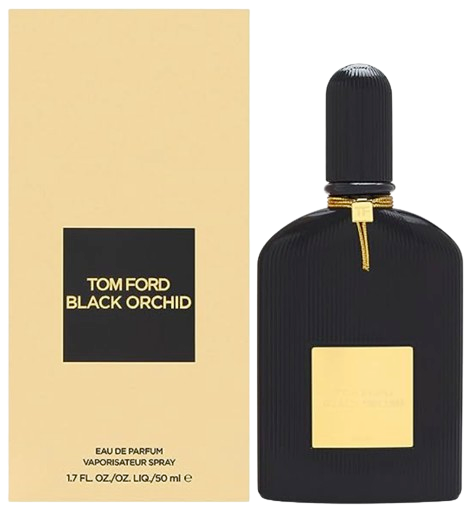 ---
Make sure to avoid sites you don't trust in order to avoid getting a fake and keep in mind that fake fragrances and copies aren't FDA approved and not tested on human skin so they can cause serious skin reactions and side effects.
Packaging
As I previously mentioned, Black Orchid comes in an elegant, dark, and luxurious bottle, with golden decorations and a very nice atomizer.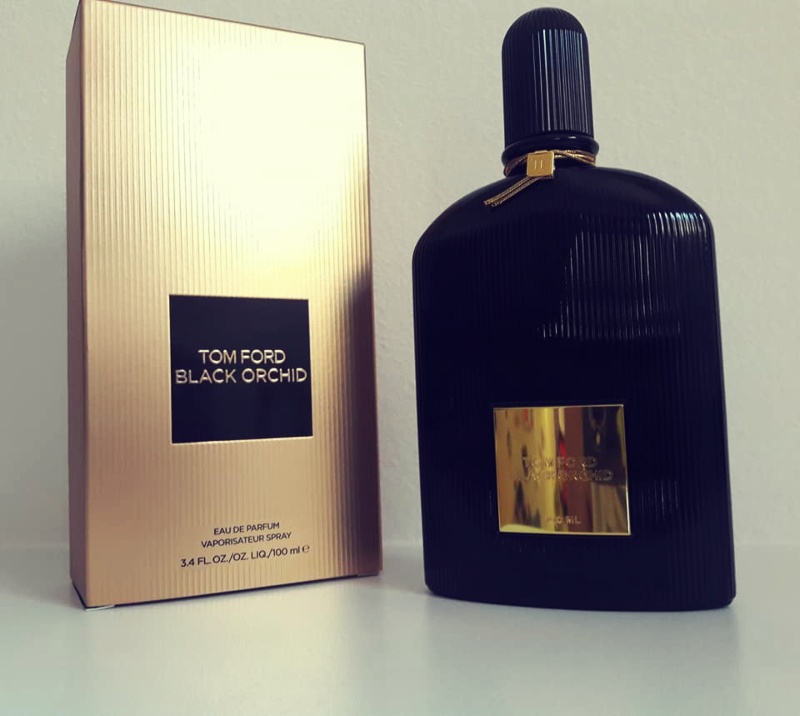 The whole appearance reminds of a luxurious, boss type of vibes, with its minimalistic yet mysterious look — it will sit beautifully on your bedroom shelf.
It comes in 4 different sizes:
10ml EDP Travel Spray (0.33 oZ)
30ml (1 oZ)
50ml (1.7 oZ)
100ml (3.4 oZ)
Summary – Is Black Orchid by Tom Ford Worth It?
It is very challenging to talk about a fragrance that isn't something everyone tends to love. Fragrances like Dior Sauvage or One Million by Paco Rabanne are very easy to recommend and a safe blind-buy, but Black Orchid is a different composition.
If you like your fragrance to radiate uniqueness and warmth, if you are not afraid of wearing a strong, dark mixture of fruity, floral, and woody nuances that combined brought a new era in the fragrance industry, then you will probably adore Black Orchid.
It all depends on what you want from your perfume. Black Orchid has an amazing quality, it will bring you outstanding performance, and it will separate you from the crowd full of different scents and make you stand out.
Saying that, considering the price, having Tom Ford's Black Orchid in your collection or as a regularly-used fragrance is definitely worth it, as it represents a true master perfumery and it's definitely one of the most iconic pieces ever created.
A true, winter fragrance made for any woman or man that loves challenges, love daring and unique scents, and for everyone who wants to be innovative, alluring, and sexy.
Have you tried Black Orchid before?
What do you think about it?
Let me know down in the comments!
We are sorry that this post was not useful for you!
Let us improve this post!
Tell us how we can improve this post?