Ever wondered what New York smells like?
Niche house Le Labo didn't even know they were about to create and release the scent that will become the spirit of New York.
Their inspiration was freedom. Escape from reality. Long waited, hard-earned, freedom. And that's how Le Labo Santal 33 was born.
Santal meaning sandalwood and 33 marking the number of ingredients in the fragrance.
Why is Santal 33 one of the most iconic niche fragrances ever created? What it has to do with New York? What it smells like and how it performs? And is it really worth it in 2023? Read on!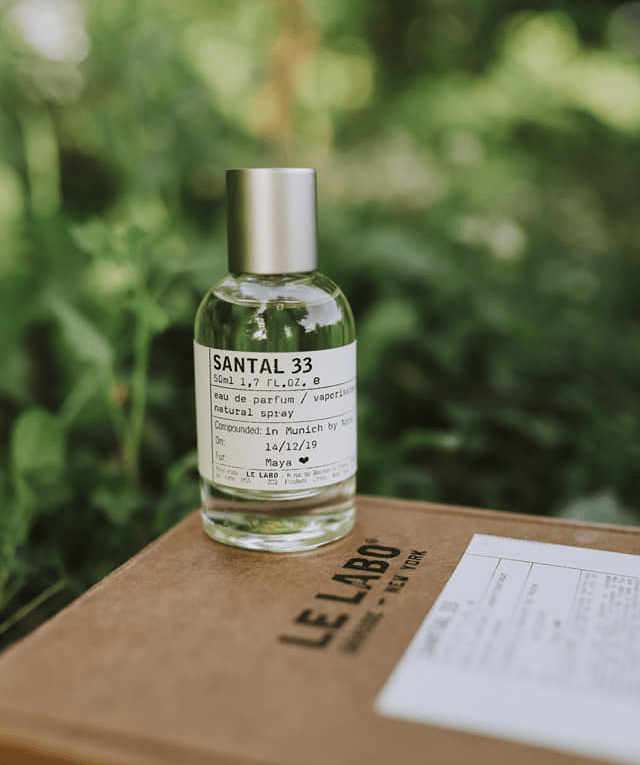 ---
What Does Le Labo Santal 33 Smell Like?
Le Labo Santal 33 smells very woody and somewhat spicy where the main notes that dominate the scent are sandalwood and cedarwood.
Le Labo never disclosed their notes pyramid, but the olfactive notes are sandalwood, cedarwood, leather, papyrus, cardamom, violet, iris, and amber.
Right after the initial spray you immediately feel the slight spiciness from cardamom mixing together with a sawdust-like scent that wood are providing.
Personally, I wouldn't say that this is either warm spiciness or fresh spiciness – woods kind of prevent that vibe to be detected but instead it gives the opening a lot of versatility to go in multiple directions.
What's also interesting is that some people say that opening smells on cucumbers and pickles and very… Eastern-European like!
I don't personally get that opening at all, nor does it remind me of similar, but if you're one of those, let me know in the comments what actually triggers that hint!
After the opening is done, the heart and base start unwrapping making the entire scent woods heavy.
Since santal means sandalwood, you'd expect sandalwood to lead the main note, but that's exactly what makes this fragrance polarizing. To some, cedarwood dominates, while for others, all they feel is sandalwood.
The difference is actually quite big – cedarwood gives the composition that dry, peppery and smoky tone, while sandalwood is creamy and slightly sweet in the background.
Saying that, to some, the scent appears dry and woody, while to others it's creamy woody, and rich.
To me personally, it leans more towards creamy and rich tones, but truth be told, I get both hints of dryness and creaminess at different times.
That's actually what makes it so interesting – it's clearly a woody scent, but the blend is so unique and reacts differently on different skins, on different weather, and on different occasions.
Overall, Le Labo Santal 33 smells very sensual, sophisticated, and creative.
When it comes to uniqueness, this scent was very unique in the first years after it came out. However, due to its huge popularity, many dupes tried to replicate this incredible DNA, and some of them were pretty successful.
Knowing that, today's uniqueness of Santal 33 is still quite big, but you probably smelled something similar to it.
You probably heard that this is exactly what New York smells like and that's not far from the truth – Le Labo's boutique in New York is very popular, and Santal 33 is one of the best-selling fragrances in New York.
Even though this is a very polarizing fragrance, I'd say it's quite a safe blind buy if you love woody scents.
However, having in mind that to some this scent may be too powerful and aggressive, if what you're seeing here keeps you on the fence, I'd recommend testing it first with the sample before deciding is an entire bottle for you.
Is Le Labo Santal 33 For Men or For Women?
Le Labo declares Santal 33 to be unisex, and after multiple reviews from multiple members of our team, we can definitely confirm that the scent is completely unisex.
Both men and women can easily pull this one off, as the scent perfectly stays in the middle. No one can say that you're wearing perfume for men or for women!
We'll admit, it's not often that we see woody scents in women's perfumery, but if you're a woman, rest assured that Santal 33 will not be too masculine for you.
On the other hand, if you're a guy seeking masculine woody scents, then Santal 33 might not be the best choice as it will definitely lack that masculinity. However, it's still a great choice if you want a sensual, leathery, and in general different woody fragrance.
Overall, Le Labo really demonstrated a masterclass with Santal 33 in creating the perfect unisex fragrance.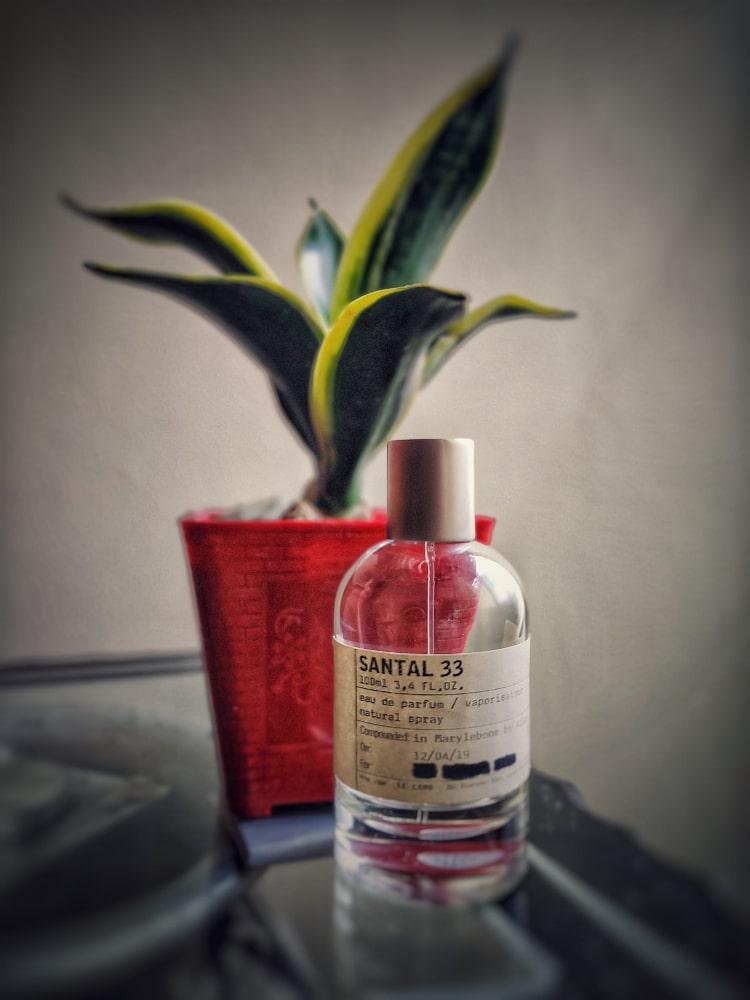 How Long Does Le Labo Santal 33 Last?
On average, Le Labo Santal 33 lasts between 10 and 12 hours while projecting very well for the first 4 hours.
Did you notice how super popular fragrances usually have an amazing performance? Dior Sauvage, Baccarat Rouge 540 Extrait de Parfum, Parfums de Marly Layton… They are all different, and even though their mass-appealing scent plays a significant role in their popularity, performance is another important factor that sets them apart from others.
And that's also the case with Santal 33 – performance is simply monstrous.
You will easily get 10 hours of longevity and you and all others around you will be able to sense it without any trouble. Only after 12+ hours, Santail 33 will become super intimate until it transforms into a skin scent.
Projection is very good and pretty powerful in the first 4 hours, after which it projects decently not so far away.
Sillage is also powerful, especially during the first couple of hours. Combined with a recognizable scent, that's exactly why so many people say they can easily smell it on a casual walk through New York City!
How Many Sprays Should You Spray
Considering its powerful performance, 2-3 sprays of Le Labo Santal 33 is just enough to reach optimal performance.
Woody scents can easily become suffocating and unpleasant if overapplied. Knowing how naturally powerful and aggressive Santal 33 can be on some occasions, there's no need to spray more than 2-3 times.
The best practice is to focus on your pulse points, which in this case means one spray on each side of your neck under your ears and one behind your head for the better sillage.
If you really want more out of it, you can spray it on your wrists which will definitely improve the scent's reach.
Definitely avoid applying multiple sprays on the same spot as it will do nothing but cause fragrance not to open and perform properly.
When To Wear Le Labo Santal 33
Le Labo Santal 33 is a pretty versatile fragrance that can be worn year-round but considering the scent profile, it fits best during fall when the temperature is between 50°F and 70°F.
In general, you can't go wrong with wearing it during any season of the year, because the woody scent perfectly blends during any weather.
I'd recommend avoiding super high heat when the temperature is above 95°F as in those conditions the scent may be too overpowering.
In terms of occasion, its versatility but also detectable quality in the scent allows for various settings.
You can easily wear it for both formal and casual occasions – special evenings, romantic date nights, or simply everyday casual wear.
It will work perfectly in crowded places or in private settings.
What Are The Most Popular Le Labo Santal 33 Dupes?
The best (most popular) dupes and clones of Le Labo Santal 33 (or fragrances inspired by it) are:
Rich Santal by Emir Factory Edition
Palo Santo by Cremo
Sand 333 by Aro Fac
Scent #1 by Zara
Woody Sandalwood by Dossier
Momentum Unbreakable by Bentley For Men
Just like with any other fragrance that reached such big popularity with not so affordable price (such as Creed Aventus), many fragrance houses tried to duplicate the DNA and make the scent more affordable.
Some of them came really close where there are some of the dupes that smell almost identical to Santal 33, while others were just inspired by it and created different variations, guided by the imagination of what would Santal 33 smell like if it was blended in different directions.
However, one thing is sure – none of the clones on the market smell like and perform like Le Labo's Santal 33.
Some people might not be able to notice differences but rest assured that if you get Santal 33, you will get a fragrance with many copycats, yet unique enough to beat them all and deliver recognizable Santal 33 DNA.
Where To Buy Le Labo Santal 33?
When it comes to buying Le Labo Santal 33, there are several options available, both offline and online. For those who prefer a hands-on experience and wish to test the fragrance before making a purchase, visiting a Le Labo department store or boutique is always the best option.
These physical locations are the best place where you can explore the entire Le Labo range, including Santal 33, and even receive personalized recommendations from knowledgeable staff.
When it comes to online shopping, I'd recommend buying Santal 33 from FragranceNet – they often have discounts, they are a reputable online retailer and with them, you can always rest assured that you're getting an original bottle.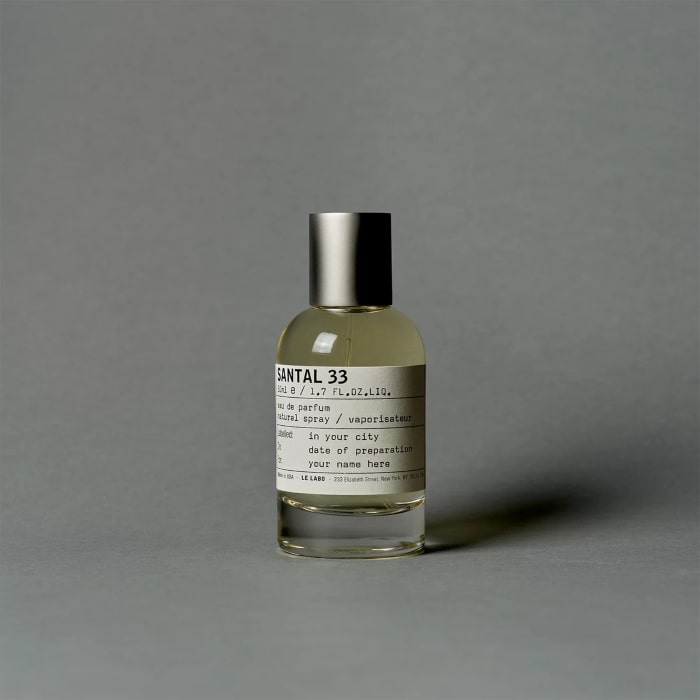 ---
Knowing that Santal 33 is a pretty polarizing scent, if you're not much into woody scents or you're simply on the fence, then you can simply get the sample and test it.
The best place to grab a sample is MicroPerfumes as they have very good prices and their shipping is pretty fast.
Besides FragranceNet and MicroPerfumes, Le Labo's official website is also the place where you can get Santal 33 but bear in mind that price may be a bit higher compared to others.
Lastly, it is crucial to avoid scammy websites when purchasing Le Labo Santal 33 or any other fragrance. Stick to well-known and trusted sources to ensure you receive genuine products and a satisfactory shopping experience. Be cautious of suspiciously low prices, poor website design, and lack of customer reviews.
Packaging & Presentation
Le Labo Santal 33 features packaging that screams simplicity and craftsmanship. The fragrance is presented in a sturdy, off-white cardboard box with a textured finish. The brand's logo and fragrance name is embossed on the front, while additional information is provided on the sides and back. Something that we all will appreciate: the box is made out of recycled paper.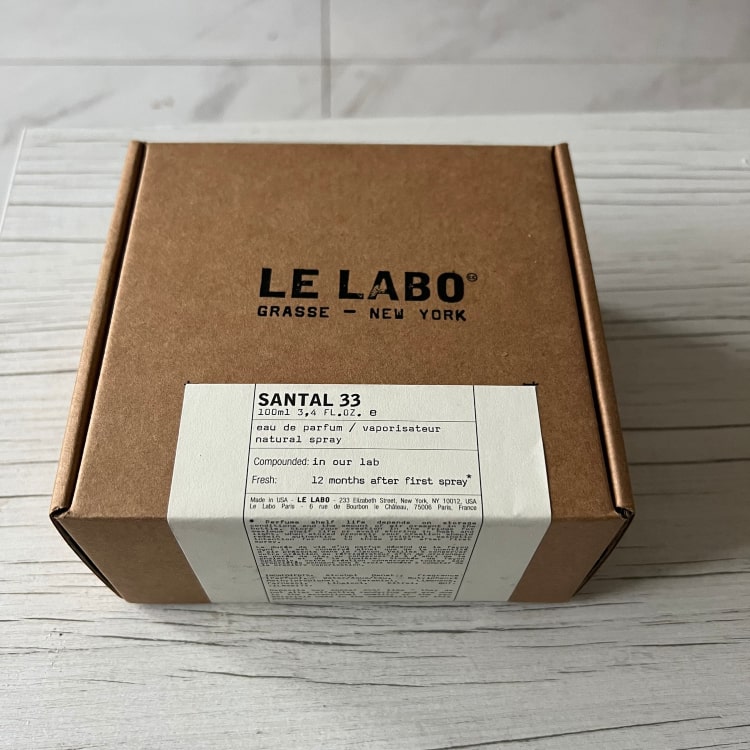 The bottle design of Santal 33 is elegant and minimalistic, made out of clear rectangular glass because the focus is on what's inside. The bottle's clean lines and sharp edges exude a sense of sophistication but again, also simplicity. It is topped with a cylindrical metal cap, adding a touch of refinement. The label, featuring black typography on white paper, showcases the Le Labo logo and fragrance name, maintaining overall simplicity.
The overall presentation of Le Labo Santal 33 reflects a dedication to quality and personalization. Each bottle is custom-labeled with details of the purchase, making it unique to the customer. This personalized touch enhances the exclusivity of the fragrance. Alongside the full-sized bottle, a small sample vial is often included, allowing
Santal 33 comes in 4 different sizes:
15 ml / 0.5 oz
50 ml / 1.7 oz
100 ml / 3.4 oz
500 ml / 16.9 oz
Conclusion – Is Le Labo Santal 33 Worth It?
Considering the mass appeal and compliment-getting factor, popularity, uniqueness, and performance but also the price, yes, Le Labo Santal 33 is definitely worth it in 2023.
Now this is where others might say "but the price is just insane".
Well, it's not.
Le Labo is a luxury house where their creations smell luxurious and there's a big concentration of raw materials.
Just like with Creed Aventus, you might say that it's too much to spend that much money on fragrance, but in difference to Creed Aventus, Santal 33 definitely makes a positive return on investment – you will smell luxurious, sophisticated, and recognizable.
Saying all that, this scent is still very much worth it in 2023.
In Le Labo's words: "Santal 33 is an open fire… The soft drift of smoke… Where sensuality rises after the light has gone".
And trust me, they're not wrong.
Have you tried Le Labo Santal 33 before?
What do you think of it?
Any dupes you think are better bang for the buck?
Let's talk in the comments!
We are sorry that this post was not useful for you!
Let us improve this post!
Tell us how we can improve this post?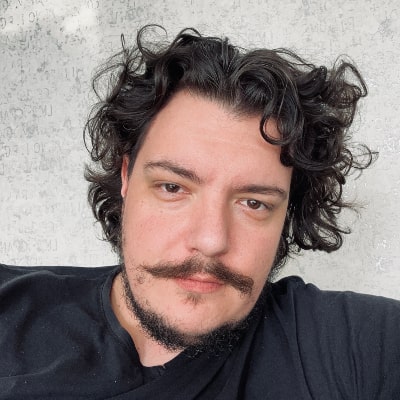 Vladan X is a founder of Fourth Sense and fragrance expert. He reviews only fragrances he owns personally, and his collection currently counts between 100 and 150 fragrances. Even though Vladan reviewed hundreds of perfumes he still didn't find the one he would call "signature" fragrance. He's still searching for that one, and in the meantime, he writes the best in-depth fragrance reviews internet has ever seen! You can read more about Vladan X here!