Among many unique and alluring fragrances by Tom Ford, in the collection called "Amalfi Coast," one of the most interesting ones is Mandarino Di Amalfi (initially named "Mandarino") and it was released in 2014. Even though this spicy fragrance appeared 8 years ago, it's definitely not forgotten and more importantly, it is still extremely desired and wanted amongst both genders.
Unlike two other fragrances from that rousing collection, Neroli Portofino and Costa Azzurra, this one woke up something significantly different, something flowery and summery, but fresh and aromatically enough that not many people can resist it.
Even though floral and fruity notes, that happen to be in the middle of this sharp texture, makes you think that this is strictly women's fragrance, the nose behind this beautiful scent – Calice Becker, managed to mix all these opposite but complementary notes together and come up with a unisex, floral fragrance that screams HOT.
But is Mandarino di Amalfi worth it after all these years?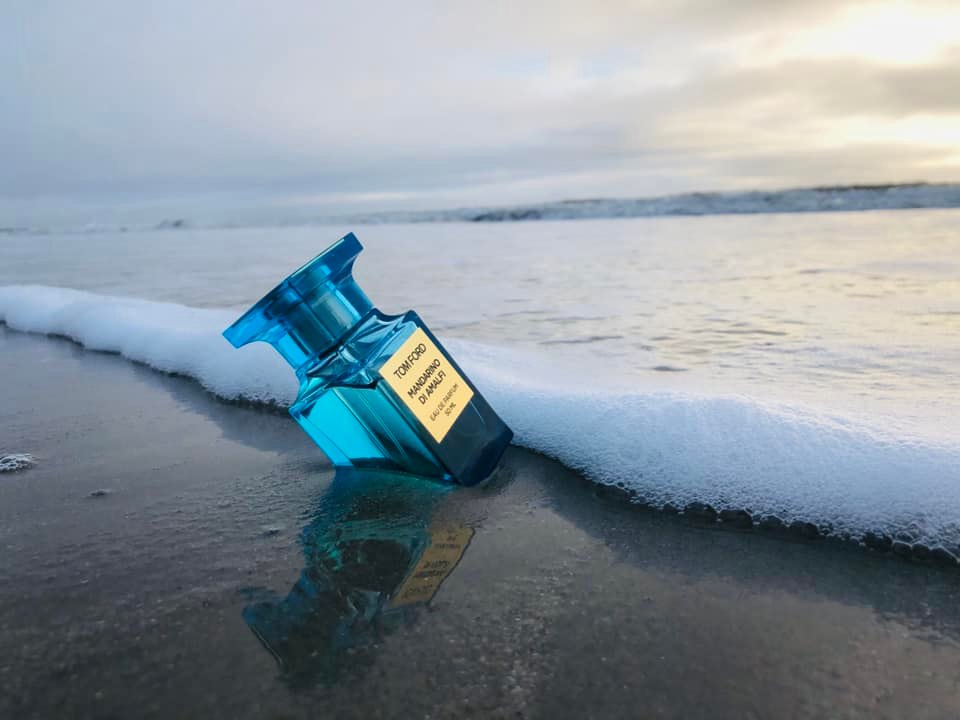 ---
Tom Ford Mandarino Di Amalfi on Amazon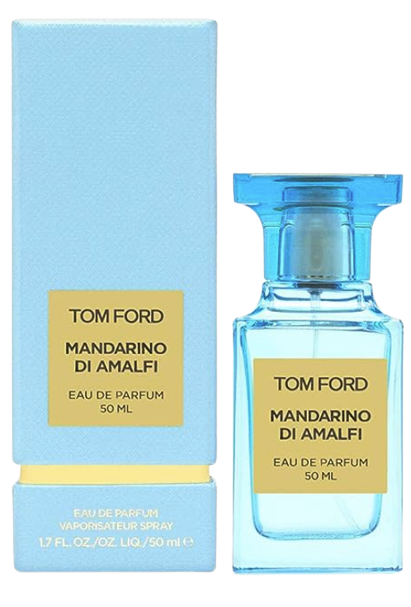 ---
What Does Mandarino di Amalfi Smell Like?
Mandarino di Amalfi by Tom Ford smells like a citrusy and fresh redolence, with lemon in opening and orange blossom in the heart. An extremely light but punchy scent, perfect for warmer days.
Mandarino di Amalfi fragrance is all about citrus and freshness, and even though the name can lead us to conclude that we have mandarin in the texture, in reality, the top notes are actually lemon and grapefruit followed by orange blossom in the heart of the fragrance. With that being said you can already imagine what that tempting mixture smells like.
Just like all Tom Ford fragrances from the Private Blend collection, Mandarino di Amalfi concentration is an eau de parfum (EDP).
Top notes are:
Lemon
Grapefruit
Mint
Basil
Tarragon
Black Currant
Middle notes are:
Orange Blossom
Jasmine
Clary Sage
Shiso
Coriander
Black Pepper
Base notes are:
Musk
Vetiver
Labdamun
Civet
Amber
Besides citrusy notes that welcome you in the first spray, one more segment that gives you that floral and clean effect actually comes from musk that can be found in the base notes of this fragrance.
Even though the mint and black currant are stated as top notes as well, these notes are very hard to recognize, maybe even impossible. So, if you are looking for a minty and cooling smell, you are not going to find this fragrance a convincing choice.
Notes of jasmine that can be found in middle tones are also hard to validate since the citrusy opening is very strong and dominant — it takes one hour for this perfume to sets to the skin and once it does the herbs from middle tones finally come to the front and the fragrance starts to smell more sexy, appealing and clean. The lemon flavor easily fades away and in that period you can also smell a gentle touch of black pepper.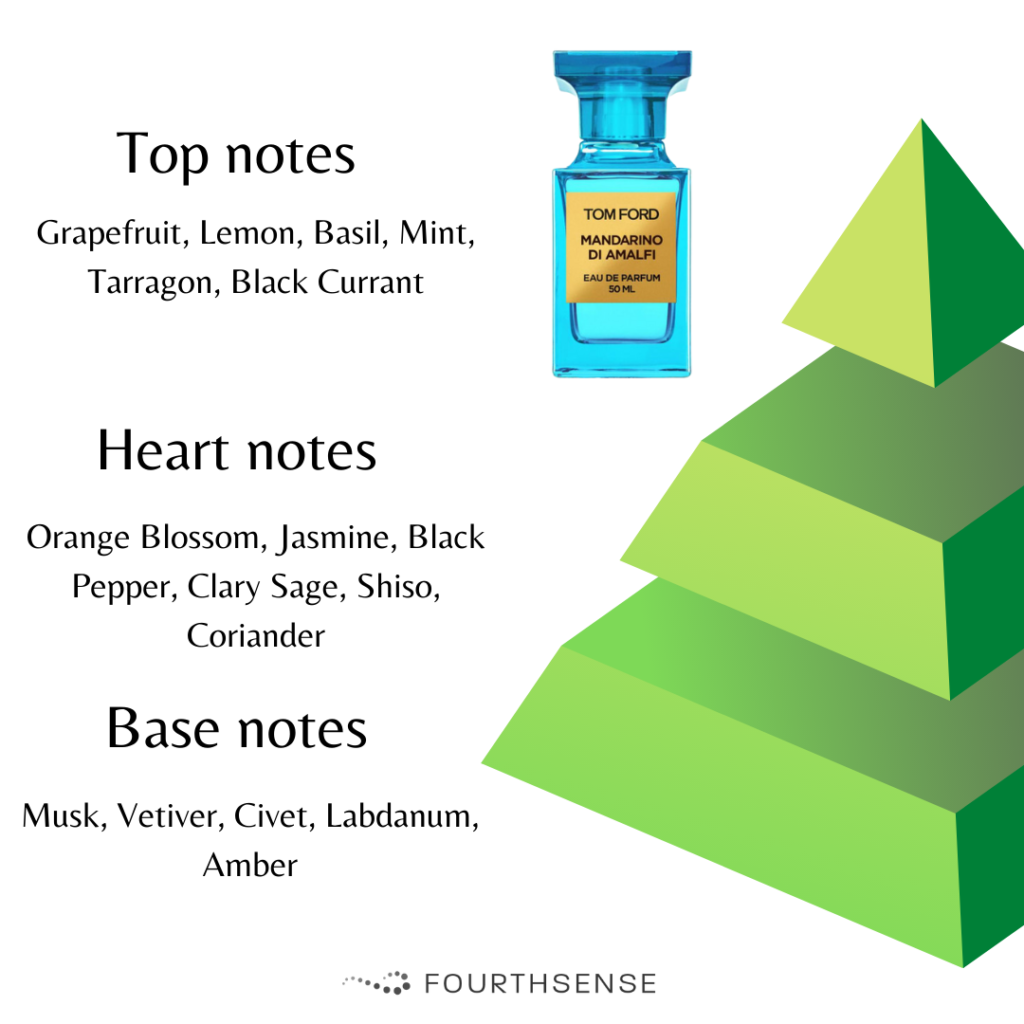 The base of Mandarino Di Amalfi contains vetiver, labdanum, civet, amber, and musk, which gives that soft and flowery effect. It's blended very nicely with the striking middle notes, and that artistic symphony actually leaves an expression of uniqueness and seductiveness.
With all notes balanced perfectly well, this fragrance will surely be adored by both women and men, but keep in mind that in order to pull this perfume off you should have the proper attitude, as it won't be a silent scent on your skin.
If you are not ready to experience the freshness and cold spiciness that comes with alluring tones of this Tom Ford mixture, make sure to stay away from this tempting and youthful fragrance.
When To Wear Mandarino di Amalfi?
Mandarino di Amalfi is a perfect choice for hot, summer days, preferably for daytime, vacations, and exotics getaways, but you will not go wrong if you get it on during evening occasions as well.
Versatility is something that almost every person that once smelled this fragrance will agree on. It's obvious that this perfume is made for hot, summer days, vacations, and days off from work, coffee-time by the river, or cocktails by the beach.
All the citrusy and freshness that this perfume brings will immediately bring summer vibes and take your mind to some exotic and fancy destination.
Because of its lemon and orange texture, the fragrance is often used during the day, but once musk and spiciness come to the surface, this aromatic composition can easily be worn on night occasions as well.
There is no chance to connect this perfume to winter or fall since it's missing that smokiness and dustiness, but you can wear it during spring when the weather slowly starts to treat us with warmer days.
For me, this is one of my personal favorites for beach time on vacation!
How Long Does Mandarino Di Amalfi Last?
On average, Mandarino di Amalfi lasts for about 4-5 hours, and it projects well in the first 2 hours.
Even though we are used to Tom Ford making fragrances with a pretty strong performance, that actually isn't the case with Mandarino di Amalfi.
Performance has always been the issue for this beautiful summer scent, and lots of people even reported a longevity of 3 hours. Me and my team tested it for multiple days, and on average longevity is 4-5 hours.
When it comes to the projections, it's on beast-mode for the first 1-2 hours, and sillage is heavily present. After initial 2 hours, sillage and projection become moderate and in order to be noticed, you'll likely have to be close to someone or reapply the fragrance.
Now, there's always a debate going on, should this be like this or it definitely lacks performance?
For me personally, I would like projection and sillage to be a bit longer, but I don't have a problem with overall longevity? Why? Because it's a summer fragrance — it's easy to get sweaty multiple times over the day, and I personally like to have multiple showers during the day. I want to reapply the fragrance multiple times during the day or switch fragrances during the day.
Others however prefer their fragrance to last for ages, regardless of the temperature and season, which is also okay.
What do you personally think? Is this type of performance an issue for you? Let us know in the comments below!
If you are one of those who are always looking to improve your fragrance's performance, then definitely make sure to check out our full guide on making perfume last longer!
How Many Sprays of Mandarino di Amalfi Is Enough?
Even though Mandarino di Amalfi seems like a very potent fragrance at first spray, it really isn't, so you can't overapply it. For optimum performance, it's best to apply only 4 to 5 sprays – 2 under the ears, 2 in the dips of the collarbone, and 1 behind your head.
Because of its strong and powerful opening, there is no need to use too many sprays when choosing Mandarino for your daily option.
4-5 sprays of the "Mandarino Di Amalfi" will be more than enough to satisfy anybody's need to smell marvelous and to attract pleasant compliments, and since this fragrance is very likable by both genders, rest assured they will come from both sides.
However, just like with any other fragrance, try not to overuse it, because you will get a completely opposite outcome and people can be agitated with a too strong a smell. Every fragrance that gets overapplied and overused, fails to open and perform properly.
For optimal performance and the best Mandarino di Amalfi experience, make sure to learn how and where to properly apply fragrance.
Where To Buy Mandarino di Amalfi?
Mandarino di Amalfi can be bought in many local perfumeries who are authorized resellers of Tom Ford. If you are more of an online shopper, then check out Tom Ford's official website, Amazon, Sephora, FragranceX, and FragranceNet, and get your bottle of Mandarino di Amalfi.
Starting from local perfumeries, I am sure that any perfumery that sells high selective fragrances (like Tom Ford) will have Mandarino di Amalfi on their shelves.
It's a great opportunity to smell the fragrance before you actually decide to spend money on it because you can see for yourself if it's matching your liking.
However, if you're unable to go to local perfumery or you simply don't live near one, then you can get it from:
---
Tom Ford Mandarino Di Amalfi on Amazon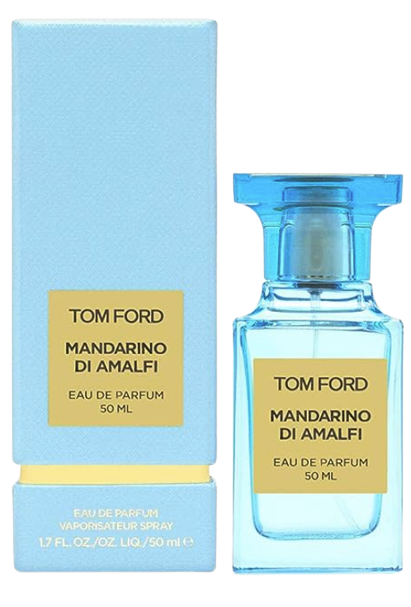 ---
You will notice different prices on these websites but shipping times also vary. The most important thing is that if you buy from these sources, you can rest assured that you will get the original fragrance and not be scammed with fake ones.
Always be super cautious when buying fragrances online to avoid getting scammed and buying a fake fragrance — it's not that you can just end up with money thrown away, but you can also get a skin condition as fake fragrances are not tested on human skin and they are not safe to use.
Packaging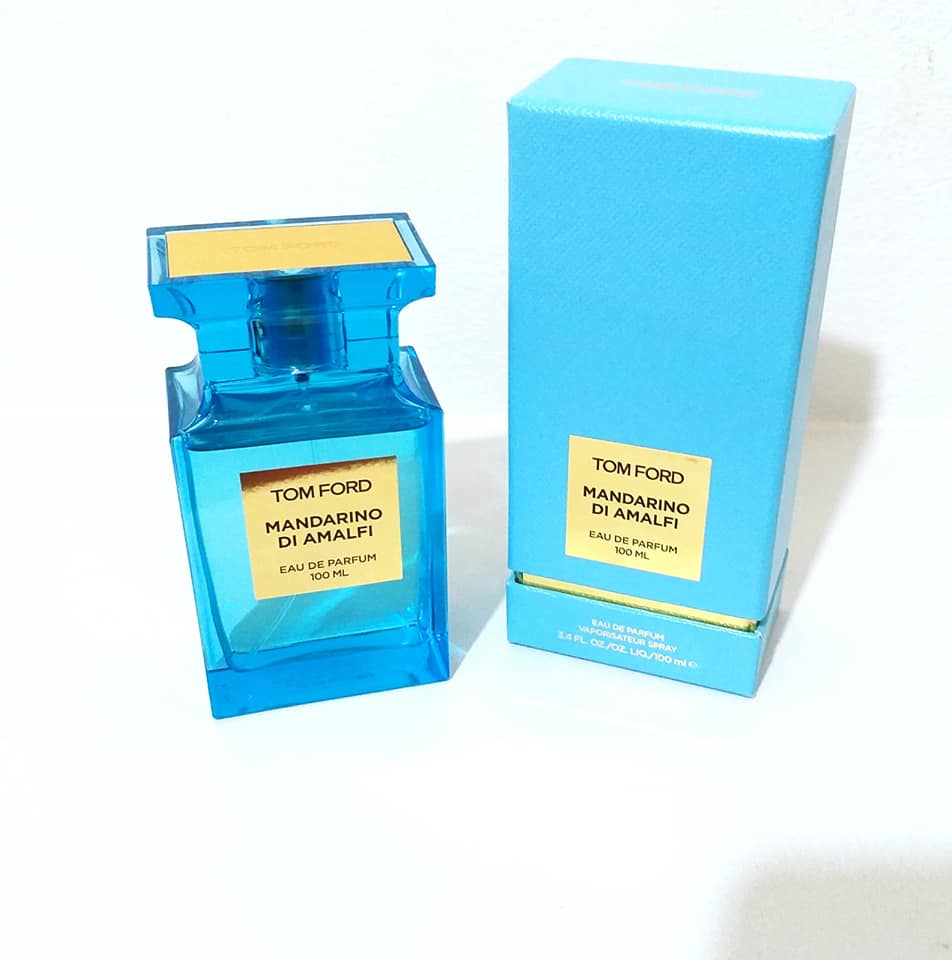 Mandarino di Amalfi comes in a transparent, turquoise blue bottle, with a little bit darker shade of blue for the cap, but very elegantly adjusted and balanced in a way that gives you a luxurious and rich type of vibes. It comes in the same blue shade for the package, with an interesting opening (you remove the top box and perfume stays on the bottom stand).
Once you remove the cap, perfume offers an excellent atomizer with great attribution, I promise you won't be disappointed.
Since Mandarino di Amalfi is part of an already established collection, same as other fragrances in "Amalfi Coast", this one also follows the same pattern and boxing we have seen on Neroli Portofino and Costa Azzurra.
All in all, it's very elegant, chic, and timeless packaging, you really get the feeling that the fragrance you just bought is expensive and prestigious, it will look great on your shelf and most probably will also get a role of yours room's modish decoration. Tom Ford, once again, did not disappoint with the presentation.
Available sizes:
50 ml / 1.7 Fl Ounces
100 ml / 3.4 Fl Ounces
Summary — Is Mandarino di Amalfi Worth It?
The verdict always comes hardest for writing…
Considering the performance, uniqueness of the scent, compliment factor, and price, Mandarino di Amalfi is worth it only if you're a beginner in fragrances and still discovering various scents. However, if you are experienced with perfumes, then Mandarino di Amalfi simply isn't worth it.
Beginners who are still starting to explore this beautiful world of scents, notes, and fourth sense will find this fragrance amazing and absolutely worth it because even though there are a ton of other summer scents, Tom Ford never fails to add their own signature many people love.
However, experienced perfume-holics will not be so amazed by smelling this for the first time, because there are so many others that deliver better punchiness, stronger performance for less money. Sure, it's great, but not that great that you're okay with spending that much on something you probably smelled before or got associated with some other scent.
At least that's my judgment — after thousands of different fragrances going through my nose, if I smelled Mandarino di Amalfi now, I wouldn't really consider it worth it.
Also, bear in mind that regardless of this final verdict, this is still a beautifully smelling perfume that will leave good impressions, either way.
What are your thoughts on it? Have you tried it? Do you like it?
Let me know down in the comments!
We are sorry that this post was not useful for you!
Let us improve this post!
Tell us how we can improve this post?