This greatness came out in 2018, released by Initio Parfums Prives, and it evoked the eruption of different impressions and comments — many considered it just another oud fragrance, while others immediately placed it as the best oud fragrance ever.
In case you're not familiar with Initio's fragrance craftsmanship — they are known for crafting fragrances with only natural, raw materials, and the Oud For Greatness is no exception. The name says enough, this dark masterpiece is made from natural oud and natural agarwood oil. Or is it?
In perfumery, oud is one of the most expensive natural ingredients which is why the majority of perfume houses are manipulating various aroma chemicals that mimic the scent of natural oud.
Is Oud For Greatness by Initio worth the hefty price, does it contain the real oud, and is it really the best oud fragrance? Let's dig into the review!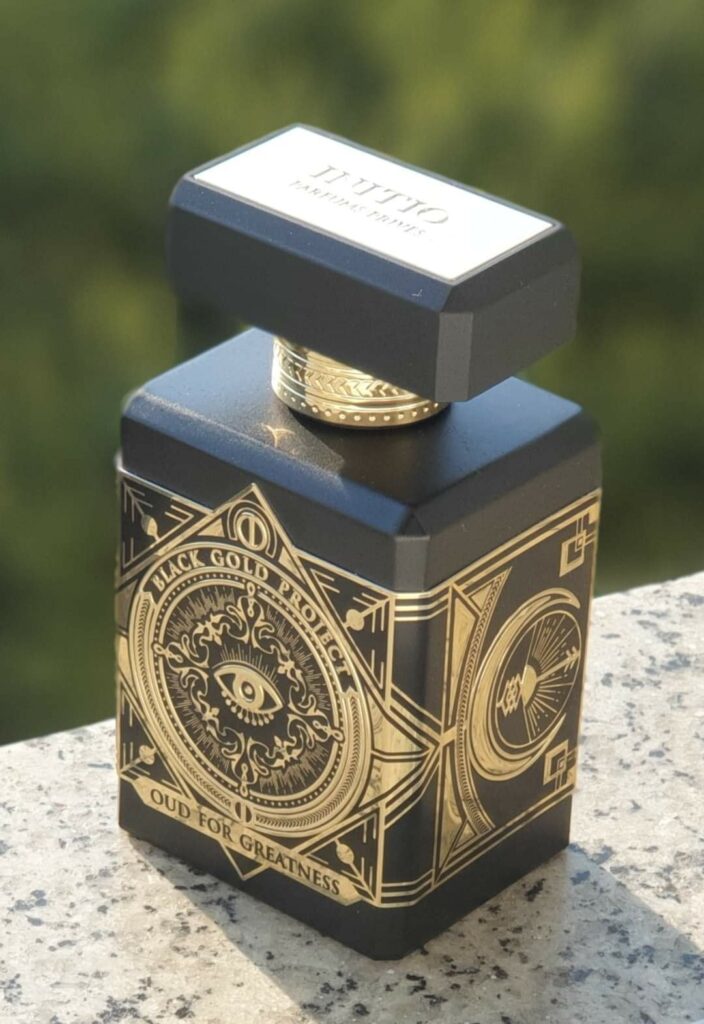 Buy INITIO PARFUMS PRIVÉS – Oud for Greatness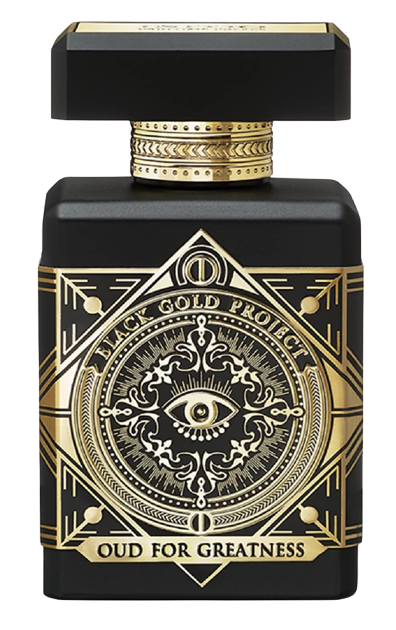 What Does Oud For Greatness Smell Like?
Oud For Greatness by Initio is an oud-based perfume that smells classy, warm, and a little bit dark. Many people reported that it reminds them of certain fragrances, but there's no doubt that Oud For Greatness is extremely unique in its composition and scent.
According to Initio Parfums Prive, notes are:
Top notes:
Heart notes:
Base notes:
The opening of Oud For Greatness is fulfilled with the scent of Saffron as a dominant note that is very easily detectable with the first spray. What made this bomb so much more unique and interesting is the spiciness and warmth that comes from the nutmeg and it blended perfectly well with saffron as the main note and slight touches of lavender.
Oud and agarwood can be noticeable in the opening but they are not prominent or commanding. It's more like a shadow hiding in the dark behind all that spiciness and warmness of top notes patiently waiting for its turn to take the throne.
The patchouli from the base is also noticeable and adds to the darkness and woodiness of this beautifully crafted scent.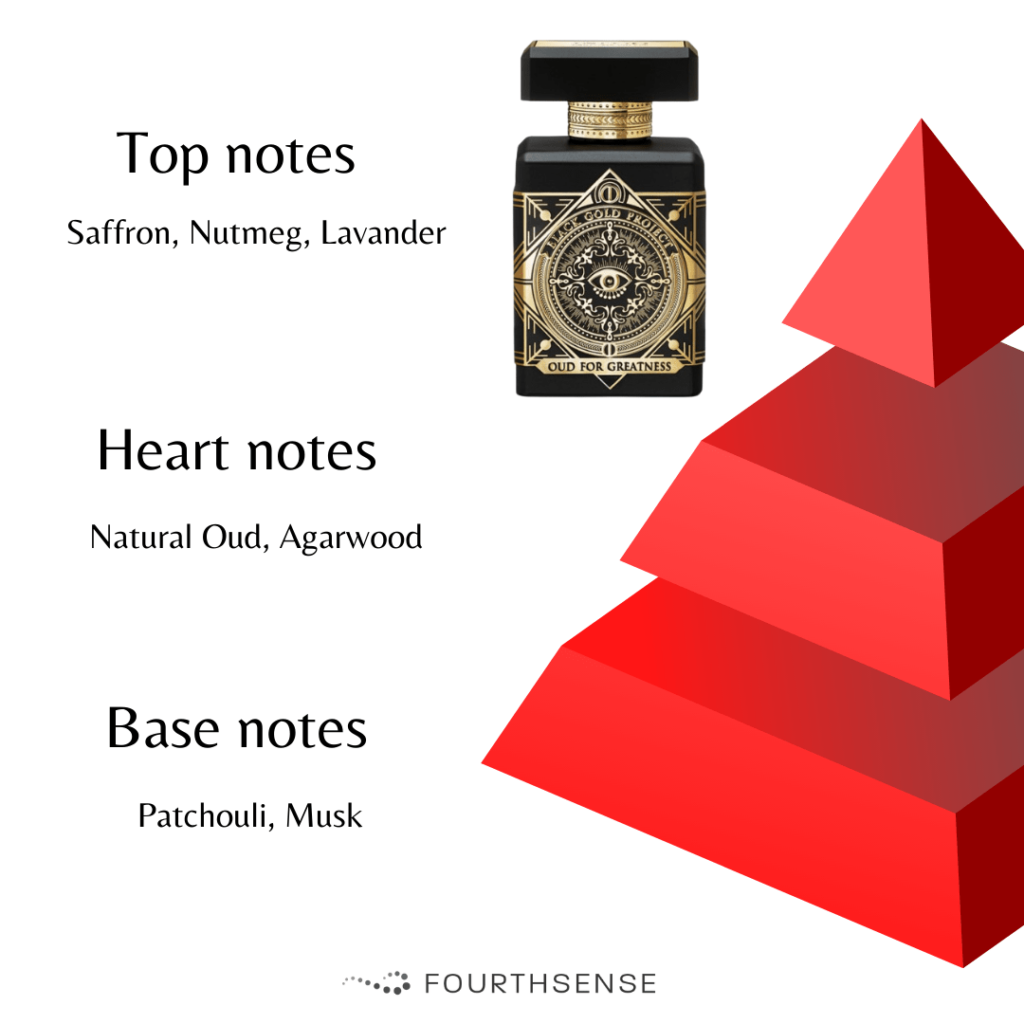 I know that oud is a type of note that not everyone likes, but Initio managed to blend this one so well, that oud is constantly somewhere in the background. The scent definitely has the woody vibe, but to smell exactly oud note is nearly impossible.
Many reported that Oud For Greatness smells very similar to Baccarat Rouge 540 because it also contains the dominant note of the saffron but I personally would never say that these two fragrances smell similar. Yes, they both contain saffron in their opening, but the structure and the vibe are totally different. Proof of that is that some say that this fragrance smells like a more expensive Baccarat Rouge 540, while others say that it smells like a cheaper version of Baccarat Rouge 540.
If I had to compare Oud For Greatness to other fragrances on the market then I would say that it kinda reminds me of Tom Ford Oud Wood, which is also an oud-based perfume but once again, it just gives the scent of Oud Wood, it doesn't actually smell like it.
Does Oud For Greatness Have Real Oud Note?
The debate that's following this fragrance for quite some time now is, did Initio use real natural oud or did they use aroma chemicals?
As someone who smelled natural oud multiple times and the fact that I have a 100% natural oud oil in my collection, I personally wasn't able to detect and verify they used real oud.
On Initio's website, they say they used 100% real oud but I also watched the review of Aaron Terrance Hughes and he also verified that he cannot say for sure does Oud For Greatness has a real oud or only aroma chemicals.
Oud as a note has a very unique scent and it dries down like no other note. It's difficult to describe it because it's a matter of feeling, not just a description of the scent.
If they did use real oud, I wish they used a bit bigger concentration as that would most certainly give Oud For Greatness on heaviness. On the other hand, if they used aroma chemicals, they most certainly did an amazing job in blending it to the point where it can't be figured out not even by the experts.
Either way, you will definitely enjoy this warm, woody scent!
How Long Does Oud For Greatness Last?
Oud For Greatness is a very long-lasting perfume with 12+ hours of longevity and around 3 hours of great projection.
Oud For Greatness is one of those scents that will remind you how beautiful you smelled the whole day even after 12+ hours. The longevity is phenomenal, more than I expected it to be, and I have never heard anyone complaining that it didn't stay long on their skin.
The projection also works great — I get around 3 hours of projection and after that, the scent sits closer to the skin but it's still detectable. I know that for some people it can be a red flag but with the longevity being so great, it's hard not to make a compromise.
Silage is one more reason why you should definitely buy this woody and spicy aroma since the scent is very strong and you will certainly leave a 5-6 foot long trace behind you.
Personally, I do not find Oud For Greatness as an aggressive and in-your-face type of fragrance. Yes, it is strong and it leaves a powerful impression, but it still smells sexy and rich.
When To Wear Oud For Greatness?
The best time to wear Oud For Greatness is during colder days (preferably fall and winter) and because of its woody, smoky and dark aura, it is more of a nighttime type of scent. It's pretty wearable and perfect for many evening occasions.
Because of the woody and spicy scent, Oud For Greatness is definitely made for colder weather and lower temperatures — it works best in winter or fall, and maybe some chilly days of Spring. The summer is an absolute no-go as high temperatures will cause it not to open and perform properly.
I usually wear it during night-time, for dinner dates, or for drinks with my friends, but it can be wearable during the daytime as well.
Also, this is categorized as a unisex fragrance, and I can picture both genders pulling it off but truth to be told, this perfume is way more masculine scent than feminine.
How Many Sprays of Oud For Greatness Is Enough?
A maximum of 4 to 5 sprays of Oud For Greatness is more than enough for achieving optimal performance. As this is a very potent perfume, make sure not to overapply it.
As I already mentioned, Oud For Greatness can be very easily over-applied and if it happens, well, things can get pretty nasty. Because of the intensity, too many sprays will cause the fragrance to become aggressive, too pushy, and even offensive.
Be careful and do not apply more than 5 sprays. Focus on your pulse points and you will gain an excellent projection — 2 sprays behind your ears, 2 in the dip of your collarbone, and 1 behind your head. If you want to learn more about how and where to properly apply fragrance for maximum performance, make sure to check out our guide here.
Where to Buy Oud For Greatness?
The best place to buy Oud For Greatness by Initio is a physical perfumery that is an authorized reseller of Initio perfumes, or if you're buying online, the best places are Amazon, FragranceNet, FragranceX, and Initio's official website.
Initio brand, as a luxurious and niche-oriented fragrance brand very quickly became the victim of many clones and fakes so you should be extra careful when you decide to buy it.
That's why the safest and the best option is always local perfumery which is an authorized reseller of Initio house and besides the fact you can be sure that you are not throwing your money in the trash, you can also test it on your skin before you make a final decision.
When it comes to buying online Personally, I would recommend buying the bottle next to Fourth Sense Shop at FragranceNet or on Amazon. — I personally order from them, and I can verify you will get the original.
Buy INITIO PARFUMS PRIVÉS – Oud for Greatness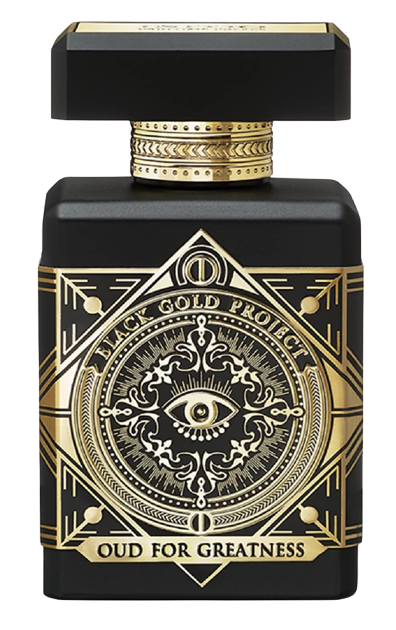 Besides Fourthsense Shop, FragranceNet and Amazon, you can also get your bottle of this perfume on FragranceX and Initio's official website. Compare the prices and choose the cheapest offer.
Prices on all sources vary just like shipping times.
Always do your best to avoid buying clones and fake fragrances as they are not dermatological tested on human skin and can cause serious skin and health condition.
Packaging
Same as other Initio fragrances, Oud For Greatness has a similar appearance as the rest of them but man, this one looks so unique and luxurious.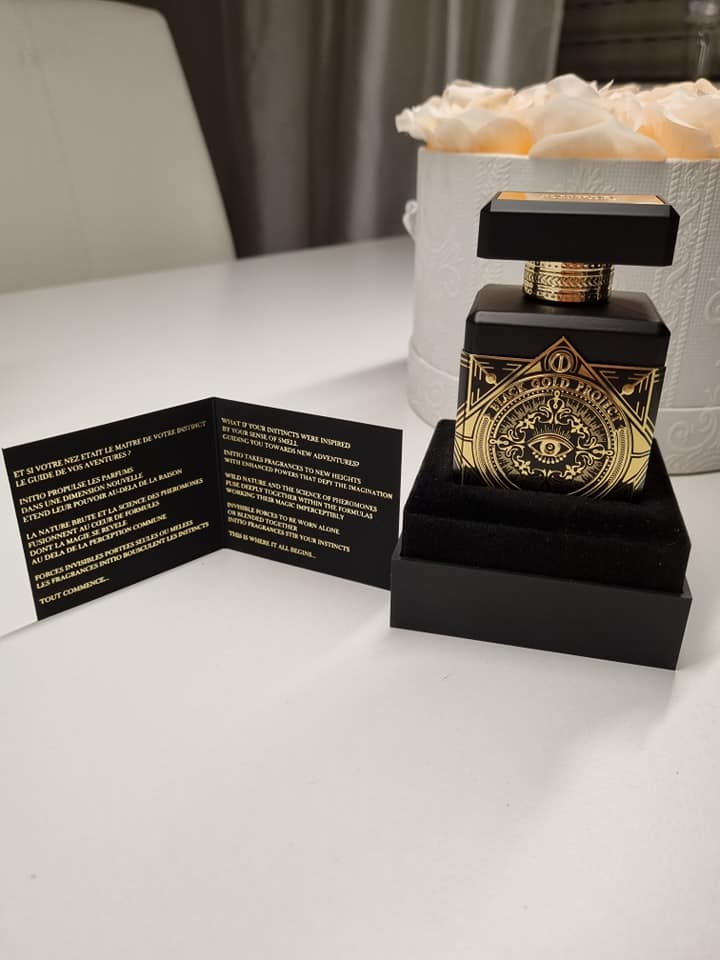 It comes with a slipcover wrapped around the box and it contains the name and the concentration of the fragrance, the brand name, and one, very interesting, designer, goldish detail that reminds many people of the sign of the Illuminati. Weird, right? However, it does look luxurious.
Once the slipcover is removed, you get the black, matte, and kind of rubberized box and it feels very good in your hand. The box itself doesn't have many details but once you remove the top piece, the bottle sits in the bottom part.
The bottle also has a rubberized feel to it and also contains the "sign of Illuminati" or should I say "golden eye ornament" and it looks phenomenal. The cap also has Initio's name on it and the atomizer does a good job.
All in all, the whole appearance looks so stylish, mysterious, luxurious, something you will be proudly showing off to every person that comes into your house and you will be probably admire it yourself for a long time after you get it.
Available sizes are:
Summary – Is Oud For Greatness Best Oud Fragrance?
Unfortunately, no. Oud For Greatness is not the best oud fragrance. That doesn't mean it isn't good, it just means that there are a lot better oud-based fragrances out there.
Initio calls this project "Black Gold Project" and besides this perfume, they also have Oud For Happiness in it. Both are phenomenal fragrances but they are simply not worth the title of the best oud fragrance.
In my personal opinion, for a fragrance to be called the best oud fragrance, all the magic, power, and "colors" of oud need to be presented — it has to be a story about the oud, not a story where oud serves as a tool to bring it up.
Is Oud For Greatness worth it?
Considering the price, performance, uniqueness, and other aspects of its identity, Oud For Greatness is definitely a valuable piece to have in your collection, and definitely worth it.
At the end of the day, this truly is a beautiful fragrance many will enjoy, and it's best if you manage to tie it to memory — gifting it for a special occasion to your someone. It's part of our best winter fragrances for men in the 2021 list, and it truly is among the best ones out there.
Have you tried it before? What are your thoughts on it?
Let us know down in the comments!
We are sorry that this post was not useful for you!
Let us improve this post!
Tell us how we can improve this post?