The original masterpiece called Daisy by Marc Jacobs was released back in 2007 and there is a mystery veil wrapped around it to this day.
The question remains — Was the original Daisy really that amazingly breathtaking that it deserved a best-seller title for all these years, or, the bottle just looks too adorable to ignore?
Jokes aside, the original Daisy stole people's hearts — women loved it, but guys loved it as well so it became a frequent gift fragrance.
Marc Jacobs Daisy Love came out in 2018 (but still made it to the 2023 list of best summer fragrances for women!) and unlike other flankers from that line, it brought something significantly different and pleasantly bright.
So, the real question: Is Daisy Love worth the hype it holds as the next big Daisy fragrance?
In this post, we are going to tell you more about this not-so-flowery perfume and talk further about its scent, performance, versatility, and more!
What Does Marc Jacobs Daisy Love Smell Like?
Daisy Love smells like a fresh-fruity and musky scent that has a sweet, airy, and light composition. It is a purely feminine and sensual perfume with nothing aggressive or offensive in its structure.
According to Marc Jacobs, the fragrance pyramid is structured this way:
Top notes:
Heart notes:
Base notes:
Daisy Love's note breakdown is pretty simplistic with only 4 notes in the whole composition. The mixture of these 4 nuances created a light, playful and inoffensive scent that can easily get under your skin.
The opening starts with a fruity cloudberry note; if you aren't familiar with this fruit, it smells like a combination of blackberry and raspberry and has a fresh, light effect.
In the first 15 minutes, the cloudberry dominates the scent with a fruity, sensual, and slightly sweet nature that is highly pleasant and even cozy.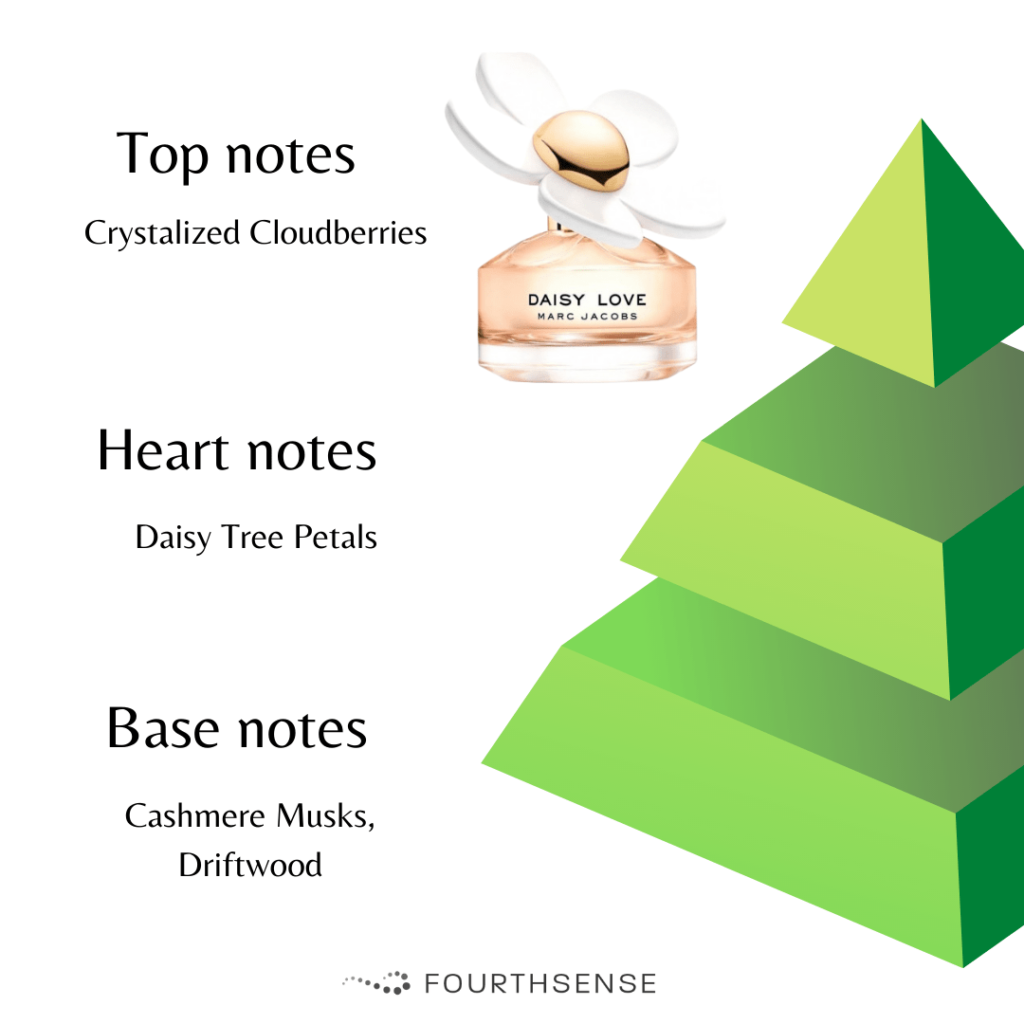 Because of the name and the bottle of the scent, you would probably think that Daisy Love is all about floral notes, when in fact, it only has a subtle touch of daisy flower as it goes through the heart.
Daisy flower is, in fact, an aroma chemical, which means that perfumers created a scent that smells like a daisy, but it isn't a natural ingredient — it's just chemicals manipulated in such a way to mimic the natural scent of a daisy.
However, you will be able to detect a floral effect mixed in a previous fruit opening giving it a "girly", youthful vibe.
In the dry-down, the fruity side of this fragrance is still detectable but it lingers in the background. At this point, the scent becomes musky with a prominent aromatic feel to it. Further through the dry-down, the scent also gets slightly powdery and woody because of the driftwood in the base, with a light, sweet, pleasant aroma.
I would say that the musky dry-down has a more sophisticated feel to it while the opening is more youthful and playful.
Daisy Love has a crowd-pleasing effect, is very inoffensive, and is easy to like. It has a sensual, feminine touch to it that makes you want to dress up nicely and take a walk in a floral-covered park. 
How Long Does Marc Jacobs Daisy Love Last?
Depending on your skin, Daisy Love will last up to 6 hours while it will project well in the first 1 to 2 hours. 
It's important to emphasize that Daisy Love isn't a strong, concentrated scent that will grab everyone's attention and introduce you before you speak. If that's what you are looking for, then Daisy Love isn't for you.
As I already said, it is a light, bright eau de toilette concentration and it isn't meant to last for eternity.
The projection will be good in the 30 minutes up to 2 hours and that's the time you will get most of the compliments since after that, the perfume becomes more intimate and someone will have to get really close to you to smell it.
However, it is nice to have a fragrance in your collection that is simply relaxing, sensual, and makes you feel attractive and confident without making everyone stare at you.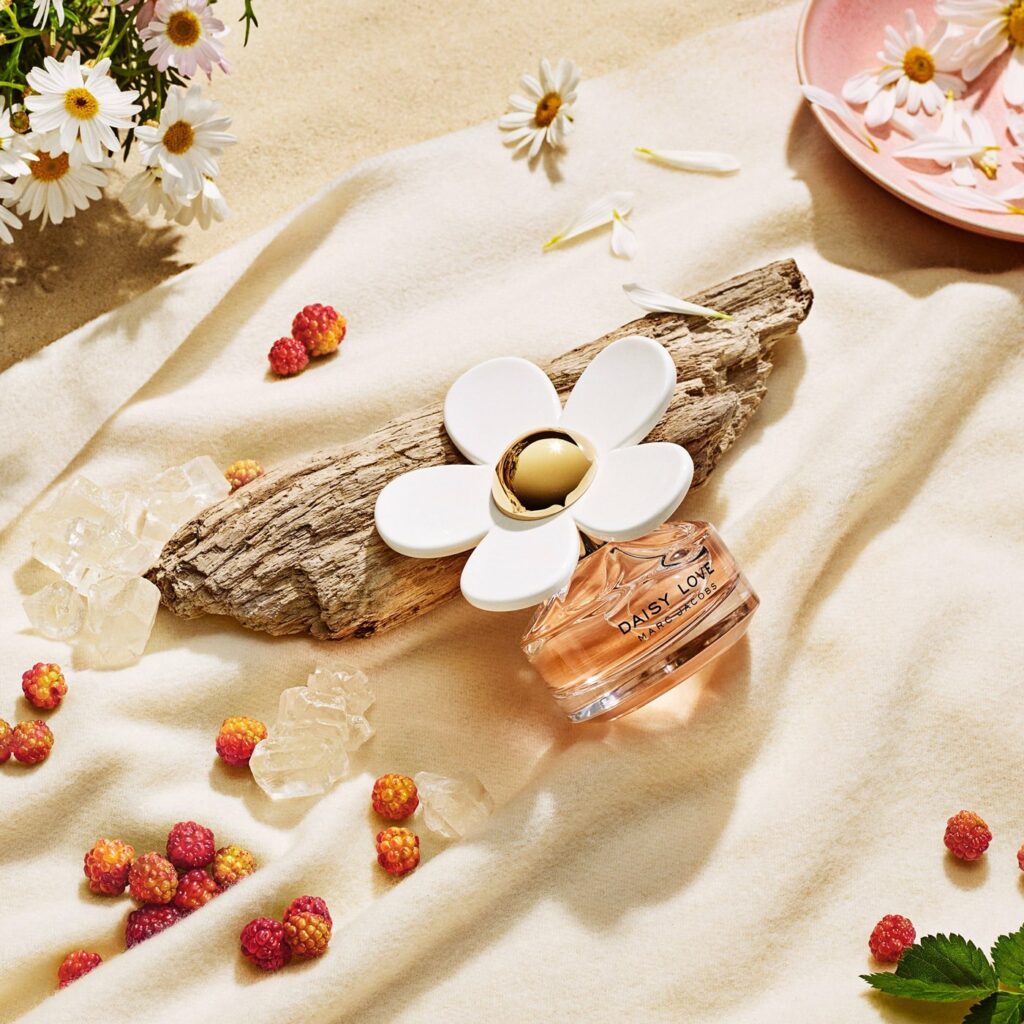 When To Wear Marc Jacobs Daisy Love?
The best time to wear Marc Jacobs Daisy Love is the spring and summer seasons of the year when the temperatures are higher and it can be a beautiful accessory for any daytime occasion.
Daisy Love is strictly oriented towards warmer days because of its light structure and it can serve as your everyday refresher.
This light perfume will also be an ultimate choice for the work environment; as mentioned above, its inoffensive and mass-appealing nature won't bother anyone and it will bring more brightness to everyday adventures.
I wouldn't recommend wearing Daisy Love to any winter/fall occasion because low temperatures won't allow it to open properly and therefore it won't be able to perform as it should.
If you are looking for a date-type fragrance or need a special, delightful scent that you will wear for your special one or for some intimate occasion, Daisy Love will also do its magic and won't disappoint your partner.
How Many Sprays of Marc Jacobs Daisy Love is Enough?
Applying 5-6 sprays of Daisy Love will be enough for reaching its optimal performance – 2 under your ears, 1 behind your head, and 2 in the dips of your collarbone.
For a better experience, you can also add 2 sprays to your wrists.
When applying any fragrance, make sure to spray it on your pulse points where your skin is warmer and will keep the fragrances locked in for a longer time.
I have prepared several tips and tricks for you on how and where to apply fragrance for the best performance so make sure to check it out!
The good thing is that Daisy Love can't be overapplied so you don't need to worry that your fragrance will choke someone if you simply like to spray more parts of your body with it.
Keep in mind that applying more sprays than necessary won't increase fragrance lifespan or the projection so it would only be a waste of precious liquid.
Where To Buy Marc Jacobs Daisy Love?
You can get Marc Jacobs Daisy Love can in many local perfumeries who are authorized resellers of Marc Jacobs. If you decide to buy it online, the best-recommended places are FragranceNet and Amazon.
As usual, I always recommend checking the local perfumeries first and testing the fragrance on your skin for at least several hours. You can see how good (or bad) your skin will react to the juice and if the smell is really what you want on your shelf.
I must emphasize that Daisy Love is, in fact, a highly likable scent and a safe blind buy option or if you are looking for a gift for your girlfriend, mom, or anyone else, Daisy Love will do well for that purpose.
If you decide to buy it online, I would personally recommend getting your bottle of Daisy Love by Marc Jacobs from FragranceNet. I personally buy all my fragrances there, and you can rest assured that you are getting an original bottle. Besides that, they usually have really good discounts, so you might just catch one!
Another trustworthy source where you can get Daisy Love is Amazon. We always link directly to the authorized resellers or perfume house itself, so it's a perfectly safe buy.
Besides FragranceNet and Amazon, some other trustworthy places where you can buy Marc Jacobs Daisy Love are Marc Jacobs's official website, FragranceX, and Sephora.
You will notice different prices on these websites but shipping times also vary. The most important thing is that if you buy from these sources, you can rest assured that you will get the original fragrance and not be scammed with fake ones.
Always be super cautious when buying fragrances online to avoid getting scammed and buying a fake fragrance — it's not that you can just end up with money thrown away, but you can also get a skin condition as fake fragrances are not tested on human skin and they are not safe to use.
Packaging
Marc Jacobs Daisy Love comes in a beautiful, goldish bottle that has a giant, daisy flower as a cap and engraved petals on the top of the bottle.
The packaging itself is beautiful and aesthetic, just like the original Daisy and every other flanker from that line; they all have gorgeous bottles and look very fancy and stylish.
Daisy Love has a yellow/goldish liquid that goes perfectly nice with the whole presentation and the cap sits well into the place.
Daisy Love comes in 4 sizes:
10ml (0.33 oZ)
20ml (0.67 oZ)
50ml (1.7 oZ)
100ml (3.4 oZ)
Conclusion — Is Marc Jacobs Daisy Love Worth It?
Considering the price, uniqueness, popularity, but also the scent, and structure, Marc Jacobs Daisy Love is definitely worth it.
For that price per milliliter, you'll hardly find something that smells so nice, inoffensive, and likable in general, but also performs pretty well.
Marc Jacobs is known for producing high-quality fragrances, and Daisy Love (even though it's a flanker), proves that.
When it comes to the blind buy, I think this is one of the safest options, but even in the case you don't like it, you will have no problems selling it or even making a great gift out of it.
My fiance spent two bottles of it, and honestly, I enjoyed every second of it.
Did you try Marc Jacobs Daisy Love? Do you like it?
Is there another Daisy flanker you prefer better?
Let's talk in the comments!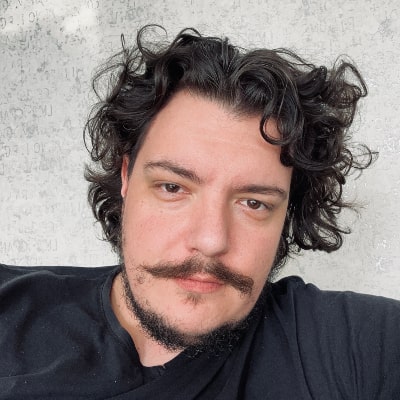 Vladan X is a founder of Fourth Sense and fragrance expert. He reviews only fragrances he owns personally, and his collection currently counts between 100 and 150 fragrances. Even though Vladan reviewed hundreds of perfumes he still didn't find the one he would call "signature" fragrance. He's still searching for that one, and in the meantime, he writes the best in-depth fragrance reviews internet has ever seen! You can read more about Vladan X here!