Many oud enthusiasts have been struggling to find a stunning oud fragrance that doesn't really cost a fortune but still has decent quality and beautiful scent – some would say, mission impossible.
For years, Gucci wasn't in an enviable position and I kind of started to lose my interest and hopes that we would get something outrageously good – until 2016. 
To my surprise, and surprise to many fragrance lovers, in 2016, Gucci succeeded in making our jaws drop and award us with one of the best designer's oud scents of all time. That was the moment we were waiting for.
Since oud note is known for being extremely expensive and prestigious, almost every designer's attempt to make an excellent oud perfume seriously failed or they made it but the price is crazy – designer fragrance should be affordable to almost everyone!
So what does Gucci Intense Oud smell like? Does it perform as it should? Is it really worth it in 2023? And, what's up with those discontinuation rumors?…
Batch tested: 2308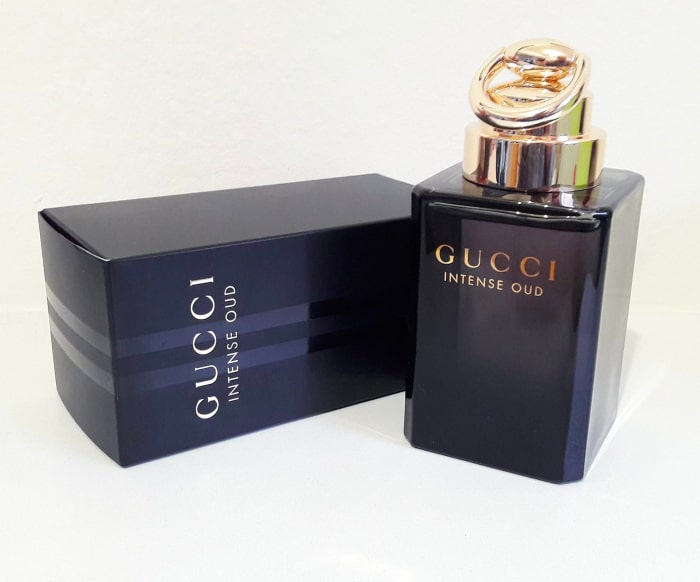 ---
Buy Gucci Intense Oud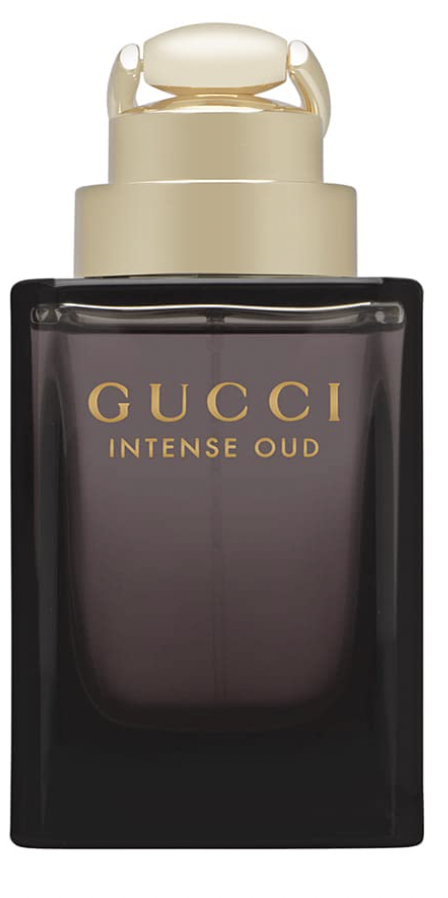 ---
What Does Gucci Intense Oud Smell Like?
Gucci Intense Oud smells woody, smoky, and pretty heavy where the most dominant note is agarwood (oud).
Notes pyramid has not been disclosed but the breakdown would look like this:
Incense
Agarwood (oud)
Olibanum
Woody Notes
Leather
Amber
The nose behind this oud masterpiece is Aurelien Guichard, and he found the core of our wishes when crafting this luxurious fragrance.
What amazed me the most is how the oud that is used is very professionally controlled, it is a polished, smooth, and rich type of oud that you don't really expect from designer's houses. Can't say enough good words about the quality and level-expertise when it comes to fragrance composition.
In the opening, I immediately got incense, woodiness, and oud notes but the oud, in the beginning, is tamed and subdued. It is not funky, or dirty in any way which makes it mass-appealing and very easy to like which is not really the case with oud fragrances.
My personal favorite phase of Gucci Intense Oud is when it goes to the mid and the final dry-down – it smells exceptional.
In the mid-dry-down, you can sense the smooth kind of leather with a bit of the depth and warmth which comes from the notes of amber. I also get that smokiness and dark kind of feeling as well, which compliments the whole amber-oriented composition very nicely.
In the final dry-down, it reaches its full potential and evolves into a rich, elegant, smooth, and stunning ambery-oud scent that is just incredible. Aurelien Guichard really managed to pull this one off to smell as niche as possible.
Gucci Intense Oud is described as a unisex fragrance but it leans more towards the masculine side of the scents. It doesn't mean that women cannot pull it off, but because of that dark, leathery, and smoky effect, I find it more suitable for men.
In 2018, Gucci released Gucci Guilty Oud for which the audience had very high hopes (led by the Gucci Intense Oud) but in my opinion, those two fragrances have nothing in common and I wouldn't even compare them since the Intense Oud masterpiece would blow away the Guilty version.
Gucci Intense Oud is compared to Nasomatto Black Afgano and there are some similarities, which actually tell you a lot about the quality and strong nature of Intense Oud.
Overall, if you're a fan of oud fragrances then Gucci Intense Oud is definitely one of the safest blind buys you can make. Very unique mass appealing oud, that will most certainly get you a ton of compliments!
How Long Does Gucci Intense Oud Last?
Intense Oud Gucci has excellent longevity and will last for 8-10 hours, depending on your skin. The projection is fair as well and will last 1-2 hours before it slowly starts getting closer to the skin.
Some people supposedly had some issues with the performance of the Intense Oud but they are in the minority.
To most people, including me, Intense Oud came as a long-lasting, strong fragrance with good projection and enormous silage. Speaking truthfully, I was quite surprised.
It doesn't happen often that you get that good performance from a designer's perfume but I guess that this Gucci magic surprised us not only with the delightful scent but also with outstanding quality. I will forever be thankful for that.
My skin reacted amazingly well to Intense Oud and it lasted 10+ hours on my skin.
It projects great in the first 2 hours and silage is also more than fair. People a few feet around me can easily catch it and because of its mass-appealing and pleasant nature, I get many compliments.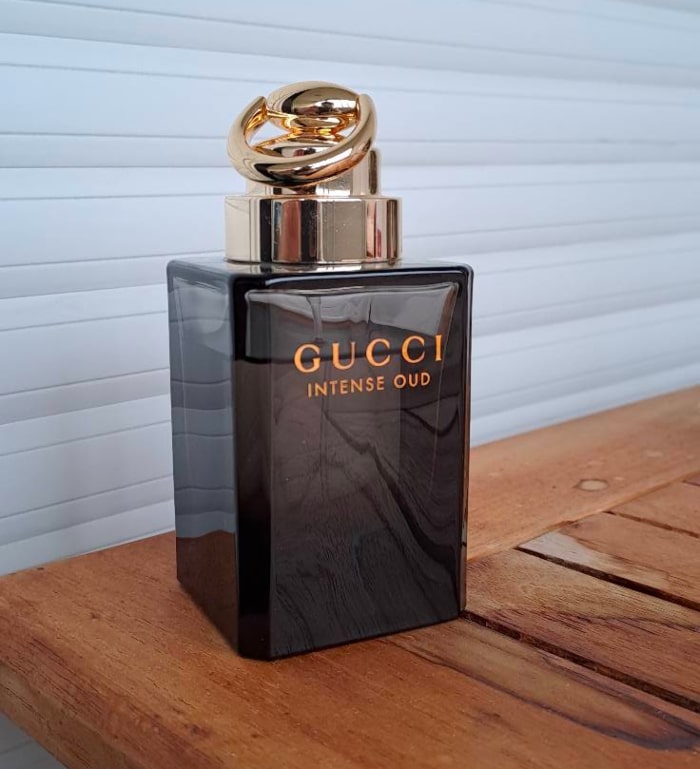 How Many Sprays Of Intense Oud Gucci Is Enough?
With 4 to 5 sprays of Intense Oud Gucci you will achieve optimal performance; apply 2 sprays behind your ears, 1 spray in the dip of your collarbone, and 1 behind your head. If you want to make sure it lasts 8+ hours, 2 sprays on your wrists will be enough.
As I previously mentioned, Oud Intense has a strong concentration and good projection which makes it an easy target for over-application. You don't want to turn this goddess into an aggressive, punch-in-the-face type of smell.
2 sprays behind your ears will expand the scent around you beautifully. Your shirt will protect the scent on your collarbone and make it last longer. Ultimately, one spray behind your head will leave stunning traces of this oud magic and everyone around you will enjoy your magnificent perfume.
There are some interesting tips for properly applying fragrance for the best performance and it is really worth reading if you don't want to waste precious juice. Make sure to check it out!
However, make sure not to overuse it and destroy the potential that Intense Oud has.
In this case, less is more!
When To Wear Gucci Intense Oud?
Gucci Intense Oud is best suitable for colder days, so preferably fall or winter. It is also more of a night-time fragrance but easily can be pulled off during day occasions as well.
I wouldn't say that Intense Oud is an ultra-easy-to-wear scent. Because of the thickness of the fragrance composition, the scent is definitely destined for chilly weather when its beautiful notes will open properly.
Also, because of the wordiness, smokiness, and leathery feelings that this fragrance doesn't lack, I can't picture myself wearing it in the high summer heat.
A scent like this, luxurious, elegant, classy, and powerful leans more towards nighttime events; for dinner in a spacious restaurant or a night out with friends. Any kind of night occasion would be a great opportunity for Intense Oud.
I also tend to wear it to work as well and it works great for me; especially if I have an important meeting when I want to smell mature but elegant.
I can easily picture a gentleman in a tuxedo, wearing this perfume to a prestigious event which says enough about the fragrance's powerful composition.
As I mentioned, I find the scent more masculine than feminine but if you are a lady that loves smoky, leathery scents then you have nothing to worry about.
Is Gucci Intense Oud Discontinued?
As of the time of writing this (August 2023), Gucci Intense Oud has not been officially discontinued.
There have been rumors in past years, but literally, all shops still have it in stock. I was monitoring some online shops, and as soon as they run out of stock, they replenish it within a week.
However, you can't find Intense Oud on Gucci's website anymore, so that's why this question about discontinuation is logical.
I reached out directly to Gucci, and I'm waiting for their official response. As soon as they respond, I'll update the post.
Till then, it's safe to say that Gucci Intense Oud is still in production and in stock in most fragrance shops.
Where To Buy Intense Oud Gucci?
The best place to buy Gucci Oud Intense, is Gucci's department store, or if you're buying online best places are Fourth Sense Shop, FragranceNet, and Amazon.
Whenever I have a chance I make sure to at least test the fragrance I want in perfumery and see if it's something my nose will love. Since skin reaction to certain products will vary from person to person, I recommend testing it on your skin first; especially Intense Oud since it is not a scent that everyone will easily like.
If you prefer buying online, I'd recommend getting it from FragranceNet – the majority of my fragrances come from them, and I've been their loyal customer for years. They never failed, and always managed to get the fragrances on time rest assured that you'll get the originals!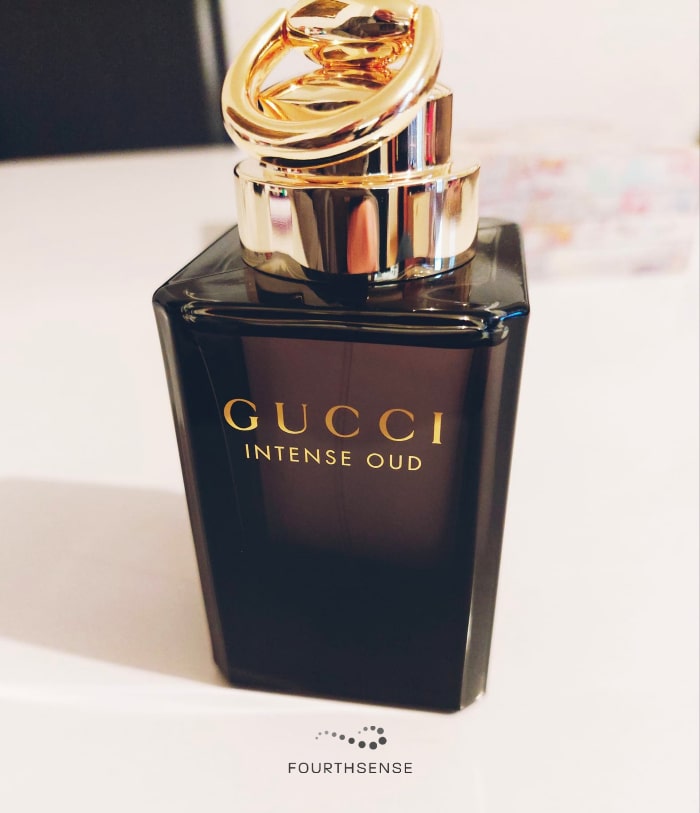 Besides, FragaranceNet, you can get an original bottle of Gucci Intense Oud on Amazon, as there are trusted sellers that will provide you with original bottle.
---
Buy Gucci Intense Oud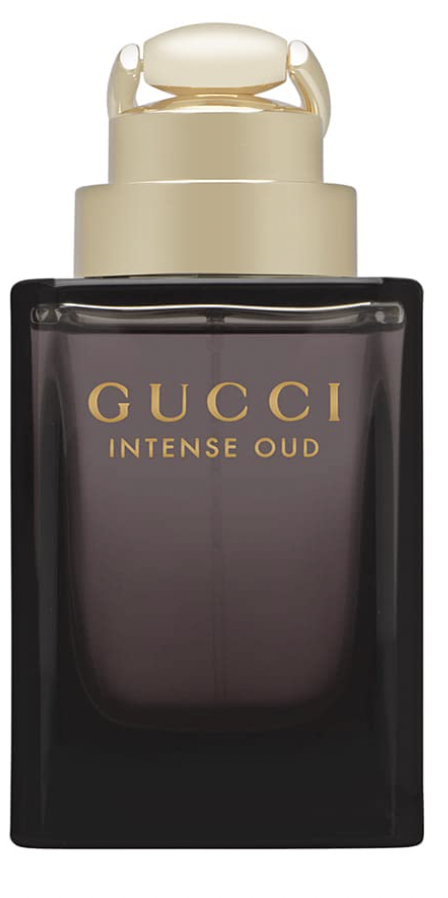 ---
When buying a fragrance online you need to be extra careful since there are many fake versions sold each minute that are not FDA-approved and not tested on human skin which can cause serious problems and medical issues. 
Packaging & Presentation
Intense Oud Gucci comes in an elegant, black, matte box with two shiny decorations on the front. The liquid comes in a luxurious, black, and slightly transparent bottle with a golden cap that has a pretty interesting look.
I like this version of the Gucci bottle more than the Guilty edition, to me, it is more classy and sophisticated, it also looks rich and sexy, and simply said, it represents what the fragrance truly is – amazing, high-quality, sexy scent.
Simple but intriguing.
It is available in one size:
Conclusion – Is Gucci Intense Oud Worth It?
Considering uniqueness, mass appeal and compliment getting factor, performance, and presentation but also price, yes, Gucci Intense Oud is very much worth it in 2023.
To answer the ultimate question; do I think that Intense Oud Gucci is the best oud fragrance of designer's houses? Yes, Intense Oud Gucci is definitely one of the best (if not the best) oud fragrances by the designer's house.
The way this fragrance has a polished, smooth, and controlled oud really makes it much more likable than the oud usually is. Even if you are not a fan of oud-oriented scents, there is a high possibility that you will end up loving this one.
Not only that this fragrance make you feel desirable, sexy, and luxurious, but it also delivers amazing performance, with a scent like this you will breathe uniqueness wherever you step foot in.
Chilly, winter, snowy nights, or morning business meetings, while the road is still frosty, Intense Oud Gucci will be a heavenly scent that will warm your body and your heart.
Did you try it before?
What's your favorite oud fragrance?
Let's chat in the comments!
We are sorry that this post was not useful for you!
Let us improve this post!
Tell us how we can improve this post?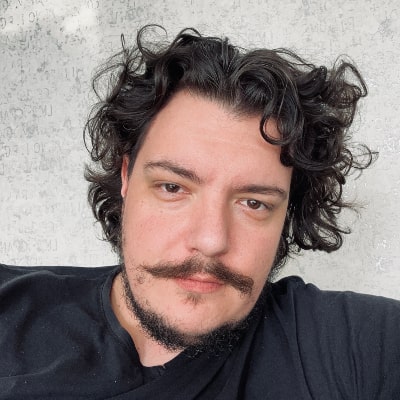 Vladan X is a founder of Fourth Sense and fragrance expert. He reviews only fragrances he owns personally, and his collection currently counts between 100 and 150 fragrances. Even though Vladan reviewed hundreds of perfumes he still didn't find the one he would call "signature" fragrance. He's still searching for that one, and in the meantime, he writes the best in-depth fragrance reviews internet has ever seen! You can read more about Vladan X here!