Ariana Grande Cloud, a perfume made for women, was produced in 2018. It received a lot of attention because it's very affordable and it smells really good. The ratio between price and quality is really great, for a little money you can buy a solid product. Many celebrities released their line of perfumes, that's a popular thing, but this one gained my attention. It stands out.
There is a lot of controversy about Cloud fragrance because it's similar to (much more expensive) Maison Francis Kurkdjian Baccarat Rouge 540 and I already wrote about that. If you're interested in that one you can read it in this article.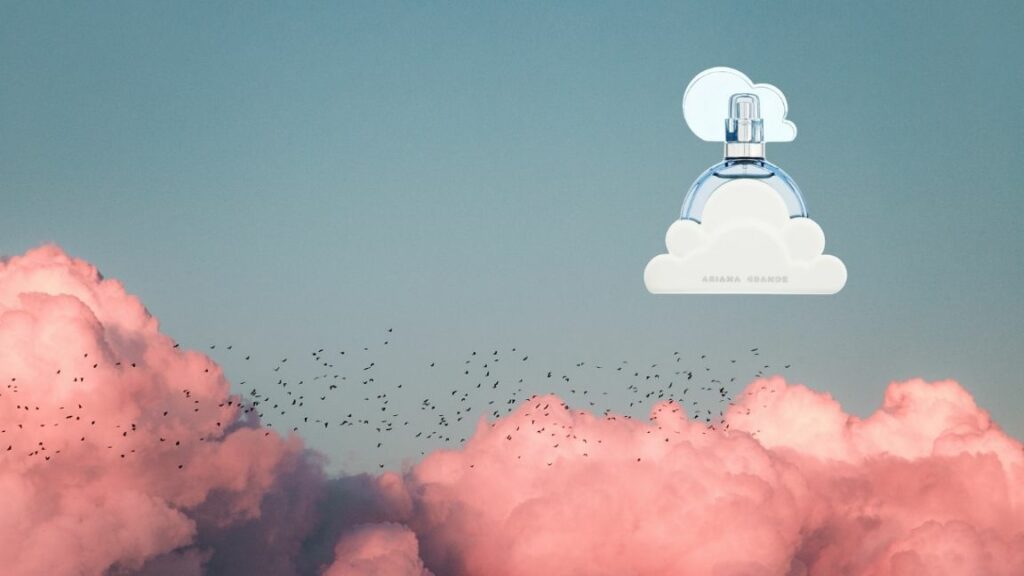 ---
Buy Ariana Grande Cloud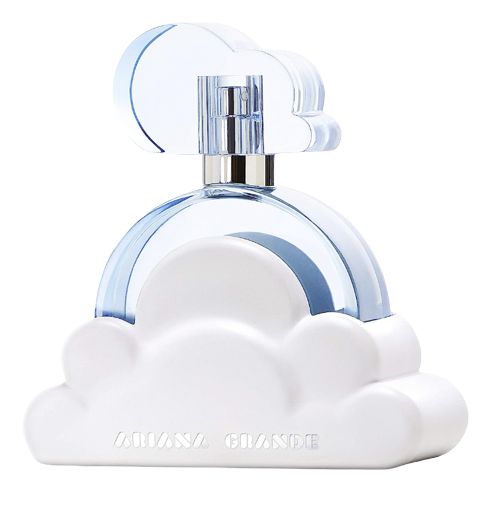 ---
But for this blog post, let's review Ariana Grande Cloud in detail!
What Does Ariana Grande Cloud Smell Like?
Ariana Grande Could smell like a sweet coconut gourmandy fragrance that was clearly inspired by Maison Francis Kurkdjian Baccarat Rouge 540.
Cloud perfume is made to please female senses and as such, it's very seductive. When you spray it, you'll smell the sweetness, something similar to sugar wool or a lollipop. After that, notes of vanilla and coconut pop out. All together creates a scent of fantasy and fairy tale.
Top Notes are (1):
Heart Notes:
Whipped cream
Praline
Coconut
Vanilla orchid
Base Notes:
It's such a girly scent and you feel like you could literally eat sweetness from the air. Once you spray it whipped cream scent is all over the place. The cozy bubble is forming around you, you just need to fall in it. That's the feeling you get, but, it's called Cloud so no surprise there.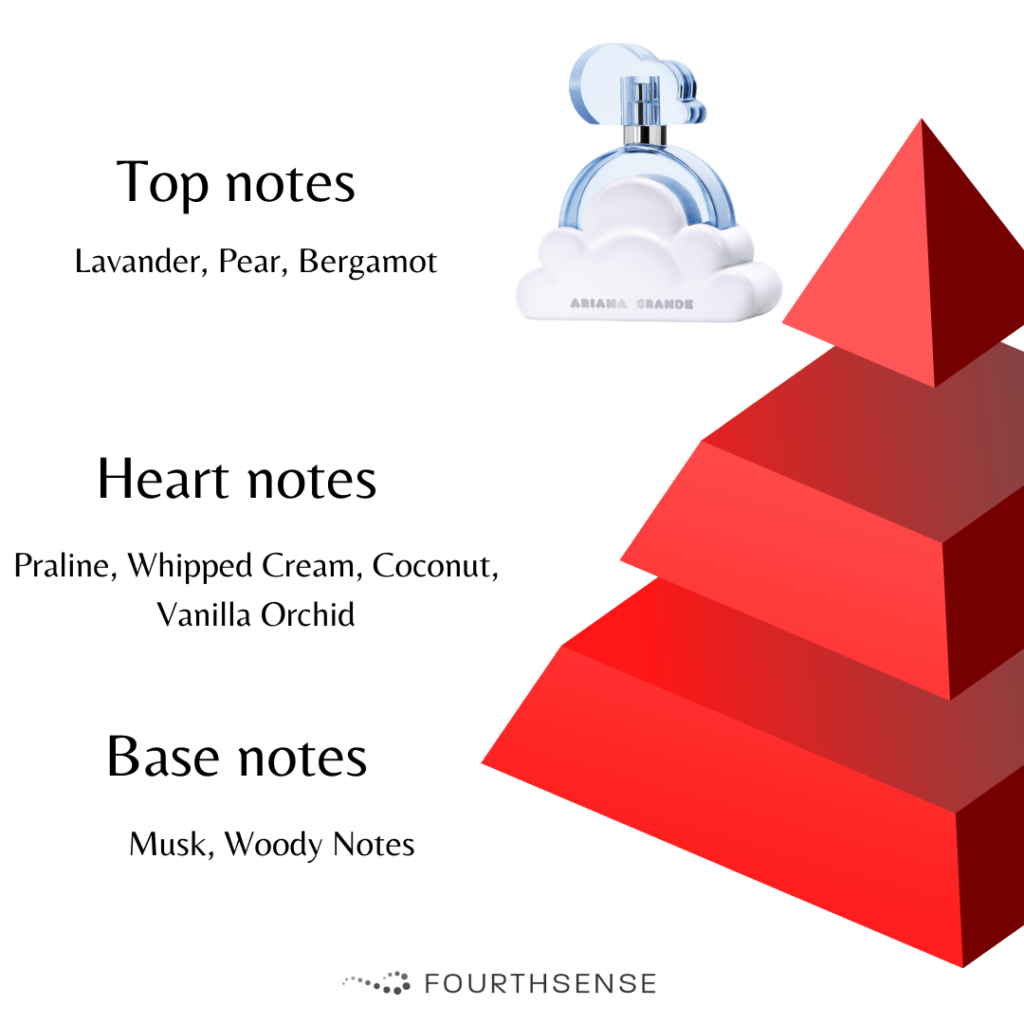 I don't often use the term clones and I wouldn't in this case, because even though the opening smells exactly like Maison Francis Kurkdjian Baccarat Rouge 540, and when you spray them side by side you can barely tell which is which, drydown is different.
It was clearly inspired by BK540 but definitely not a full clone so this perfume review should be dedicated especially to Cloud.
Ariana Grande Cloud was made by Clement Gavarry.
How Long Does Ariana Grande Cloud Last?
This perfume has a good reputation in terms of quality and longevity. When you spray Ariana Grande Cloud it will last for about 8 hours on your skin. The first two are dominated by an intense scent of sweetness, later the base notes take it over and you get a smoother smell through.
The silage is gentle and airy, it will definitely leave a mark after you walk by (around 6 feet). But, Cloud has a bit more intimate scent. The full richness will be felt by those who you let closer. That's why It is seductive and gives you the feeling of a warm hug.
Projection is also very good – it projects for the first 3-4 hours and it projects for about 4-5 feet.
The performance of Ariana Grande Cloud is great, and it's extra great when you consider the price. Some expensive perfumes don't have such a performance. So that's definitely a big plus for Ariana and her team.
When to Wear Ariana Grande Cloud?
This fragrance belongs to the youthful spirit and it's very playful. The best time to wear Ariana Grande Cloud is during fall and winter as the sweetness will blend perfectly with the coldness. It's for everyday occasions, nothing formal or classy. Put it on when you go for coffee with friends, for a walk, shopping or going to the cinema.
It's more like a scent of young girls having fun, than of serious businesswomen. Cloud is colorful, cute, and sweet. You should wear it for fun opportunities when you want to relax a little bit. Wear it when you feel free and take time to enjoy it. it's nice to have a perfume like this for casual occasions, it lights up the spark in it.
How Many Sprays of Ariana Grande Cloud is enough?
With perfumes like Cloud, you can play with the amount while applying. The recommended spray dose is 3-4 times, but it won't hurt to put some more on your skin if you want it. Still, the effect will be the same. It's just a matter of the feeling you get while putting this fragrance on.
Once you spray it you'll feel the magic that pulls you further, if you are a fan of the sweet and cozy notes. Even when you don't smell it on you anymore, the people around you will. And they will complement it too. Men also love Ariana Grande Cloud on women and it's no wonder – who doesn't like playful scents?!
Where to Buy Original Ariana Grande Cloud?
The price of this perfume, in relation to its quality, is really symbolic. The best place where you can buy Ariana Grande Cloud is definitely Amazon, FourthSense, FragranceNet or Ariana Grande fragrances website.
---
Buy Ariana Grande Cloud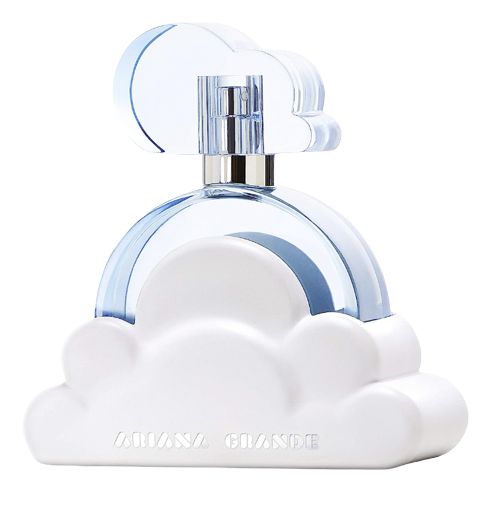 ---
You will be amazed by the quality of this product. Cloud is proof that even cheaper products can be better than more expensive ones.
If you have someone in your family or friends who loves the music of Ariane Grande, and is a fan of her, this perfume is an ideal gift. It would also be a great present for someone who goes to high school or to college. The youthful flow of this perfume clearly determines its audience and the price is affordable so it's super easy to surprise those you love with Cloud.
How To Spot a Fake Ariana Grande Cloud?
The main difference between the original and the fake perfume has always been in the way it is packaged, in the bottle itself, end of course in the smell. This peace is extremely popular, so it's also interesting for fake manufacturers. In this case, I'll give you some advice on how to spot a fake Adriana Grande Cloud.
Box
There are different versions of the copies, but on each one, the clouds are dominating. An illustration of the universe is present too. On the original packaging, there is only one cloud in a specific shape and the author's name is written in it. The real one on the back has the face of Adriana Grande, fake ones usually don't.
When you open the box, the original has a little description of the fragrance written in soft white letters.
Bottle
The original bottle is made of glass with a plastic cap, It's rounded and transparent. It's located on a platform that is in the shape of a cloud. Fake one usually font has the platform. Glass is thinner and the cap is so much softer than the real one. You can feel a void in that cap.
Smell
Here the difference is most obvious. Fake perfumes are not nearly as good as the original when it comes to performance. They last from two to three hours maximum and the sweetness hits you in the head. The notes in the fake perfume may seem like an original, but after a few seconds, you will notice a drastic difference.
Packaging
The team behind this fragrance made it to catch the eye. It is very modern looking, it is urban and cool. The bottle looks exciting and playful. It's transparent and made of glass. Located on a white pedestal that's in the shape of a cloud. The box is shiny, it glitters and there's the face of the author, Ariana Grande. Truly a fun perfume presentation.
You can find it in different sizes:
30 ml (1.0 oz)
50 ml (1.7 oz)
100 ml (3.4 oz)
Summary
If you want a fragrance that you can wear often and something that's fun and full of life, Cloud by Ariana Grande is for you. The youthful enthusiasm screams out this bottle. It's very discreet and yet noticeable. Intimate and seductive. Cute and comfortable on the skin. It is very easy to wear.
What makes it even better, is the price. It's incredibly cheap compared to its performances. You can hardly find a better price-quality ratio, that's for sure. It gives you a touch of luxury and it's great that everyone can afford it.
When you want to feel sexy, seductive, and to boost your self-confidence on everyday occasions, Cloud will do the work for you. I sincerely approve of it and you should have one in your collection.
We are sorry that this post was not useful for you!
Let us improve this post!
Tell us how we can improve this post?